Costume Challenge The Roaring Twenties Dresses and Shoes
Hello, dear friends! Welcome to the Decor To Adore 2017 Costume Challenge The Roaring Twenties Dresses and Shoes. Last week I talked about duster coats and cloche hats. Today we will cover both daytime and evening dress as well as shoes, undergarments, and hosiery.
Day Dresses
Women receiving the right to vote in 1920 led to great changes in fashion. Women felt a new sense of freedom. Designers such as Paul Poiret, Coco Chanel, Jeanne Lanvin among others were greatly inspired to give a means to this emerging form of feminine self-expression.
Other Influences on Fashion
Other influences that helped create this cultural revolution were artistic movements in the areas of art, music, and design. They included the Modernist art movement, Art Deco, The Jazz Age, and the silent film industry. The Bright Young Things, a bohemian group of young socialites and aristocrats in London, also helped to shape the literary and artistic world.
The era of the tightly corseted Gibson Girl look gave way to Mode de Garçon (boyish fashion) with bobbed hair and a slim, angular silhouette. Curvy women would actually bind themselves to appear flat chested.
To our modern eyes, this group of women below may appear highly conservative with their hats, gloves, and stockings. But during this era showing the legs and shoulders, via the new chemise dress, was completely scandalous!
The chemise or shift dress featured a dropped waist and hung in a straight line from the shoulders to just below the knees.
The surrealist designer, Elsa Schiaparelli, also introduced the idea of casual sportswear separates for women.
While most women today would not fish while wearing skirts this was a bold move forward in fashion. I myself find the look quite charming.
Color
We often tend to think of 1920's fashion as quite drab. This is mainly due to black and white photography. Extensive notes were often made by Hollywood costume designers and you can see in this altered photo of actress Clara Bow, shown in  Dancing Mothers (1926), that the colors were actually quite bright and beautiful.
Parisian fashion plates and ads also show a wide variety of colors still favored today. This image of everyday ladies shows a palette favored for a fall look. It's not so very different from what we enjoy today.
Fabric
As for fabrics, it would have depended on the season. In the spring and summer lightweight cotton, linen and silk would have been worn. Also, note the full brimmed hats to keep off the sun. Creamy complexions were still desired.
Viscose rayon, also known as artificial silk, came on the scene in the mid-1920's but most other synthetic fabrics were not invented for textile use until the 1930's.
In the winter heavier cotton, wool, cotton velvet and various furs would have been the preferred fabric choices for cold weather .
Evening Dresses
Evening gowns in this decade were true works of art.
Designers focused on revealing looks. The decolletage area was a feature. As were unadorned shoulders and an open back as seen in this 1927 dress by Paul Poiret. The bias cut, fabric cut at a 45-degree angle, allowed fabric to be draped and stretched in lovely ways.
Intricate beading, pleating, and draping made for truly fetching frocks. Such as these gowns worn by the infamous vaudeville and film actresses, The Dolly Sisters.
The Little Black Dress
The LBD would first be introduced by Coco Chanel in 1926. It was a simple, modest dress that could be worn day into evening. It was known as "the Ford dress" because it was affordable and every woman could have one, much like the Model T.
In 1927 Hollywood designer Travis Banton had the movie heroine, Clara Bow, of the film "IT" wear an LBD onscreen and a fashion craze began.
Ladies Shoes
With metallic leathers and fabrics accented with rhinestones and embroidery shoes worn in the 1920's were the epitome of glamour.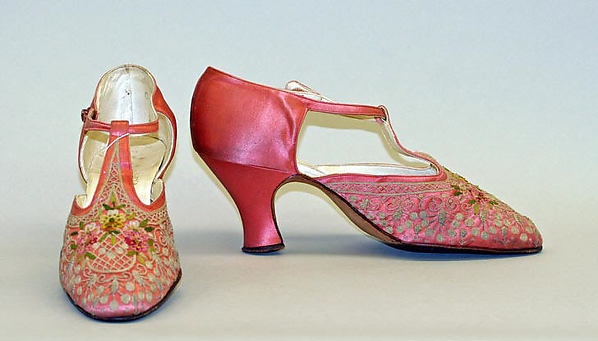 T strap shoes were all the rage because they would stay securely on the foot of the wearer while on the dance floor.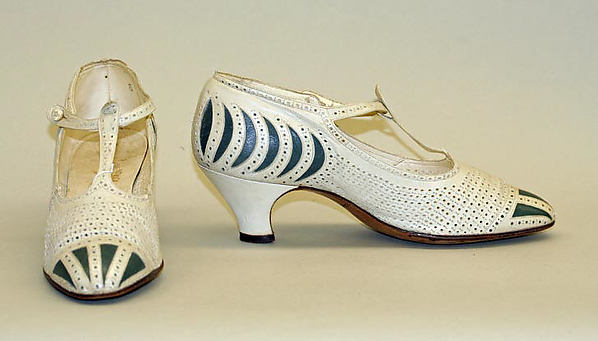 Dapper oxfords, two-tone spectators, and mary janes made for smart daytime looks.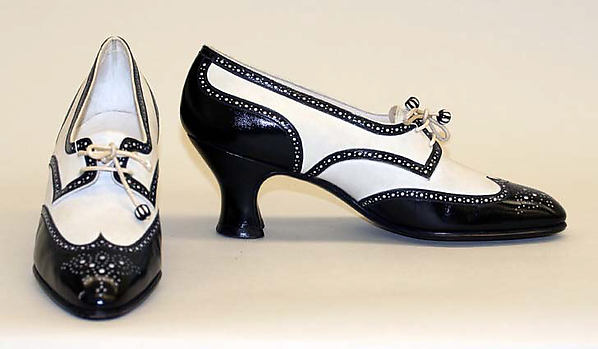 Coco Chanel, shown in 1929, loved the look of the spectator shoe.
Undergarments and Stockings
While corsets had gone the wayside women still wore foundation garments, aka girdles, to achieve a slim silhouette. Lingerie fabrics were made from of cotton, linen, silk, crepe-de-chine, and rayon.
Long-line girdles replaced the corset and provided the slim, boyish look sought after by women. Attached garters held stockings securely in place.
Some women opted to not wear a girdle and instead selected princess slips or cami-knickers (now known as the teddy).
Another fashion forward movement was the patterned stocking.
With raised hemlines drawing the focus to the legs hosiery was embellished in all sorts of ways. Patterns became quite ornate.
In the winter warmer knit socks (very much like modern day legwarmers) were worn over stockings and atop shoes.
What Dress Will I Make?
So many fabulous choices! How could I choose to focus on just one style?
I was inspired by this movie still of actress Louise Brooks.
Being a woman of a certain age I do favor the full and 3/4 length sleeve.
All of the lovely details found in dresses of this era were like glimmering jewels to my Magpie eyes.
The dropped waist Middy style was SO charming!
I decided to make a day dress in linen as well as an evening dress. In pink of course. The day dress came from an old tablecloth I transformed and the evening dress is being created using a silk sari found at an estate sale.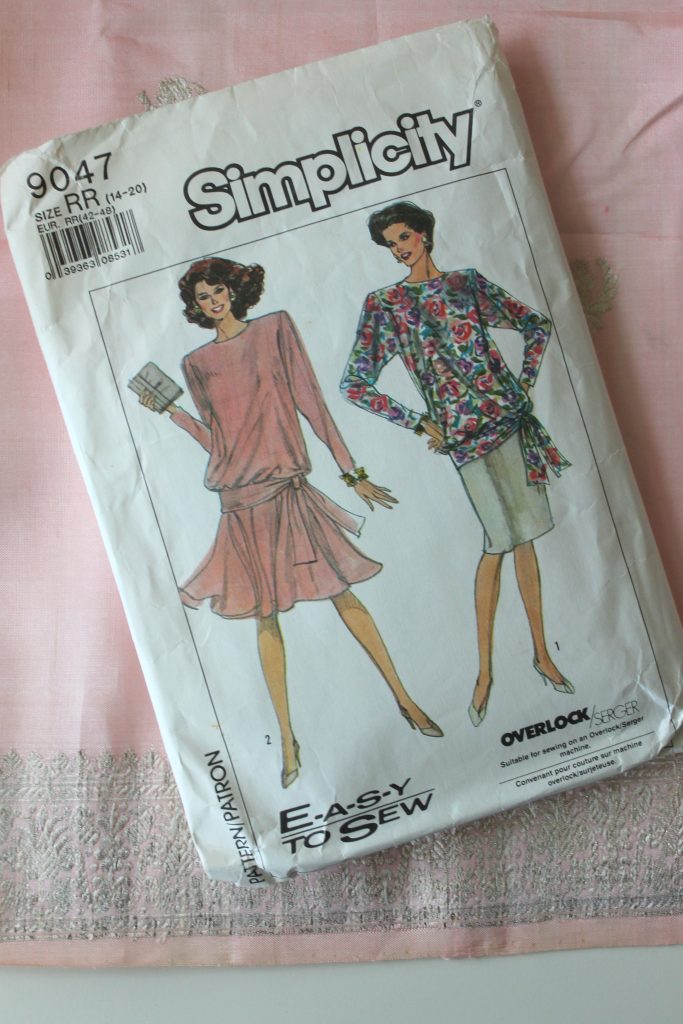 This will be the LAST TIME I ever tackle a costume challenge at the same time as the One Room Challenge. But thankfully, I have some "help".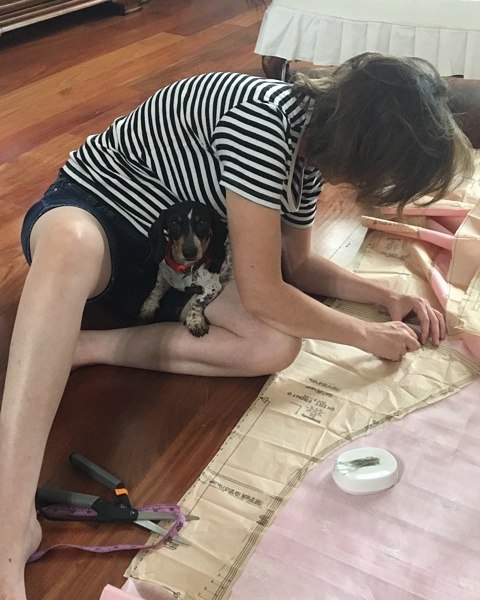 The photoshoot is tomorrow. Hopefully, I'll finish the evening dress before then.
Laura