I had wanted to do a big, splashy reveal post for our new flooring. But summer has arrived and it is in full swing. If I waited until everything was cleaned and decorated and the house was empty of teenage boys… well, it would be a good month or two maybe never for that post to be possible. So here is a summer snapshot, our new flooring.
So a good summer snapshot of the renovated spaces will have to suffice.
Let's get the product details out of the way first.
After months of indecision, we finally settled on "Geneseo Porcelain Tile" in the new 12" x 23" size. It was laid in an offset brick pattern.
The grout lines were created at 1/8", the thinnest possible. Warm Gray tile grout with sealer was used.
Now here is where I am honest and say that in my heart of hearts if our budget would have allowed it I would have selected a natural stone installed in a chevron pattern like this: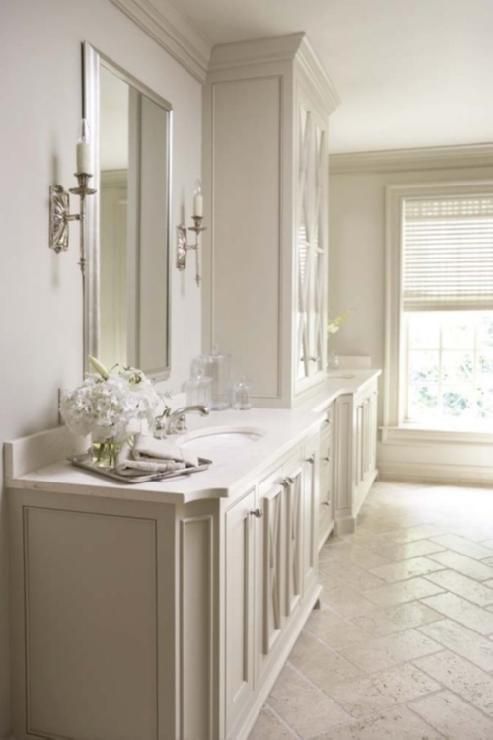 But we had to be realistic in that this is not our forever home. We plan on moving in three years. We also have a kid to put through college. The floor above would have been about $15,000. So, after scouring several stores we settled on what we felt was the best choice for our budget of $5,000. For the 600 square feet, we needed to cover that was a GREAT price.
The demo and installation was done by two very capable and talented gentlemen. They knew what they were doing, had all the right tools and it still took them almost a week of 10 hour days. I shudder to think that it would have been at least a month, without a kitchen, if Mr. Decor and I had attempted this massive undertaking ourselves. #knowyourlimits.
Because Storybook Cottage is an older home and Texas comes with shifting soil the challenges, twists and turns were numerous.
I actually had to go to bat for the workers as their boss tried to insist it was "taking too long". I had to play the snooty interior designer and tell him that I had overseen countless installs in my career and they were right on track for the condition of the home.
It is always very important that workers are treated fairly and the impossible is not expected in our "I want it now!" society. It just adds stress which is not good for the worker, the client or the project.
A positive working environment is so beneficial. I was happy to hear the men singing along to their favorite music and enjoying the lunch and snacks that I provided. They truly thanked me with a job well done.
In addition to the kitchen and breakfast nook, the pantry, family room, a 1/2 bath, and the small entry all received new flooring. We are delighted with the results.
I hope you are enjoying the summer snapshot series.
Laura
You might also enjoy:
Summer Snapshot Guest Bedroom
Summer Snapshot Slipcovered Antique French Chairs