Calling all Jane Austen fans! You can now live where Elizabeth Bennet lived.
The manor home, known as Longbourn in the 1995 BBC adaption of Pride and Prejudice is where the Bennet family lived and it is for sale for the first time in 70 years. In real life the name of the home is Luckington Court and you would indeed be lucky to live there.
The home is located in the Cotswolds, an area of 800 square miles that is known for its quintessentially English villages, lush landscapes of rolling hills and charming villages and cottages.
The Cotwolds run through the following counties: Gloucestershire, Oxfordshire, Warwickshire, Wiltshire and Worcestershire.
The 18th-century home sits beautifully on 156 acres and is located next to the church on the edge of Luckington village. Bristol Avon flows through the estate which is fed by seasonal springs and leads out to the nearby river Avon.
Historically Luckington Court is placed on the site of a manor owned by King Harold before 1066. It is built of local Cotswold stone. The present house was remodeled and extended around the 16th-century.
It was owned by the Fitzherbert family, wealthy merchants from Bristol from 1632 until the early 1800's. Further alterations were carried out in 1921 by the Johnson-Ferguson family which included an addition of a service wing to the north.
The house has more than 9,600 square feet of living space which includes six reception rooms, seven main bedrooms, and six bathrooms.
The rooms are elegant and well-proportioned with high ceilings and tall sash windows. In addition, there are several secondary buildings on the property to include traditional stables, farm buildings as well as five quaint cottages.  

The home is surrounded by beautifully maintained gardens, pastures and woodland with frontage to the River Avon.
Both the interiors and exteriors of Luckington Court were used in the filming to represent Longbourn, the Bennet family home.
Alas, Mr. Darcy, aka Colin Firth, is sadly not included in the £9 million ($11.6 million) asking price.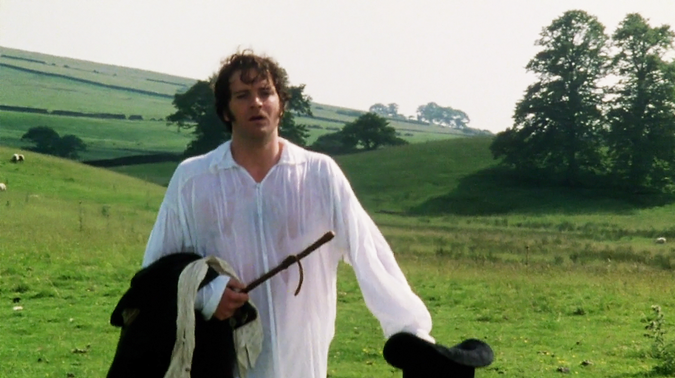 Does anyone wish to pool our pennies together?
Laura