There is something so wonderful in this image that it truly resonates with me. It may be the darling children, the subway tile or perhaps the happy use of artwork.
We are finally getting underway with ripping out the old carpet and broken tile in the family room, kitchen and pantry to install new flooring. To prepare for all the dust I am removing everything from the walls and open shelves. That includes this gallery wall.
I have enjoyed this gallery wall for the past two years but now find myself wanting something simpler.
I've noticed that there seems to be a trend to go beyond basic art in the kitchen.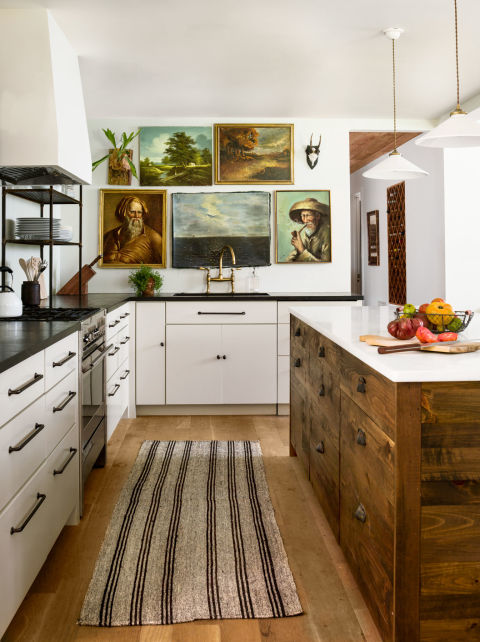 Of course it perhaps isn't a trend per se, but a return to surrounding oneself with good art everywhere.
Artist David Emile Joseph de Noter painted beautiful kitchen scenes numerous times. One of my favorites is "La Lecture" circa 1858.
I adore this Art Deco ceiling which is the perfect way to include art in a small space.
But primarily I am focused on one good piece of inspiring art being used in kitchens.
While some of the artwork is kitchen theme related…
…a good portion of it is not.
Simple portraiture is quite striking on this open shelving.
While this still life is the perfect pairing to a vibrant stove.
Perhaps it is the whimsy of seeing such a formally attired gentleman in a farmhouse kitchen setting.
Or the moody elegance of the dark green cabinetry as a backdrop for a eclectic collection.
However,  my favorite art in the kitchen tends to be pastoral.
Sweet scenes of animals or charming cottages set within lovely green meadows.
Do you have art in your kitchen?
Laura
You may click on each image to be taken to the original source.