There's one bathroom at Storybook Cottage that I haven't shared with you.
But the time has now come as I am beginning to look at ways to update it and shiplap may be the answer.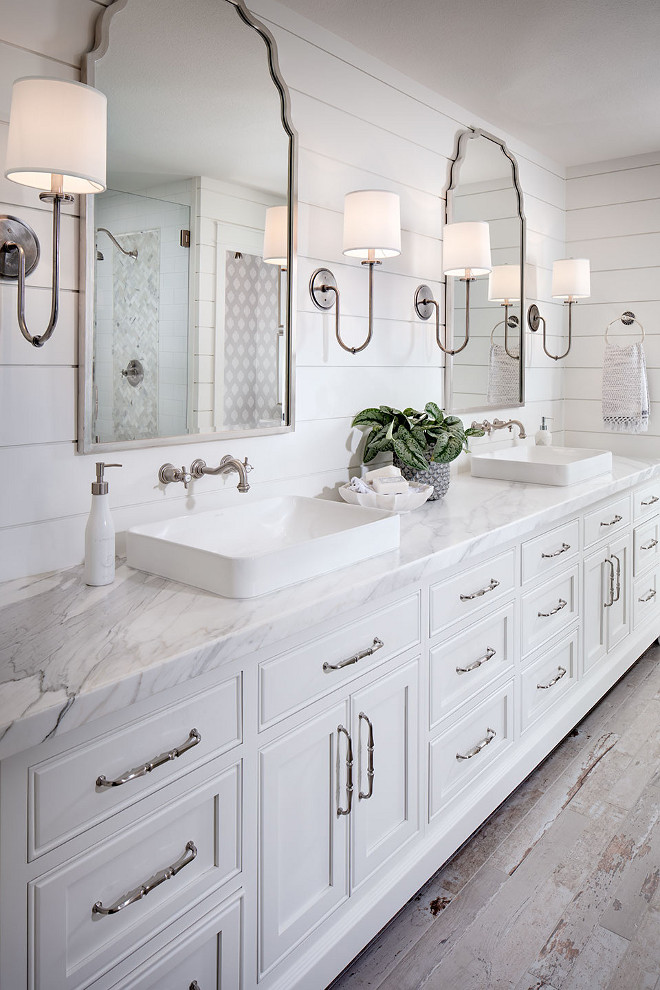 You may be wondering why I am considering shiplap.
In both the master and guest bathrooms the original builder of Storybook Cottage applied wallpaper directly to sheetrock.
For the love of design, if you are building a home, please do not select this option.
Opt to finish the walls in a smooth coat (aka skim coat) finish/surface and then apply wallpaper.
Because eventually you, or another individual who owns the home in the future, will want to remove the wallpaper.
This may be because you decide that beige, burgundy and green grapevine wallpaper doesn't equate with the words "soothing master bath retreat". 
It is virtually impossible to remove wallpaper when it is applied directly to sheetrock. You will damage the sheetrock.
Ask me how I know.  :(
There are some of you thinking "Aren't there any other options for this predicament?"
Yes, you can apply another layer of wallpaper over the old. It doesn't solve the issue, it merely camouflages it and delays the inevitable. Because of the high humidity in bathrooms the new paper may start to bubble and separate in a few years time. Given that wallpaper and the professional installation of it can be quite expensive this is not the best option.
Can you paint over it?
Yes, I actually did this in the guest bathroom and it's a good temporary solution.
However, in our master bath because there are two separate layers of paper once painted, the seam where the second wallpaper trim was applied would be quite visible. 
So, I am looking at other options.
Shiplap can be used in both informal….
… and more formal bathroom settings.
It can be painted…
…any color your heart desires.
It also provides a great base for other faux finishes.
There are numerous tutorials on how to install it and it seems to be a budget friendly option.
I think I may try it out on one straight wall in the guest bath first because it needs help ASAP.
The mirror finish is obviously having some issues. (Disclaimer: this was not installed by me, but a previous owner.)
I've also been eager to remove this upper wall cabinet.
There is plenty of storage in the double sink base cabinets so it's not needed and it really breaks up the flow of the room by stopping the eye with its rectangular obtrusiveness. (fancy design speak)
I also can't tell you how many times I have come up from cleaning the floors or toilet below this cabinet and cracked my head on the corner. #notfun  #mouthlikeasailor
So I would like to remove the cabinet and the oversized mirror.
Then apply shiplap and install two separate mirrors.
Like this:
…or this.
Here's one more example because as you may have surmised there is one person living in Storybook Cottage that I need to talk into helping me do the work. He had no idea what shiplap was when I broached the subject. But he is a faithful reader of this blog.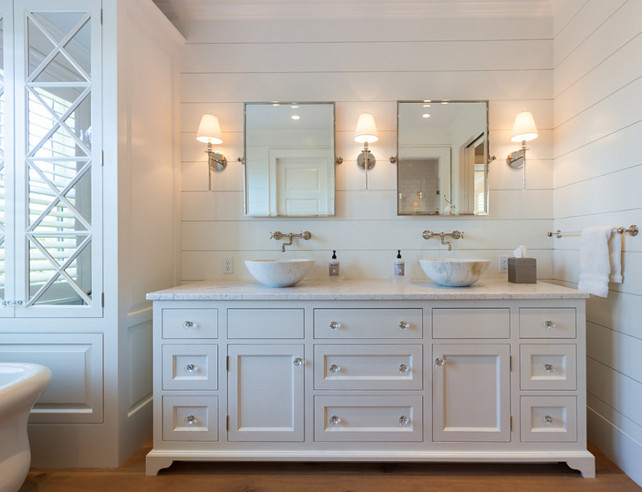 So feel free to leave a comment and help talk Mr. Decor into ridding our bathrooms of  past their prime elements.
Or tell me, "How do you get your partner onboard with your design schemes?"
Laura 
You may click on each image to be taken to the original source.