Hello dear friends! Are you making plans for a springtime celebration? I made A Tiered Tray of Springtime Treats.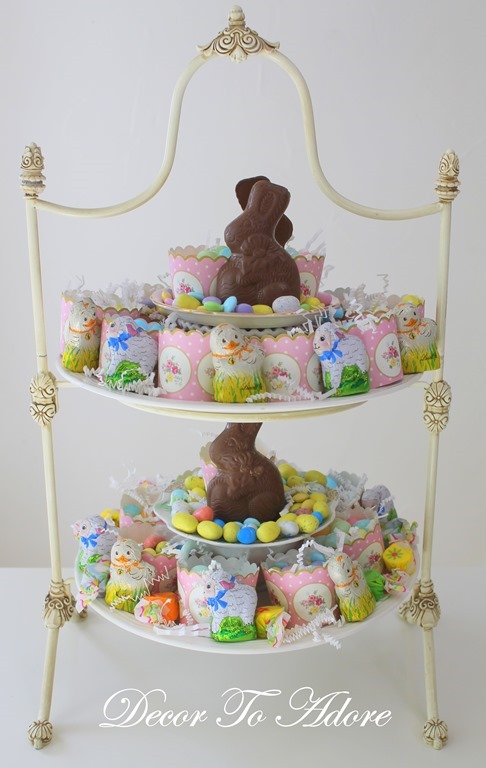 A Tiered Tray of Springtime Treats
I haven't been visiting blogs very much this past month because I have been working as an intern at a museum. This is part of a requirement for my upcoming college graduation.
The intern site is fantastic. My intern mentor and other co-workers have been really wonderful and I wanted to say "Thank you!" to everyone.
The gang really seems to appreciate a few sweets in the afternoon so I've crafted a "Tiered Tray of Treats".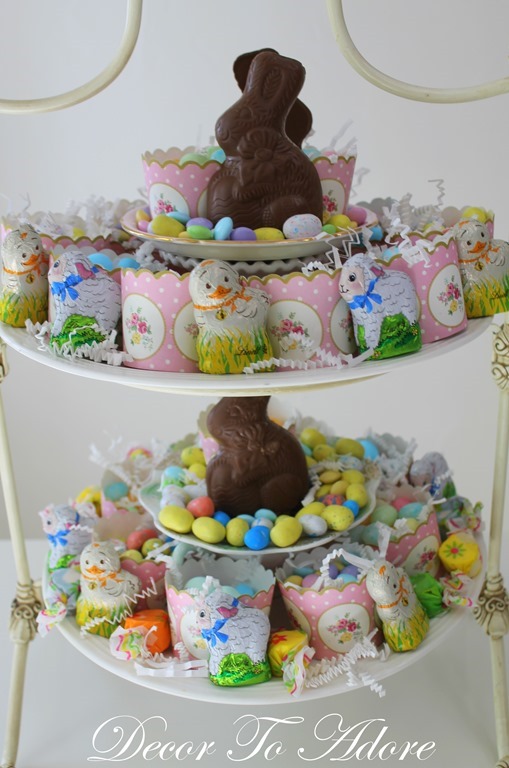 The Supplies
It's so easy to put together, serves 24 people and was created for only $20.
Here's what you'll need:
One pack of free-standing cupcake liners. They can be found at such stores as HomeGoods and TJ Maxx ~ $2.99
Paper shred from the Dollar Tree~ $1.00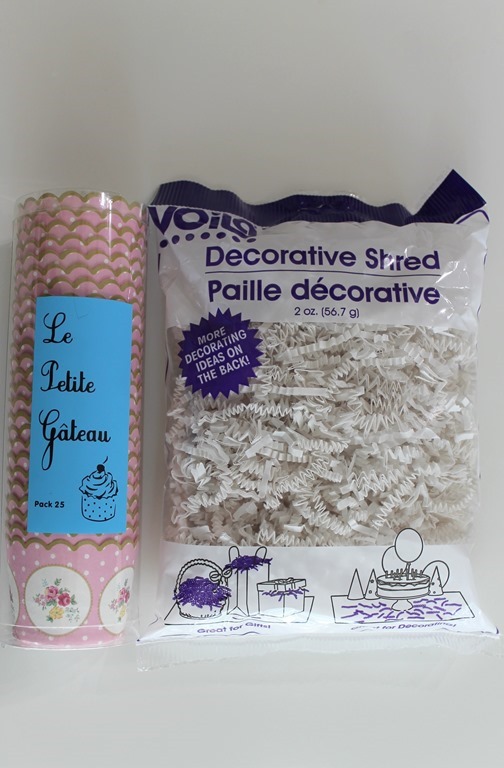 One bag each of small candy such as malted eggs, jelly beans, and taffy plus three hollow chocolate rabbits from the Dollar Tree  ~ $6.00
A bag each of M & M's, Cadbury eggs and foil wrapped chocolates, chicks, and lambs, (found on sale, used a few coupons) at Target. ~ $10.00.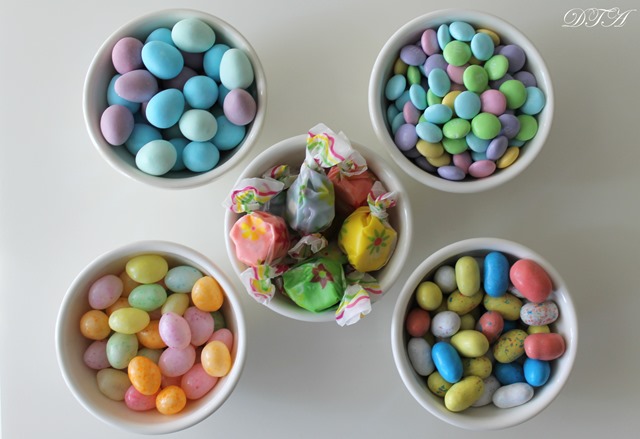 Fill cups with paper shred and various candies. I kept the candy types separate but you could create a mixture.
*This is an excellent task for kids providing they don't eat all the candy.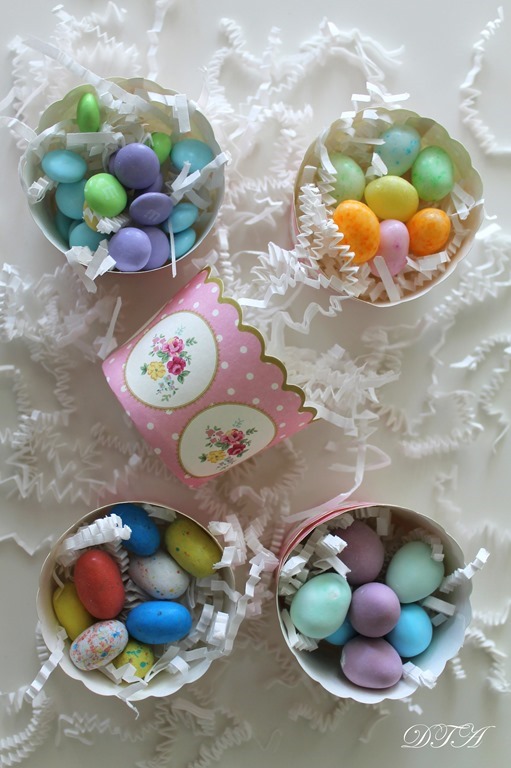 Melted Chocolate Bunny
For the centerpiece remove the chocolate bunny from its packaging. To secure it onto a plate you will need to melt the bottom. Simply use a culinary torch and position a low flame under the bunny. Do not allow the flame to touch the chocolate but simply warm it. Positioned the bunny onto the plate and hold it in place until the chocolate is set.
*This is a VERY quick process, but requires extreme care and should be done by an adult only. The melting takes only seconds so make sure your plate is ready.
The chocolate bunny will later pop easily off the plate to eat.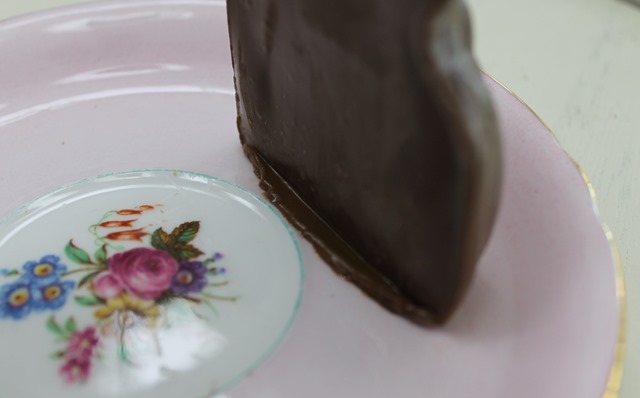 I elevated the two plates on a small pedestal. But you could also use a glass votive filled with jelly beans.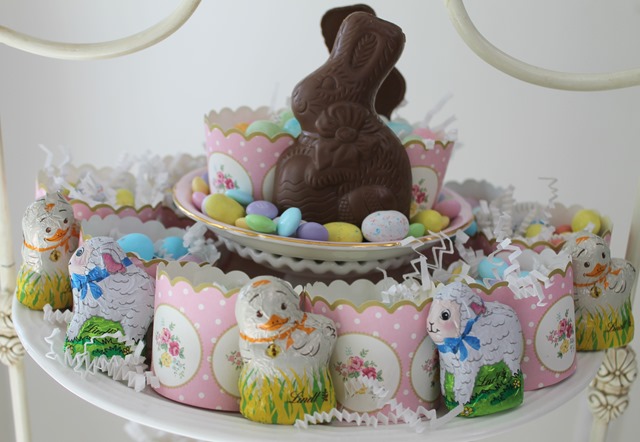 Both the pedestals were then surrounded with the paper cups of candy.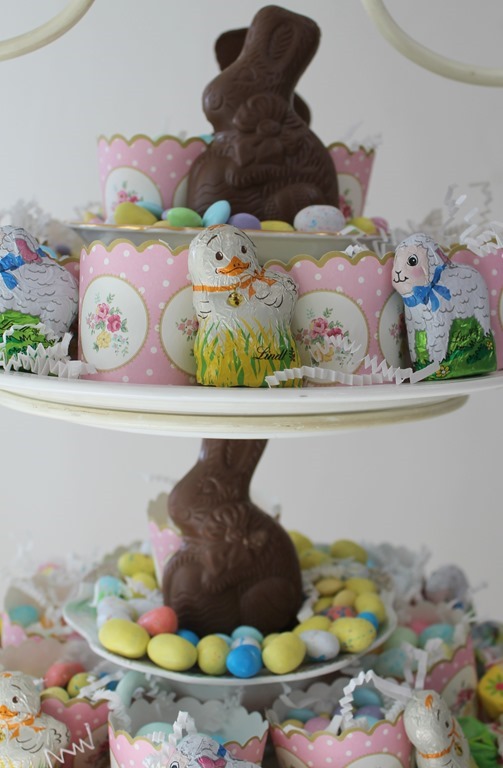 Nestle the taffy, foil wrapped chicks and lambs between the cups. Tuck in extra bits of paper shred.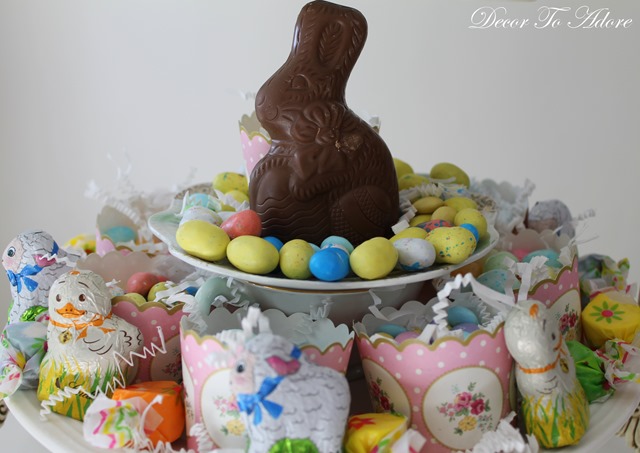 It is a sweet treat sure to be appreciated by many.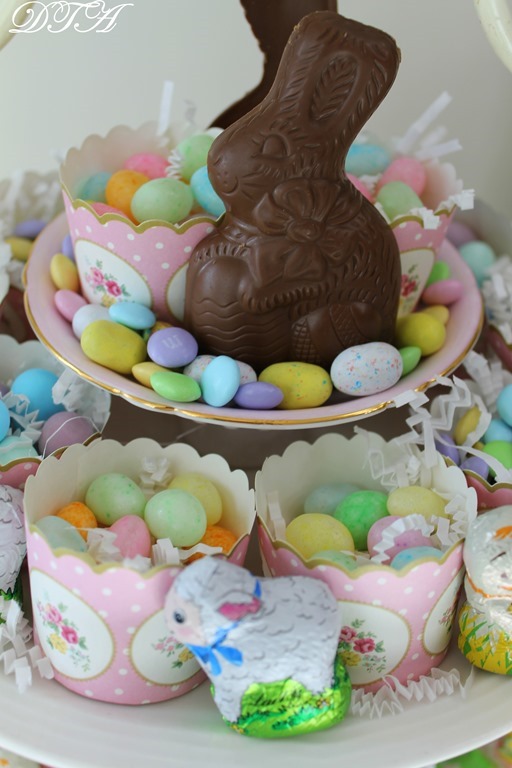 Do you bring treats to your co-workers?
Laura