This week I had the privilege of participating in not one, but two spring home tours.
My dear friends, Marty of A Stroll Thru Life and Katie of Let's Add Sprinkles, both hosted truly wonderful tours filled to the brim with delicious spring décor inspiration.
Knowing that many of you are short on time I've gathered just a few of my favorite spaces from the tours to share with you.
Debbie's dining room had me at hello. You can see her entire tour at Refresh Restyle.
Cristina of Remodelando la Casa creates amazing spaces with her own mad skills. You must see her kitchen and home office space.
Laura's beautiful porch at Duke Manor Farm is what my own back patio aspires to be when it grows up.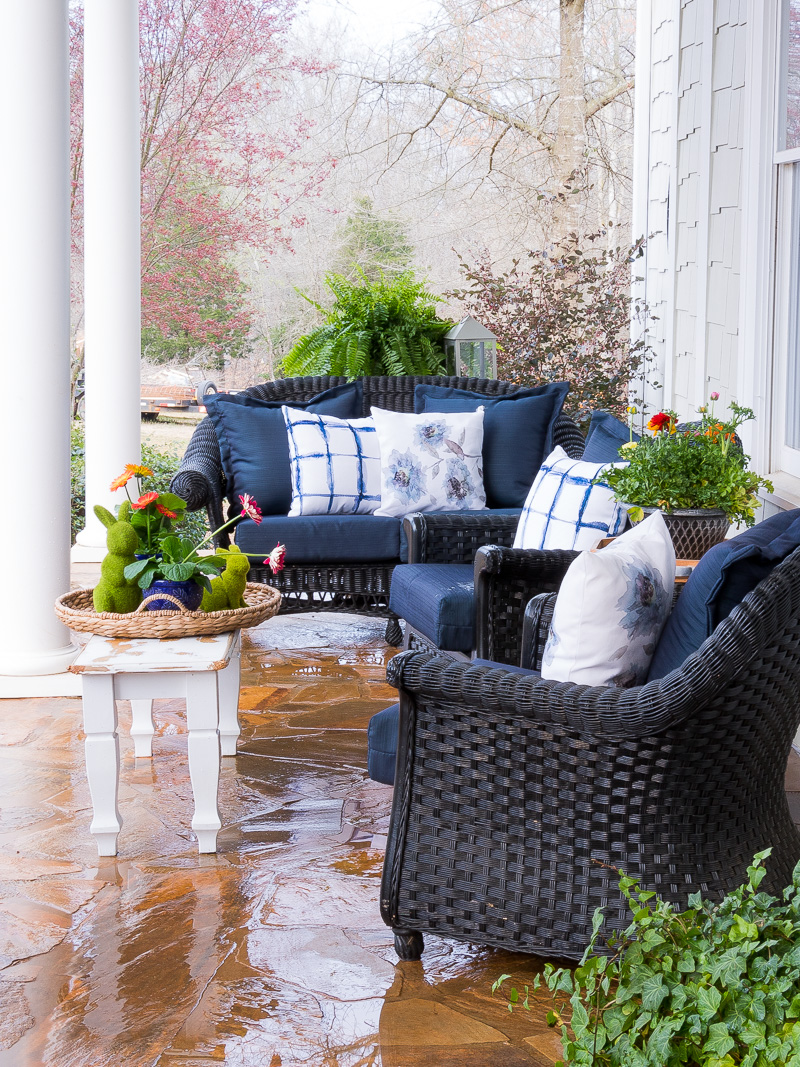 Rhoda's living room at Southern Hospitality shows that a lovely space can be created by using great décor store finds and wonderful DIY.
This bathroom, by Z Design At Home, rings all my bells and whistles.
Kim of Sand and Sisal paired blue and yellow, a favorite color combo of mine, in her happy spring tour.
Carol of Art and Sand has created a truly enchanted garden. Her sweet little she shed features a happy red door.
Of course I am in "flooring mode" as we prepare to redo the kitchen here at Storybook Cottage and was truly smitten by Brooke's selection at Nesting With Grace.
Here are some Easter themed bits of bliss.
My friend Debra of Common Ground is a master at creating seasonal vignettes. I now find myself looking for a large bunny to place in my own wagon.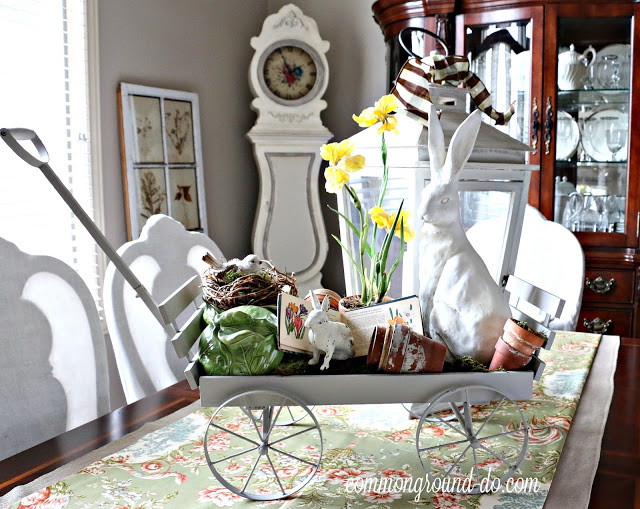 Jann of Have A Daily Cup of Mrs. Olson presented an Easter Wonderland tablescape that truly made me smile.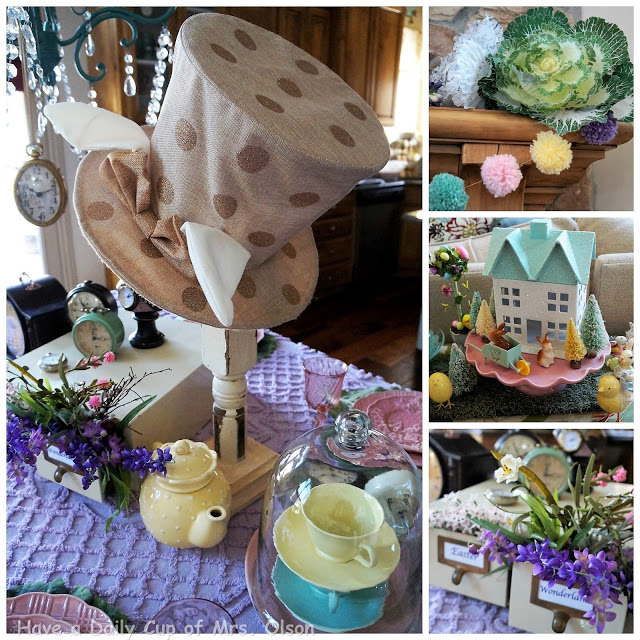 The super talented Jane of Cottage at the Crossroads created this darling chalkboard scene in her kitchen and generously provided the pattern for the burlap bunnies.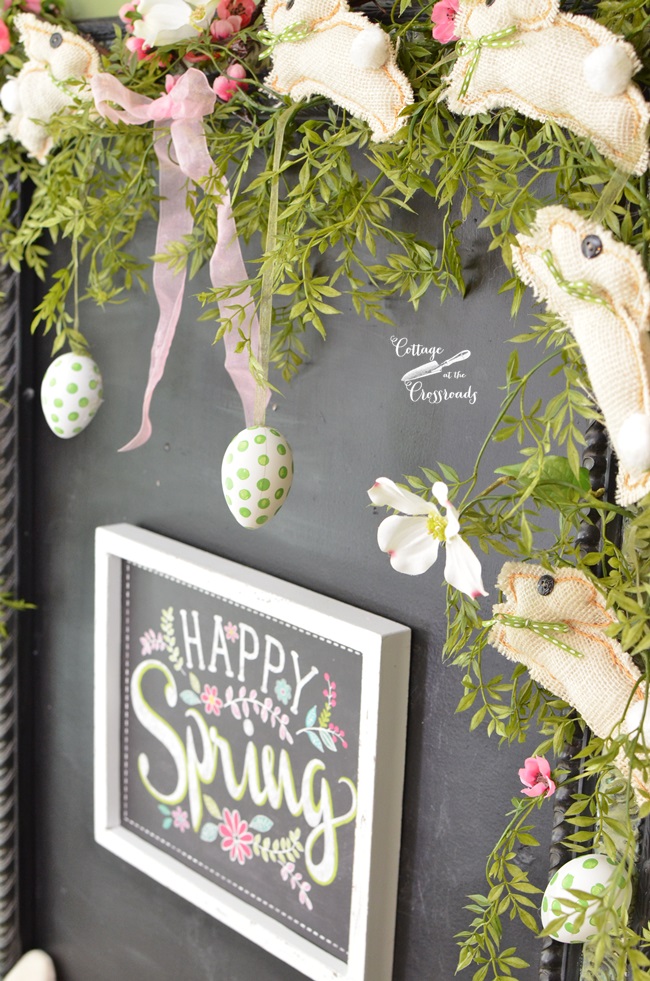 I'd like to thank everyone who left such kind comments on both of my spring home tours.
You can view Part I HERE and Part II HERE.
I am so very glad that so many of you enjoyed my cabinet of curiosities. I always wonder if my wild ideas will be well received.
Is it crazy that I'm already dreaming of what I can fill the cabinet with for summer?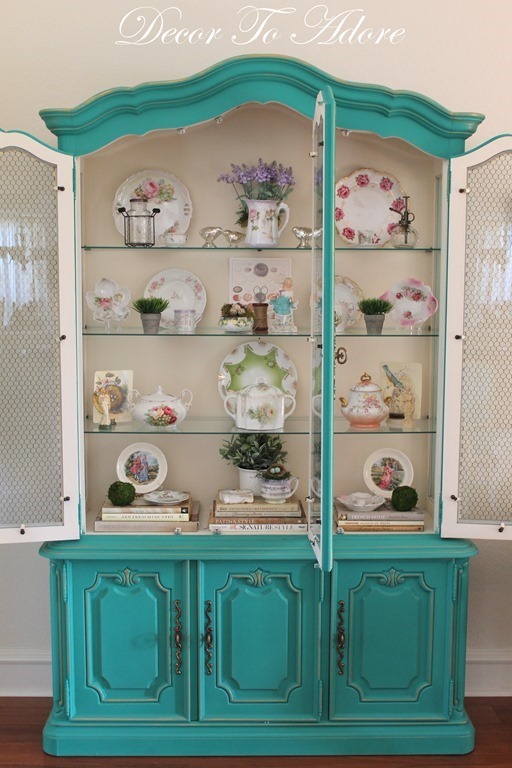 Here are all the wonderful participants on the Spring Home Tours:
Monday – March 20
A Stroll Thru Life |Decor To Adore | Southern Hospitality |Pink Peppermint Design| Cuckoo4Design| 21 Rosemary Lane 
Tuesday – March 21
Setting For Four |The Chronicles of Home | Nesting With Grace |Refresh Restyle |Haneen's Haven| Simple Stylings
Wednesday – March 22
Decorating Delirium |Dimples & Tangles| Hymns & Verses| Remodelando La Casa| Sand & Sisal |Common Ground 
Thursday – March 23
Duke Manor Farms| It All Started With Paint| Life on Virginia Street| Bliss At Home| Rain On A Tin Roof | ZDesign At Home 
Friday – March 24
Thrifty and Chic| Our Fifth House | Inspiration For Moms| Far Above Rubies| Life and Home at 2102| Making Home Base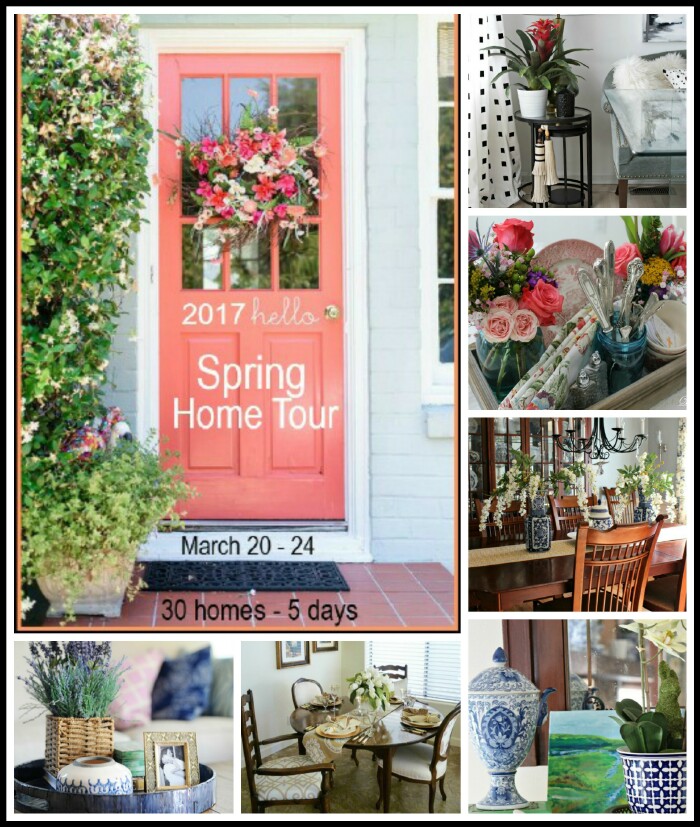 This is the list of all of the lovely Hello, Spring Blog Tours
Monday
Let's Add Sprinkles| Common Ground| The Essence of Home|Bluesky Kitchen
Tuesday
Ms. Toody Goo Shoes| Art and Sand| Have A Daily Cup of Mrs. Olson
Wednesday
Botanic Bleu| My Heart Lives Here|Cottage At The Crossroads|Fern Creek Cottage| Decor To Adore
Thursday
The Dedicated House| Ash Tree Cottage| Hyacinths For The Soul| Let's Add Sprinkles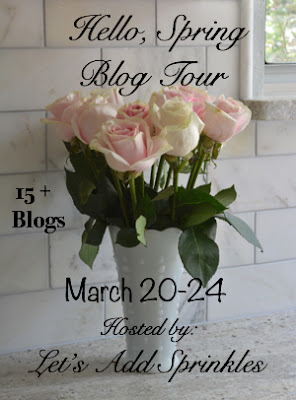 Enjoy your weekend!
Laura