On our second day in Vancouver we headed to Queen Elizabeth Park despite the fact it was pouring rain.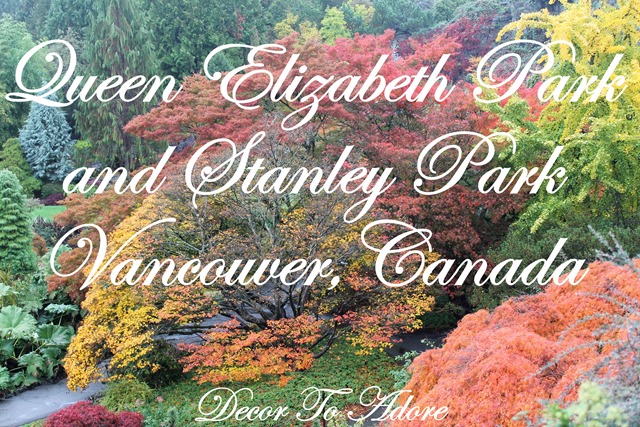 In collecting research prior to our trip I had heard that this lovely park was like a smaller version of Butchart Gardens which was already on my travel bucket list.
We decided to take a 15 minute city bus ride to get to the park. We found the initial stop, close to our hotel, via the Google maps app on our smart phone. Of course we like to make friends wherever we go and the beautiful Jade captured our hearts during the short trip. Once we got off the bus it was then about a 10 minute walk to the park.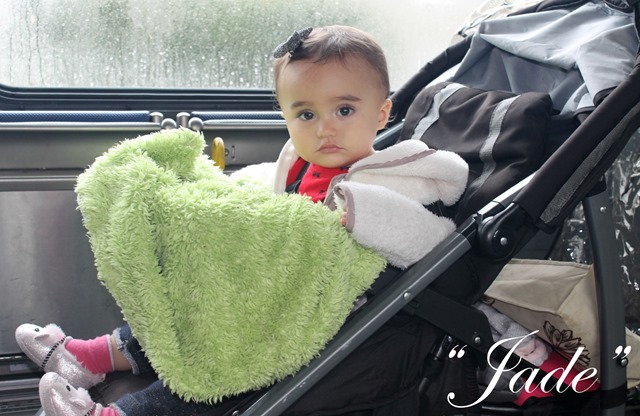 There is no fee to wander the walk paths and trails in this beautiful 52-hectare (128 acre) park.
Mr. Decor stood on the lovely Asian inspired bridge.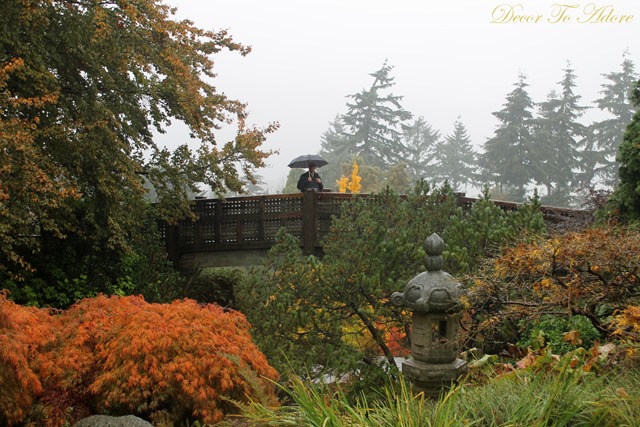 The park was once an old mining quarry that was transformed into a sunken garden. It received its name when King George VI and his consort, Queen Elizabeth (the "Queen Mum" to Queen Elizabeth II) dedicated it during their visit to Vancouver in 1939.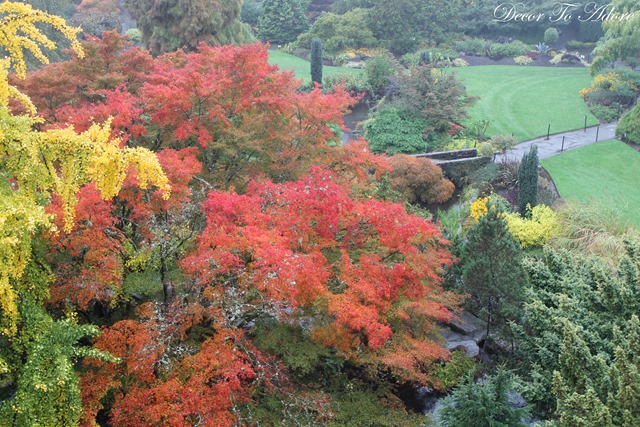 Standing on the bridge you look down onto glorious wonder.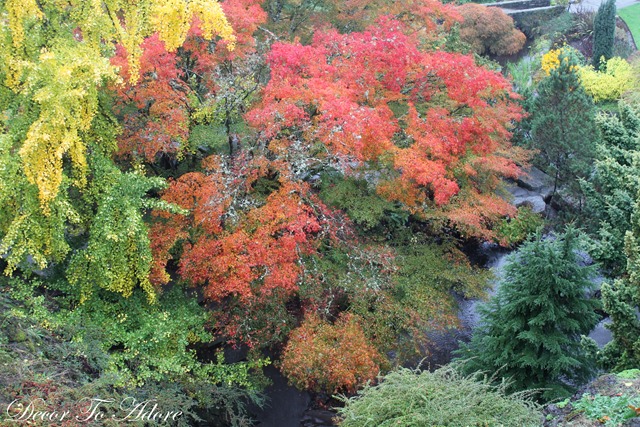 The fall colors actually (if you can believe it) appear somewhat muted in these photographs due to the continual drizzle of rain.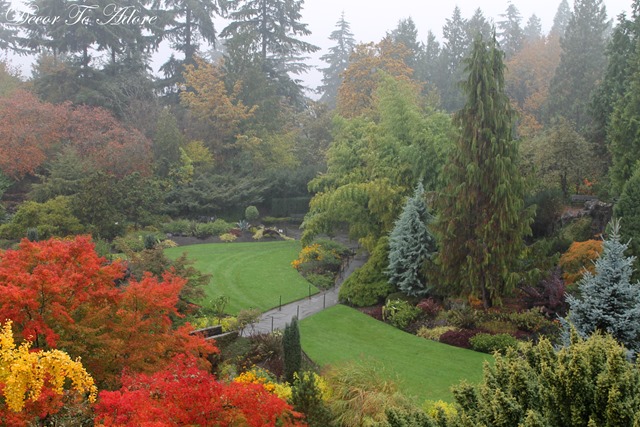 There are two gently sloping walk paths that you can take down into the former quarry.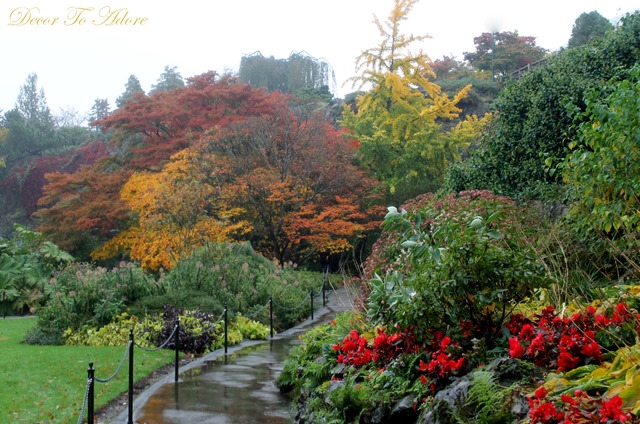 So many glorious textures and colors!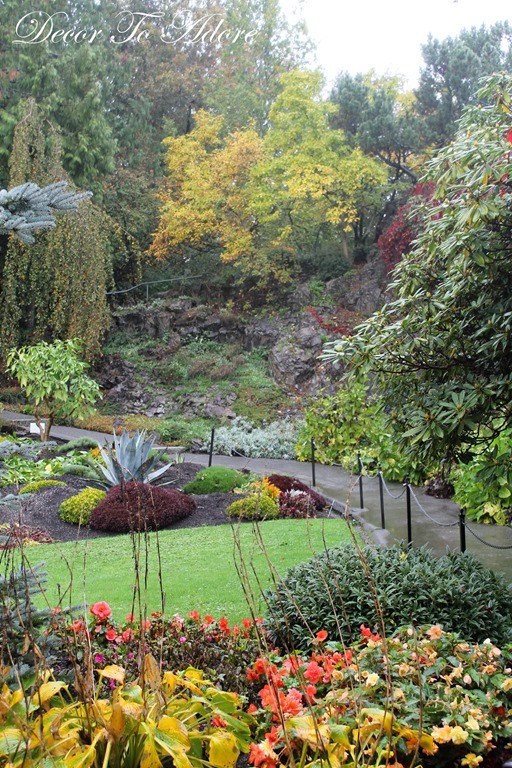 One benefit of the rain was that the walls of the quarry held the most splendid mini waterfalls.
Every twist and turn of the path revealed nature at her finest.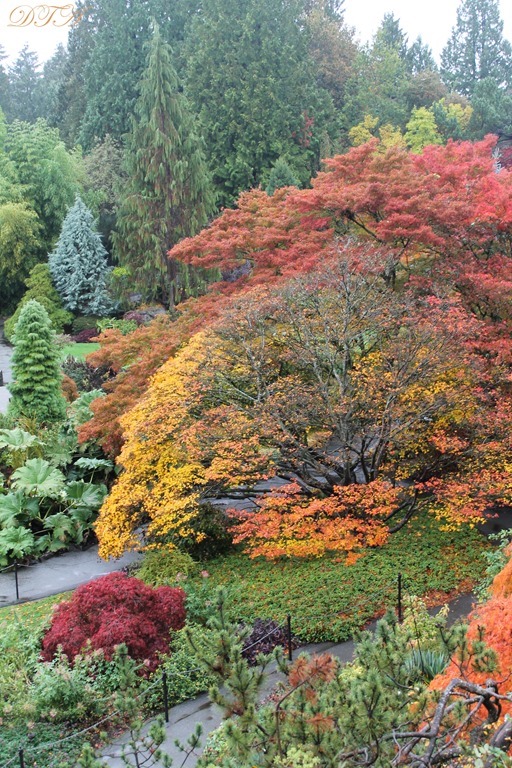 There are a few additional paths and staircases that veer off into various directions once you reach the bottom.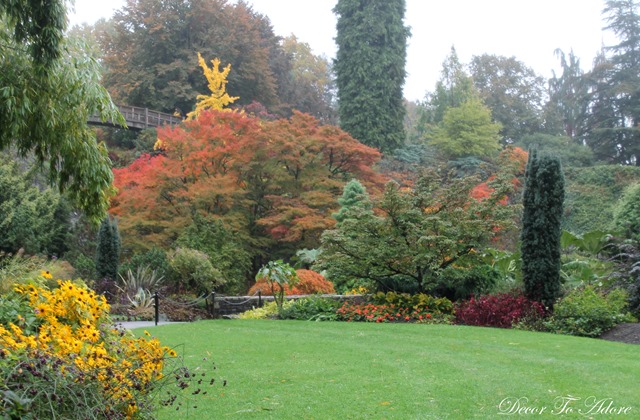 Droplets of water on the tree branches magically created a forest of sparkling diamonds. It was simply enchanting.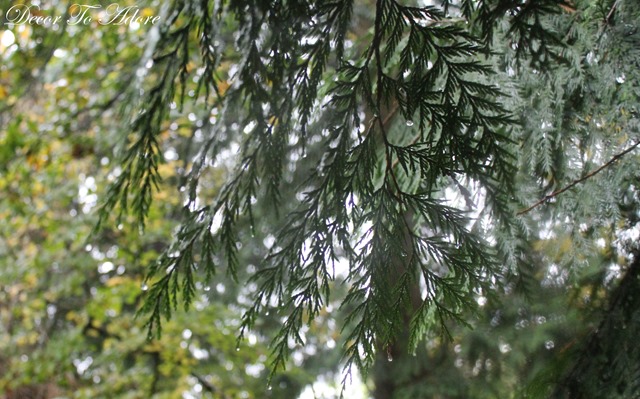 Adding to the enchantment was that we had the park almost all to ourselves.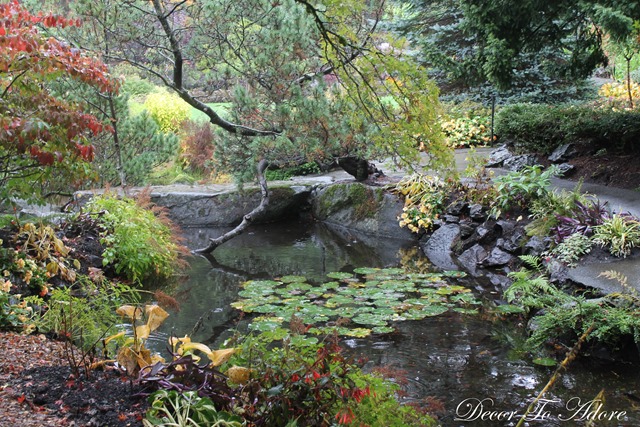 Looking back up to the bridge you can see the dome of the Bloedel Conservatory which sits atop the city's highest point. The conservatory houses a tropical rainforest habitat that contains approximately 200 free-flying birds as well as 500 exotic plants and flowers within a temperature-controlled environment. There is a small fee if you wish to tour the habitat.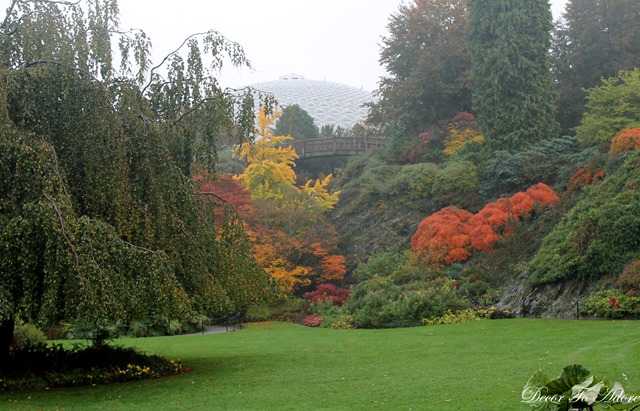 You can also see the restaurant Seasons in the Park which offers fine dining and glorious views.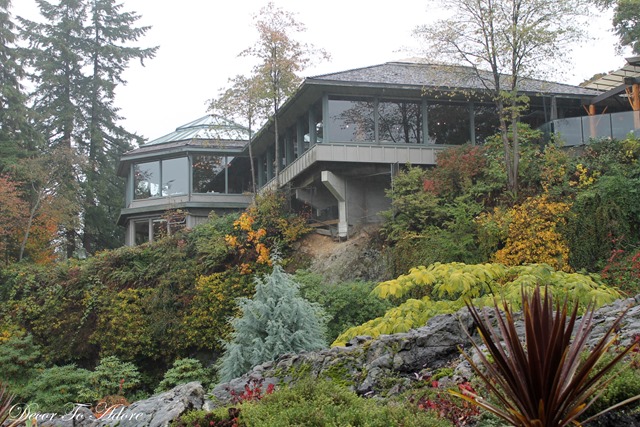 Close to the restaurant we spied a group of tourists having their picture taken at the overlook. Mr. Decor couldn't resist photobombing them.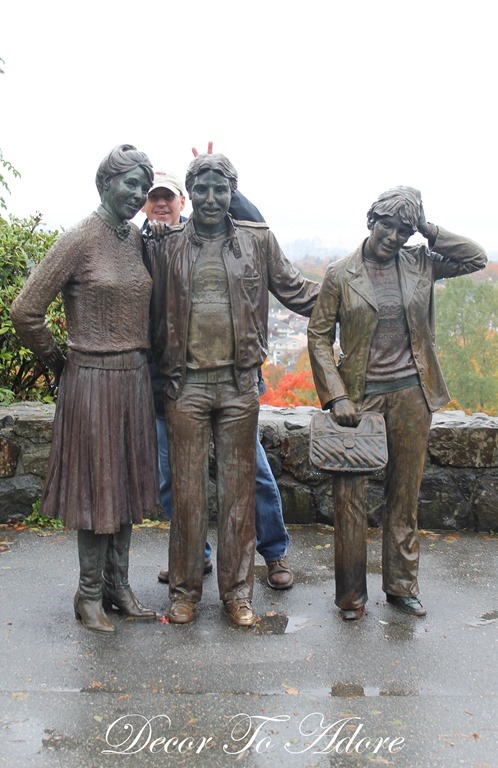 The photographer motioned for him to get out of the picture. 🙂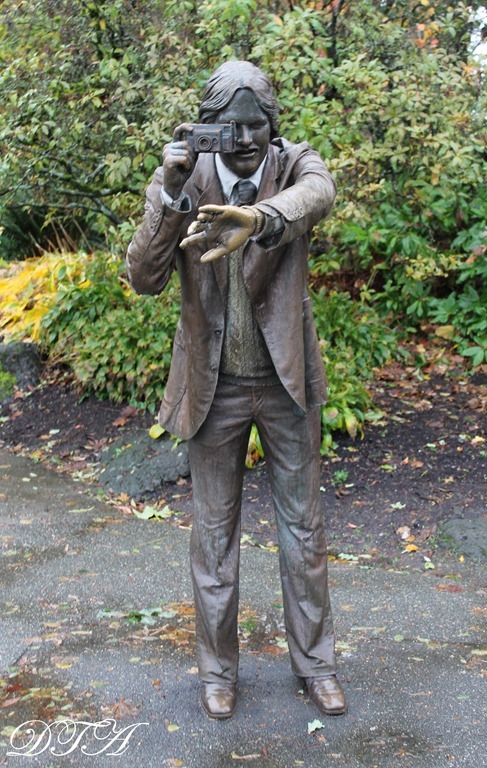 In the park there is also a second sunken garden that is quite a bit smaller.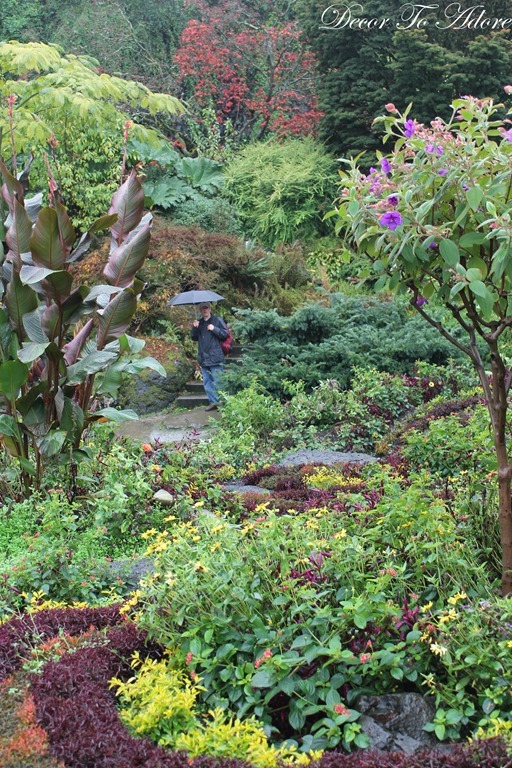 Much of this garden was being dug up and replanted. I did fancy this grouping of succulents in progress.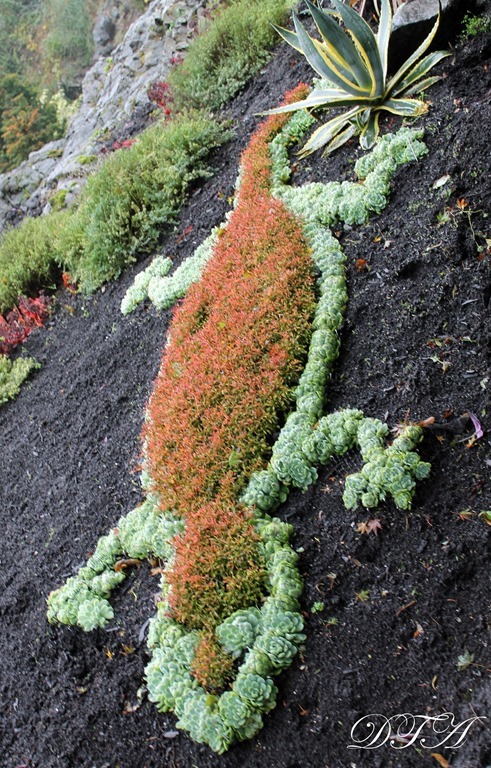 After viewing the rose garden, putting green and lawn bowling areas in the park we were fairly drenched and decided to make our way back to the hotel. This time we decided to take the Aquabus.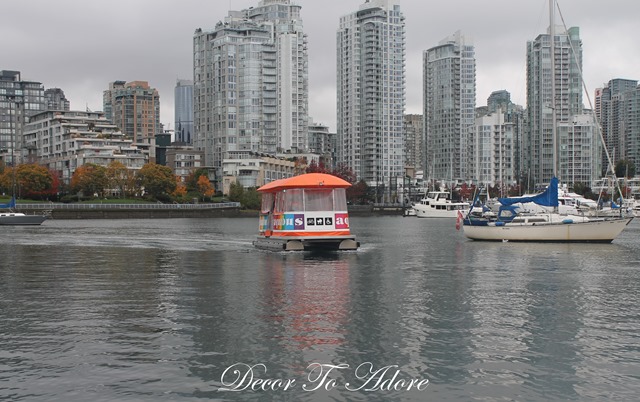 We jumped on at Spyglass Place, crossed False Creek taking in the lovely city waterscape and got off at the Yaletown dock. We had this charming little ferry all to ourselves and paid just $3.50 for this delight.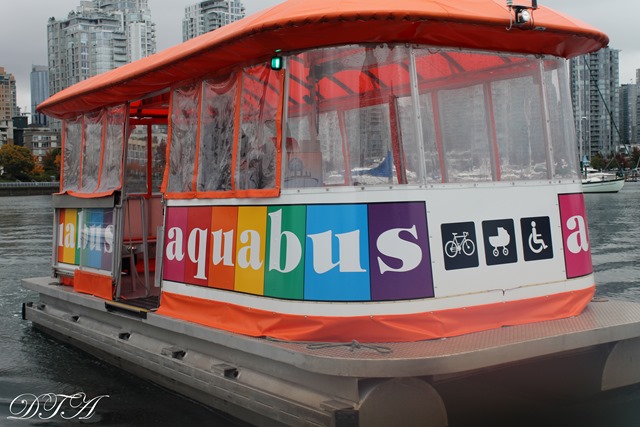 Late in the afternoon we picked up a rental car in preparation for our trip to Victoria the next day. Not wanting to waste an opportunity we headed over to Stanley Park which was a 20 minute drive from our hotel in Yaletown.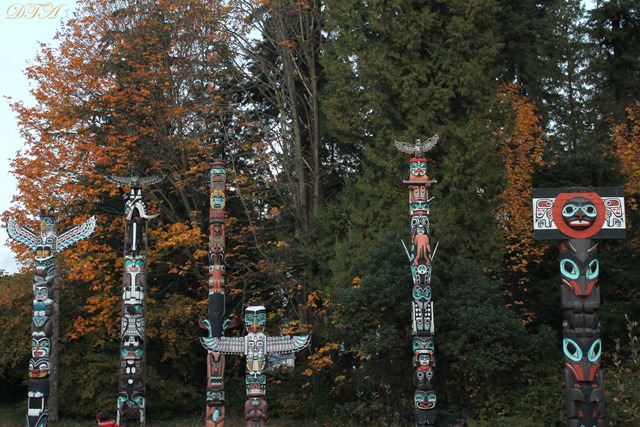 Our first stop in Stanley Park was to visit the amazing First Nation totem poles.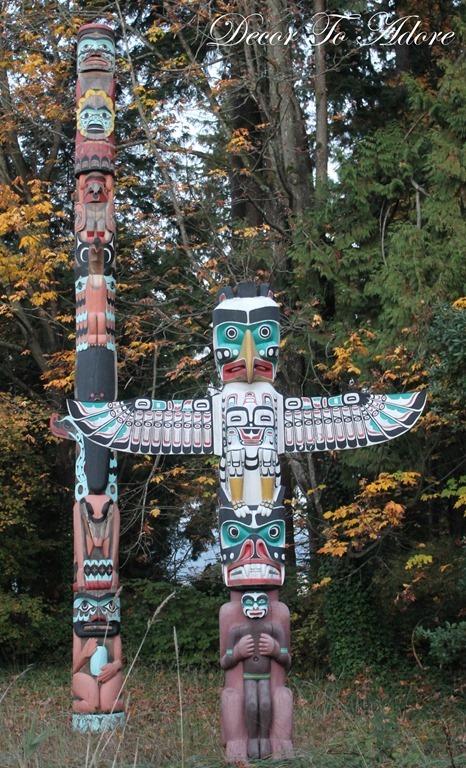 These gorgeous red cedar posts came from Haida Gwaii (Queen Charlotte Islands) and the Squamish Nation.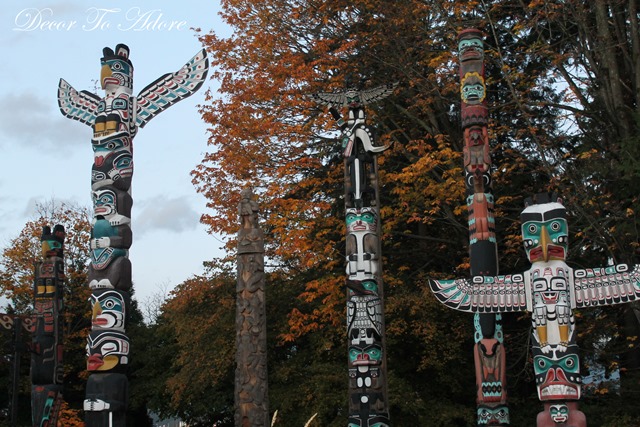 Next, we saw the life size bronze sculpture "Girl in a Wetsuit" by artist Elek Imredy. Many people say it reminds them of Copenhagen's "The Little Mermaid". I can see it.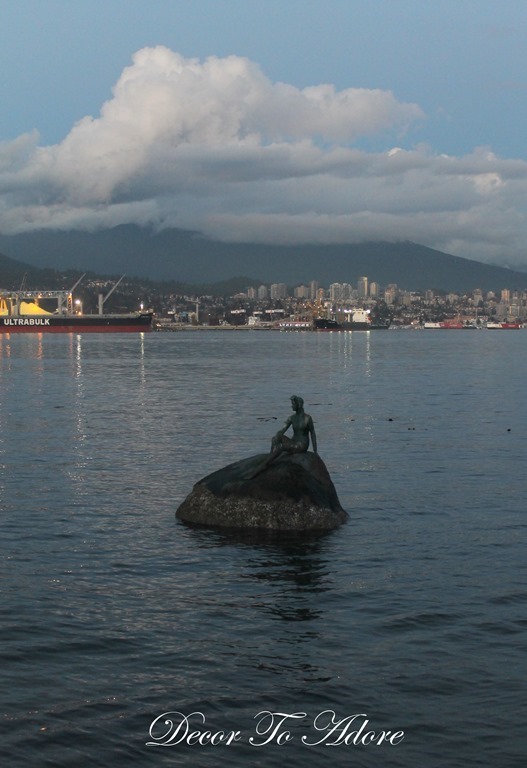 Mr. Decor had to pose in front of Stanley Parks famous Hallow Tree. It is a 700 to 800 year old Western Red Cedar tree stump.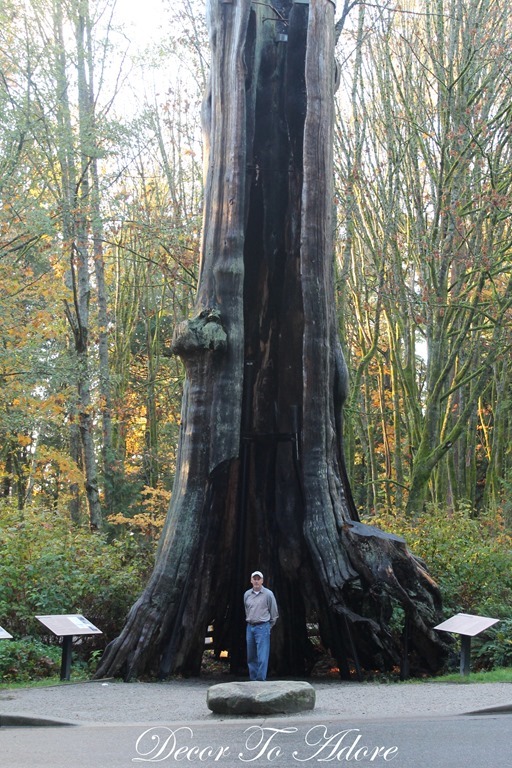 While there is also an aquarium, a small train, beaches, and horse drawn carriage rides in Stanley Park we opted to just appreciate nature.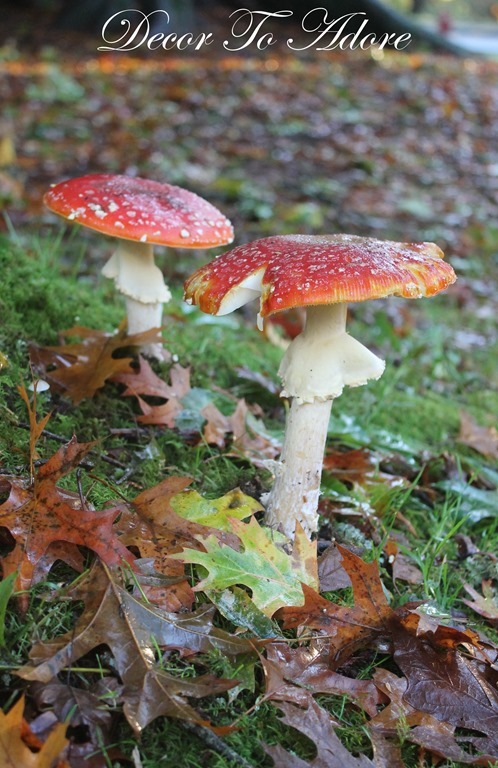 As you can see I was really excited about these red and white polka dotted toad stools. I had never seen one in real life!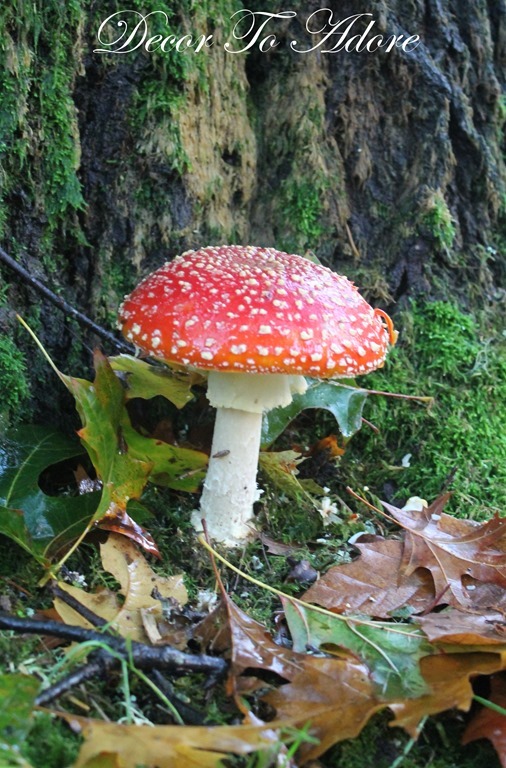 Across from the teahouse in the park there is a stunning view of Ferguson Point and English Bay.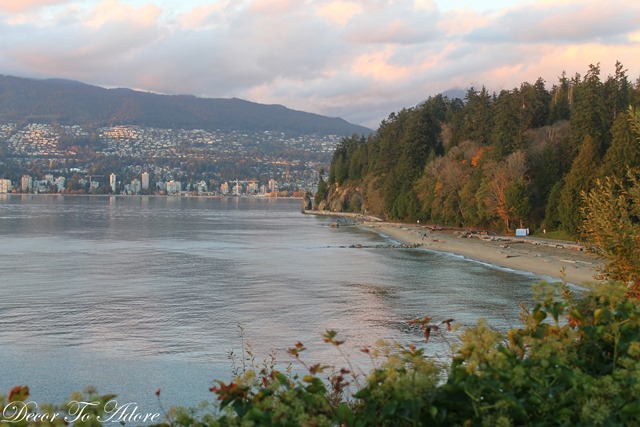 It was here that we decided to take in the amazing sunset.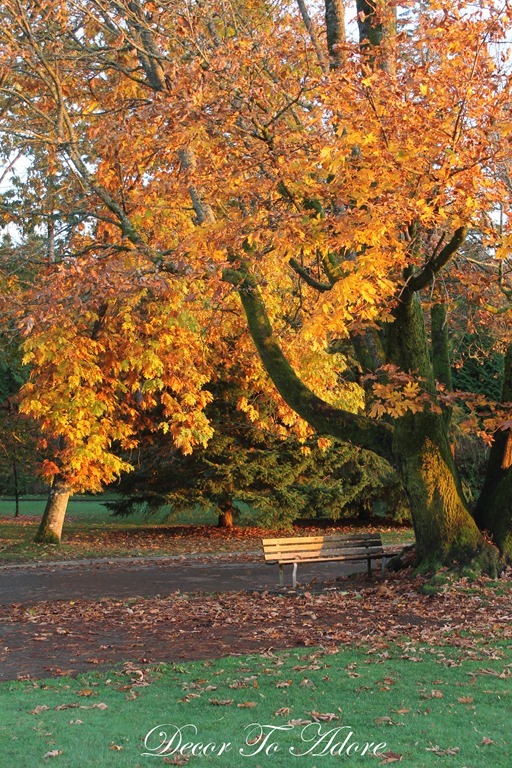 So peaceful and lovely.
Glorious pinks and lavenders…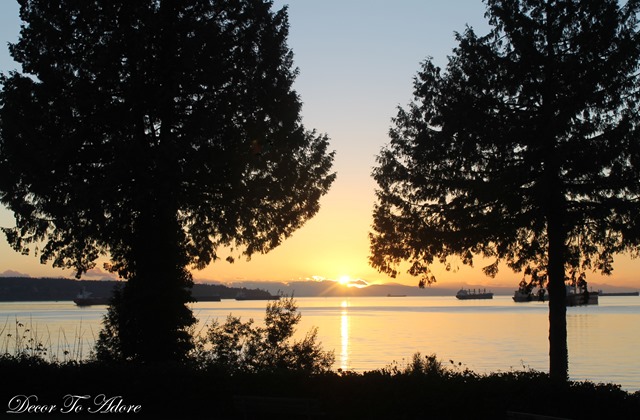 … gold and blues.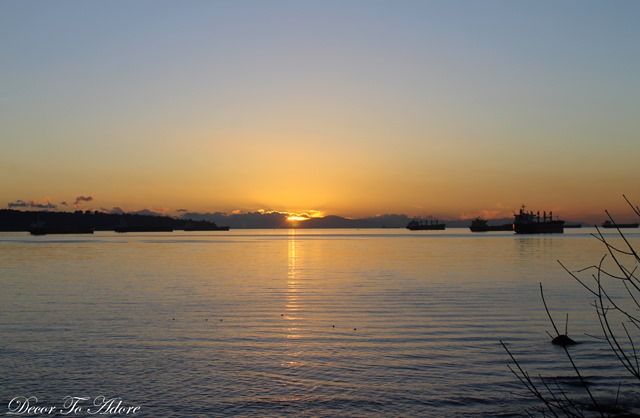 The perfect end to a perfect day.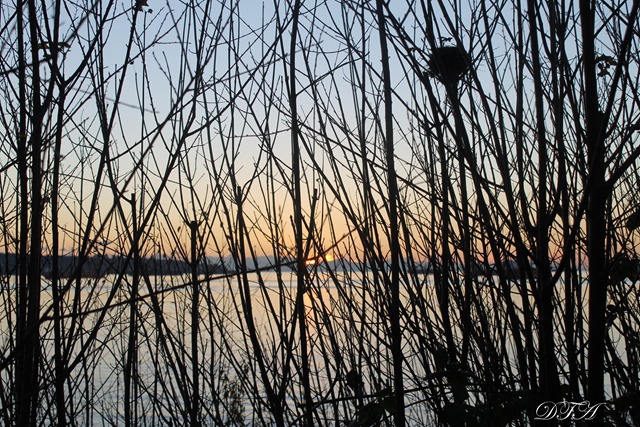 Tomorrow we head to Vancouver Island,
Laura