There is perhaps no better design that personifies the endless summer more than Palm Beach style.
Palm Beach socialite Jim Kimberly, his wife and friends with his white sports car and white boats moored on Lake Worth, 1968, Slim Aarons.
To understand how the Palm Beach Style first developed one must travel back in time.
The first settlers arrived in the Palm Beach Florida area, then known as Lake Worth, in 1872.  It was established as a resort area in 1893/94 by Henry Morrison Flagler, the founder of Standard Oil.  The town of Palm Beach was incorporated on April 17, 1911.
Flagler provided access to the Atlantic coast barrier island via his Florida East Coast Railway. Special trolleys took visitors almost directly to the front doors of his first luxury hotel, the Royal Poinciana Hotel.
The Georgian styled hotel was built on the inland waterway as a winter retreat and opened in 1894. Sadly, it did not survive the Great Depression and was torn down in 1935.
A second hotel, The Palm Beach Inn, was built on the beachfront property near the Royal Poinciana by Flagler in 1896. Guests often requested rooms "over by the breakers," so it was renamed The Breakers Hotel by Flagler in 1901.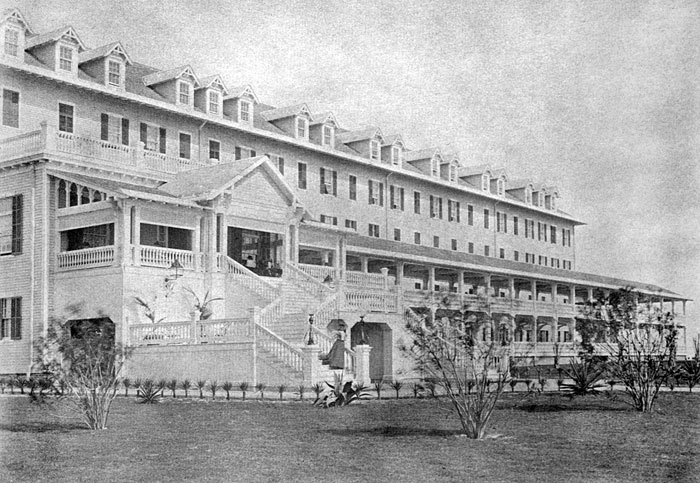 The wooden hotel burned on June 9, 1903 and was rebuilt. It burned again on March 18, 1925 and was rebuilt to the structure that still remains today. The hotel was listed on the National Register of Historic Places in 1973 and remains an iconic Palm Beach landmark.
Flagler continued buying up land. In 1902 he built a 75 room, 100,000-square-foot mansion he named Whitehall. The mansion was designed in the Beaux Arts style as a wedding present for his wife, Mary Lily Kenan Flagler.
The couple used the home as a haven away from harsh winters. They entertained constantly and established the Palm Beach social season which occurs for about eight to twelve weeks between December and February.
Flagler began offering property lots to notable families of the Gilded Age such as the Astor's and Vanderbilt's. Later came the Pulitzer's and Kennedy's. Palm Beach was well on its way to becoming America's first resort destination for extremely wealthy individuals.
Joseph P. Kennedy Sr., the Kennedy family's patriarch, bought the family compound in 1933. It later would become known as the "Winter White House".
The panache of Palm Beach was enhanced further with an influx of royal visitors to include the Duke and Duchess of Windsor.
As you can imagine these illustrious homes were decorated in a manner befitting their well traveled residents. The Palm Beach style reflected this and included:
Bright beach colors such as blue, turquoise, green, yellow, pink and coral were/are often combined or paired with copious amounts of white.
Classic design elements of Greek key, fretwork and chinoiserie are found in the furniture style and accessories.
Natural elements including tortoise shell, bamboo, rattan  or wicker are used for furniture and accessories.
Iconic images for the style feature the pineapple, palm fronds, shells and coral.
A sketch made by the illustrious Sir Cecil Beaton, circa 1937, shows an early glimpse of Palm Beach style.
Harrison and Mona Williams at home in Palm Beach, "against a Chinese wallpaper that's as vivid as the tropical vegetation outside."
Palm Beach Style shows an influence of other styles such as Hollywood Regency, British Colonial, Modern Baroque and Asian design.
One notable influence on the style was the great Elsie de Wolfe.
She of course designed for the Duke and Duchess of Windsor, among others, and created the dazzling Colony Room.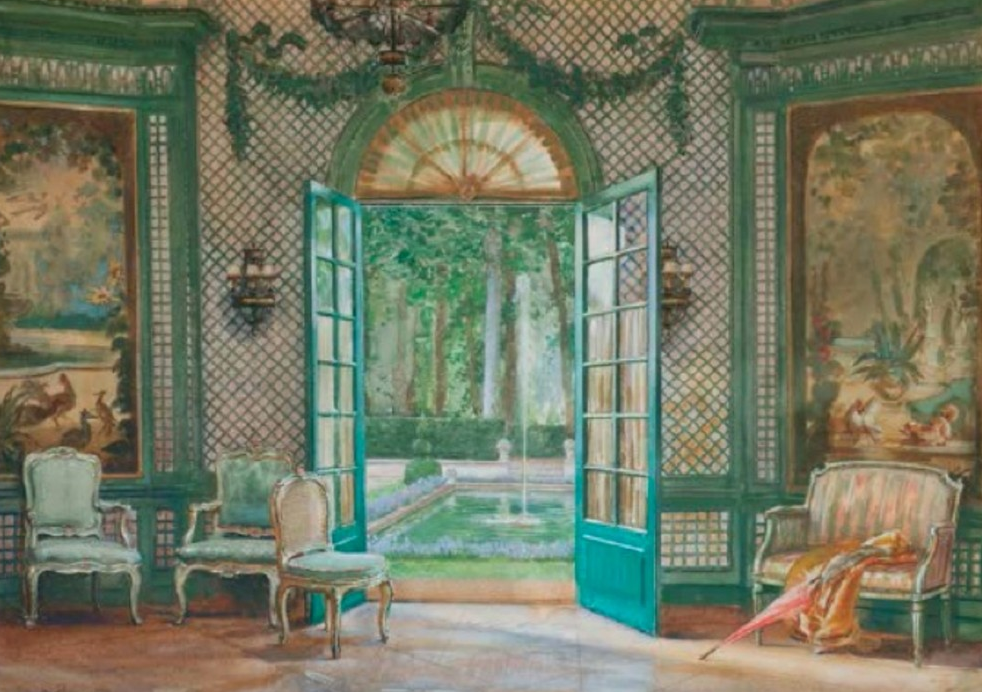 Her lasting influence can be seen in Broadway Producer Terry Allen Kramer's Palm Beach home, La Follia, which was decorated by Pauline Pitt.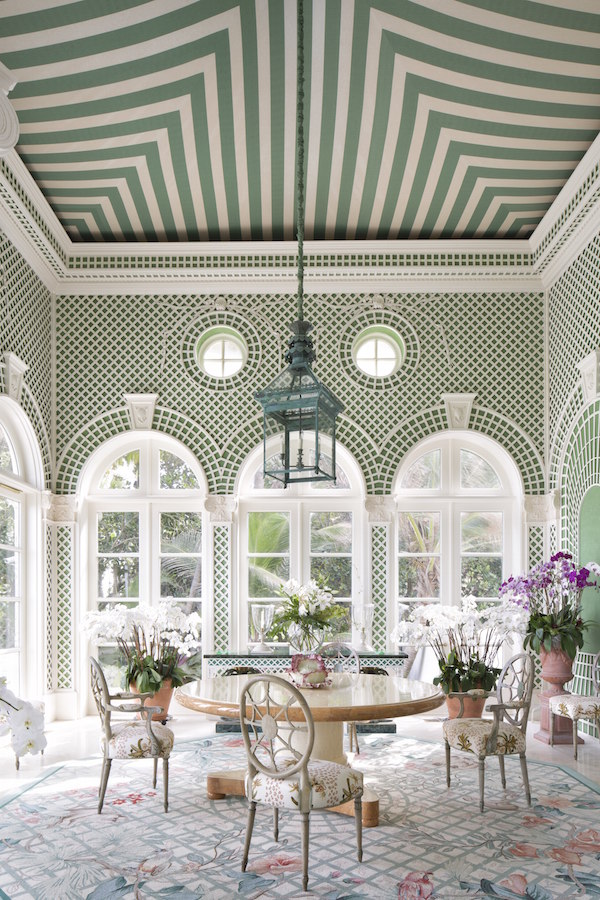 Dorothy Draper invented the "Modern Baroque" style of which some elements can be seen in Palm Beach Style.
Her successor, Carlton Varney, aptly applied her signature look when recently remodeling the popular Palm Beach hotel The Colony.
A series of photographs, taken in the late 50's and 60's, by renowned photographer Slim Aarons introduced the rest of America to Palm Beach and its lavish lifestyle.
"Palm Beach Pastels" Slim Aarons, 1959.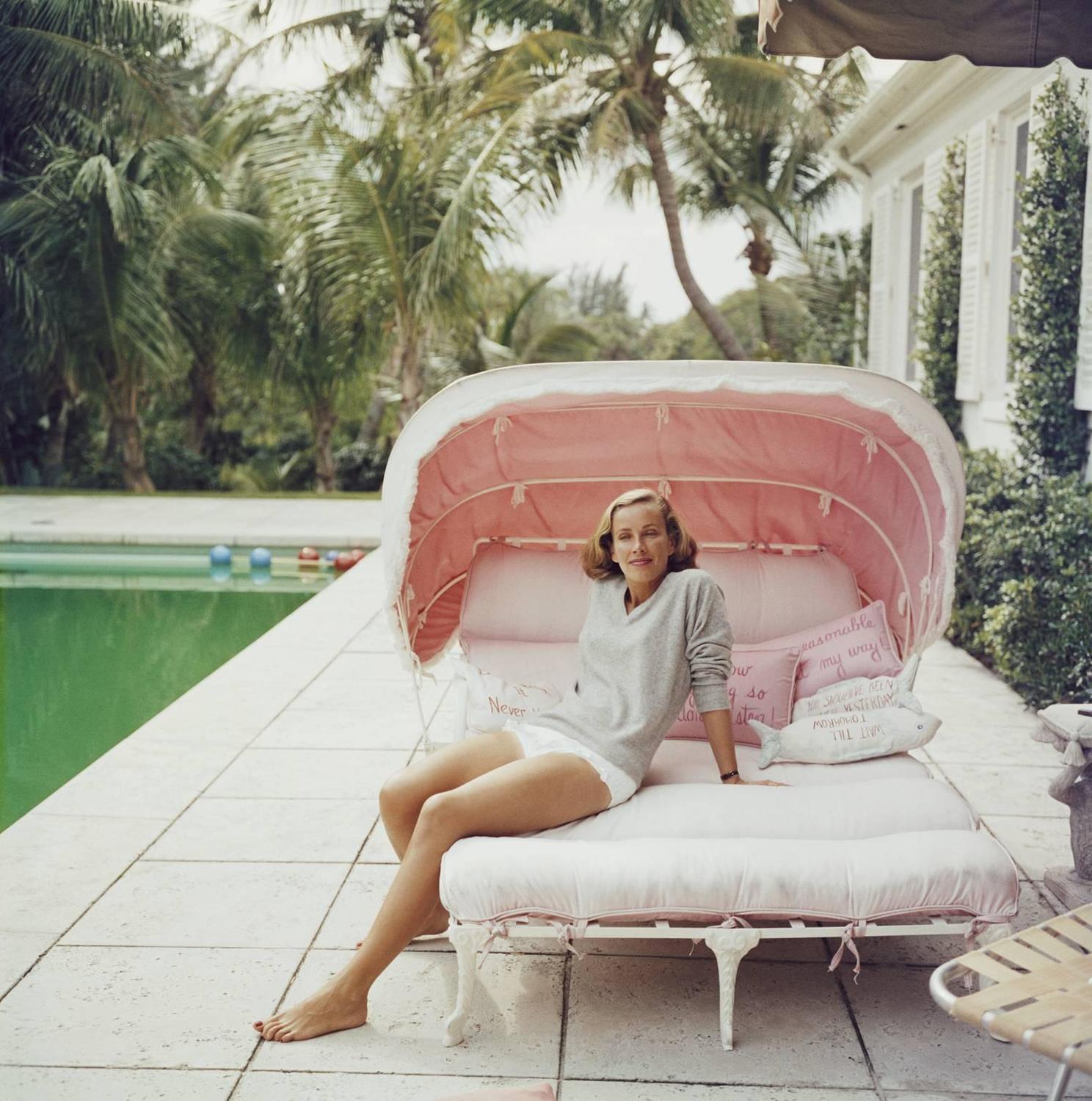 Watching a poolside fashion show at the Colony Hotel, Palm Beach, Florida.
"Leisure and Fashion" Slim Aarons, 1961.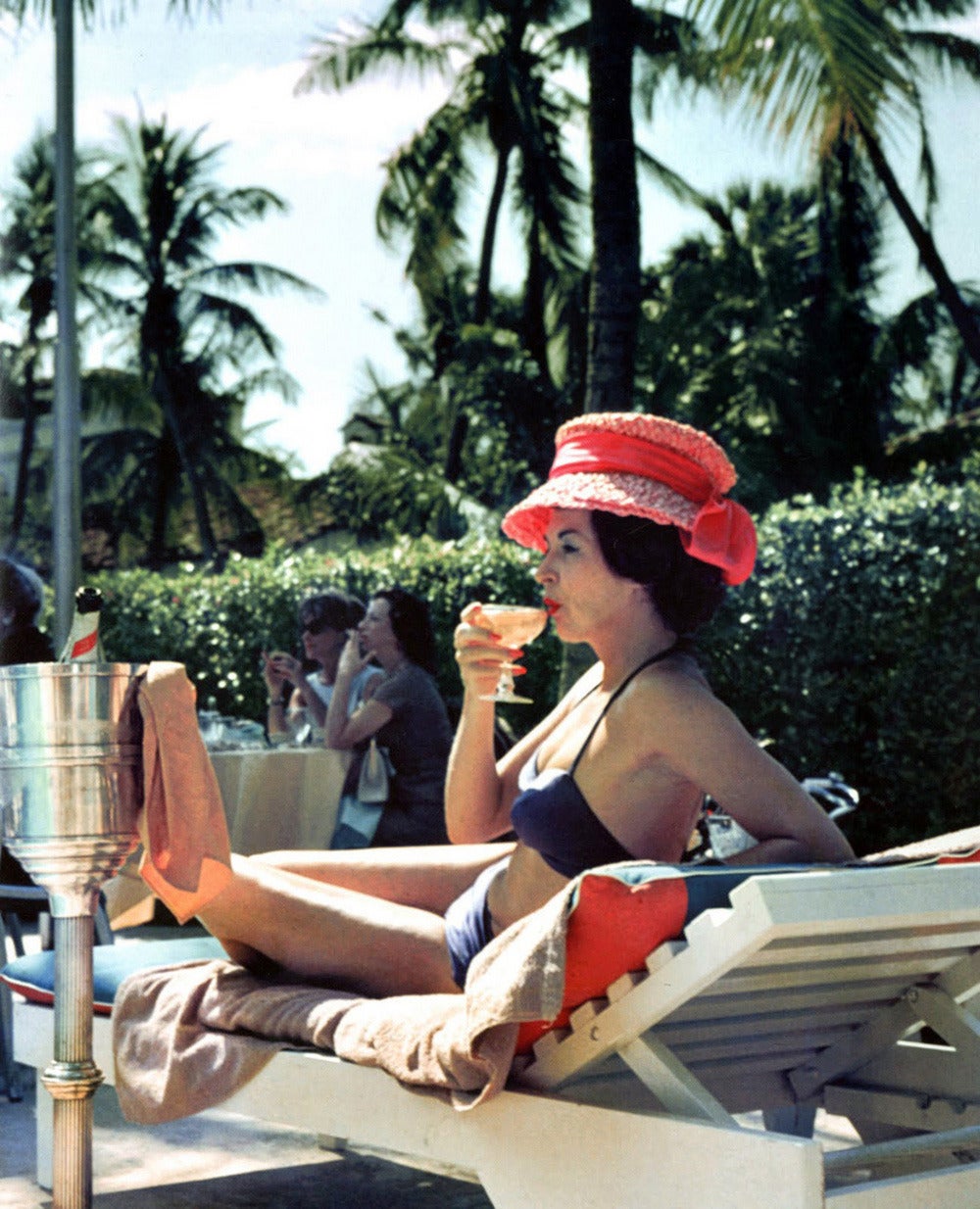 Mr. and Mrs. Donald Lease with their Rolls Royce and two pet dogs outside their home in Palm Beach, Florida.  1968, Slim Aarons.
One of Mr. Aarons closest friends was Lilly Pulitzer. Mrs. Pulitzer had been selling oranges and juice from her husbands orange groves. Juicing the citrus made a mess of her clothes. To camouflage the stains she created a sleeveless shift dress made from colorful cotton. The dresses soon outsold the juice.
The "Lilly" dress was worn by all the local socialites. In a turn of marketing genius Lilly had her friend Slim photograph her friends, such as Wendy Vanderbilt, wearing her dresses. The images graced many a fashion magazine.
Photo by Slim Aarons January 1964.
Of course there was no better endorsement for Lilly Pulitzer than when her old school chum from Miss Porter's School, Jaqueline Kennedy, wore a Lilly dress for a Life photo shoot.
Palm Beach was also elevated when the Kennedy family was shown vacationing at their Palm Beach compound. Talk about a Presidential Seal of Approval!
The easy and elegant style became sought after from coast to coast and beyond.
There are many wonderful modern designers who capture the Palm Beach style beautifully.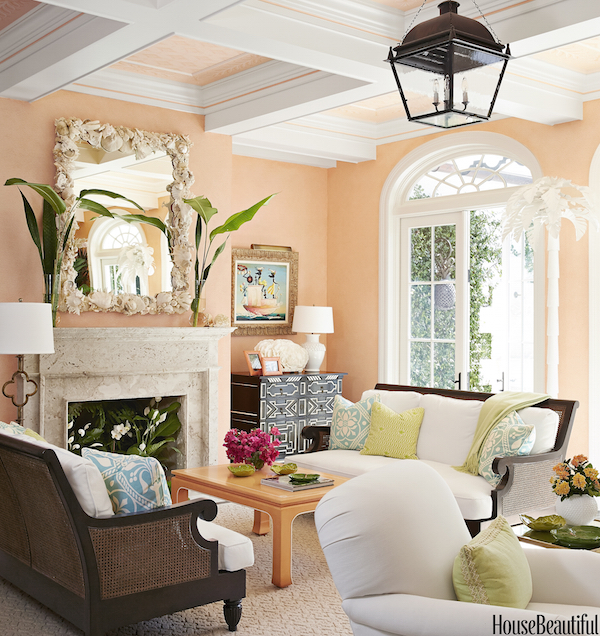 Eddie Ross is a master at creating Palm Beach Style tablescapes.
Some of my favorite blogs that often feature Palm Beach Style are:
Books on Palm Beach Style include:
Palm Beach Entertaining: Creating Occasions to Remember
You can see my home decorated in Palm Beach Style HERE.
Laura