Hello dear friends! Recently a picture has been circulating of the author Laura Ingalls Wilder which many of you have sent to me. Thank you so much, it truly is a charming photograph. While this is indeed Laura I believe that this is the house they rented when they first moved to Mansfield but I am not 100% sure. I could find NO information to confirm what house this is.
If you can assist in identifying this home I would greatly appreciate it. Leave a comment below or contact me on Facebook.
Update: I have heard from two lovely readers who have confirmed that this was the home that Laura and Almanzo lived in in the town of Mansfield. It is believed to be the home that Laura took in boarders in order to help raise money for the Rocky Ridge farm and it is still standing.  No address yet. I will further update all information as it becomes available. Thank you SO much! 
I thought perhaps that some of you LIW fans might like to know a bit more information about each of the homes that Laura lived in. Some are original and some have been recreated in the style of the time.
Here is an overall map of the homes that will be shared.
Charles and Caroline Ingalls moved to the big woods of Wisconsin in 1863.
Laura Elizabeth Ingalls was born on February 7, 1867 in the big woods of Pepin County, Wisconsin. She was named after her father's mother, Laura Colby Ingalls. (This is also the Laura that I was named for. My great-great grandfather, Lansford "James" Ingalls, and Charles were brothers.)
A replica of the cabin where the Ingalls family lived has been built. This was the setting for "Little House in the Big Woods".
I first saw the site when I was eleven years old. My grandfather, Roy A. Ingalls and my great aunt, Dorothy Ingalls Farrell, were sharing our family history with me. They had to console me initially as I was a bit devastated to discover that the cabin was no longer surrounded by big woods. I went on to have a lovely afternoon collecting water from the outdoor hand pump among other activities.
The Pepin cabin is open every day year round. Admission is free, however there are no lights at the site. The address is N3228 Cty CC, Stockholm, WI 54769
There is also a Laura Ingalls Wilder museum located at 306 3rd St., in the town of Pepin. The Museum is open 10 AM - 5 PM daily from May 13th - Oct 16th.
While Laura was a baby the family moved to a farm in Keytesville, Missouri for about a year. There is no home site here.
From there the family moved to prairie land 13 miles outside of Independence, Kansas in 1869.
A replica of the cabin has been built. This site is the setting for "Little House on the Prairie".
The cabin is open six days a week in April through September and Friday through Sunday in October. The hours are Tuesday - Saturday: 10 AM – 5 PM and Sundays: 1-5 PM. Admission is $3 for adults and $1 for children under the age of 18.
It is located south of Highway 75, 13 miles southwest of Independence, Kansas 67301.
You can find additional information on the website.
After just two years the Ingalls discovered that the Kansas land that they were living on belonged to the Osage Indians. They returned to the little cabin in the big woods of Wisconsin and lived there for another three years.
In 1874 they sold their big woods farm and moved to Walnut Grove, Minnesota. They lived for a few months in an abandoned cabin and then moved to a farm located on the banks of Plum Creek.
The dugout (also known as a sod house) is no longer standing but a replica has been made on the museum site. You can find the original dugout site HERE.  The Laura Ingalls Wilder Museum has a very nice collection of artifacts and memorabilia . It has various opening hours which you can find HERE. Admission is as follows: ages 4 & under, free, 5-12, $ 4.00 and 13 & over, $ 7.00.
The museum is located at 330 8th Street Walnut Grove, MN  56180.
After three consecutive crop failures the Ingalls family left Walnut Grove in 1876. They had considerable debt and moved to Burr Oak, Iowa to help the Steadman's operate the Masters Hotel. It was a very difficult time for the family and Laura never wrote about it in any of the "Little House" books.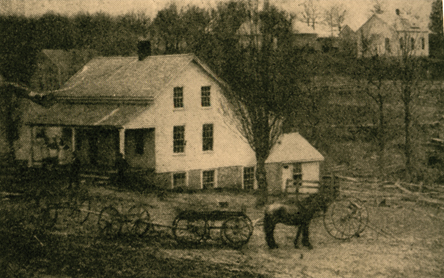 The Master's Hotel is the only childhood home of Laura's that remains on its original site. It is registered on the National Register of Historical Places. The museum is located at 3603 236th Ave. Burr Oak, Iowa 52101
After a year in Iowa the family returned to Walnut Grove. They lived in town and it was during this time that Mary went blind. This photo of Carrie, Mary (seated) and Laura was taken around 1880.
After falling into debt once again Charles became a bookkeeper for the Dakota Central Railroad. The family moved to what would become the little town of De Smet, South Dakota.
Laura would live here for thirteen years and she wrote about this time in "By the Shores of Silver Lake", "The Long Winter", and "Little Town on the Prairie".
There are several sites in the area. This is the surveyors house:
You can also visit Ma and Pa's house in town.
The museum operating hours and location can be found on the Discover Laura site.
You can visit the homestead which has been recreated on the outskirts of town on the original land. It offers several activities and is located at 20812 Homestead Rd De Smet, SD 57231.
The stories of her life with Almanzo, whom she married in 1885, continued. The books were "These Happy Golden Years" and "The First Four Years".
Life was not easy for Almanzo and Laura. Their home burned to the ground in 1889, their infant son died and Almanzo's heath suffered as a result of diptheria. The couple moved with their daughter, Rose, first to Spring Valley, Minnesota. There is no home site here.
About a year later they moved to New Hope, Florida in the hopes that the warm climate would help Almanzo. They stayed with Laura's cousin, Peter Franklin Ingalls, and his wife Mary. But they would return to De Smet within a year.
In August of 1894 they left De Smet and traveled 650 miles to Mansfield, Missouri in a covered wagon pulled by two horses. The journey took six weeks. The wagon contained some furniture and a stray dog named Fido that Laura adopted somewhere in Kansas. Their entire life savings, in the form of a $100 bill, was hidden in Laura's lap desk that rarely left her side during the journey. With the $100 they bought a piece of land that they named Rocky Ridge.
Laura at the Rocky Ridge Ravine around 1900.
 They lived in a rented house in town for several years while they cleared the land and planted hundreds of apple trees. Laura also raised hens.
Eventually Almanzo was able to build a one room cabin on the site of their farm.

After saving for nearly 20 years they were able to start building the house we know to be Rocky Ridge in 1913. Almanzo customized the kitchen to fit Laura's tiny 4'11" stature.  
The house was furnished simply but comfortably.
The Wilder's daughter, Rose, was also a famous author in her own right. She was once the highest paid female journalist of her time. Rose used some of her royalties to build her parents what would become known as "The Rock House" as a Christmas gift. Laura and Almanzo lived here from 1928 until 1936.
It was in the Rock House that Laura hand wrote the first four books in the "Little House" series.
The design of the Rock House came from plans out of the Sears Modern Homes catalog. Rose had the house built using local materials and not pre-cut materials delivered from Sears. Rose wanted a stone exterior verses the standard of wood shingles. It was estimated that it cost over $11,000 to build as the interior was also customized with all of the modern conveniences available in the 1920's.
In 1936 Rose moved to Connecticut and the Wilders decided to move back to their beloved farmhouse. The Wilders sold the Rock House and the adjoining 40 acres to a neighbor. Today it is a museum.
Almanzo, Laura, and Nero the dog in front of the Rock House.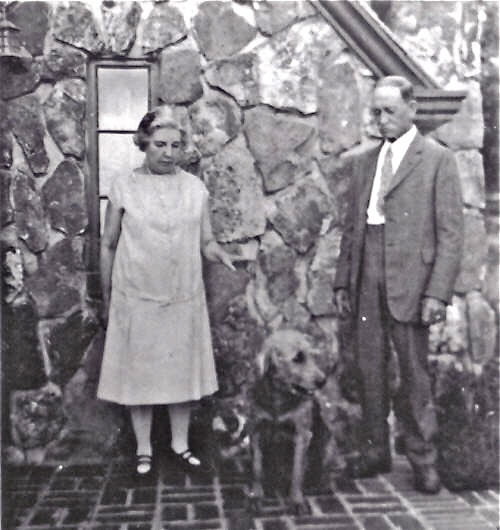 The Rocky Ridge farmhouse is also now a museum.
The couple lived very simply in the farmhouse until their deaths. Almanzo passed on in 1949 at the age of 92 and Laura died in 1957 at the age of 93. 
The new Laura Ingalls Wilder library and museum has just recently opened. It contains Wilder's original hand written manuscripts, her desk, type-writer and Pa's fiddle.
It is located at 3068 Highway A Mansfield, Missouri 65704.
In addition to the sites where Laura lived you can also visit Almanzo's boyhood home at 177 Stacy Rd in Malone, NY 12953.
I have had the privilege of visiting all of the sites with the exception of the Masters Hotel in Iowa and of course the newest library which just opened this past March. All of the sites are run by generous volunteers and/or dedicated workers. I offer my many thanks and deepest appreciation to all  for keeping the "Little House" books and Laura's legacy alive.
"Home is the nicest word there is." ~ Laura Ingalls Wilder
I hope you have enjoyed Laura's homes.

Laura Ingalls Gunn
Linking to:
Between Naps On The Porch, My Uncommon Slice of Suburbia, Stonegable, A Stroll Thru Life, Savvy Southern Style, Made in a Day, Charm Bracelet Diva, Katherine's Corner, Posed Perfection, Classy Clutter, 21 Rosemary Lane, The 36th Avenue, Craftberry Bush, French Country Cottage, Imparting Grace, The Charm of Home, AKA Design + Life, Tatertots and Jello, The SITS Girls, Funky Junk Interiors,The Dedicated House, Simple Details, Sundays At Home and…