Happy Mother's Day!
Recently, on a Saturday, I had such a good mom moment.
I had been at work with design clients all day. I pulled onto our street shortly before 6 pm tired and hungry. I spied my son sitting on our neighbors curb by himself and thought "What in the world?"
His raised his hands to his lips as I rolled my window down and just above a whisper he said "I'm so glad your home! I've been sitting here for 45 minutes waiting for you to come home or dad to come outside to help me. What do we do? He needs help!"
At that I looked down next to him and spied this: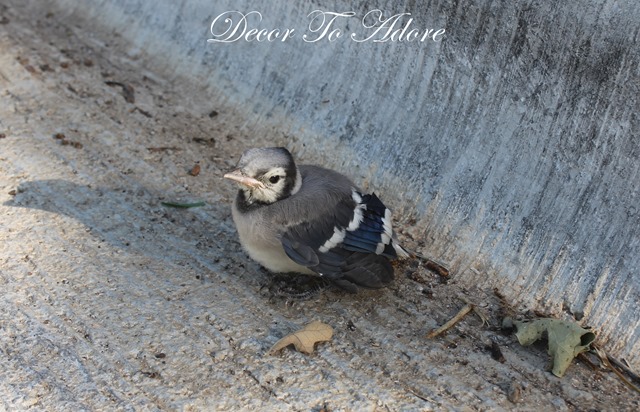 Cuteness overload right?
Such fluffy softness always makes me feel like this:
[youtube https://www.youtube.com/watch?v=023bAm7-AgU]
My son had been walking home from a friends house when he spied this baby blue jay. The bird didn't fly away as he approached. My son looked around for a mom or fallen nest. He found neither. Fearing for the birds safety he didn't want to leave it. So he sat down on the curb and the wee bird hopped next to him. There they sat for 45 minutes.
I parked the car at our house and asked Mr. Decor to grab his soft leather gloves and meet me outside.
I walked back over to Sweet Guy and said, "The first thing we have to do is get him off of the street."
I had a slight concern that the bird might be injured.
I instructed Mr. Decor to gently pick up the bird.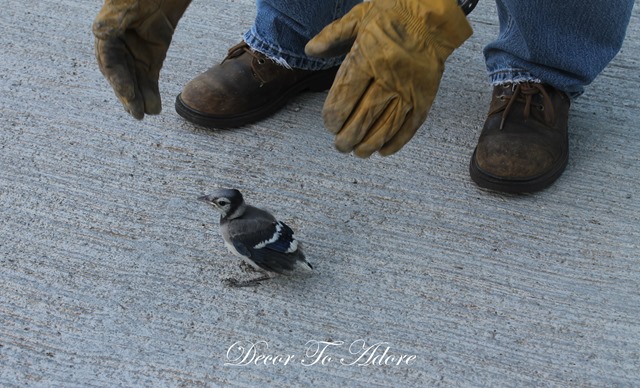 This was easier said than done.
The baby bird didn't take quite as easily to Mr. Decor and tried hop away. This was a good sign that he was not injured just merely a fledgling who had either fallen, or attempted to fly, from his nest and now could not return.
Since you may not know:
It is a myth that you cannot touch a baby bird because the mother will then reject it.
The Mr. wore gloves to protect himself from the birds talons and from any potential disease that wild birds may carry.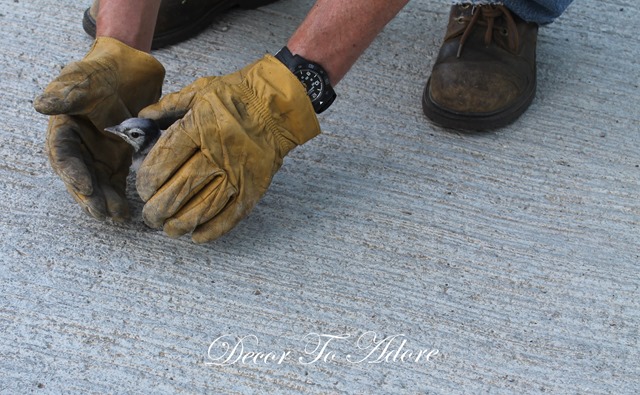 The bird was nestled safely into the grass and Sweet Guy once again took up his watch post while I went to go research the next steps.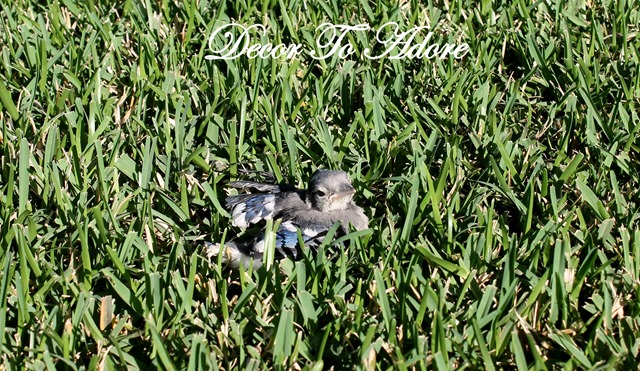 I learned in cases such as this it is best to find a shallow type of basket, with no lid, to create a nest of sorts. (A mother bird will not approach a deep basket due to fear.) Line the bottom of the basket with a soft cloth that has a tight weave so that the bird will not catch his talons on or in it. (Do not use toweling.) I used a small piece of an old pillowcase. From there hang the basket as high as you can on the tree.
We assumed that the bird came from the trees in our neighbors yard. So I knocked on the door to ask permission to hang the basket. There was no answer. I explained to my son that in this case I felt Miss D. would want us to help the bird so we would go ahead. I left a note for her on the door. (She indeed approved of the entire operation. 🙂
I then took my limited edition, signed Longaberger basket and cut off the leather strips that attached the lid to the basket. My son gasped, "Mom that is an expensive basket and I know you love it. I can't believe you just did that."
Life lesson #98,436
I said, "Son, right now this baby bird needs this basket more than I do. We should never place our things above someone or something that needs help."
With that Mr. Decor tacked the basket up high in the tree and placed the tiny bird inside.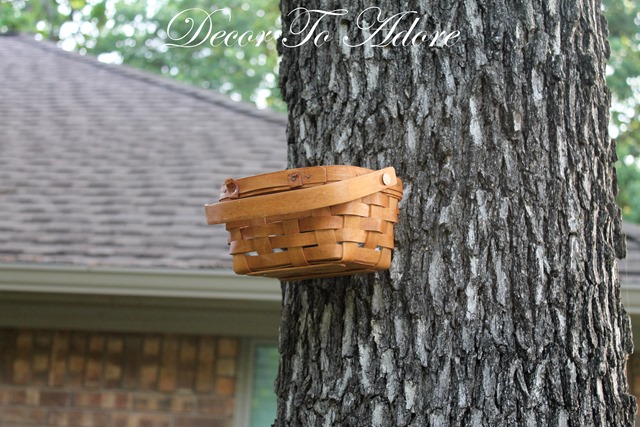 You are generally supposed to watch the basket from a distance, for about an hour, to see if the mother returns. So the Mr. and I set up some lawn chairs in our front yard two houses away. We had such a nice conversation that time passed quickly and felt like this: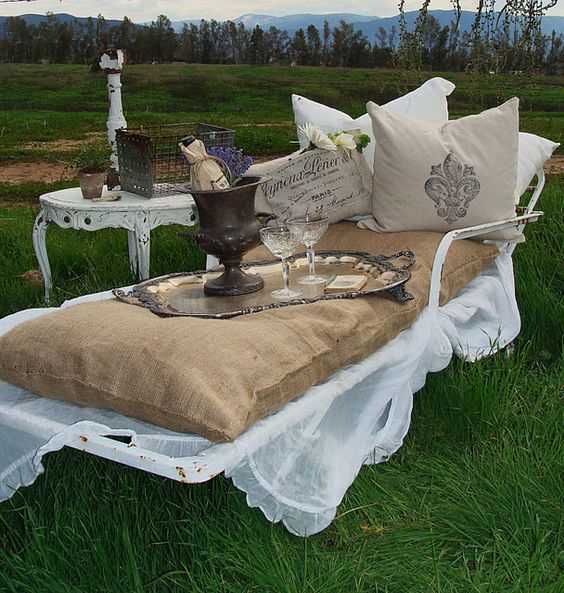 The mother did not return.
At that time I called our local bird rehabber (yes, it's a thing). I explained what steps we had taken and asked what we should do next.
He said that blue jays are very good parents but they probably wouldn't return until the baby bird started squawking to be fed. He said that he knew it would be hard, but since it was almost 8 o'clock at night, and blue jays are NOT nocturnal, the baby bird would soon go to sleep. The mother would, in most instances, seek it out in the early morning.  We would have to leave the bird alone overnight. In the morning if the bird was still in the basket then we would need to bring the bird to him.
Sweet Guy went out at 9 and 10 pm to check on the bird.
My heart was threatening to explode with pride that my son showed such care.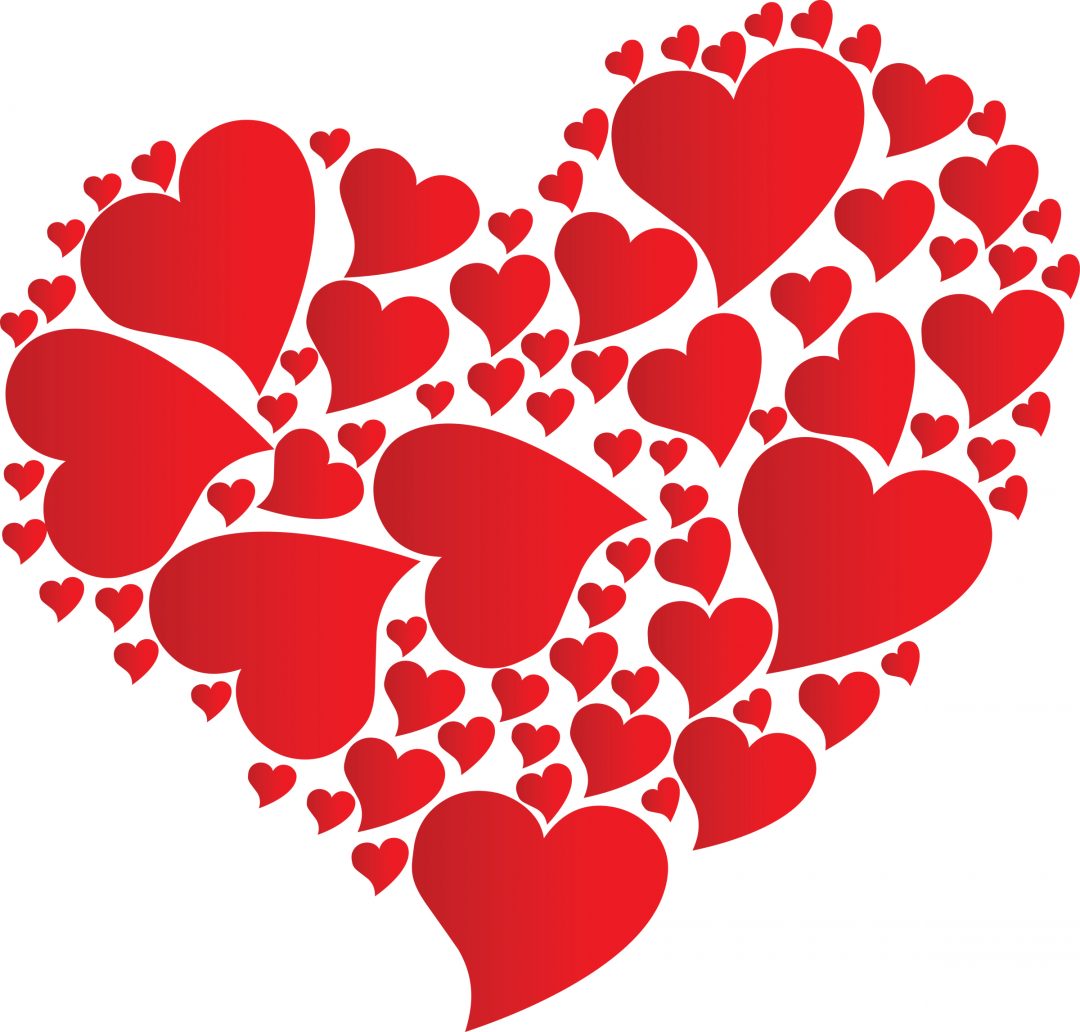 In the morning we found the basket "nest" was empty. We hugged and smiled in a reunion victory made possible by love and care.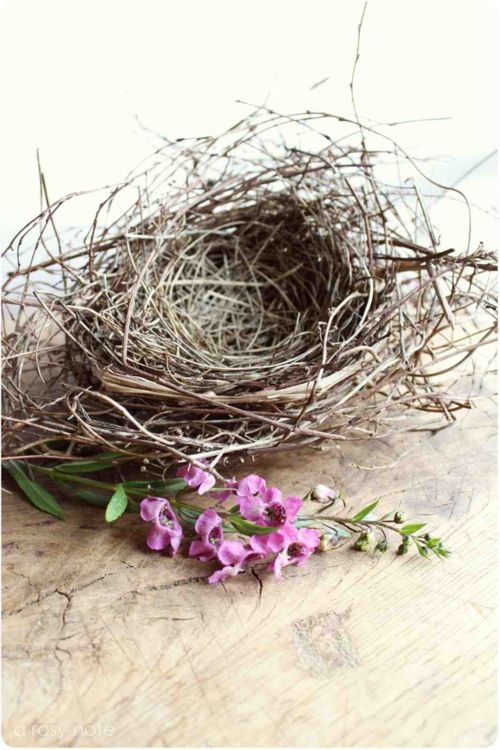 May all your birds return to the nest.
Laura
"Look at the birds of the air; they do not sow or reap or store away in barns, and yet your heavenly Father feeds them. Are you not much more valuable than they?" Matthew 6:26