My dear friends I just want to thank you so very much for all the heartfelt kindness you have shown me regarding my dear Auntie Beth's passing. I had forgotten that I had this blog post waiting in the wings and so given that HGTV was my Auntie's favorite viewing pleasure I dedicate this post to her.
I'm gearing up for Marty's Spring Home Tours which starts today. For me it has always been easier to change the look of a room by coming up with a theme. Inspiration might be found in an object, such as the color of a pillow or even a concept. Lately, I have been thinking about Paris. Paris in the springtime is indeed pure bliss. I decided I wanted to try and incorporate this feeling in my home starting with the dining room.
Of course what captures the spirit of Paris more that the Eiffel Tower?
I loved this inspirational picture from Kara's Party Ideas.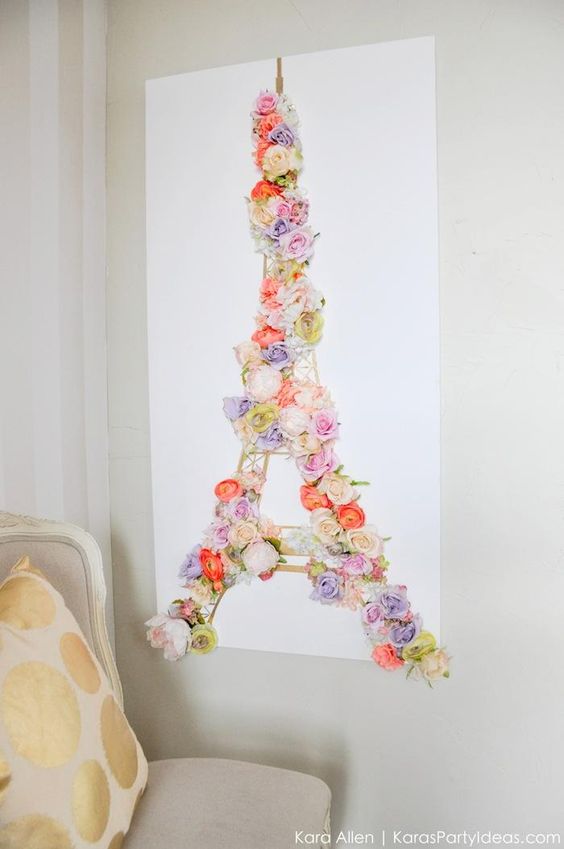 But I wanted something a bit more 3-D perhaps similar to this centerpiece by Because Candy Says So.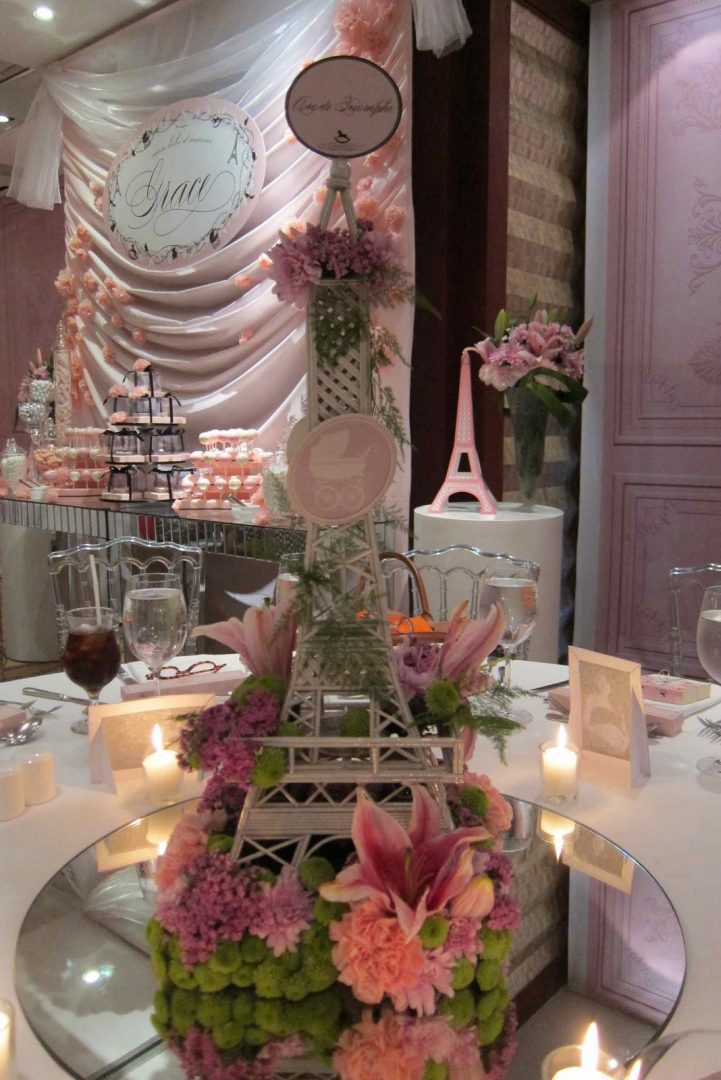 While I have a lovely collection of Eiffel Towers, which you'll see on Wednesday, none quite fit the bill. I kept my eyes open and was almost blinded by a gleaming gold plastic version at Ross.
To cover the tower I needed small and rather flat flowers.  I found most of the blossoms, if you can believe it, at the Dollar Store. The exceptions were the teal hydrangeas ($2 at Hobby Lobby) and the purple blossoms ($1.85 at Michaels).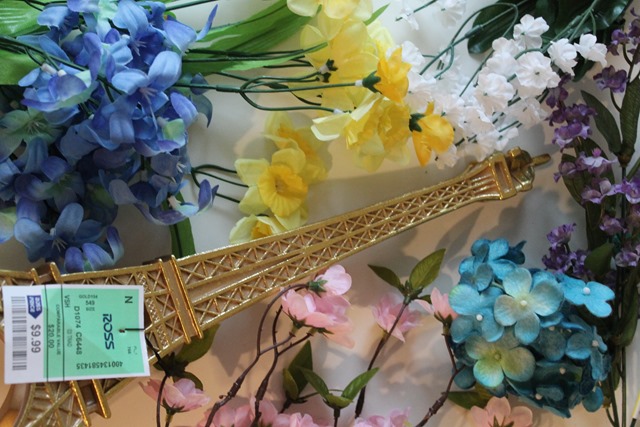 It was a quick and simple project to cut the flowers off at the base of the stem and then hot glue them onto the Eiffel Tower.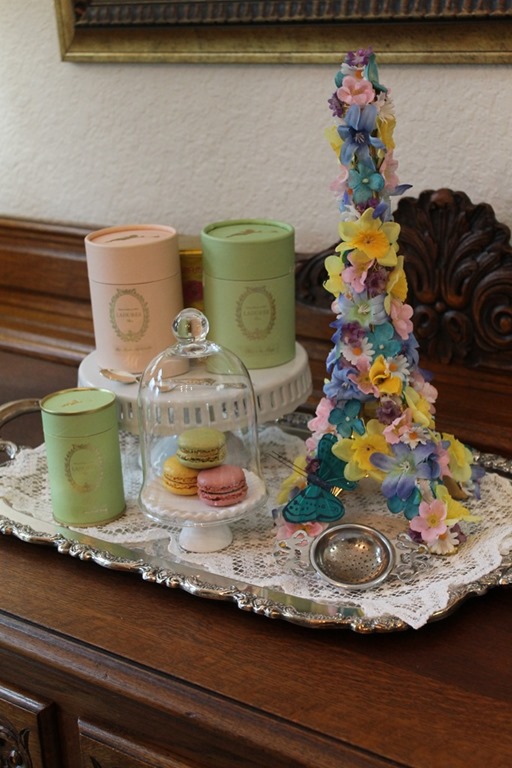 I hope you'll come back on Wednesday to see several rooms of Storybook Cottage transformed for a Parisian springtime home tour. There's been all sorts of projects going on to prepare for it…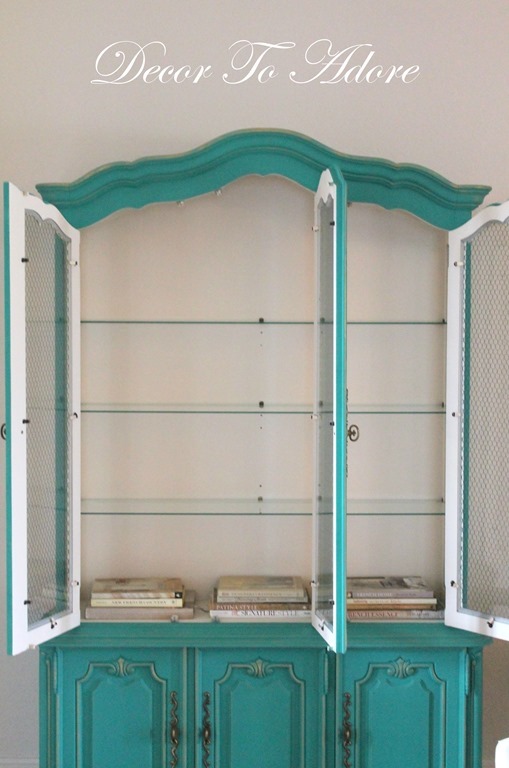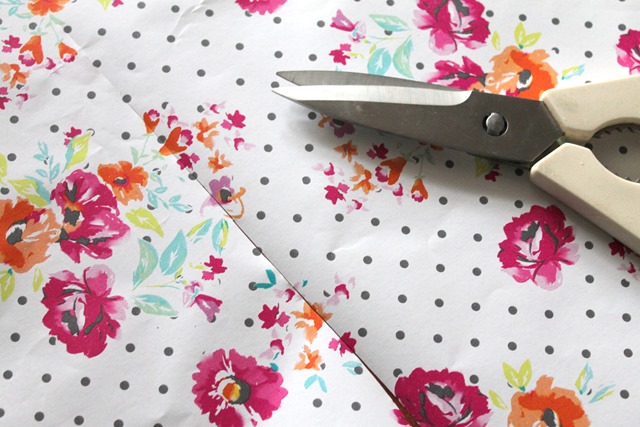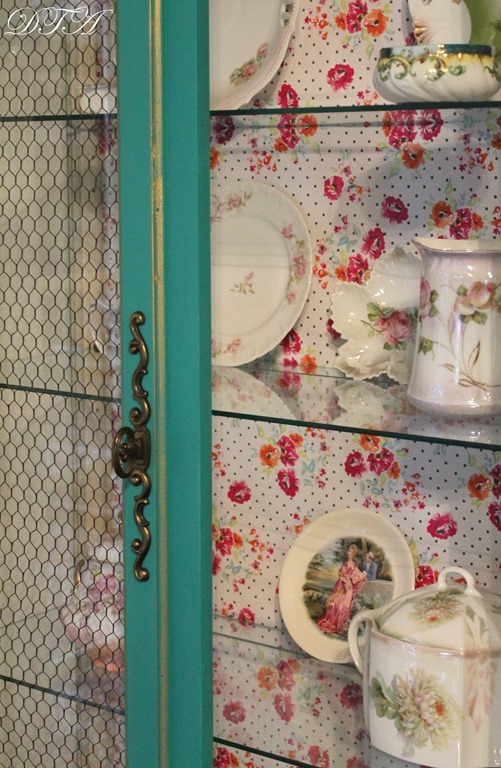 Joyeux lundi mes amis (Happy Monday my friends),
Laura