In the past five days, in addition to my son's birthday, school finals, preparing for and accommodating 4 houseguests I hosted two separate dinner parties and a brunch. One dinner was for 24 guests, the second had 12 visitors and the brunch included 22 people. It sounds almost impossible but here are my top 10 tips that made it all possible.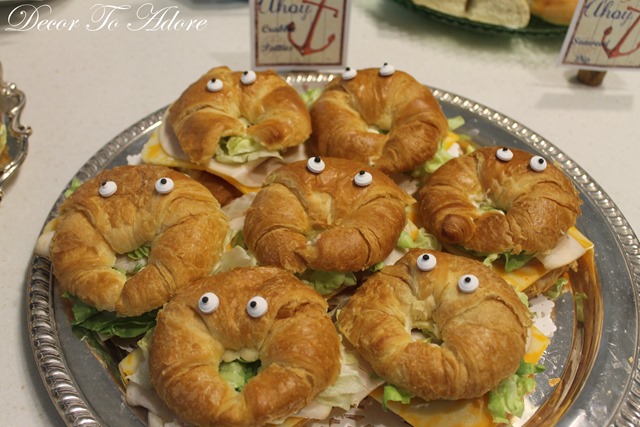 1. Select a theme.
Many people assume that themes are only for children's birthday parties. But truly, if you have a theme, it makes the selection of food, drink and décor so much easier. Since the very first dinner was in fact to celebrate Sweet Guy's birthday I let him select the theme. He decided on "Nautical".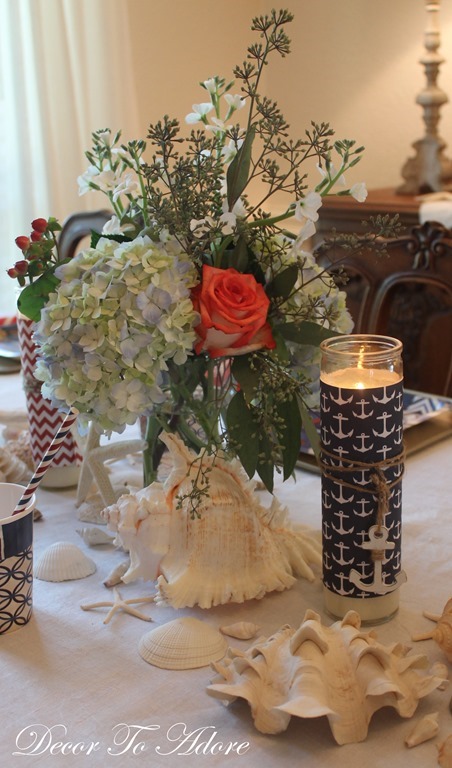 2. Plan a menu. (Cookbooks and Pinterest are your friends.)
Once you have a theme there are certain foods that just seem to fit the bill.
We planned to have "Chicken of the Sea" (which was barbequed chicken 🙂
Crabbie Patties (sandwiches shown in the first images)
Sea cucumbers and crab legs (carrot sticks)
Octopus Dip (Ranch dressing for veggies)
Seaweed dip with barnacles (spinach dip and bread)
Driftwood (long pretzel sticks)
Beach balls (round cheese puffs)
Fish and chips (potato chips mixed with goldfish crackers)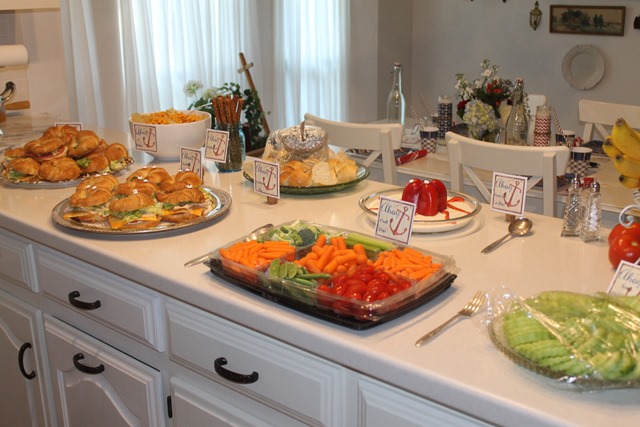 I made cards with all the fun names and attached them to corks with a straight pin.
This was the original image.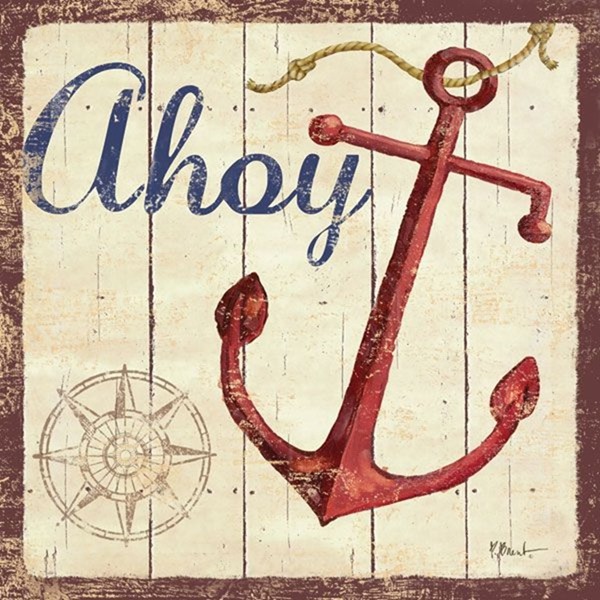 3. Take stock of your pantry and refrigerator.
This helps you to clean out both spaces and prepare a grocery list of items you need. This helps to insure that you have everything on hand and also enough room to store it all.
4. Prepare as much as you can ahead of time.
Two weeks before the event I wrapped all of the plastic ware in a napkin and tied it all up with a lifesaver.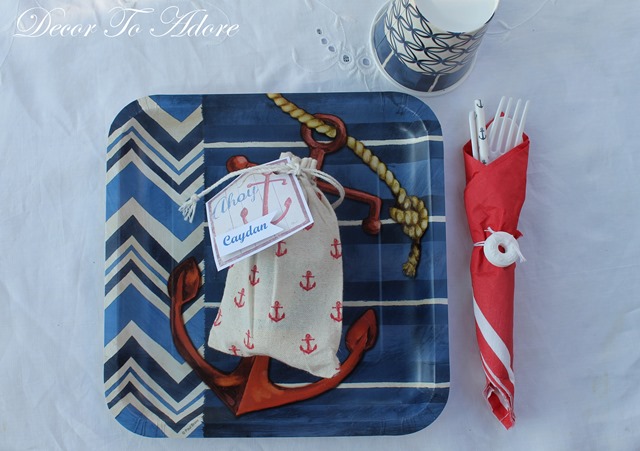 Since we had some young children and teens attending their nametags/place settings were attached to anchor favor bags I had found in Michaels dollar section. Inside the bags the teens received silly string while the younger kids were given bubbles.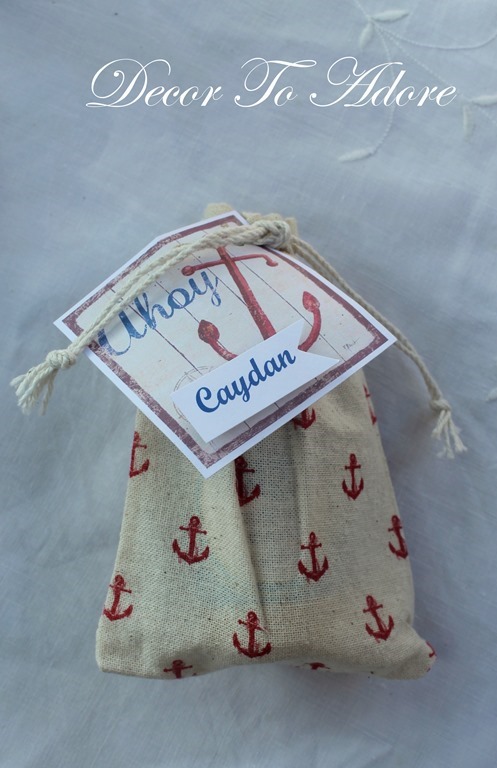 Our first dinner was scheduled for Wednesday. I spent much of Monday mopping the floors, cleaning the bathrooms and dusting. On Tuesday morning I set the formal dining table and laid out the dishes and serving utensils that I planned to use on the dessert buffet.
Tuesday afternoon was devoted to shopping for all the flowers, food, and drink. REALITY: At this point my kitchen was a disaster! The sink was full of flowers, grocery bags lined the floor and there may have been one slight breakdown as I wondered if I was going to be able to pull it all off.  🙂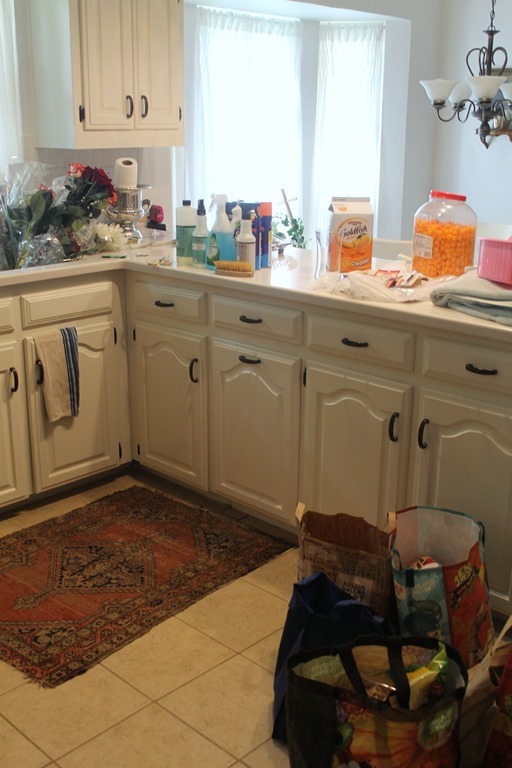 Once the groceries were put away I began arranging the flowers as this can be somewhat of a messy job. There were going to be a total of 5 tables to accommodate all of the guests so I made five similar arrangements.  I selected long lasting blooms in shades of blue, red and white in keeping with the nautical theme.
Next, I gave the kitchen a good cleaning and laid out all the platters, dishes and utensils that I would need to serve the food. This insures you won't be scrambling at the last minute for a certain spoon or leave a planned dish in the refrigerator. #I'vedoneboth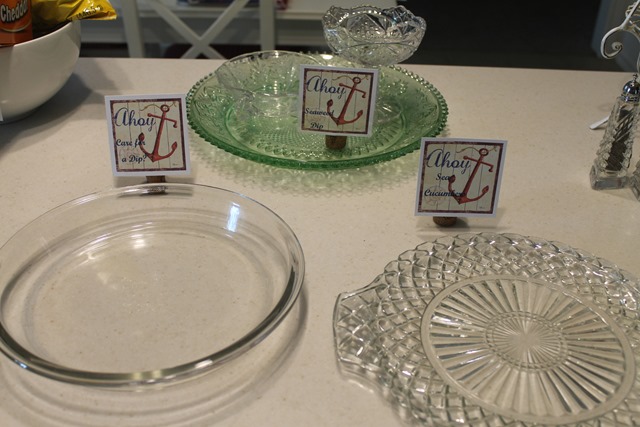 5. Paper is absolutely ok for parties!
With a large crowd I didn't want to get stuck in the kitchen washing a mound of dishes. Paper is absolutely ok. You also don't have to limit it to just plates. Think about it for your décor too.
One week before the event I purchased plain religious candles at the dollar store and decorated them with scrapbook paper. They were then wrapped in twine and featured a small white wooden anchor that I found in packs of 4 in the Michaels dollar section.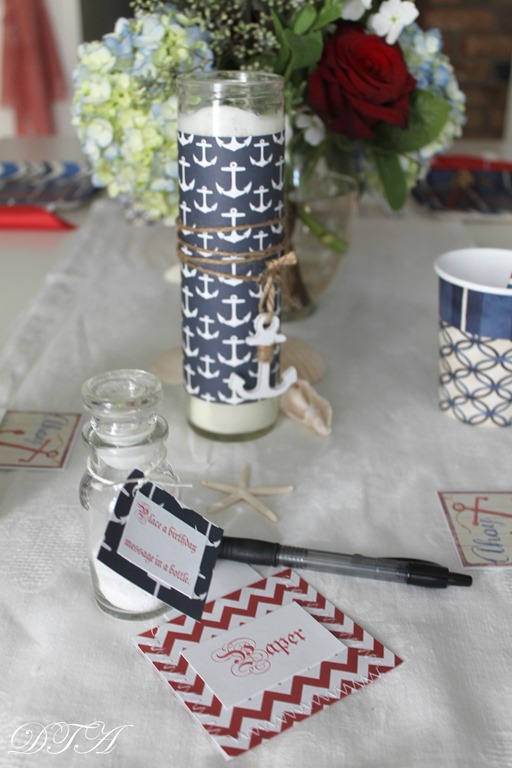 I also always try to have a fun activity on the tables. I took vintage spice bottles and filled them with white sand and tiny seashells. Scraps of paper and pens were provided with encouragement to leave a "message in a bottle".
6. Keep the day of the party relaxed and easy.
Because of so much advance planning the day of the party itself should flow fairly smoothly.
Prepare your food and set up your remaining tables (if needed) and make sure everyone has a plate, cup, napkin and utensils.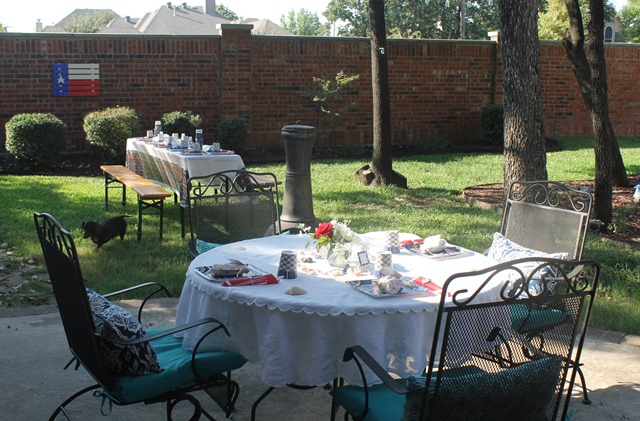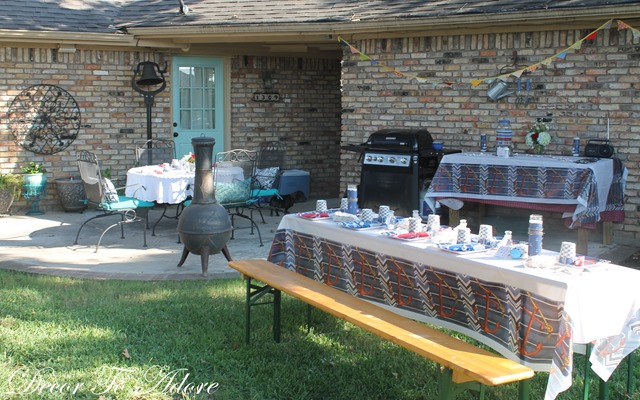 About one hour before the party put the food out that will not spoil. Do a once over to insure you have all your serving pieces, matches, et cetera.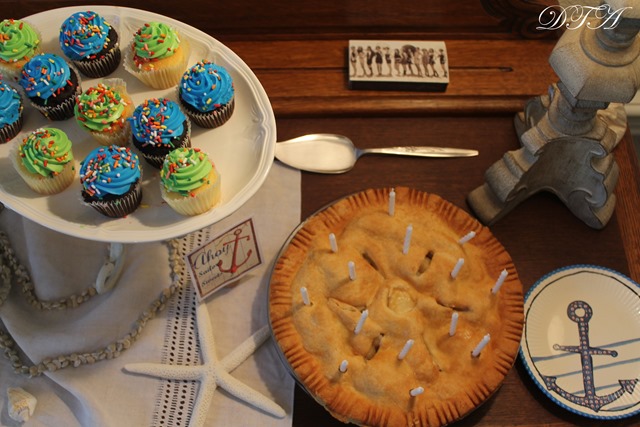 10 minutes before the party set out the perishable food and light all the decorative candles.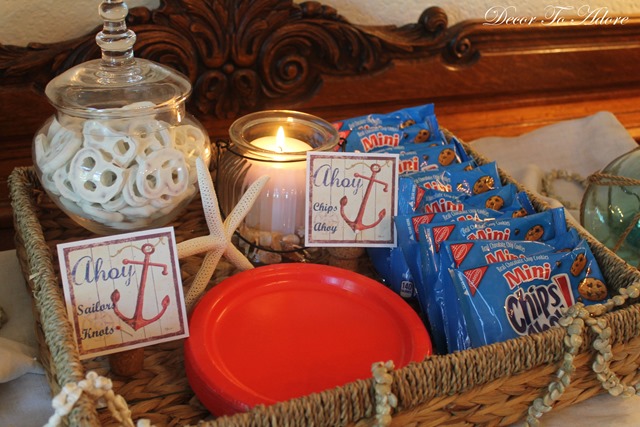 7. Don't try to be a solo hero.
If someone offers you help graciously accept it. People love to feel needed. A big thank you to Mr. Décor for barbequing all the chicken. The Fashionista made sure the entire house was vacuumed, the bathrooms were tidy and provided the happy background music.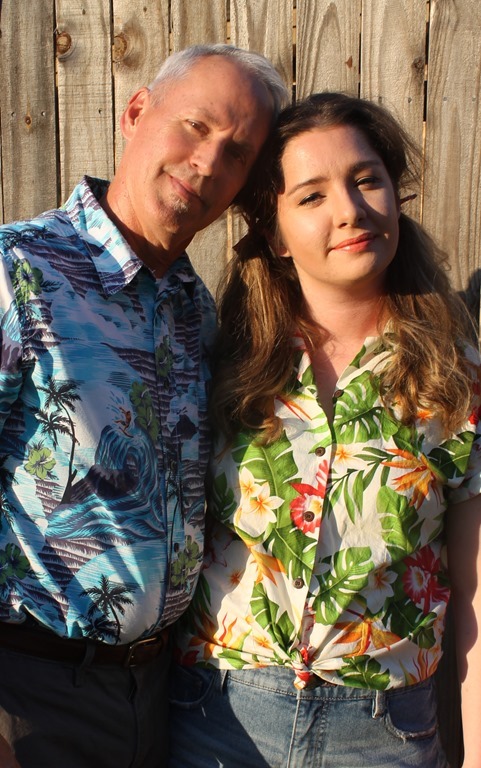 8. Don't be so busy that you miss your own party. Take time to sing a little.
Fun fact: My Papa Jack didn't care for cake. He always wanted a homemade apple pie for his birthday. Looks like the apple didn't fall far from the family tree. His great grandson also asks for apple pie.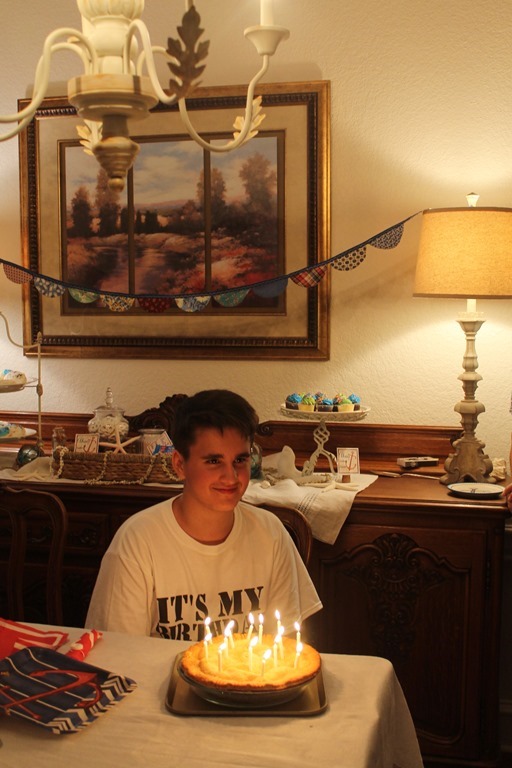 9. It is absolutely ok to order takeout or select ready made items from the market.
Two days after Wednesday's event we hosted a dinner for 12 on Friday. Since I had to cook and bake several items for Saturday morning's brunch I hit the easy button and ordered a delicious dinner online. Guess what? None of the guests complained. Good conversation and happy company is truly all you really need. Of course a little wine can help too.  
Saturday's brunch included two pans of delicious homemade eggy casserole.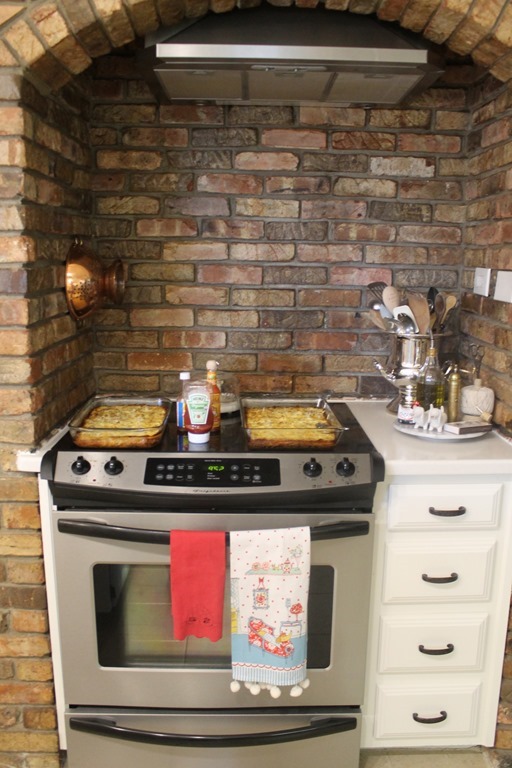 I also baked two loaves of banana bread and blueberry muffins. But there were also plenty of bakery items, a fruit tray, as well as deli meat and cheese all from our local market.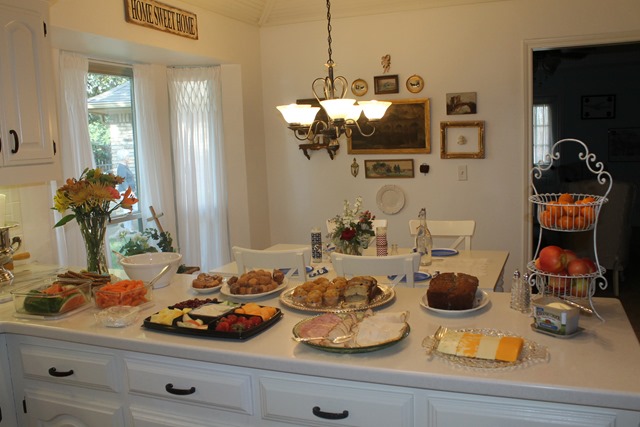 A drink station featured bottled beverages, a kettle and packaged teas so that guest could help themselves.
10. Encourage your guests to be goofy. After all, it's a PARTY!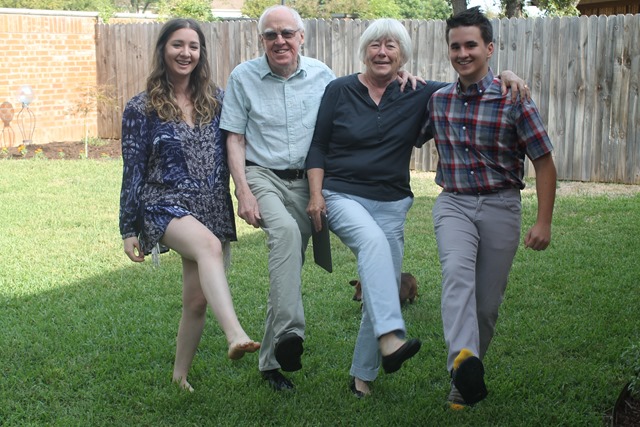 I'll be back on Thursday with this seasons entry for the One Room Challenge.
Laura