This Wednesday on September 9, 2015 Queen Elizabeth will become Britain's longest reigning monarch.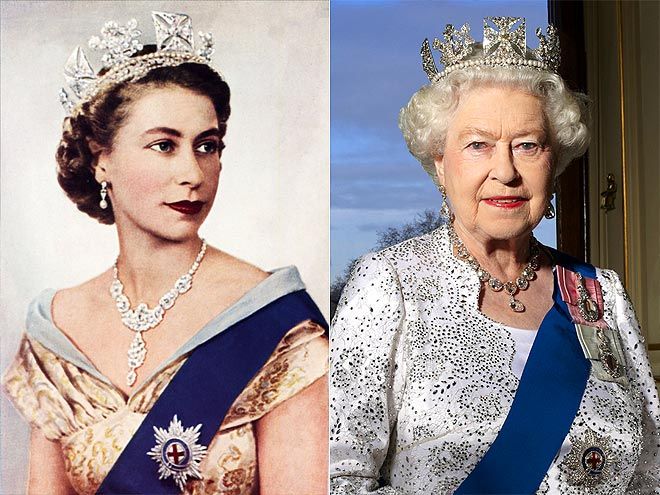 She will surpass the record held by her great-great-grandmother, Queen Victoria, who reigned 63 years, 7 months and 3 days.
"Queen Victoria" by George Hayter, 1860
It is interesting to consider that like Queen Elizabeth when Princess Alexandrina Victoria of Kent was born she was not the daughter of the first son in line to the throne. Queen Victoria's father, Prince Edward Augustus, Duke of Kent and Strathearn, was the fourth son of King George III.
She came to the throne at age 18 in 1838 after the death of her uncle King William IV. She ruled until her death, at age 81, in 1901.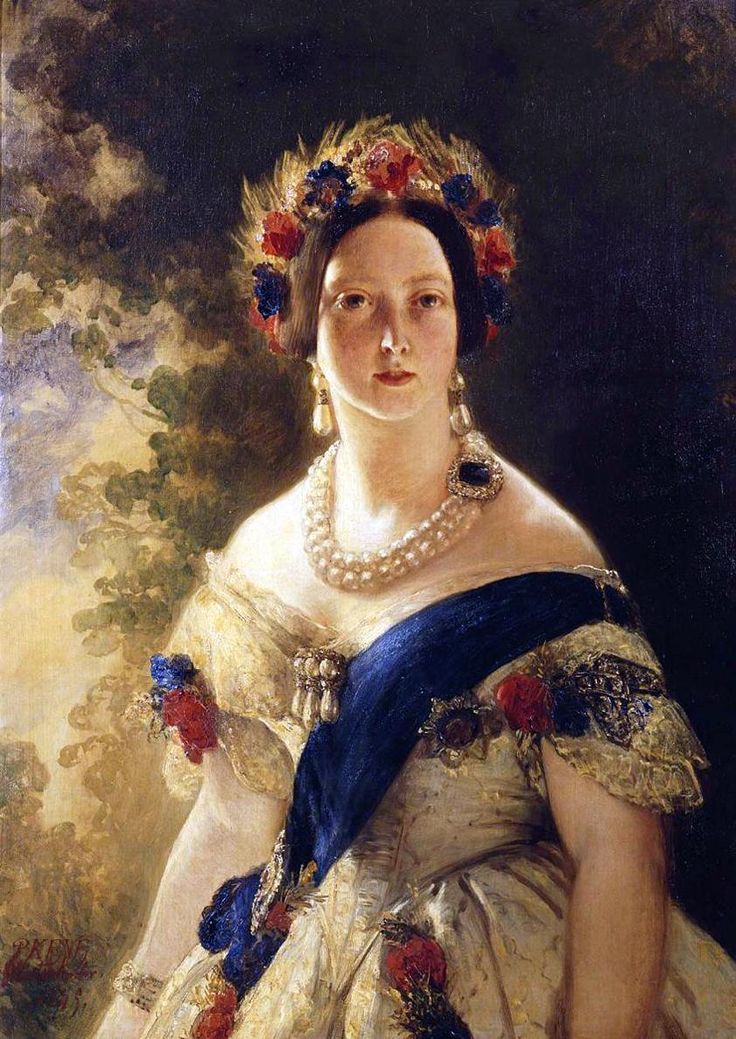 "Queen Victoria" by Franz Xaver Winterhalter, 1845.
When Princess Elizabeth Alexandra Mary Windsor was born on April 21, 1926 she was not expected to become monarch. She was the first child of Prince Albert and his wife, Elizabeth. Her father, the Duke of York, was second in line to the throne. It was expected that Prince Edward, Albert's older brother, would marry and have children. However, King Edward VIII abdicated the throne in 1936 so that he could be with the woman he loved, divorcée Wallis Simpson.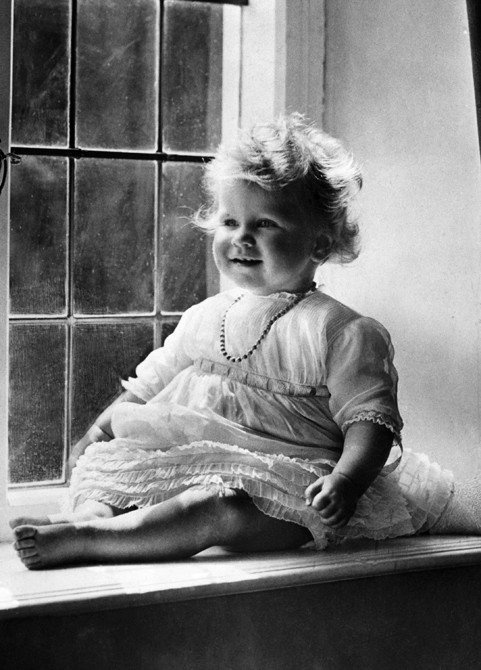 Princess Elizabeth was ten years of age when her father, Prince Albert, ascended to the throne as George VI.
Princess Elizabeth then became the heiress presumptive.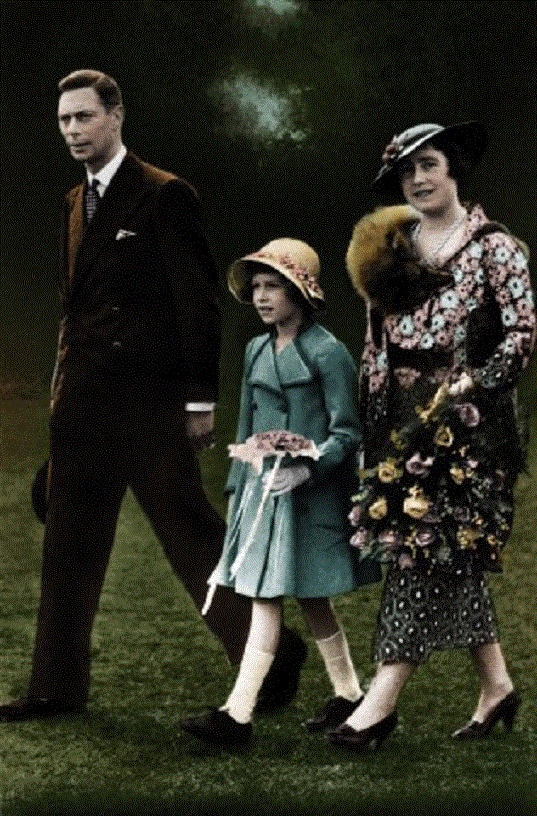 Princess Elizabeth was schooled at home along with her sister, Princess Margaret. She was exposed to art and music, learned to ride and is fluent in French. She was an excellent swimmer and became a Girl Guide (Girl Scout) at the age of eleven. After her father became king she began to study constitutional history and law in preparation for her future role as queen. As future head of the Church of England she also received instruction in religion by the Archbishop of Canterbury.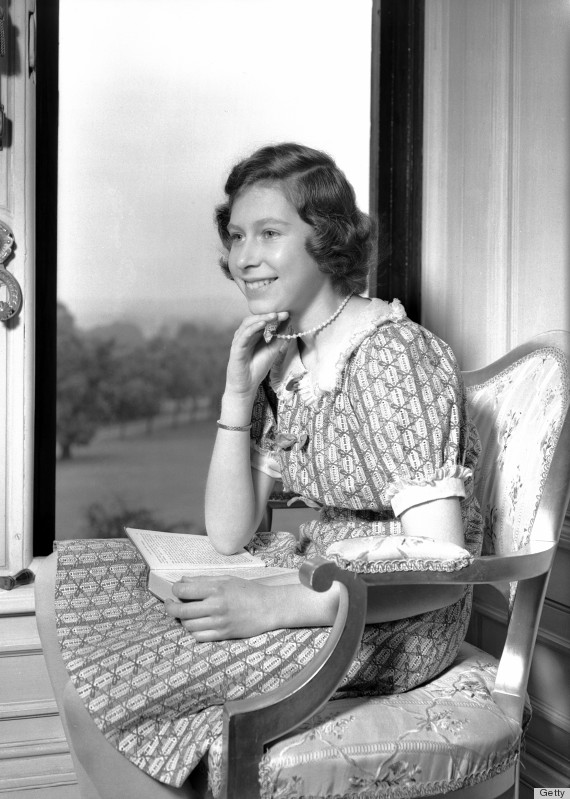 During World War II, the princess joined the Women's Auxiliary Territorial Service at the rank of second subaltern, and did her wartime duty as a driver and mechanic.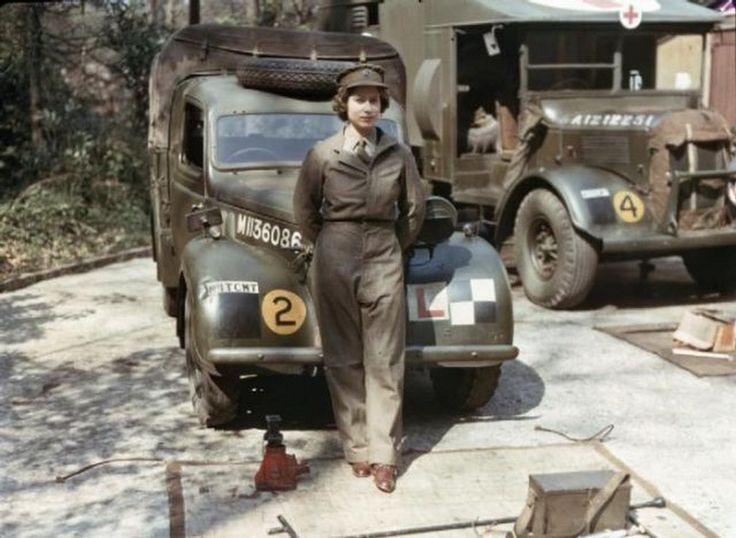 Upon the death of her father in 1952, at the age of twenty five, she became head of the commonwealth. Here the Queen is shown wearing St Edward's Crown which was created in 1661. It is traditionally placed on head of the monarch at the end of the coronation ceremony. Also shown are the Greville Chandelier Earrings and City of London Fringe Necklace.
For her official coronation portrait, taken by Sir Cecil Beaton, the Queen wore the Imperial Crown which features some of the most famous stones in the world. They include the Black Prince's Ruby, the Second Star of Africa diamond and the pearls suspended along the arches are thought to have come from a pair of earrings that once belonged to Queen Elizabeth I. 
During her 63 year reign the Queen has worked with 12 British Prime Ministers.The first was Sir Winston Churchill.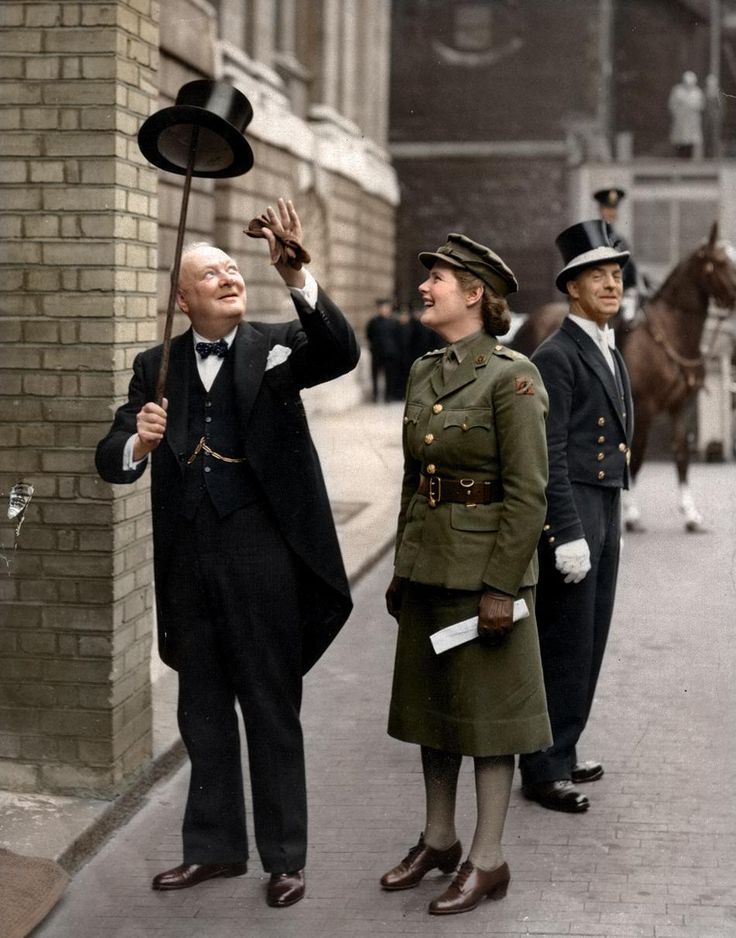 Winston Churchill and his daughter, Mary Spencer Churchill, in London, c. 1943. 
The United States has had a total of twelve presidents during the Queens reign. When she began Harry S. Truman was president. Lyndon B. Johnson was the only President not to meet with the Queen.
Through it all she has maintained an almost 68 year marriage. The Queen and the Duke of Edinburgh were married on November 20, 1947. The Queen first met Prince Philip in 1934. At a later meeting, when she was just thirteen, she has said that she fell head over heels in love with him.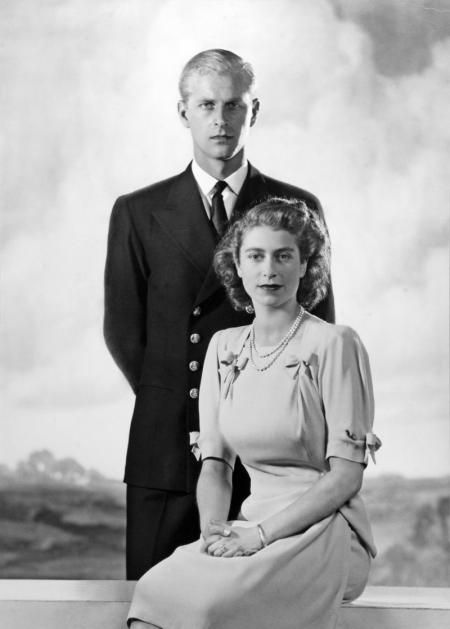 Prince Philip has accompanied the Queen on every single one of her Commonwealth tours and state visits. During the coronation tour of the commonwealth from November 1953 to May 1954 they traveled a whopping total of 43,618 miles.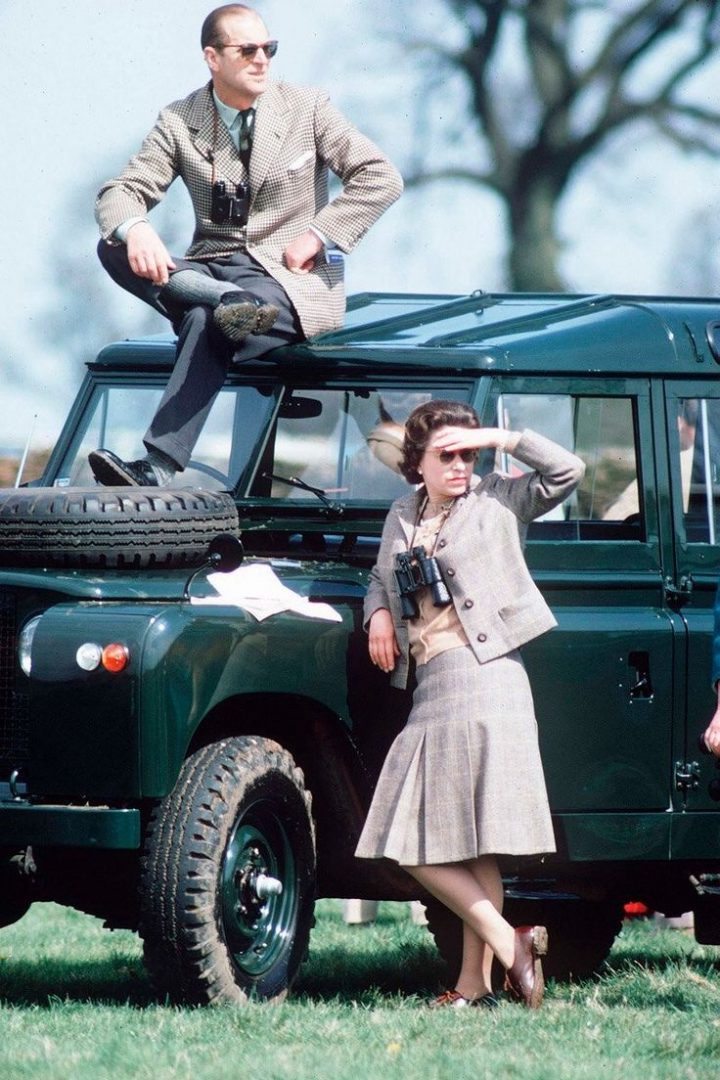 Their relationship still seems to not have lost its sparkle. Here the Queen is seen giggling at Prince Philip bedecked in full regalia of the 25th Colonel Grenadier Guards, in Guard Of Honour Order during a Trooping The Colour.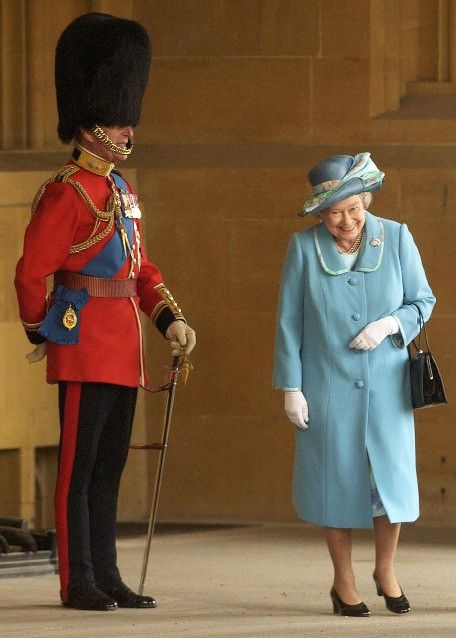 In addition to ruling the commonweath she has had four children all at home. Here she is seen in bed after the birth of Prince Edward in 1964 surrounded by her other children, Prince Charles of Wales, 15, Prince Andrew, 4, and Princess Anne, Princess Royal, 13.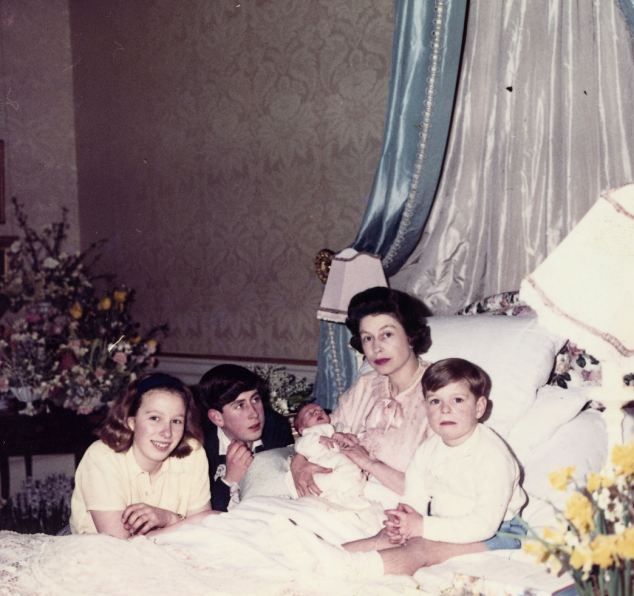 It could not have been easy to leave her children behind as she was so often expected to do.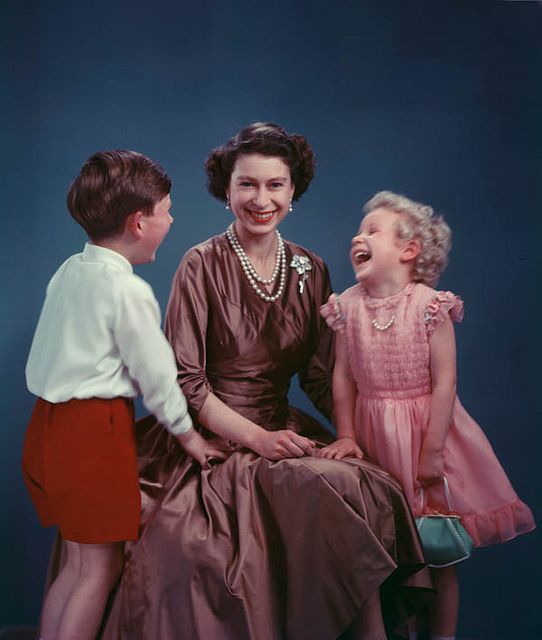 Queen Elizabeth is said to have a wonderful sense of humor and is well known for her kindness to animals.
She is most often shown with her Pembroke Welsh Corgis.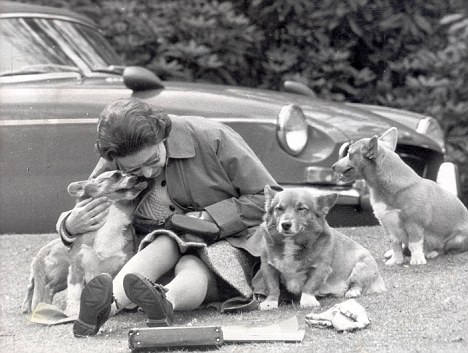 But she also raises labradors and of course dachshunds.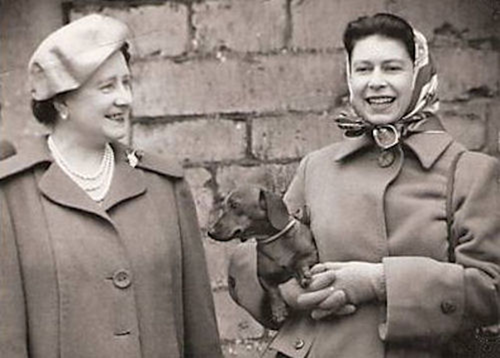 I shall close with some of my favorite official images of the Queen.  Here she is shown wearing the Diamond Diadem, originally created in 1821 for King George IV. Her necklace is known as the Nizam of Hyderabad. The earrings are her Bahrain Pearl Drops.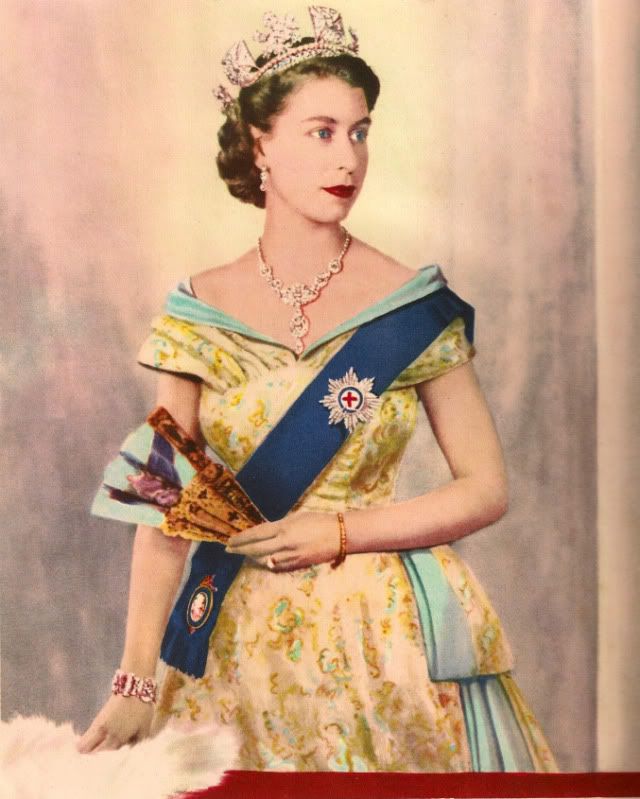 This crown is a favorite of the Queen's. It  features roses, thistles and shamrocks – the symbols of England, Scotland and Ireland.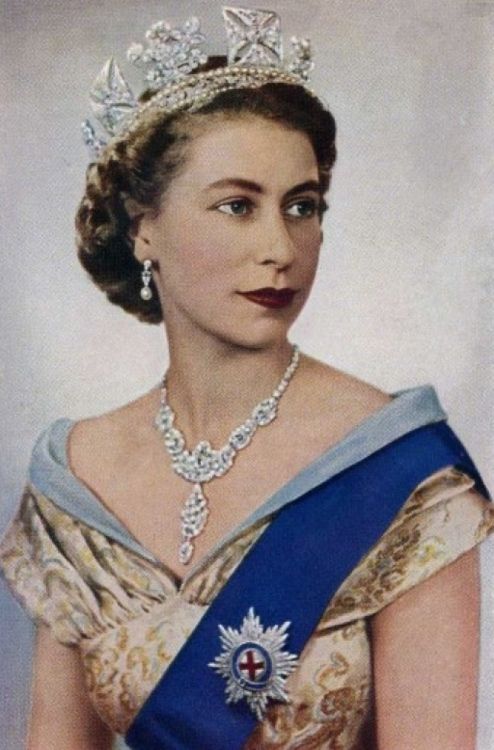 I love this photo of the Queen wearing Queen Mary's Vladimir tiara, Delhi Durbar earrings, the Cullinan V pendant necklace and one of Queen Victoria's bow brooches on her sash.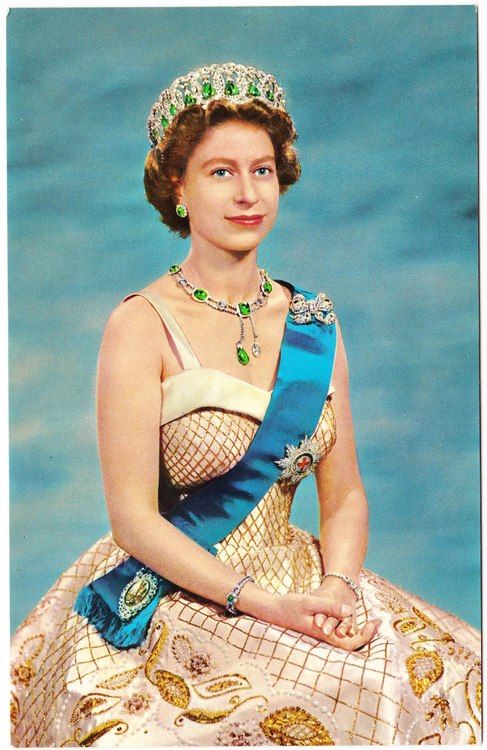 Here the Queen is wearing the Girls of Great Britain and Ireland tiara, Queen Victoria's pearl earrings (given to her by Prince Albert on the occasion of their weddings) and at the lower end of the sash the Order of the Garter.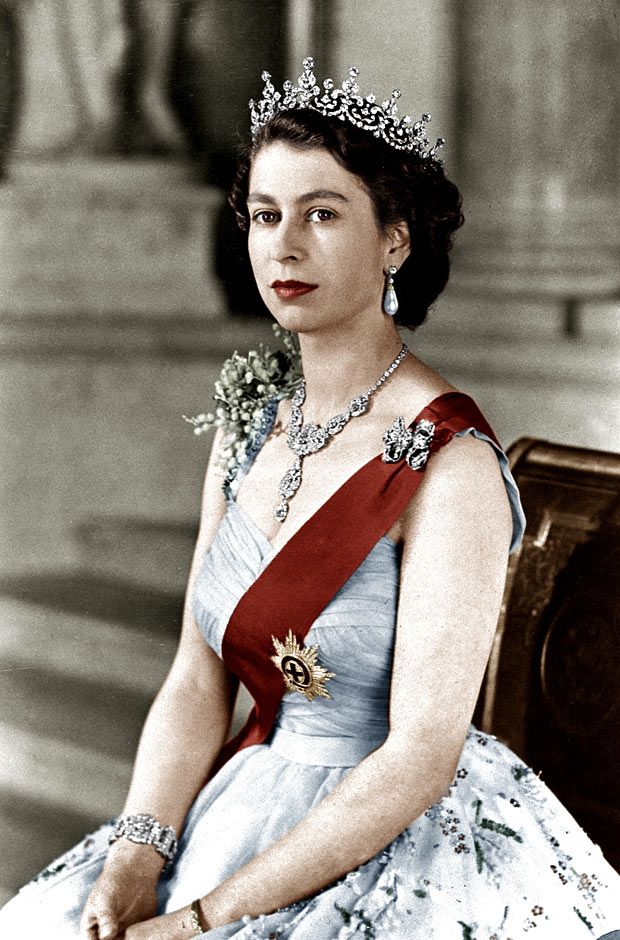 Congratulations to Queen Elizabeth!
(Wearing Queen Mary's button earrings and Williamson Diamond Brooch.)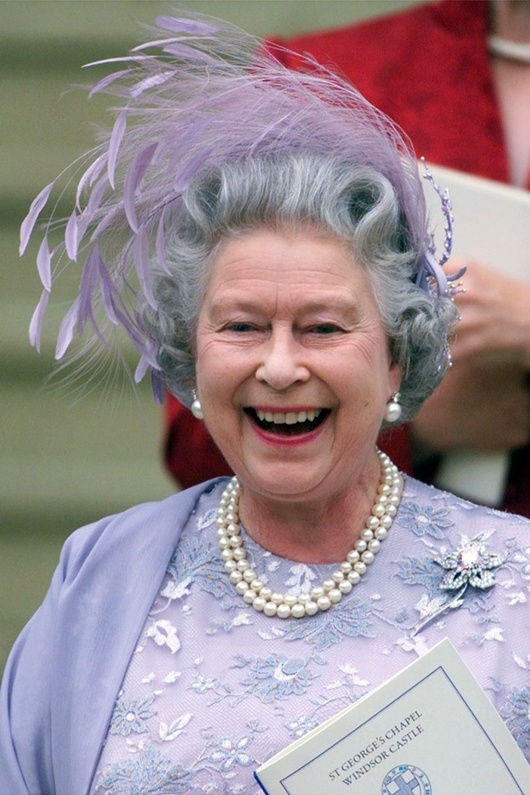 Long live the Queen!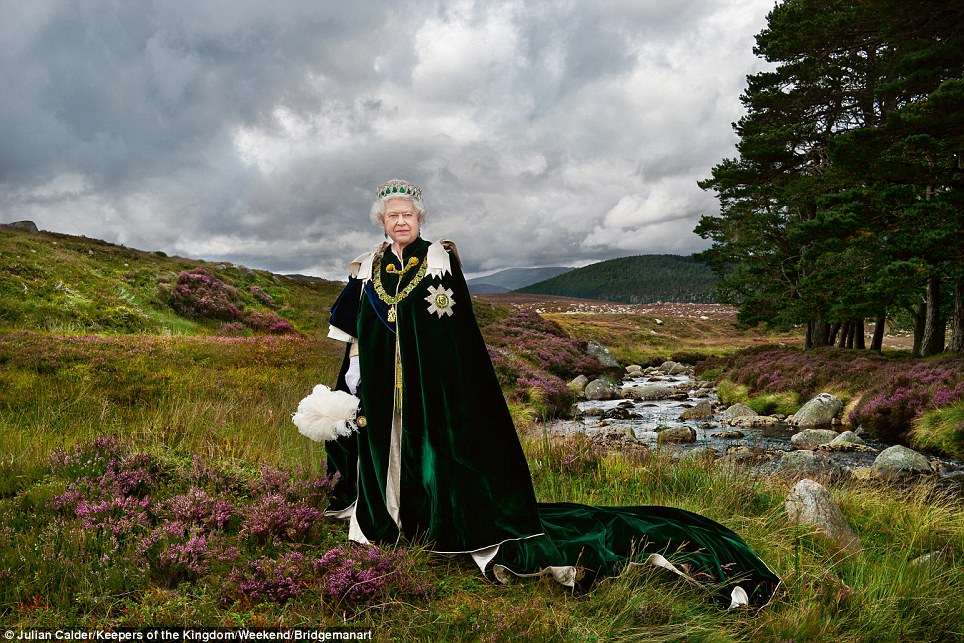 Tomorrow Storybook Cottage will be featured on the blog bedecked in all its fall finery.
Laura