Mr. Décor's large extended family arrives for a fall family reunion in just two short weeks.
Over the summer the Mr. and I have been hard at work ripping out all of the overgrown and half dead holly bushes, weeds and briar vine. We have also been hauling away tons of excess dirt out of the flower beds. It was finally time to install a flower bed border. If you have ever looked at my Pinterest  "Garden" board then you have probably surmised that I like the look of brick borders.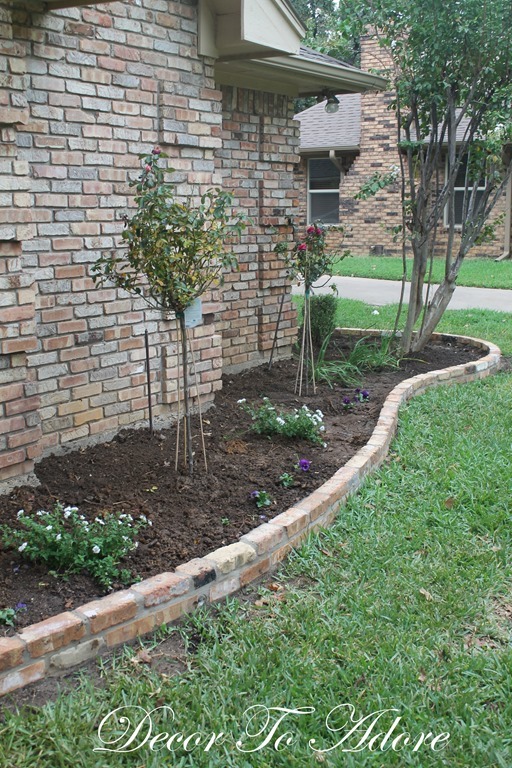 I interviewed a few masons and loved the work by Premium Brick and Stone Works. I had discussed with the owner, Mr. Campos, that we wanted to match the existing antique brick found on Storybook Cottage and talked about the design of the border itself. He did a great job executing the work.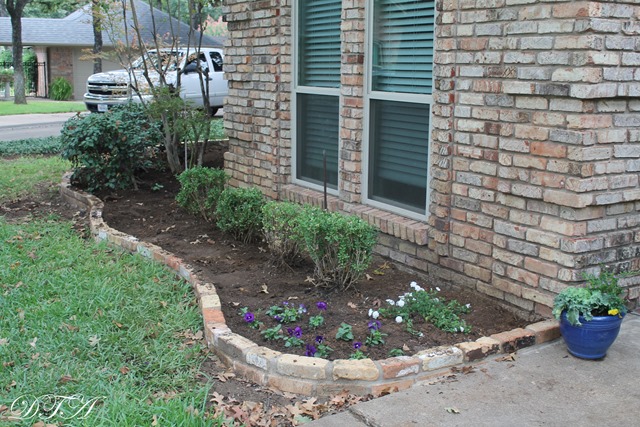 Because we have had drainage issues in other areas of our yard we made sure to incorporate weep holes into the design. You can also now clearly see our cement foundation in the background. This is extremely important. If it is hidden it is possible for water to seep to your home. Prior to us hauling away the excess dirt it reached all the way up to the second brick in some places.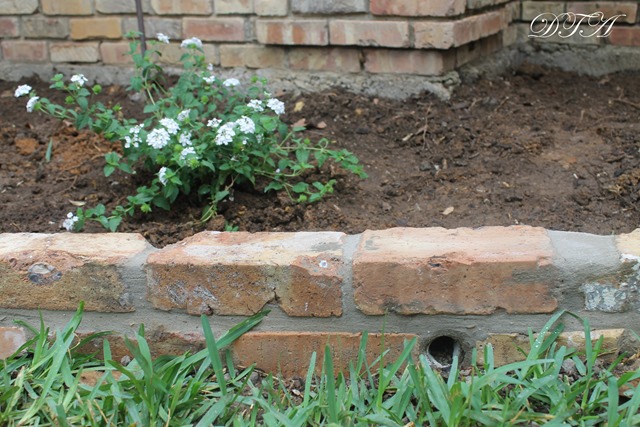 Of course these pictures aren't a perfect "After" shot. This is absolutely a work in progress. I think it's important to remind ourselves and others that good things are coming.
In order to create the brick border a trench was dug, rebar was laid down then topped with two to three layers of brick and mortar. Grass will need to be replanted in the areas that were dug up to accommodate for this.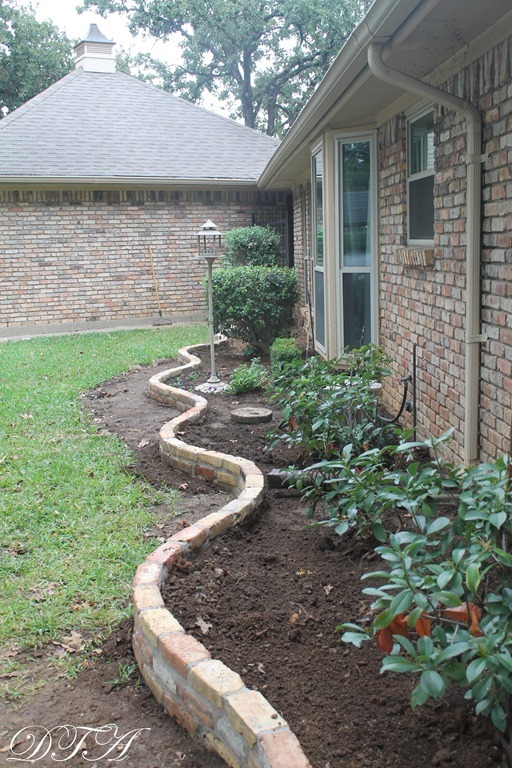 So far we have planted perennials such as rose trees, lantana, and day lilies as well as pansies for annual color through the winter. I also dug 150 holes that were six inches deep for hyacinth, paper white, crocus and tulip bulbs. I like to call it planting hope. Just when you think winter will never end then lovely bits of bliss remind you that spring is coming.
I still need to add some additional plants and put down a layer of mulch. I also love the look of adding in woven wicker trellises and screens.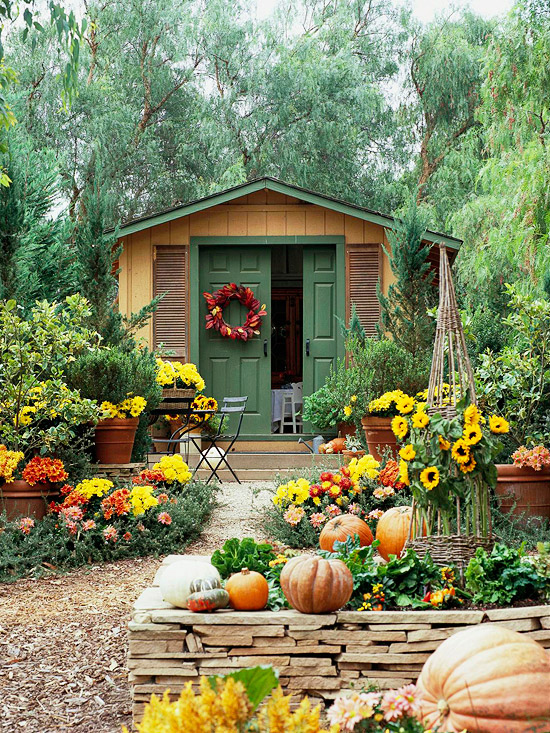 Ornamental cabbage, mums, pepper and grasses all fan the flame of my fall garden fantasies.
Plopping a few pumpkins here and there could also add to the autumnal ambiance.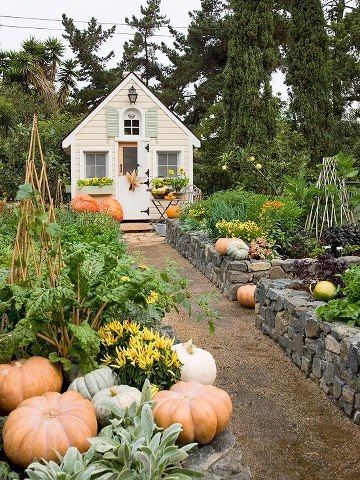 This idea of incorporating an old chair or settee frame into a gardening landscape is darling.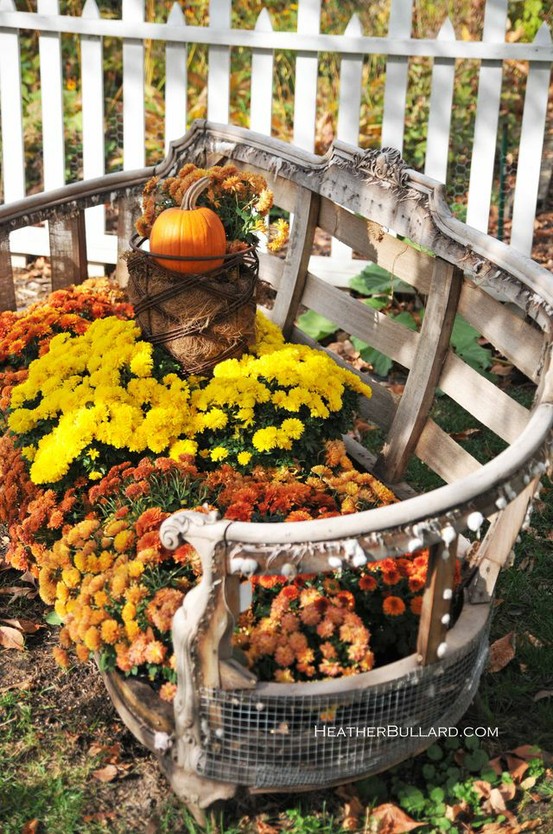 Our little shed has two window boxes and I love this slightly unconventional look.
I can also add touches of color with garden containers. Our porch could use a bit of extra pizazz.
I still love our 2013 Fall front porch.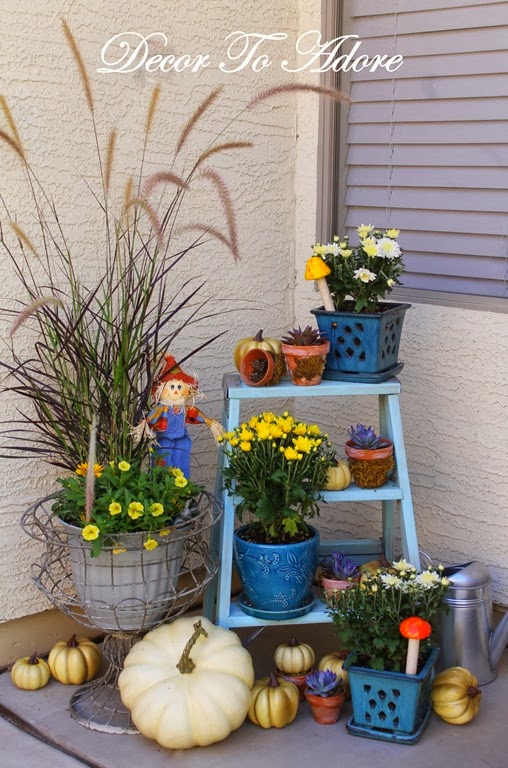 The 2012 porch wasn't too shabby either but I am in the mood for something new for Storybook Cottage.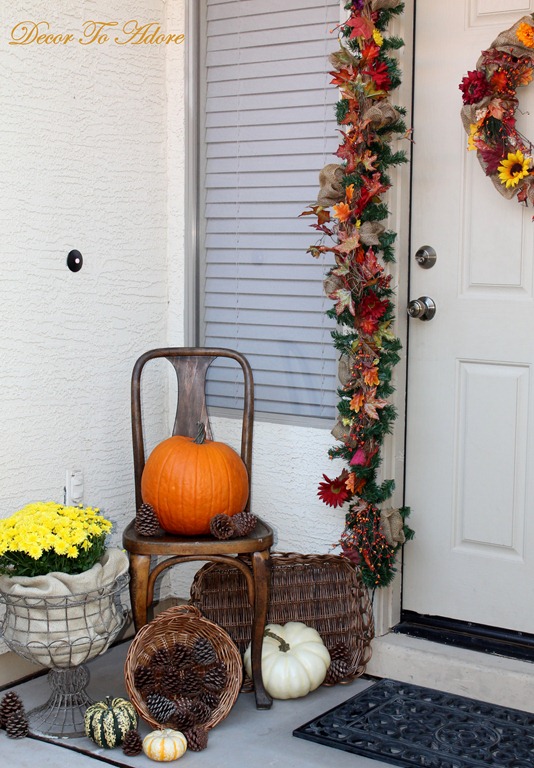 Are you creating any fall flower beds?
Laura