Earlier this week I had one of my famous bright ideas. After weeks of wondering just what type of furniture I wanted to put in the sunroom the thought occurred to me to move the daybed down from my office after writing about it on Tuesday. The Fashionista said, "Let's try it, because I don't think the bed is really working upstairs." Sweet Guy though was on the fence. That is until we lugged the two heavy sideboards and rails down the stairs and put it all back together. Then he pronounced it "The best decision EVER!"
Now some of you might be thinking "A daybed in a sunroom?"
Yes, indeed.
It's done all the time in Europe.
Designer Charles Faudree often included a daybed in his room designs.
A daybed can work in modern interiors…
…moody interiors…
…even bohemian interiors.
You may remember that I found two great antique twin headboards when I went to Round Top in April. A fabulous local carpenter helped me turn my vision of a daybed into a reality by creating new side rails. It now looks very similar to this gem from Restoration Hardware.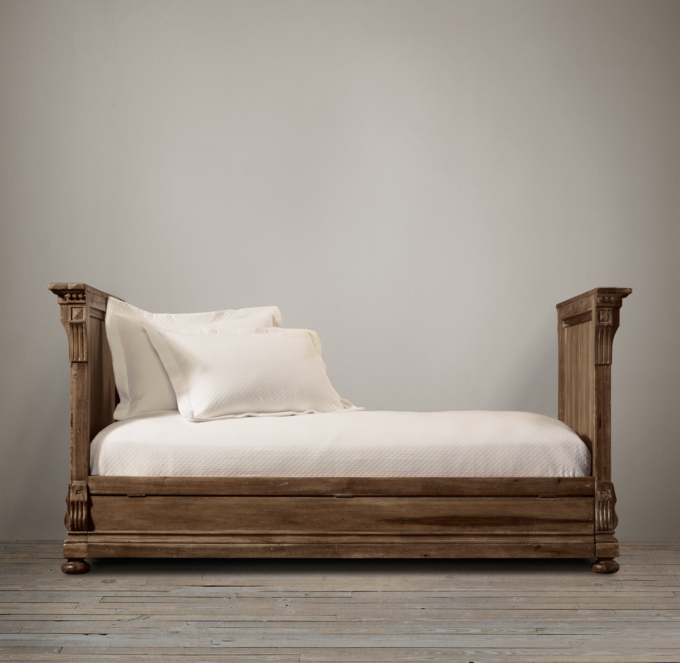 Since Sweet Guy uses the room the most I showed him a few photos and asked if he wanted a lot of color…
…or mainly neutrals with a pop of color.
When I shared this image he said "Yes! That's it! But no bear. I need that flag and those roundy pillows." (He now knows they are called bolster or neck roll pillows. :)
Oh and all the coverings have to be machine washable so that the dogs can join him on the bed …of course.
So, I'm on the hunt for fabric and flags.
Laura