Sometimes it's ok to just make small investments in a room until you are ready to make big changes.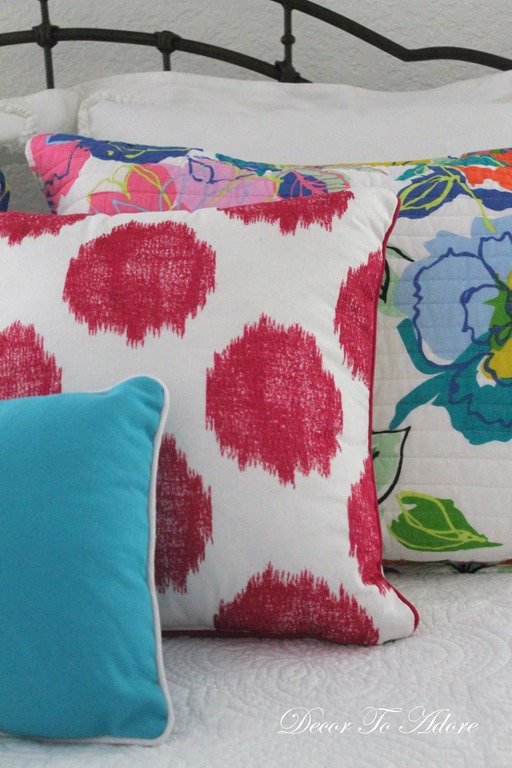 When we first moved into Storybook Cottage both the Mr. and I knew right away that we could only live for a few days with the feeling that we were sleeping inside an avocado.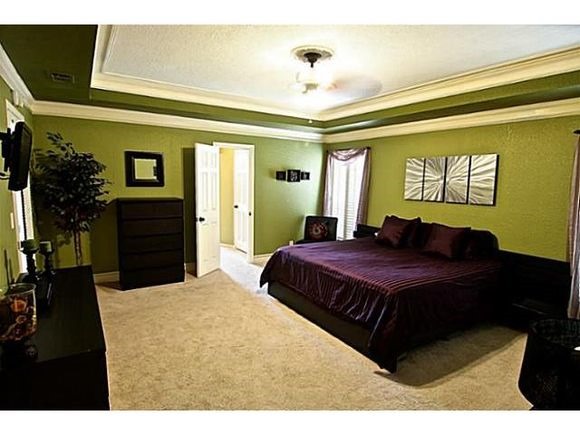 But I had no idea WHAT color to paints the walls. I already knew that the curtains we had in our last two houses were a foot and half too short for the new windows and pieces of our bedding had shrunk when they were dry cleaned. But I had no idea what type of new bedding I wanted, had no time to look and just needed to paint.
So white it was. Specifically "DuJour" by Behr (Home Depot). Someday I will probably paint the walls a lovely color but for now white works.  It's clean and not green. 🙂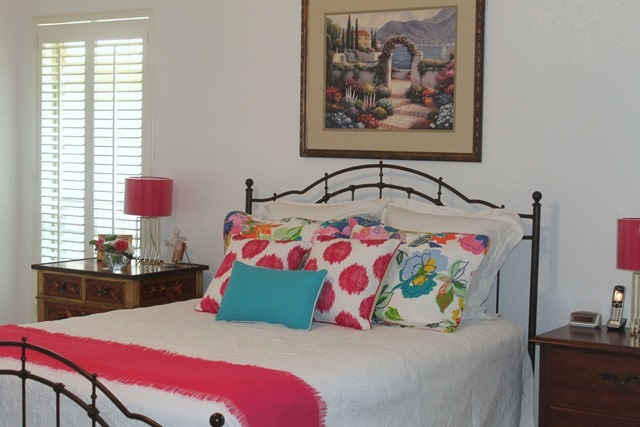 Eventually I probably will have custom bedding and drapery made for the space. But in the meantime I was tired of just making the bed up each morning with just a tired old blanket. Since this was a temporary decorating solution I decided to have a little fun with my choices. Summer for me means bright color balanced with white.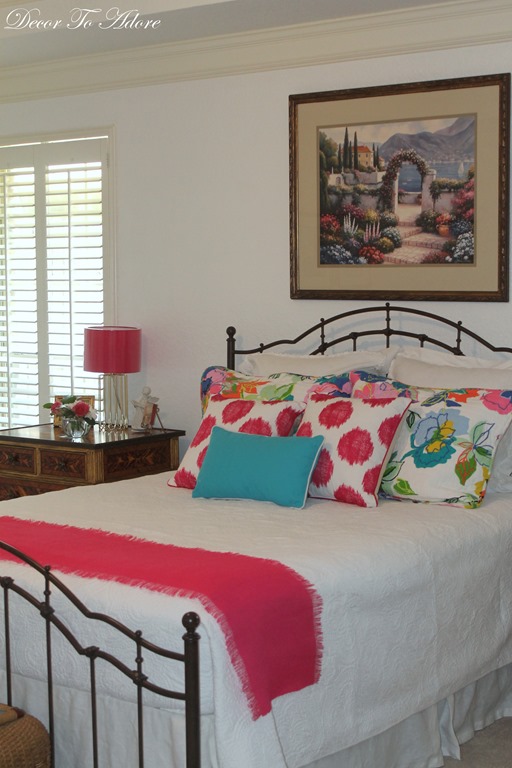 I can't even begin to tell you how clogged with dust these window sheers were. #yuck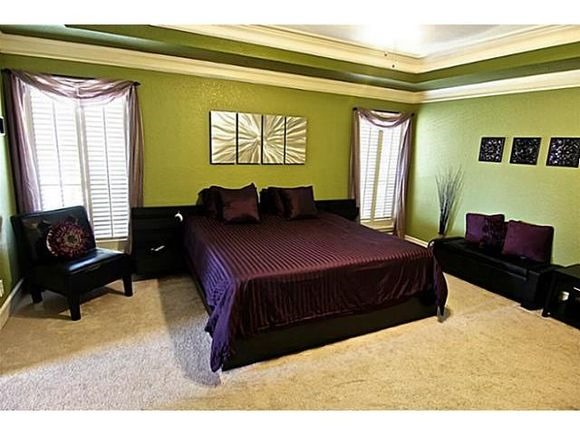 For now I am just enjoying the clean look of white plantation shutters. It seems perfect for summer. Light and bright.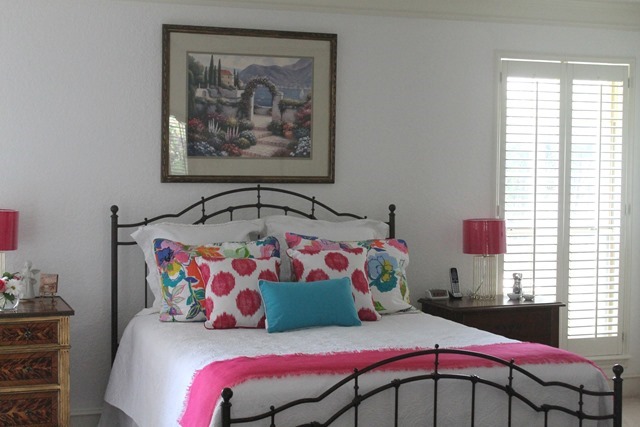 So let's talk bedding. The white linen bed skirt and euro shams I have had for a few years. They are from Pom Pom at Home. I found the white Issac Mizrahi coverlet at Marshalls and the floral Kenzie shams at Home Goods. Both were on clearance. The pink abstract pillows by Threshold from Target were also massively reduced. The turquoise pillow in front came from Hobby Lobby and purchased with a coupon. All together I spent $65 for a temporary fix that allows me to walk into our bedroom without cringing.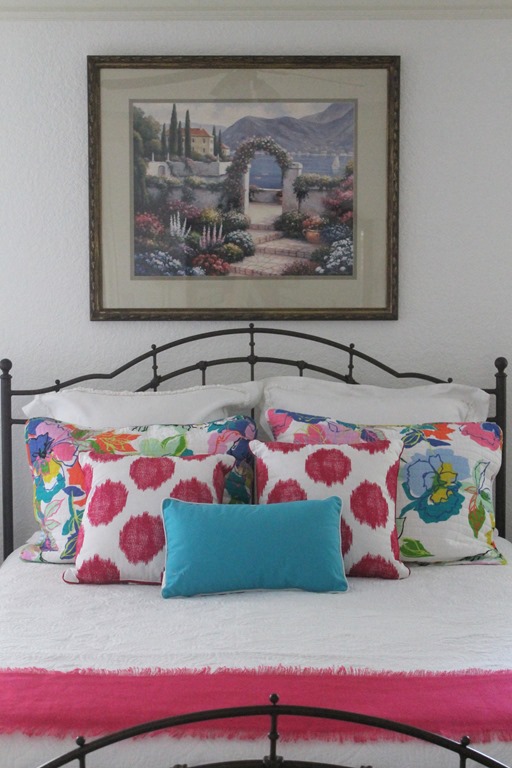 The colored fabric at the foot of the bed was something I have seen done at upper end hotels. The Fashionista is unsure about this look. I told her we would let you guys vote on if it should stay or go. It is basically just a bit of pink burlap.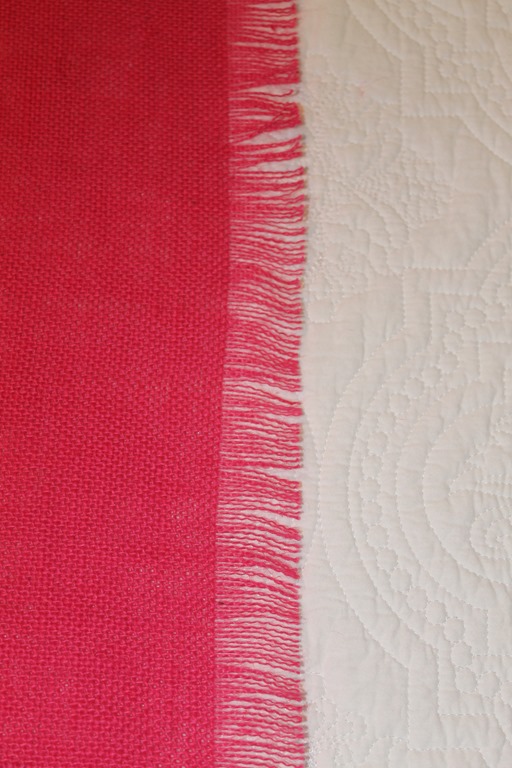 I also found some new lamps on major clearance at Target. You can see I have not yet removed the plastic lampshade cover. This is because I am on the fence about the lamps. While I love the pink shades the base reminds me of large gold paperclips. So, what do you think, should they remain? At $25 a piece that is a bit high to keep them just for the lamp shades and buy new bases.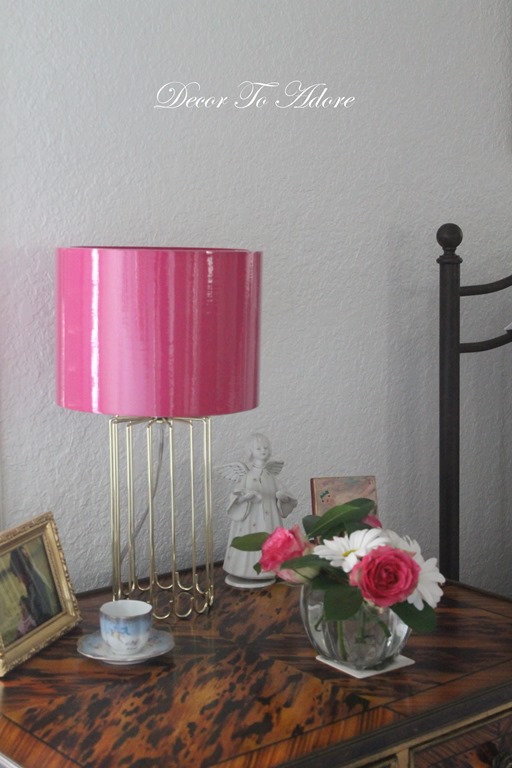 So tell me your thoughts. Will you be doing any temporary decorating fixes?
Laura