Generally the laundry room is one of the hardest working spaces in a home. But there is no reason that it can't also be pretty.
The laundry room at Storybook Cottage has generous storage in the form of two sets of cabinets. However, they are placed fairly high up on the wall. The height combined with the width of the washing machine and dryer makes it a bit difficult to reach.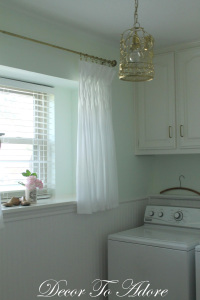 Since I do laundry about every other day I wanted easy access to the soap, bleach and softener I use. I found this tray at Marshall's and thought that the French script was a perfect fit. Translation: Pure Soap Olive Oil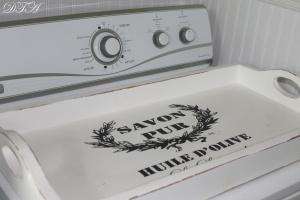 I recycled French lemonade bottles and filled them with bleach and softener.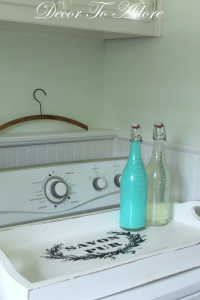 Powdered oxygen bleach and laundry detergent were placed into inexpensive glass jars from Ikea. They are shown here without their lids so you can see that even the vintage scoops are fun.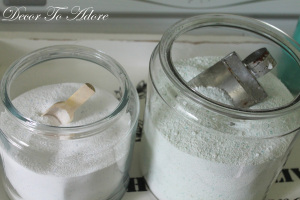 The vignette also include a large vintage metal scoop that holds dryer sheets. It once belonged to Grandpa Gunn. A small wire basket holds my collection of antique English and French wooden clothes pins. The child sized versions are my favorite.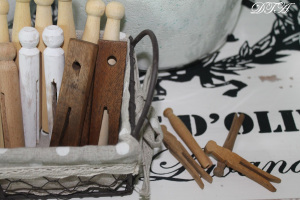 Tomorrow we'll conclude the week with other bits of laundry room bliss.
Laura

Update: Great Escaper brought up a valuable point that homes with small children should keep their toxic cleaning products well out of the reach of tiny hands preferably in locked cabinets.