It's been somewhat of a symphony of crickets here on the DTA blog.
After making it through finals I knew I had just 2 weeks before my next semester started. So I made a huge "to do" list and have been furiously making my way through it. On the top of the list was addressing the issue of our kitchen countertops. Most experts say that when you first move into a home you should live in it for a few months to a year before making any major structural or remodeling changes. I agree.
Now as a designer who did very well in the "kitchen and bath" learning portion of my interior design degree my eye instantly could see red flags when viewing our kitchen for the first time. To other eyes a first glance doesn't look that bad…
But on closer inspection it was revealed that granite tiles had been laid over existing laminate countertop. That's no no #1. It's a quick and cheap fix that in the long run can lead to a host of issues.
The back splash was applied directly to sheetrock and when it didn't work it was built up. Hence the reason for the super thick edge. This is particularly a bad move when done on exterior/outside walls. Moisture, mold, stability are just some of the reasons this was no no #2.
You can also see that in the first photo the laser beam is very close to the decorative border on the left hand side...
…but as you move further and further down the wall the laser gets lower and lower as the tiles were incorrectly placed.
Adding insult on to major DIY kitchen injury is that several of the granite tiles were not laid level. Have you ever tried to work on an uneven countertop? It results in glasses constantly tipping over, liquids being spilled, plates and ceramic bowls being chipped whenever you mindlessly try to move then aside while cooking…
As someone who takes pride in her work and cooks A LOT I wanted to strangle the individual who did the install by the end of the first week of moving in.
Not to mention it gave me the heebie jeebies that due to the dark pattern of the granite tile I could never tell if it was really clean or not. For someone who once spent 7 days in isolated ICU due to salmonella poisoning I am a bit finicky about my food preparation surfaces being clean and sanitary. So Mr. Décor and I were always doing a crazy clean up dance in which we would run our hands over the counter or squat down trying to capture the dirty spots in a reflective light.
The kitchen sink…well, it's another ewww. This is as clean as I can get it due to years of stains, chips, gouges, etc.
Of course the question is what countertop surface should we select?
My Pinterest kitchen board is filled with images of lovely marble island and food prep surfaces.
So so pretty!
But here's the thing, marble is expensive. Sorry for stating the obvious.
Now marble would be a great option IF this was our end all, be all home.
Since Storybook Cottage falls more into our "next 7-8 years" home we had to think about not fun things like resale value. It's no secret that we've already dumped quite a bit of money into our home just to make it safe and functional. I needed to look at other options.
So I looked into quartz countertops. Fantastic choice! Have you seen Kristin's recent kitchen makeover?
But I just couldn't find a color that I was REALLY in love with. Remember, we have 16 oak trees on our property that surround the house so its always a bit "dark". I need light and bright!
White Corian countertops in Made by Girl's kitchen.
Young House Love chose white Corian countertops after extensive research.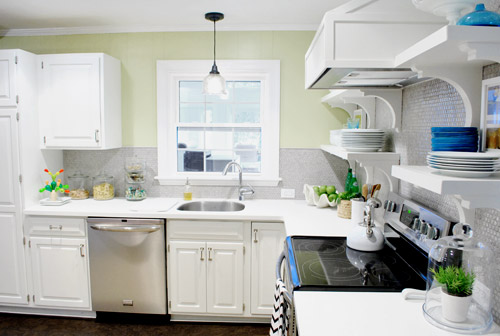 This kitchen made me think about what ours could be.
As it just so happened Home Depot was having a sale on Corian, 10 off and a free integrated sink.
I haven't quite decided on a backsplash. I do love classic subway tile.
The contractor made the templates on Monday and our new countertops will be installed in about 2 weeks. So, I need to get crackin!
Do you have a countertop that you love?
Laura