While April showers do bring May Flowers….
We have also found out why there was so much water damage to the back of the house causing Mr. Décor to replace all of the back siding last January.
Both the Mr. and I have been toiling in the backyard this past week. We have been logging hours upon hours of backbreaking labor to try and create what resembles a landscaped yard/garden. It was only when it rained buckets that we discovered …"Fort Worth, we have a problem."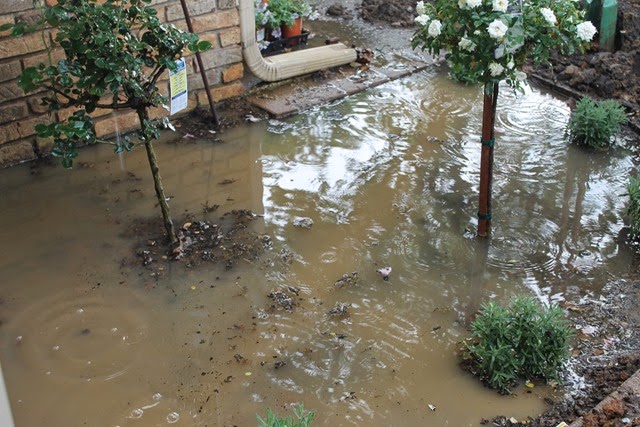 So, there are two issues. The first is we have clay soil where we live. It takes awhile for the ground to soak up excess moisture. This is particularly an issue as there is one air conditioning unit next to the back door that services the upstairs. I don't think they work very well when a portion is underneath a few inches of water.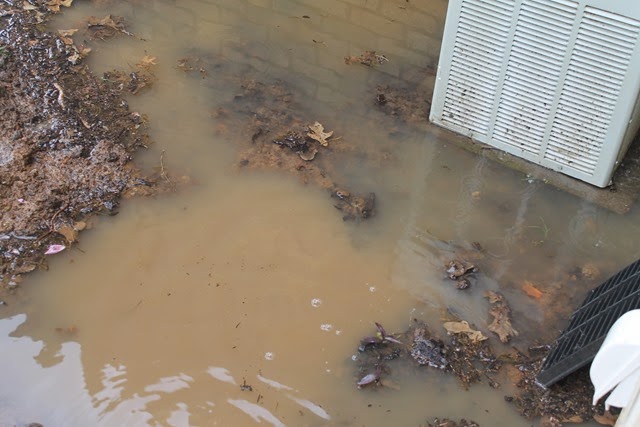 But the real culprit is that our yard is sloped from the fence TOWARDS our house. It's hard to capture the angle on camera and it's hard to show you this horrible "Before" but Mr. Décor has come up with a solution that we hope will result in a glorious "After".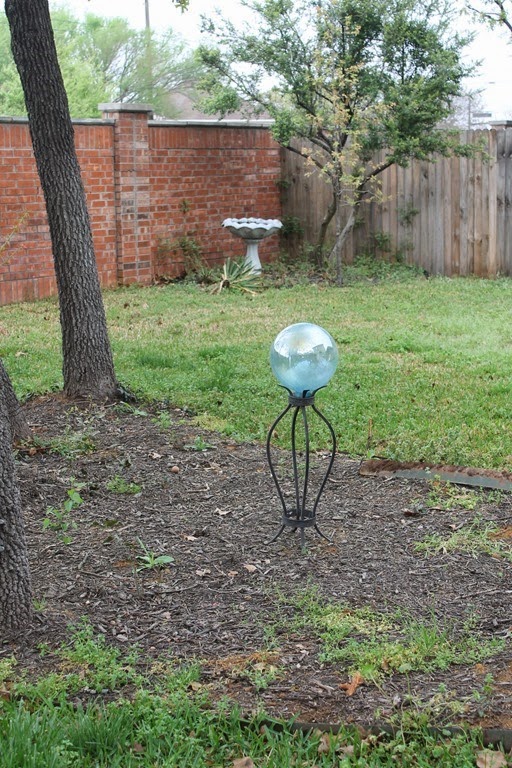 Installing a French drain. Which works like this: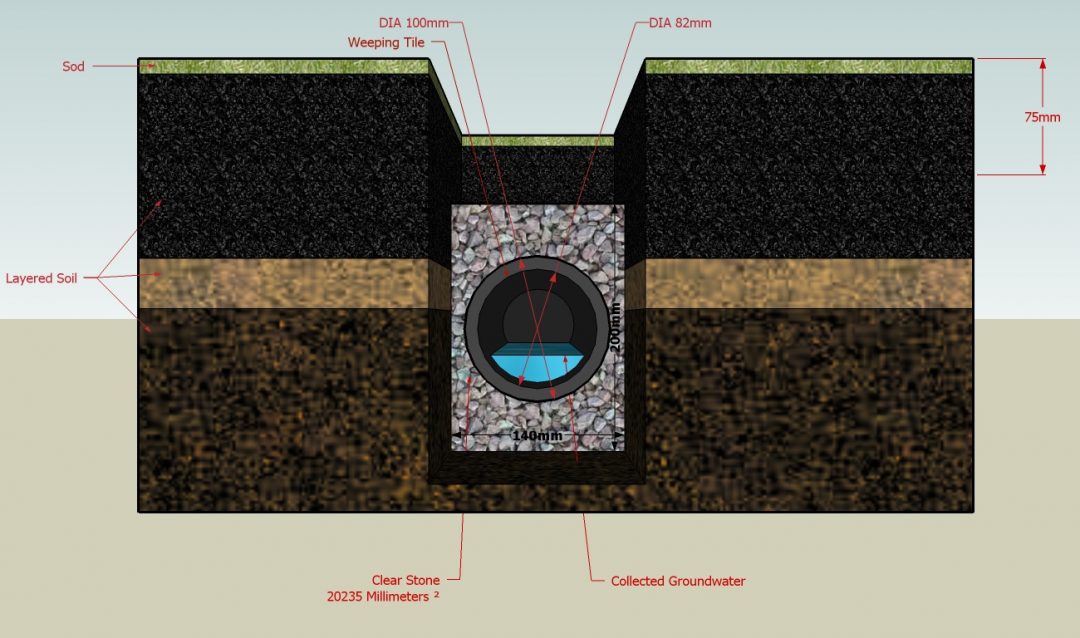 So a basin was placed on both sides of the back door. (A sidewalk separates the two areas.) This was before the Mr. dug a deep hole as you want the majority of the basin under the ground.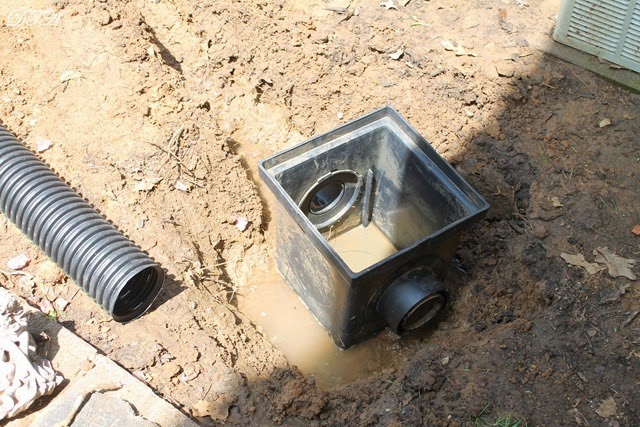 Then a long trench is dug for the hose. Which as you can see by the illustration above is then surrounded by gravel to keep it in place and then once again covered with sod.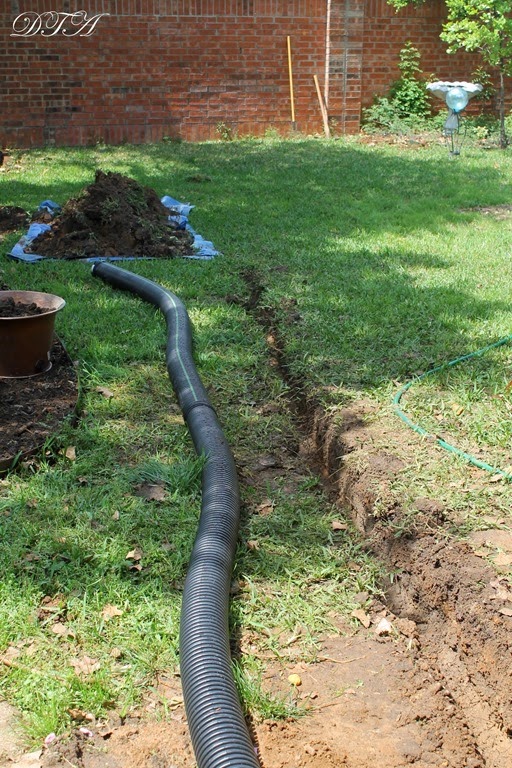 When it rains the excess water drains back out to another area of the yard. Which means that my rose trees and French lavender actually now have a chance of growing instead of drowning. While I would have loved to top the area with pea gravel it would probably just sink into the soft clay soil so we used brown mulch.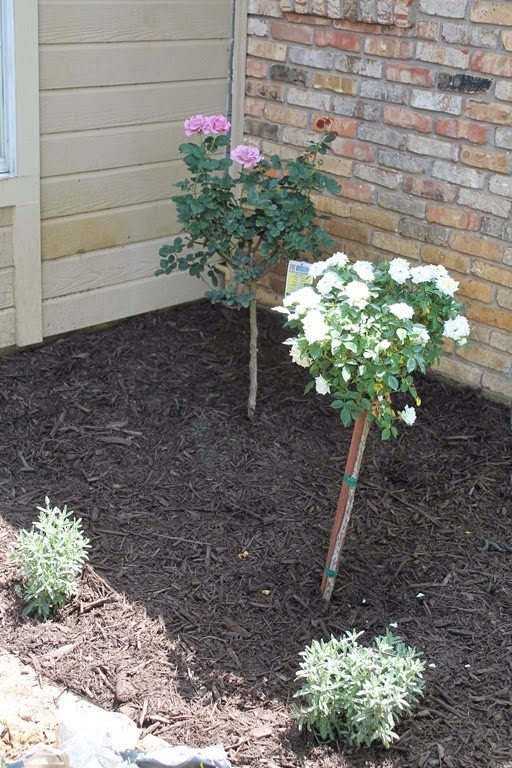 Now isn't that an improvement to what it looked like before? I'm not even sure you could call this landscaping.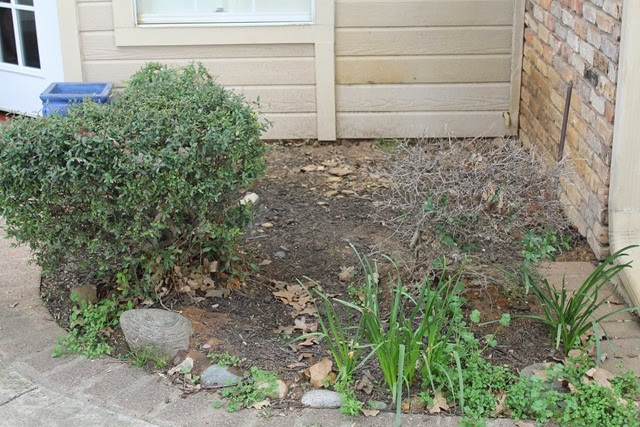 This is a "during" shot after I dug several rocks out of the earth and ripped out the three hedges, one of which was dead. Ever faithful Franz (the dark spot in the right corner) was constantly by my side and somehow has developed a taste for grubs. We believe his keen scent and knack for digging would also make him an excellent truffle hound.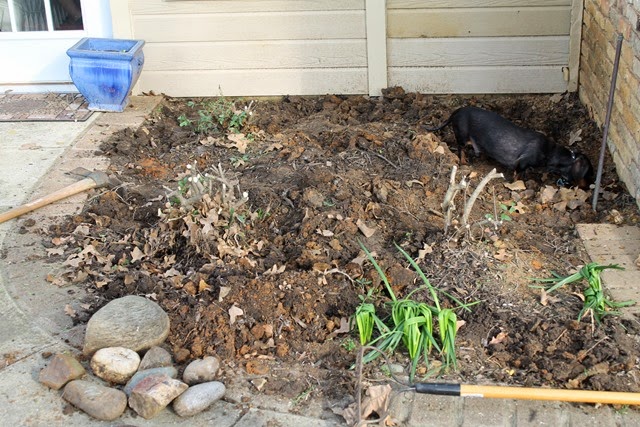 Although I am not a gardening expert I do know it is wise to select a color and style theme. As I mentioned HERE we are going for the simple French garden look. This correlates to roses, green hedges, lavender, urns and simple statuary. Our color palette with be white, purple, green, lavender and pops of peachy pink.
Once an area is cleared away laying out plants is a good idea. We actually decided against three roses trees in this tiny area and planted only two.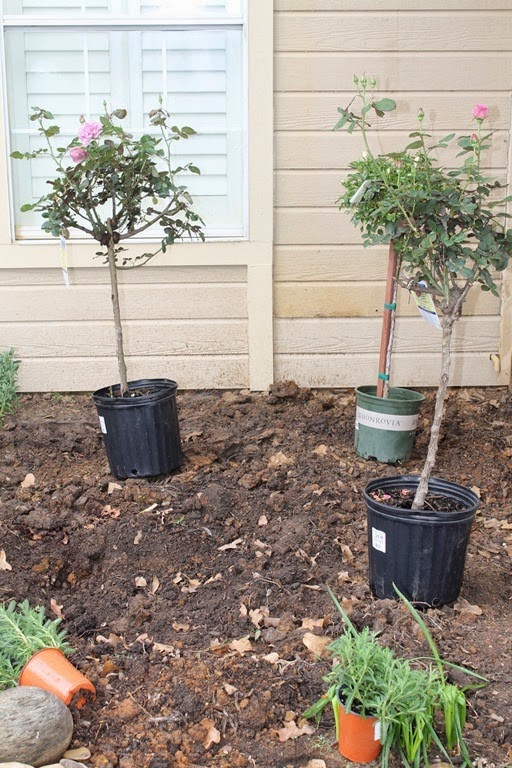 I am now currently working on the large center "island" in the yard.
"Before"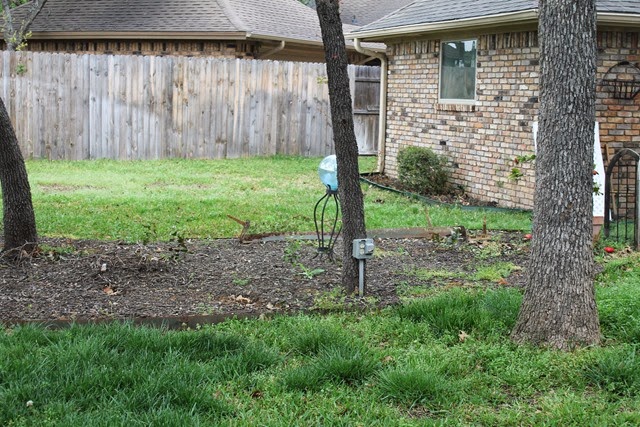 In clearing out this "Before" I discovered two strings of buried Christmas lights, more rocks, dead roots and of course numerous weeds.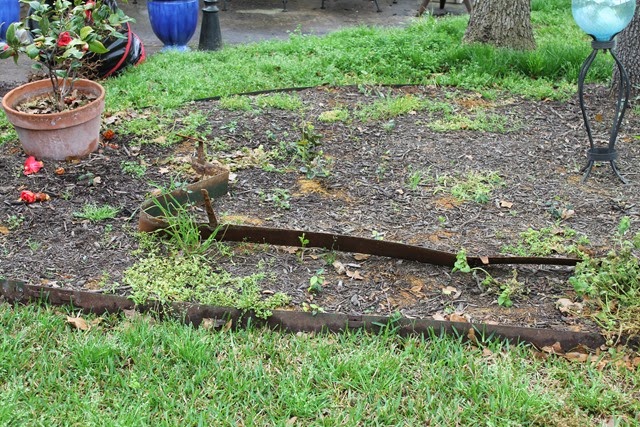 The tools of my trade:
A hard metal rake to clear away years old mulch and debris. A pick ax to take out large roots. A small stool and hand trowel for the four hours it takes to remove all the weeds into a large bin.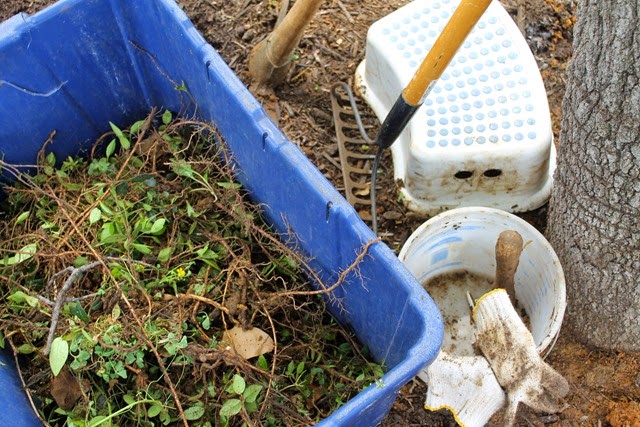 After numerous trips to empty the large bin I ended up completely filling our large garbage tote in the effort to clear the area.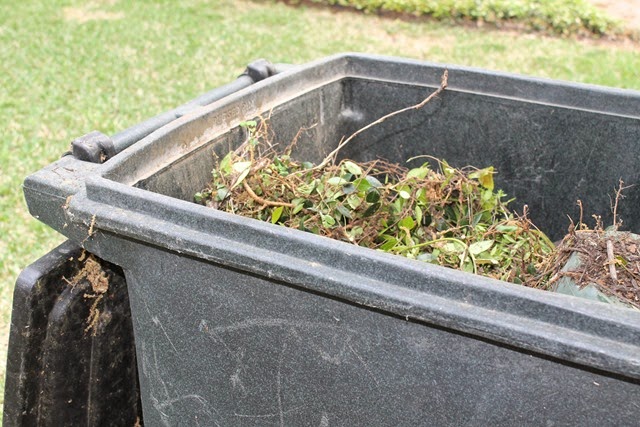 As you can see once the area was cleared the second member of the grub patrol was sent in for inspection.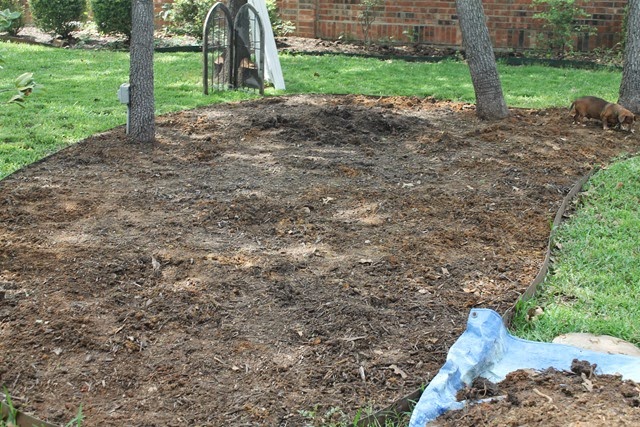 Dachshunds were originally bred in Germany to hunt down and remove badger. Hunters would risk injury to themselves and their horses if the horses leg would fall into a badger hole. The solution was to eliminate the badger which resulted in a dog with short legs, a long skinny body and the strongest jaw of all the breeds. Not to mention an affinity for digging.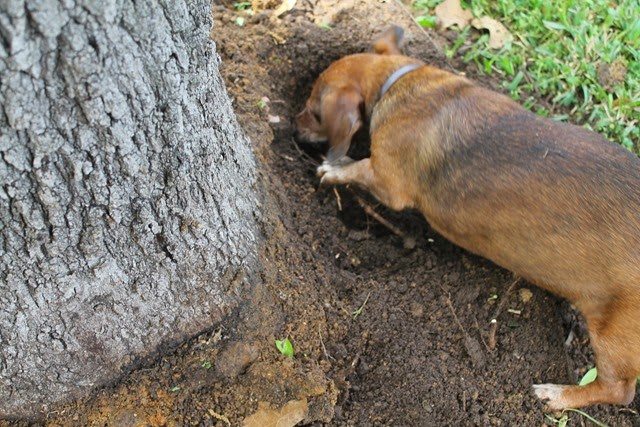 Rudi, ever loyal,  would have gone all the way to China if I hadn't commanded "Stop, bath time!" But truly no grub or squirrel stands a chance.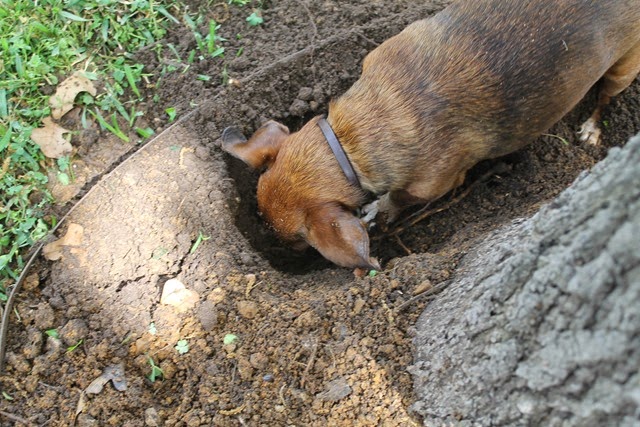 Just as in designing a room I felt like the "island" needed a focal point. I had already blown my gardening budget on annuals and perennials so I decided to shop the yard. In a small corner amongst two trees, a half dead palm and an overgrown vine like weed gone wild I spied an ill placed birdbath.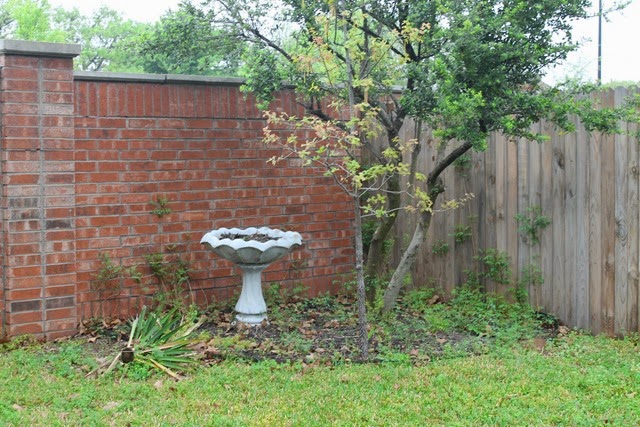 It took the strength of both Mr. Décor and I to yank out the birdbath, clean it up and place it in the center of the island.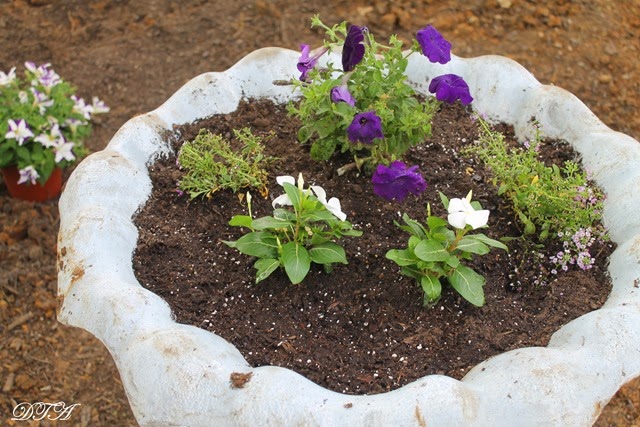 We are going to try and use it as a planter as I can't imagine trying to keep it filled with clean water given its immense weight. I have placed a few plants about and they will go into the ground soon.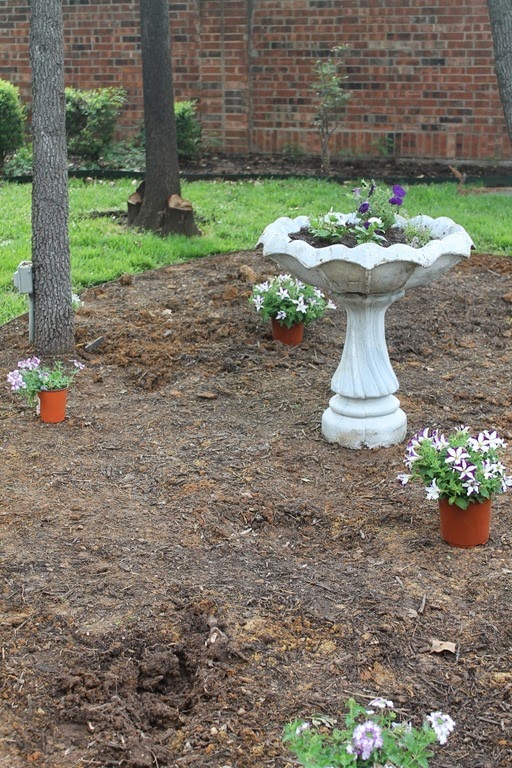 I have a feeling that this is going to be a lengthy ongoing project as most of the yard remains one giant "BEFORE" shot. 🙂
Laura
Linking to:
Between Naps On The Porch, Remodelaholic, Classy Clutter, Stonegable, A Stroll Thru Life, Not Just A Housewife,  A Bowl Full of Lemons,Someday Crafts, The 36th Avenue, Ivy and Elephants, Savvy Southern Style, Katherine's Corner, The Blissful Bee, Posed Perfection, My Fabuless Life,The Style Sisters, Sew A Fine Seam, Craftberry Bush, French Country Cottage, The Shabby Nest, Imparting Grace,My Romantic Home,The Charm of Home, AKA Design + Life, Shabby Creek Cottage, Tatertots and Jello, Funky Junk Interiors, My Uncommon Slice of Suburbia,The Dedicated House