Last Saturday, smack dab in the midst of Snowmageddon, our family had to set out for my uncle's funeral, two states away, which was set for Sunday afternoon.
Only halfway to our destination road conditions started to really get bad. After our truck wildly fishtailed for the second time in minutes we decided we had to stop ASAP. This was quite interesting as we found a place famous only as the single stoplight hometown of Carrie Underwood. Pulling into a hotel next to the highway we went to inquire about a room. The woman checking in ahead of us sadly sported a black eye and was clearly under the influence of….something. Upon entering the motel room my niece "Birdie" said in a quiet, scared voice "I think I would rather sleep out in the truck." Desperate times….. I turned to her and told her that this was actually NOT the worst place I had ever stayed. The family spent the next half hour one upping each other with hotel horror stories until we all were laughing.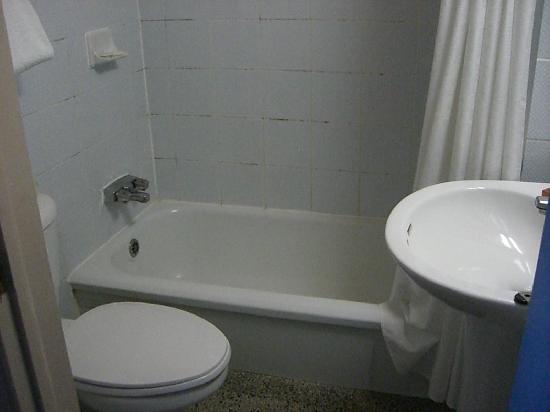 By then we needed something to eat. Thankful for sporadic wifi I searched for a restaurant. Yelp listed the Shell Kwik N Ez as the number one food choice. Um, lucky for us it was a short walk away. We feasted on microwaved ramen and French fries. My cousins face says it all.
Exhausted, we finally settled down for the night. The peace lasted for about two minutes when the train, and its very loud horn, roared by. This would happen several times during the night…. but don't worry. In between, in the wee hours of the morning, two people had a loud shouting match right in front of our room.
We also had the motel owner attempting to clear the parking lot. The metal snow plow repeatedly scrapping against the hard pavement for an hour was an audible delight. 
I wish he would have spent the energy on shoveling the sidewalk outside our door free of ice. There is nothing like being dressed in funeral finery of stockings and pumps while lifting suitcases onto a truck that can make you seem like an ice capades imposter. I was thankful Mr. Décor had packed a box of kitty litter. I sprinkled it liberally on the ground and it was the only thing that saved me from a cracked skull and broken pelvis.
Then, it just got better.
We finally made it to the funeral.
My cousin began to speak lovingly about his father. Sharing precious memories.
At one point he became completely overcome.
As I was in row surrounded by people I waited for someone, anyone, to go up and soothe him.
I continued to wait. He continued to be overcome.
I finally climbed over a few knees and tried to make my way up the stairs so I could comfort him.
Remember Jennifer Lawrence accepting her Oscar?
Let's just say that J. Law had NOTHING on me.
The only thing that saved me from complete mortification was that my cousin started cracking up and regained his composure.
Just call me J. Lau.
"He will yet fill your mouth with laughter, and your lips with shouting." Job 8:21