Slowly but surely the living room is coming together. I am trying to first use what I have before buying anything new.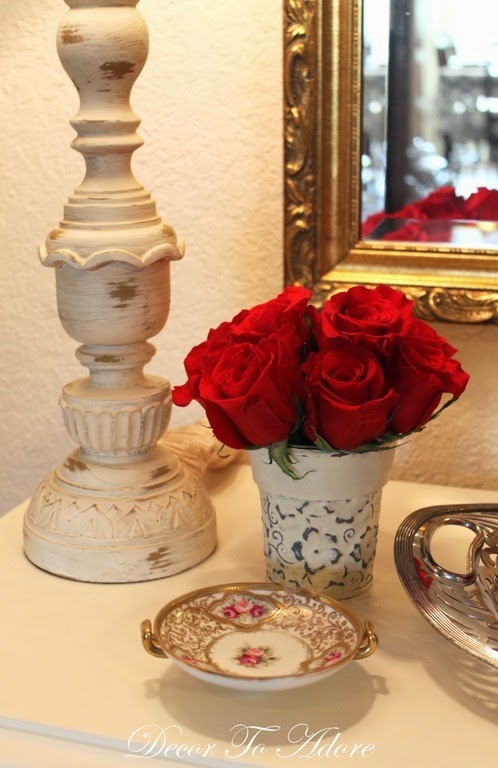 Three years ago I gave a dated Thomasville buffet a makeover. The piece worked beautifully as a center island in our very small kitchen in Arizona.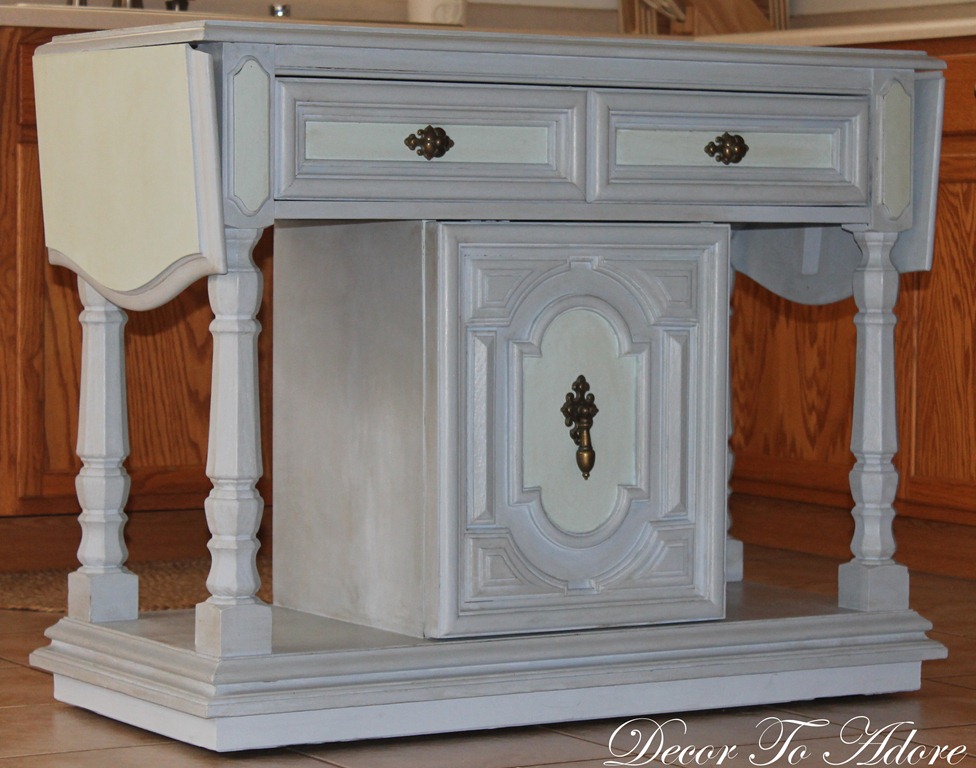 Here in Texas I tried working this piece into the kitchen as an island once more (no room) then in the laundry room as a folding/storage center (no room) and as a sofa table in the man cave (a waste of a good furniture). 
When I began decorating the living room it was painfully obvious that I had a shortage of furniture as well as a very small budget. I tried the buffet on three different walls and it finally found it's home near the fireplace. But the color was not working in the dark room so…
Enter in a equal combination of Annie Sloan's pure white and old white.
After three coats of paint and a layer of clear wax she was ready for her close up.
I sold the mirror I didn't love on Craiglist because it was way to big, but then I found a lovely gold beveled mirror at an estate sale for the same price. It adds a bit of happy sparkle to the room and works well with the buffet.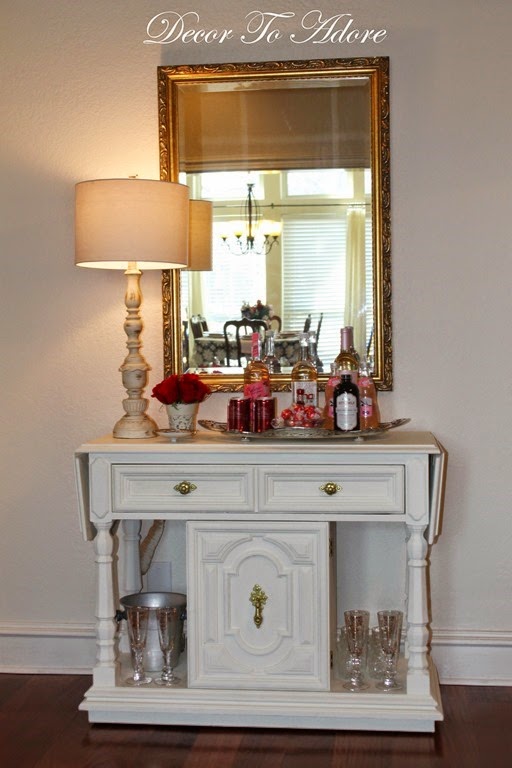 This time around I painted the hardware a bright gold.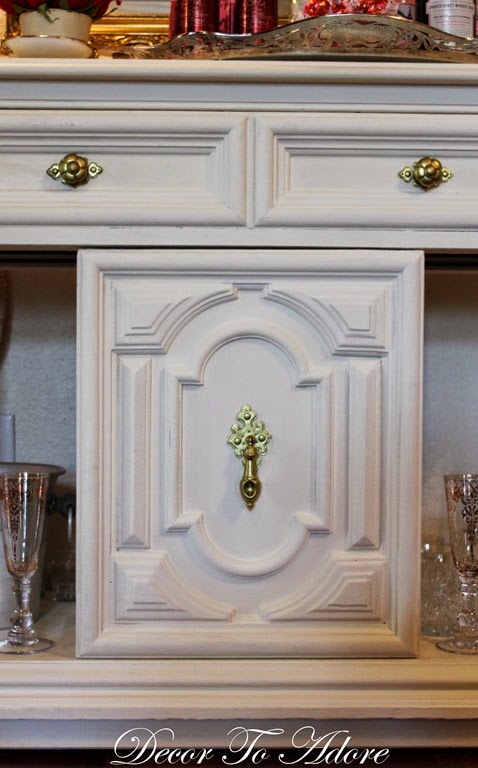 Given that there is already a decorated table in the nearby entry I decided that the buffet would make a happy drink station.
Here she's done up with all shades of pink and rose for Valentine's Day.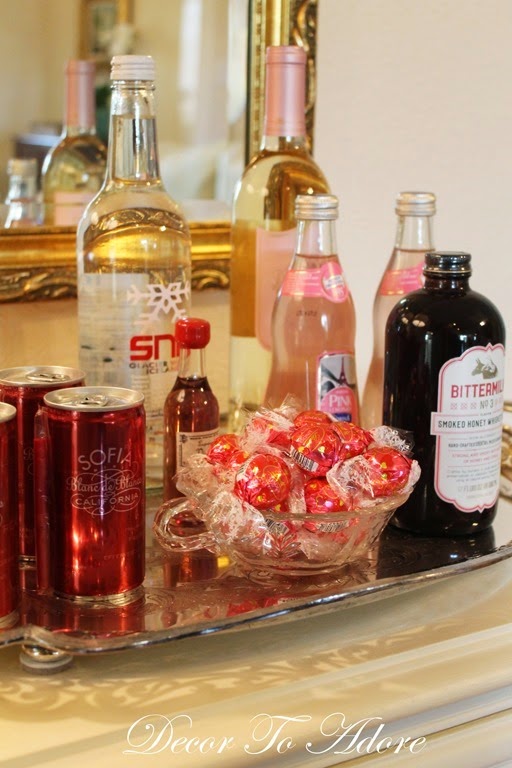 Do you want to see inside the drawer? (Of course you do!)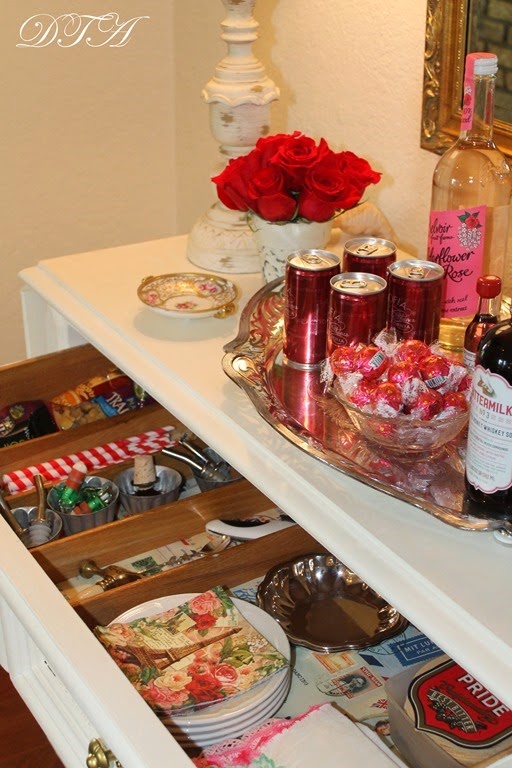 I included some Valentine's themed paper napkins but also included some pink crocheted handkerchiefs for napkins too. They are too pretty to never be used. A few plates and silver dishes can hold yummy snacks at a moments notice. (You can see the Queen's happy face peeking from the heavy gift wrap paper that lines the drawer. I think she approves.)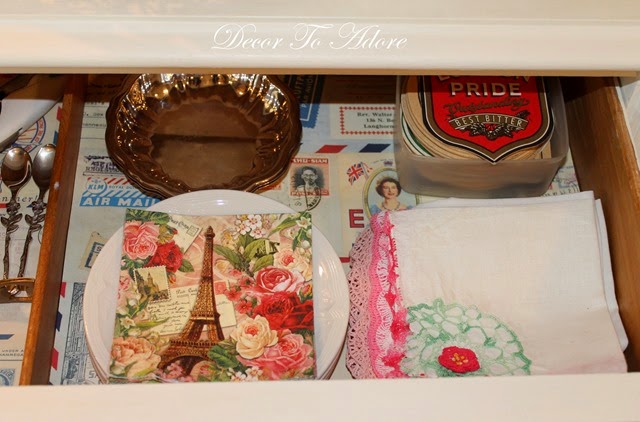 I found the paper at Paper Source it is called "Avion" by Cavallini.
On the other side happy striped straws and salty snacks can make any Monday afternoon special. (The little hammer is actually a bottle opener I found for Mr. Décor at Anthropologie a few years ago.)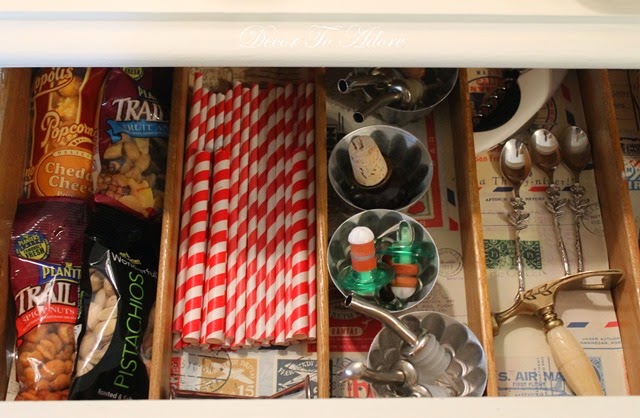 Behind the center door is ginger ale, pellegrino, and a bottle of red wine. The side areas hold the glasses. (Don't worry, they'll be wiped down before their used.)
As Rosemary Clooney once said, "Come Ona My House" say… 5 o'clock?
Laura