Hello dear friends! Did you enjoy the holiday season?
I sent Mr. Décor back to work and Sweet Guy went back to school this morning and the house feels deliciously quiet.
A few months ago my good friend Miss Marty sent me a housewarming gift of two lovely 18" x 18" squares of Schumacher's Chiang Mai Dragon fabric. (If you have priced this fabric you know this was an EXTREMLY generous gift.) While I am not normally a fan of Chinoiserie there is something about this fabric that I truly love. The fabric has been in production since 2006 and has become somewhat of an iconic design….well on it's way to classic status.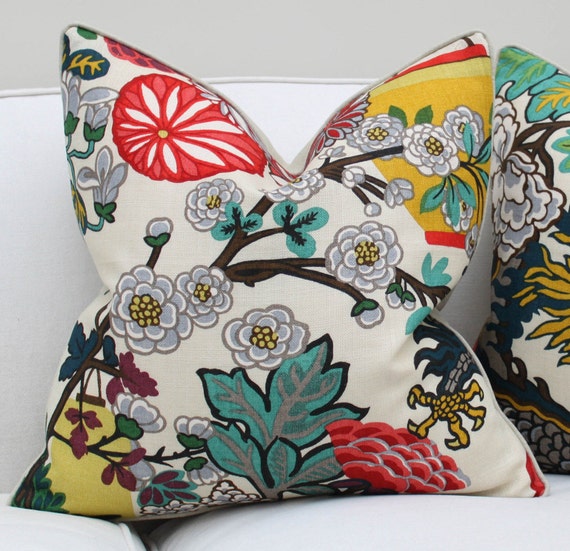 I can still remember the image in Country Living magazine that made me fall in love with it.
As you may recall there are 16 oak trees that surround Storybook Cottage. While lovely and so instrumental in keeping the cottage cool in the hot Texas summer months the shade from the trees do make the rooms feel a bit on the dark side. This is the main reason why I updated the dark paneled family room and kitchen with light and bright colors. The living room is smack dab in the middle of the house and it is quite dark. Dark is not really my thing.
The three real estate listing images below were taken by a professional photographer with all sorts of specialized lighting equipment.
You can tell the photographer tried his best to convey "Light and Bright" but the dead giveaway is the orange hue of artificial lighting.
Of course this is also the room that contains the monstrous fireplace wall.
Upon moving in we took a moment to appreciate the empty space of the living room which is part of an open floor plan concept to include the small entry and formal dining area.
It has lovely crown molding and hardwood floors which darling dachshunds click their nails across a million times a day.
Here's a better look at the small entry. Mr. Décor and I continue to be in "discussion" about the flooring. One of us thinks the ugly tile should be ripped out and the wood flooring continued so that there will not be a harsh visual break and the other thinks it looks "fine as it is". I guess you know who is who. :) Feel free to weigh in with your opinion.
From the dining area you can see into the living area. It's not overly large. There is also the second story staircase. Which is why installing skylights aren't an option. The French doors lead into the sun room.
The dining room light fixture came with the house. While it is not horrible, it's not well loved as it is not really in the "Storybook Style" I envision, but for now it stays.
Here a different angle of the room.
This angle is a straight shot looking into the sun room.
Oh my friends this room has given me such grief!
I just really was stuck in what to do with it. Which made me VERY frustrated as this is the FIRST room you see when entering our home. The GINORMOUS fireplace wall really demands attention and well, I just don't want to give it what it wants. It's not my favorite element in the room.
So, how does one work around that? Well what I do love about the room is it's great molding and wood floors.
Going on that I searched Pinterest for rooms with classic molding and wood floors. I saw this room and just completely loved it.
This sweet suite captured my heart too. It's where the thought of using a touch of leopard also entered my brain.
Now lucky for me green happens to be Mr. Décor's favorite color. He liked both images. But we both hesitated in painting the walls green. While it's lovely and cozy in the winter I think I might be clawing at the walls come spring and summer. So we went with Cottage White by Behr. It's a creamy cozy white shown here.
Given that the color was also three shades lighter than the brown mud that had been on the walls it did indeed lighten up the space as well. You caught a glimpse of it when I shared my bannister decorated for Christmas. The staircase spindles received a coat of  high gloss "Du Jour" by Valspar.
Ok, so the room has been painted. But we still needed a high impact color on the wall across from the fireplace. Only it's a short wall because of the staircase banner. So what to do…Remember the French Hutch I had no business buying? Thank Goodness I did! It fits the small space of wall beautifully and I always had plans to paint the pale yellow and gold surface. (Yes I leave my Christmas décor up throughout the entire season of Christmas. The twelfth day of Christmas occurs tomorrow~ Epiphany~ on January 6th. Then and only then will the décor will come down. ;)
I tried out Annie Sloan's "Antibes Green" and "Florence" as well as an equal combination of the two. I think it will be fun to surprise you with the final decision.
As for other pieces in the room there is not much. We still have the Ikea Ektorp sofa and on the small wall, near the fireplace, is where the painted Provençal Buffet ended up. It is being transformed into a fun bar cart. A few of you cried "Foul" when I shared images on instagram that the piece was getting painted as you loved the blue and aqua combo. But, with over two years of hard, daily use and a major move it had been left with little in the looks department. It needed a makeover.
So would an inspiration board help you to "see" my vision? Here you go.
I am truly hoping to find the footstools and the glass/brass coffee table in a thrift store or flea market. So far, after 3 months of looking, they have alluded me. I have the hutch… it just needs to be painted and the bar cart still needs a second coat plus wax. I need artwork for three fairly large walls and boy is there not a budget for that. The Fashionista is going to help me out with some of her original art. I love the style of art by Raoul Dufy for this room. I think I enjoy his work because it reminds me of the artwork in a favorite book from my childhood~ "Madeline" by Ludwig Bemelmans. Do you see the resemblance?
There is the matter of putting a red lantern in the entry. Did you guess what I am going to do?
Yep, a makeover. I know some of you will not like it. But the cream just gets lost in this house.
So, red she said. With a few gold accents.
There you have it. A very long post about transforming the front room. It's involves a lot of labor. Sort of another "6 Week Challenge" type of room as the projects are not exactly the "done in two hours" type of labor that is required, but days my friends. In thinking about this home and the DTA blog I feel as if I am growing into posts of QUALITY versus QUANTITY.
What are your thoughts on this? As well as the red lantern and the green hutch. Tell me.
Laura