When we bought Storybook Cottage we knew that both of the back doors would need to be replaced as the wood had rotted in several areas. Like so many places in the country it has been a pretty cold winter in Texas. But that didn't stop us from removing the doors one at a time.
The first door, which leads from the detached garage to the family room, was done first. It was a comical adventure of errors which included things like me innocently saying "Oh… we have to turn the door around, the swing is wrong." to which the Mr. responded "You can't TURN a door around…the exterior threshold is attached." This statement was followed up with huffing and puffing, removing the newly installed door, driving all the way back to the hardware store and exchanging it for one with the right swing.  Yep, good times.
The second door was not any more fun. Upon removing the door it was discovered that there was not just wood rot around the doorjamb….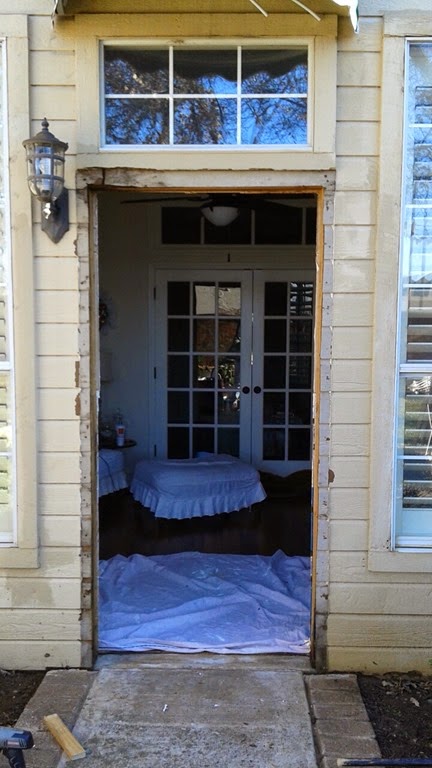 Mr. Décor braved 30 degree weather while installing the door and then we were hit with 20 degree weather after he also discovered that the wood siding was rotted around each of the windows on either side of the door.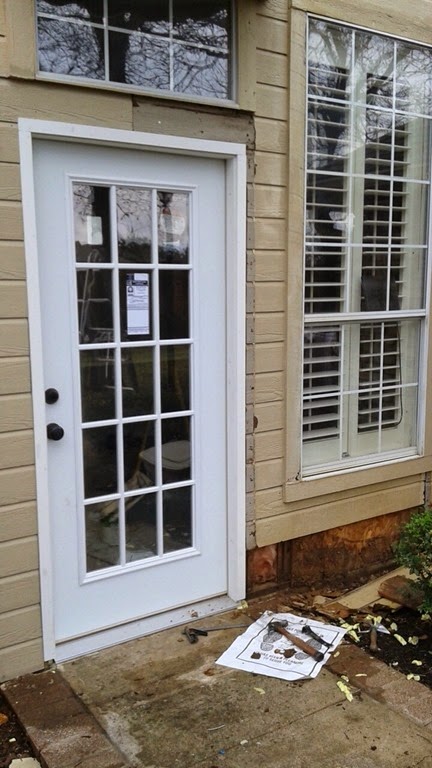 Several of the two by fours were also rotted away and as luck would have it, a major thunderstorm was predicted. To make matters worse, since the house is over 30 years old, Home Depot and Lowes no longer carried the type of wood siding we needed to replace. Mr. Décor searched for hours and had to drive quite a ways to a specialty hardware store.
(You can see just how rotted the wood was as it was literally splintering into small pieces upon removal.)
In the end the last piece was barely in place before the skies opened up in a torrential downpour. But the replaced door and wall held up beautifully. We no longer had horrible drafts. Everything will need to be painted, but that is a job that will wait until spring.
This is the not so fun side to home ownership. We all love the pretty, but often ugly has to happen first.
Have you had any not so good home surprises lately?
Laura