There are two things about this picture that I am really excited about. First, I have a mailbox to decorate! For the past 10 years, while living in Arizona, we just had a small identity theft prevention box in a large silver cube along with 25 other neighbors. Second, I also have a real live tree to decorate, which means extra fragrant branches! It was just to hard and hot to try and keep a natural Christmas tree alive in Phoenix.
Sunday afternoon I set up a garland making station in my front yard. A bin filled with greens and a bit of water, as well as a container for trash, a stool, clippers and an amazing helper were all that were needed. I have been stuck inside a hotel or house painting for the past two months and it was just fantastic to enjoy the crisp fall day outdoors.
Once I had some manageable branches I simply laid them out and joined them together with green florist wire. 
Then I laid the garland over the top of the mailbox and kept adding to it until it reached the desired fullness.
A bow and long streamers were woven throughout the greenery with cheery red ribbon from Hobby Lobby. It was also attached with florist wire so it will stay put if a gust of wind comes along.
Our neighborhood really decorates for the holidays, so we wanted to participate but also keep things simple. There is a birdbath in the front yard of our home near the kitchen window that I thought could use a bit of natural beauty from an evergreen wreath. I didn't even wire the branches together. They were just arranged neatly in the shallow bowl and I added in some poinsettia and additional ribbon.
I still have to add a bit of ribbon to the garland that surrounds our front door but the sun began setting. Tomorrow perhaps.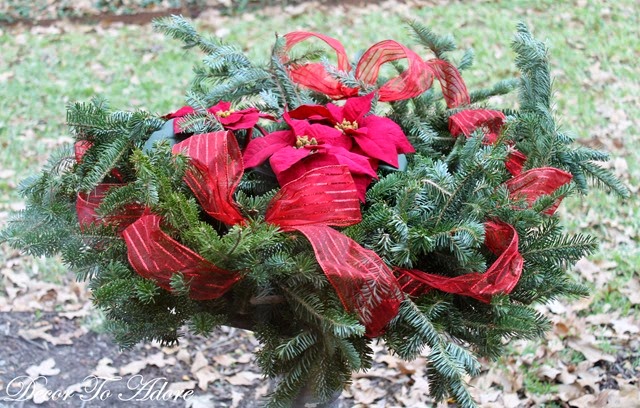 I made one other wreath for our kitchen chandelier. The entire space will be revealed in its entirety tomorrow. The various garlands and wreaths took approximately 3 hours to create but it was an enjoyable time spent outdoors.
Do you have any outdoor decorations up?
Laura