Thank you everyone for all your kind comments regarding the recent family room reveal. Overwhelmingly the most popular questions were details on family heirlooms, "where did you get the couch" and the ladder.
The mini wooden ladder was a $1.00 Goodwill find that I once painted aqua and used in my fall décor last year.
Now onto the couch. When I began planning the room transformation I asked Mr. Décor and Sweet Guy what they would like in terms of seating.  The Mr. wanted a couch he could stretch out on and Sweet Guy wanted to be able to eat on it. A review is in the works for this couch.
I paused on hitting the "ad to cart" button because I had budgeted $1,500 for the room and still needed paint, blinds and a VERY large area rug. (I know what an impossible budget!) But good things come to those who wait……
In the meantime I began transforming the room with paint. "Gustavian Blue" by Ralph Lauren went up on the walls and "Du Jour" by Valspar covered the ceiling, doors, built ins and trim.  Next the Levlor bamboo blinds in "Natural" found on sale at Lowes were hung. I reused the drapes from my former living/dining room. They are the "Aina" linen panels from Ikea. Repurposing once more I used a curtain rod, brackets and rings that once hung in the Fashionista's room. They are from the Martha Stewart Living line at Home Depot.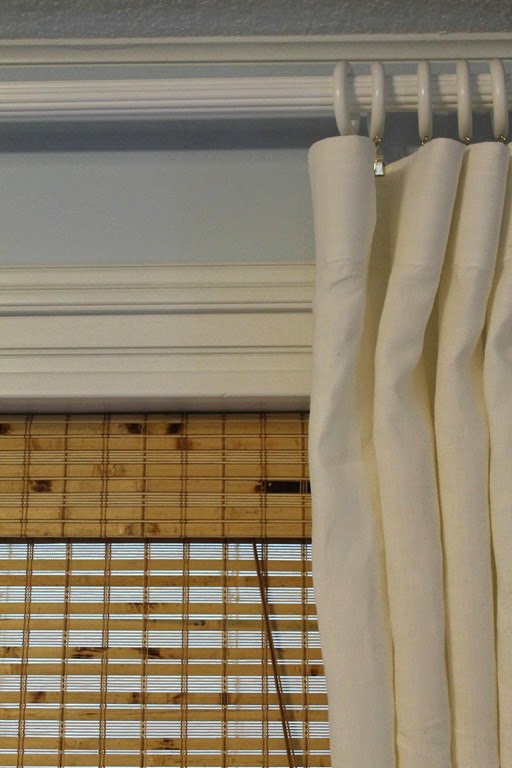 My next hunt began a search for plaid throws and pillows. Since this was late September/early October my usual go to's (Home Goods, Marshalls, TJ Maxx) did not have anything. Now that it is closer to Christmas you can probably find oodles.
So I turned to Ebay and found hundreds of wool plaid throws for sale. The three that I ended up selecting were perfect vintage and cost less than $20 each. I found lovely plaid pillows on Etsy from Pillow Throw Décor. Christine is a gem to work with and offers many different plaids (tartan's) to choose from. The velvet pillows are a favorite secret of mine. You can buy these gems at Cost Plus World Market for just $9.99! They come in several colors. The secret is that the hidden zipper allows you to remove the thin fiberfill insert it comes with for a lush feather pillow. It truly gives it a high end look.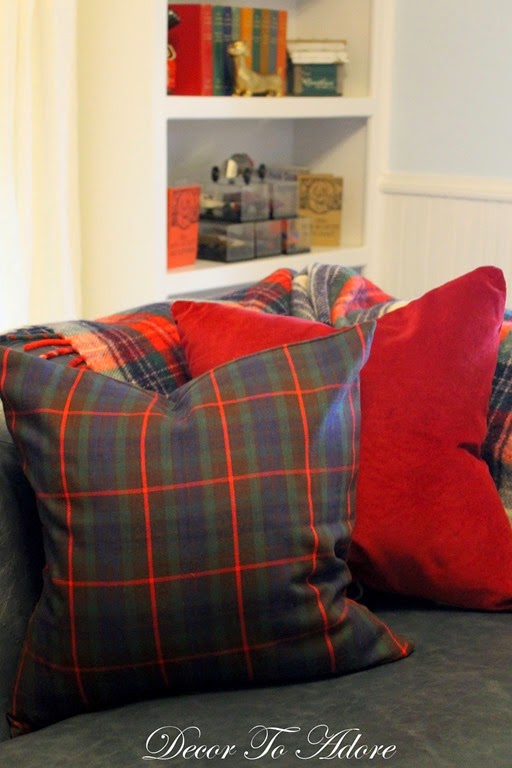 I have good news for you on the rug. A darling reader wrote to me and said her parents had the very same rug! Although I was bummed for a second that it wasn't the vintage/antique treasure the estate sale workers claimed it to be I still got the 12' x 15' rug for an amazing price. The rug I found retails for $5,065.00. Holy Smokes! My friends I paid $475. Yes, still a chunk of change, but MAN DID I SCORE or what!!!
Ok, the built ins…first a funny story. While we were packing up the contents of our old house Mr. Décor mentioned my "hoarding" of family heirlooms several times. He even went so far to say that if things were not displayed/used at Storybook Cottage then they would not be making our next move. Challenge ON husband!!!
So Papa Jack's circa 1940 camera equipment… yep on display. Double decker bus from Aunt Bette in England…, rolling in on fine style. The ivory handled knife presented to us while living in Greece (A cheeky story behind the knife is that a wife can use it on her husband if he ever wanders) s0 of course it had to be on display! 🙂 .
The brass lamp was found at an estate sale for $13. But I see them all the time at Goodwill.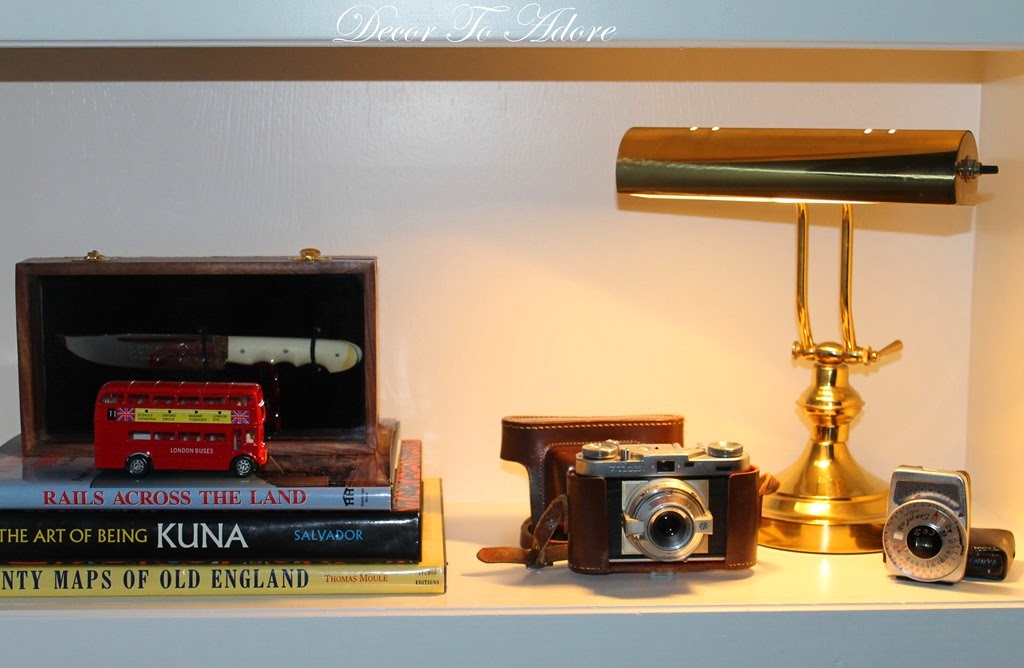 Here's a run down of the other items in Mr. Décor's bookcase.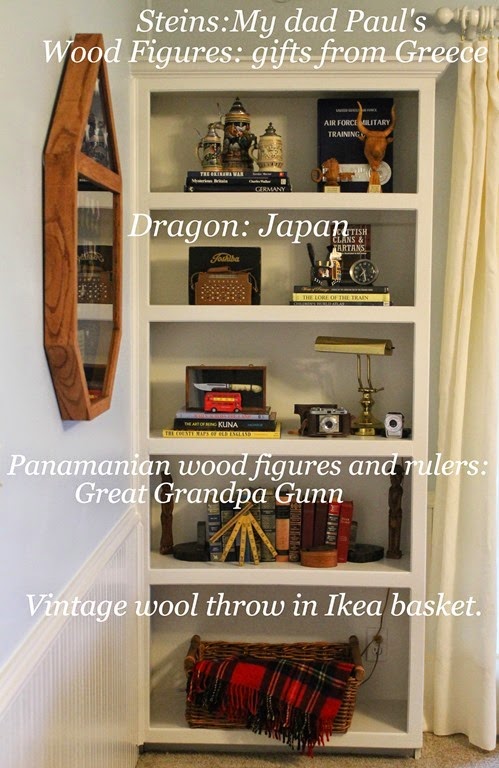 On Sweet Guy's shelves there is a series of Junior Classic books that belonged to my Grandma Mary. Book #4 had always been missing. For years, whenever I remembered, I would search online but to no avail. Writing this post made me do a quick search and low and behold there was the 1932 specimen on Ebay for $1.99. I am happy to report it is now on it's way to my home to join the others.
There is an entire Boy Scout series written by George Durston. I only let first editions find me at estate sales and thrift shops, but you can find them on Ebay.
Sweet Guys pinewood derby cars were given a higher status of importance when they were placed in plexiglass cases. You can find them HERE.
Sweet Guy and his cousin Maddie both purchased green and white birdhouse's from the Chalfonte when we visited Cape May in 2010. They were handcrafted by a man named Jack who replaces all the woodwork at the historic hotel. He repurposes the old wood to create the birdhouses. 
TIP: Instead of t shirt that will be outgrown within a year, or plastic toys that fall apart I have always encouraged my children to select souvenirs that have lasting meaning.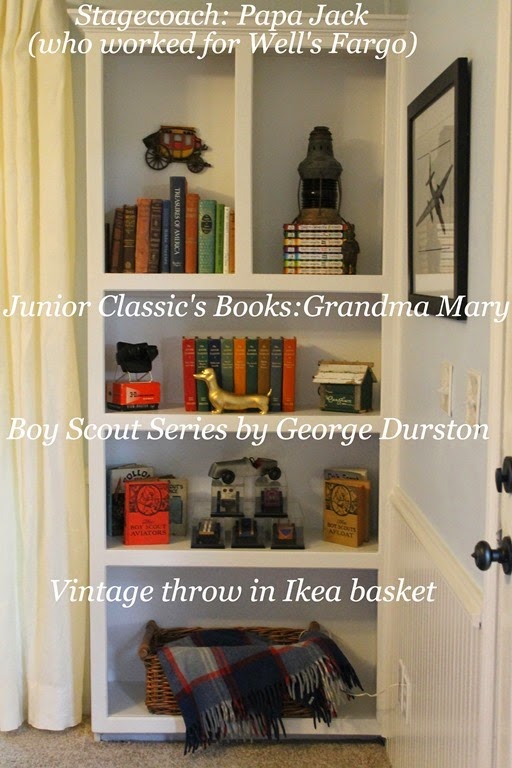 So is the room finished?
Let's just call it a "work in progress". 
You may have realized that I did not show the television wall. Mr. Décor has plans to mount the tv on the wall and I am still searching for a larger console to place underneath. I will also hang a bit more artwork once I find it. (I am STILL unpacking. 🙂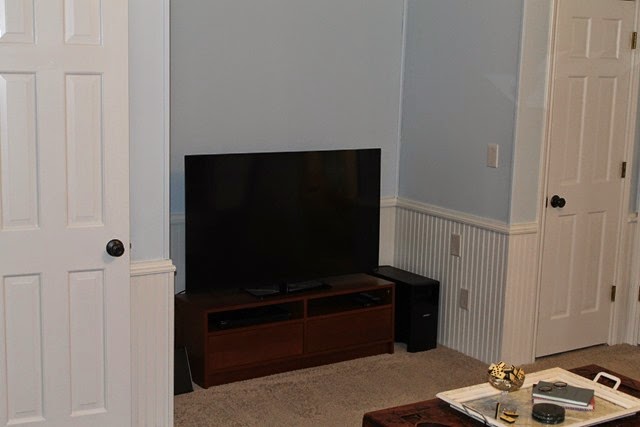 Then remember the "Wine Rack Bathroom"?
Sigh, it has been my problem child and deserves a post of its own.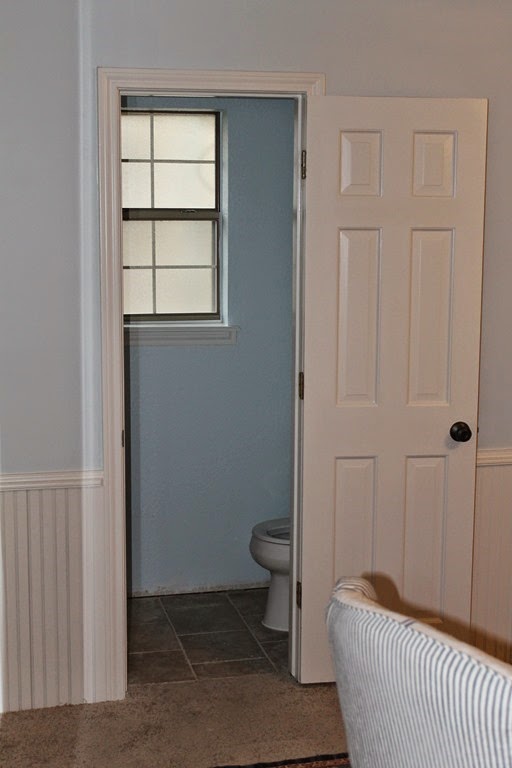 Yes, indeed good things come to those who wait.
Laura