The kitchen sits between two very colorful rooms. You've seen the family room with its bright reds and blues. I haven't revealed the formal sitting room, but trust me, it's going to be colorful.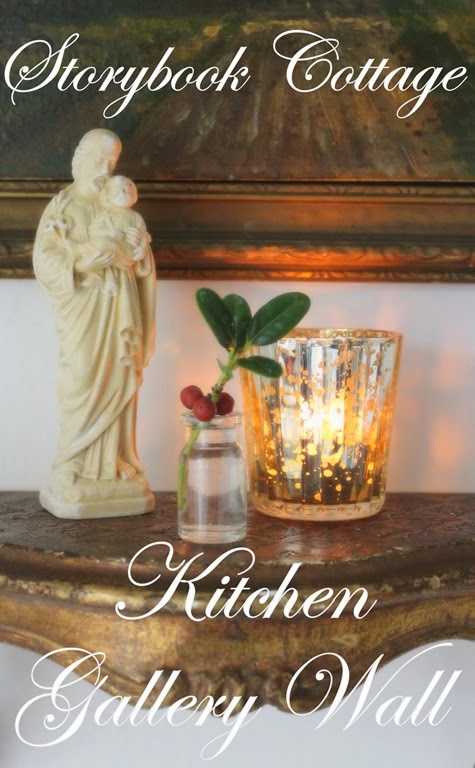 I wanted the kitchen to be a fairly neutral space. Which of course that's what the kitchen was when we bought it. A very neutral, very BROWN room. NOT what I had in mind.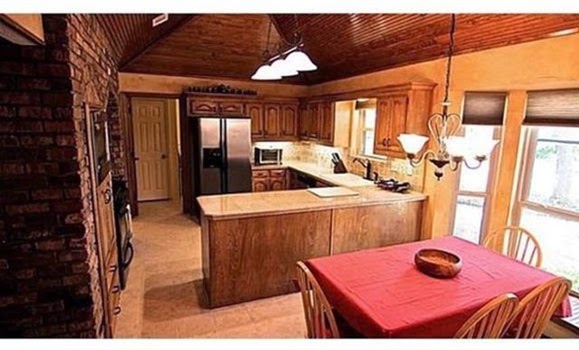 I set out to paint all the kitchen walls "Du Jour" by Valspar. It is a nice creamy French white. While I was painting I discovered yet another one of the previous owners bad DIY's. The kitchen had originally been wallpapered. Rather than remove the wallpaper when they were tired of it they just applied texture over it in the form of bad skip and trowel. My guess is they were going for a "Venetian Plaster" look. All I know is that when I tried to paint over it….well it bubbled and coughed and did very bad things. There was a lot of #*@&$%!!! going on. I just kept hearing my mom's voice "If you can't do a job right, then don't do it at all." Obviously the previous owners did not know my mom.
There is a large wall behind the dining table in the picture above. It really needed something large to fill it. I had no budget for new art and only owned small pieces of art so a gallery wall it would be!
Don't you love when you are working on a project and realize you didn't take a "BEFORE" picture AFTER you have already started? 🙂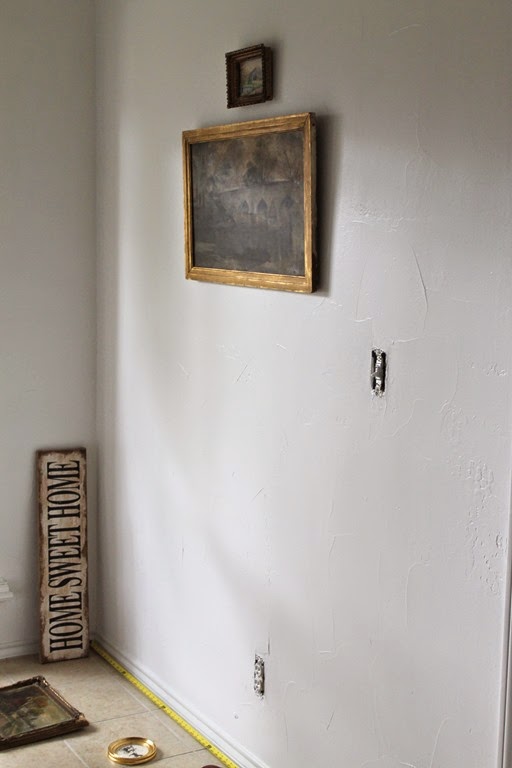 I had gathered somewhat dark antique paintings that could benefit from a viewing in bright light. The biggest piece went in the center and I just started building out. I got to this point and there was still something missing but I had no art left that would work.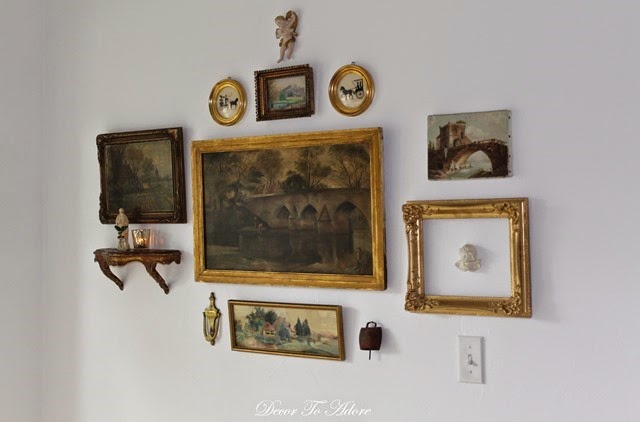 How about a small antique plate to balance out the two circular silhouettes up top? Yes!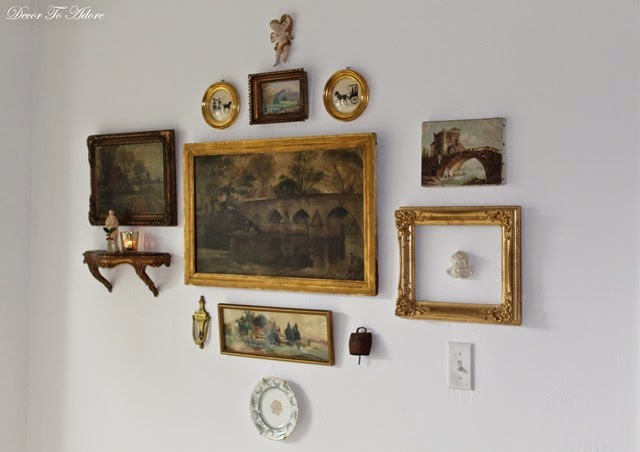 The wall holds so many pieces that I love. The bisque Ardco angel belonged to my mom. It had a mate that met a disastrous end. I'm hoping a replacement will find me in a thrift store or flea market. Until then, it tops the collection.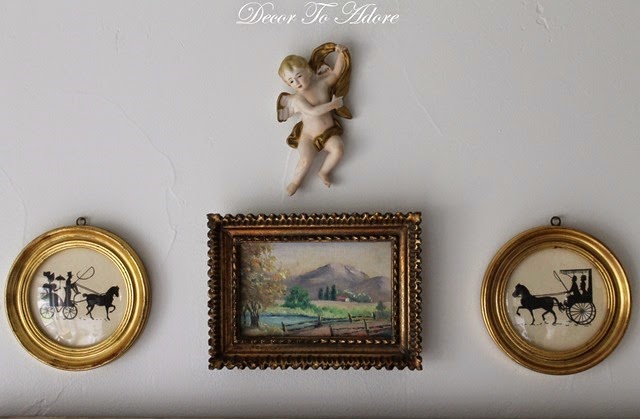 I do plan to fill the empty frame. A certain artist friend offered to paint a picture for me and this might be the perfect space for her creation. Until then, a wee angel holds its place.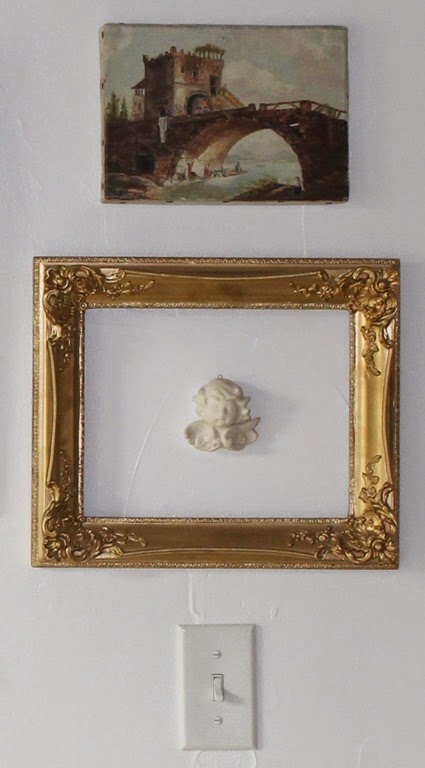 This is my favorite grouping. St. Joseph is quite special to our family. I haven't shared the good news that our Arizona home has sold! He rests on an antique papier–mâché shelf that also belonged to my mom.

As the holidays grow closer I might ad in a few more seasonal touches but for now the berry sprig works well.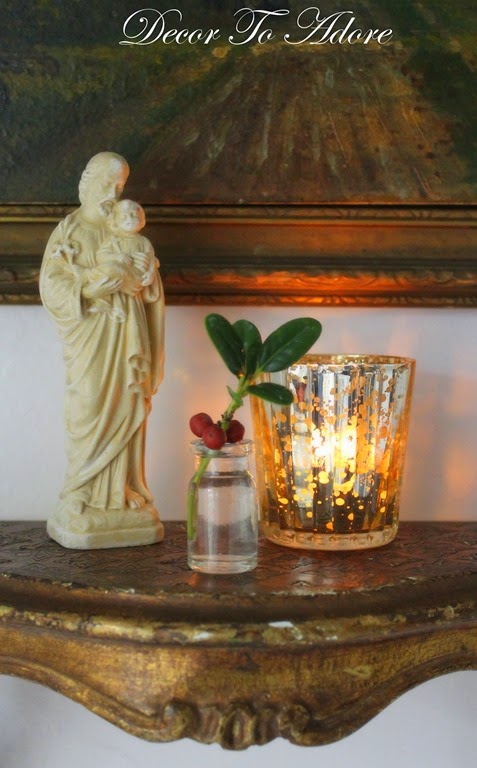 The wall is a crazy composition but it somehow works.
Laura