The day after we received the keys to Storybook Cottage a delivery van showed up with two chairs. I had found the Candace Upholstered Arm Chair (Impression Garden fabric) online. Target was having a great sale and each chair was $200 with free shipping.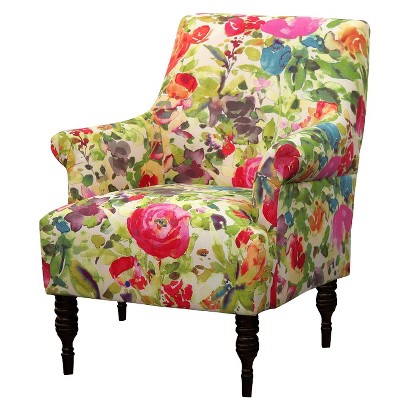 I was not expecting much for $200 but the chair is actually pretty comfortable. (I would paint the legs.)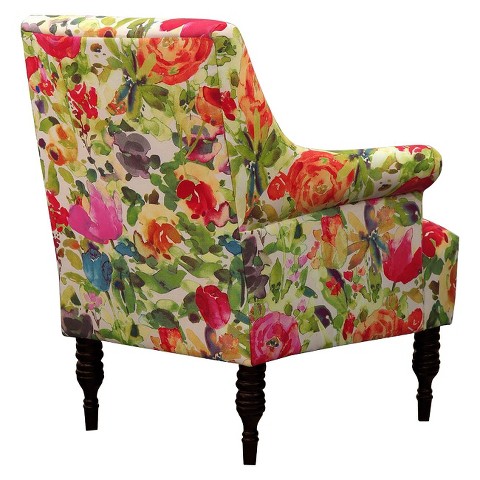 I was thinking they would look good in the office space.You remember this gabled roof space with no windows? I think it needs a bit of color.
I did switch out the fluorescent bulbs in the ceiling fan to Reveal bulbs and yes, they are expensive, but it has made a world of difference. I am still currently looking to switch out the dreary umber brown colored glass shades. I imagine that will help with the yellow cast in the room but boy those glass shades are pricey. Hoping for a thrift store solution.
The walls and the built ins are getting painted a nice crisp white which will also help. Fun fact, while taking the shelving down to clean and prepare it for painting we discovered something we didn't know was there when we bought the home…
…It's behind the two shelves on the left, a secret door to the attic. Queue "The Lion, Witch and the Wardrobe" theme music.
The room is quite generous in size and has its own little closet.
I was thinking that the French hutch , that I had no business buying, would look nice on one of the walls and pair well with the chairs. There are so many lovely colors I could pull from the fabric in which to paint it.
But in the meantime the hutch and the two chairs will probably hang out downstairs in the formal living room until we get some furniture for that space. I know what I want it is just a matter of saving the pennies.
However, the Fashionista does not like the chairs. Mr. Décor has not said one word about the chairs…which that usually means something. They are still wrapped in plastic and could be easily returned to the store. I definitely want chairs with color and pattern. This Skyline Accent Chair (Garden Odyssey Fog fabric) is nice too, but it is $400. 
I would love your opinion. Should I keep looking?
Laura