As I am in the midst of moving I am wrapping up the "My Favorite Five" series with a lovely post from Susan.
It was so gratifying to read that Laura invited fellow bloggers to post on "My Favorite Five" in order to spread kindness and hospitality in blogland. There are so many incredible kindred spirits out there and Laura is one of them. It's no small feat to make the world a better place! So thank you, Laura, for letting me participate.
Four and a half yeas go, I started my blog, Writing Straight from the Heart. It has, from the very beginning, added immense happiness to my life. As anyone who blogs already knows, maintaining a blog is a labor of true love! I'm a native New Englander but for many years lived away from this area of the country. I moved back to Massachusetts, probably permanently, in 2002.
These days, I do freelance writing, primarily for a weekly newspaper, and work part-time with an independent teen program. Sometimes it's challenging to fit-in time for hobbies but when one loves something, it's possible to make time, even if it's late at night or a few minutes squeezed in during busy days!
So today, I'd like to share five of my favorite hobbies.
1) Collecting and reading books go hand and hand with being a writer. My hubs built all the book shelves in our living room which are filled to the brim. I wouldn't even begin to count all the other bookcases there are in other rooms throughout our house. Books are wonderful friends!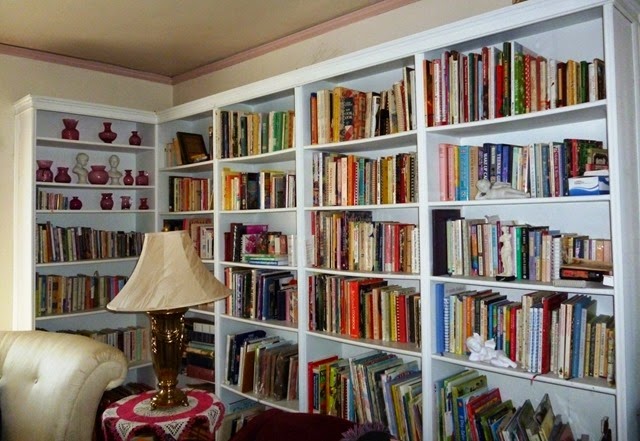 2) Let's see, attracting birds to our yard is another beloved hobby. My hubs answered my dream of installing a fountain, found at the end of one summer season. When birds fly into our yard and perch on it to take a drink or a bath, it's cause for instant happiness!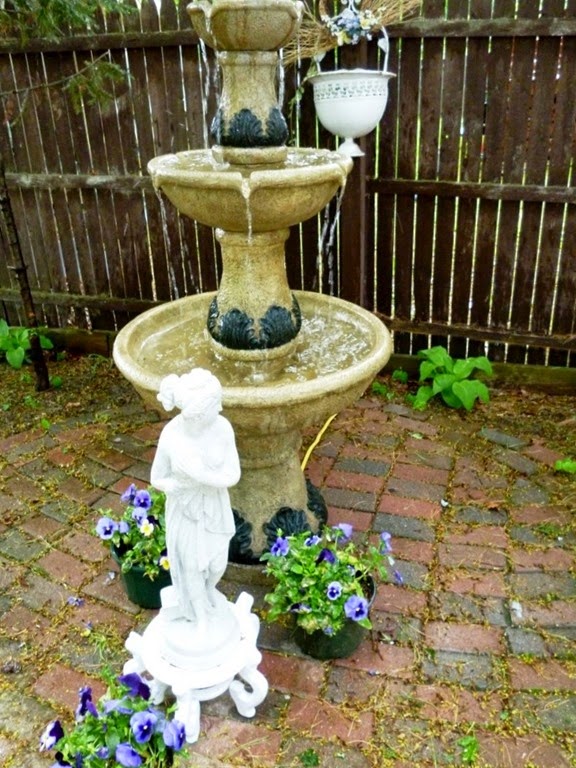 In our yard, we also have birdfeeders, a bird bath, little sculptures picked up at yard and estate sales and lots of flowers!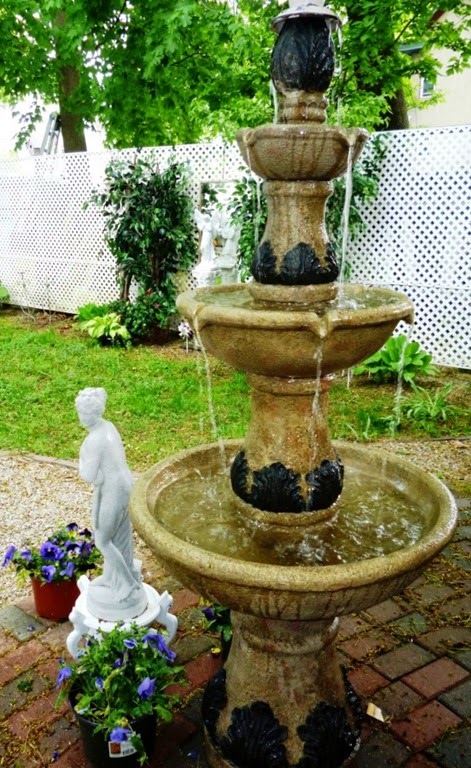 3) Favorite hobby # 3 is dollhouses and miniatures. I have a dollhouse in the dining room and am in the process of adding a yard! Upstairs there is a house that's being made into shops, including a bakery, candy store and thrift store! Then there's a small scale house as well as one last unfinished one in the attic! Its restoration will be a future project!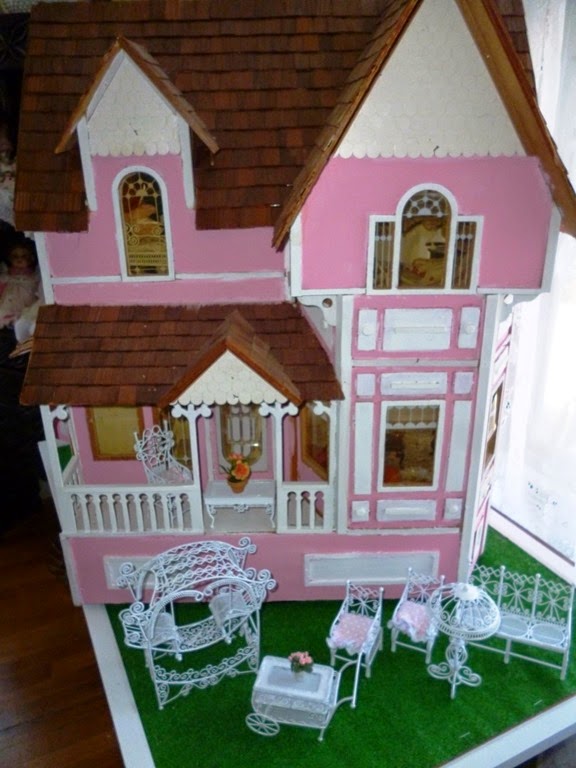 4) While not a big tea drinker, I love collecting tea cups. Almost all of my collection has been gleaned from yard and estate sales or thrift shops. There's not too much room left for more, though.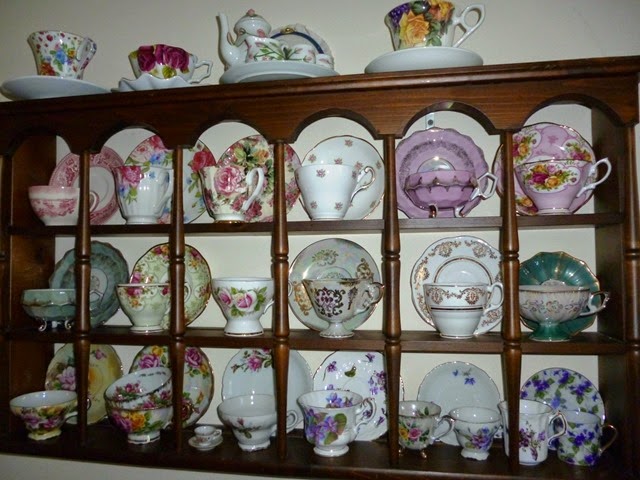 5) Cranberry glass is a deep pink color, very collectible and quite beautiful. My late Mother started that collection by gifting me a few pieces many years ago. Throughout the decades, whenever coming across this beautiful glass, it was challenging to find room in the budget to add to the collection. It really looks so pretty on windowsills or shelves and now, on top of the tv armoire as well.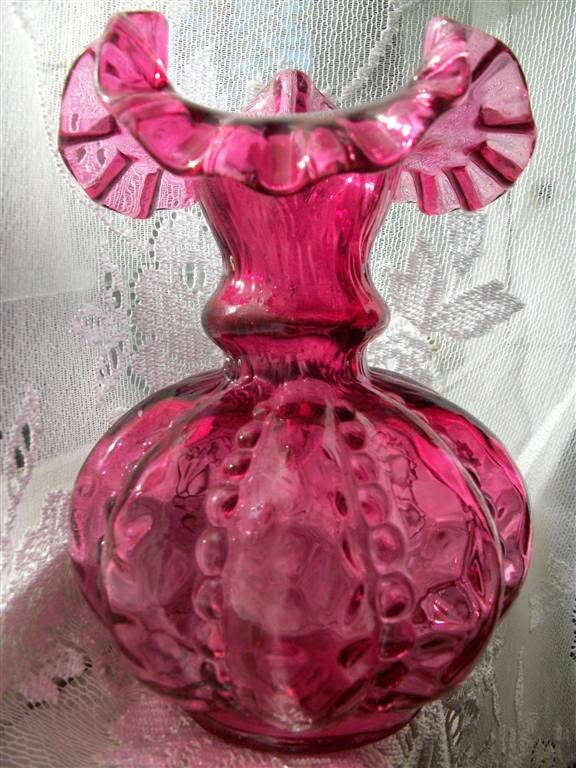 Many thanks to Laura for letting me post today and many thanks to you, dear reader, especially if you've read down to this point in the post.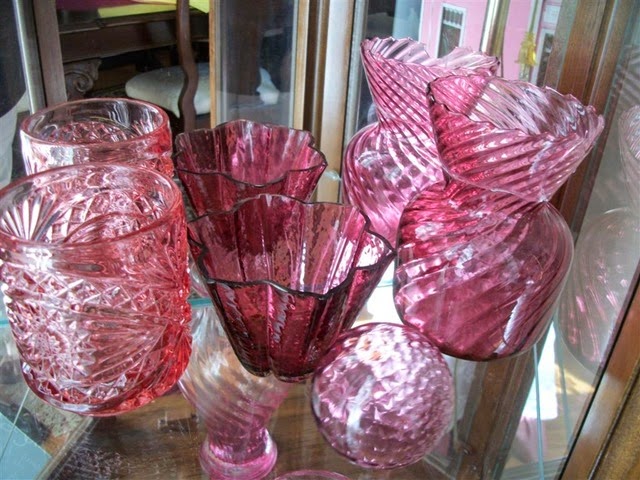 Life is so very precious and having hobbies adds to its enjoyment!
It is so easy to see what a lovely heart Susan has. Thank you so much for sharing your wonderful hobbies today.
Laura