When my cousin and I began planning our trip to Provence Mr. Décor insisted on just one thing~ that we go see an art show. You see in the 80's Mr. Décor was stationed in Provence for a few months. While there he said he saw the most amazing interactive art show that he had ever experienced. I told my cousin and she was hesitant….. she had already been to the town of Baux-de-Provence and was not eager to fight the crowds and drive the steep narrow road.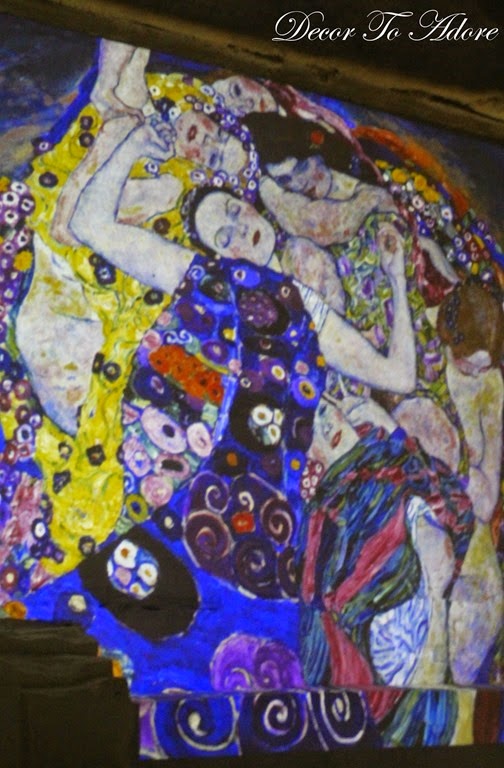 I somewhat begged. You see, my husband is not one to insist or make claims that something is "the best". So, if he was saying we couldn't miss this experience then by golly I was going to make sure we did not miss it!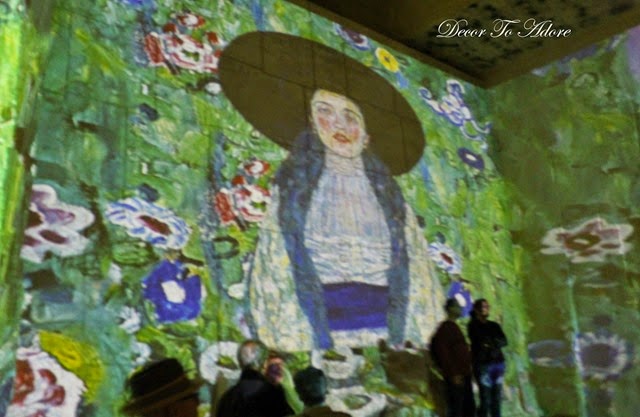 The Carrières du Val d'Enfer quarry in the Alpilles mountains was begun in the medieval  period as the white limestone extracted was used in the construction of the medieval Château and in the town of Les Baux. The quarry was closed in 1935 and there it sat for many years waiting to be transformed.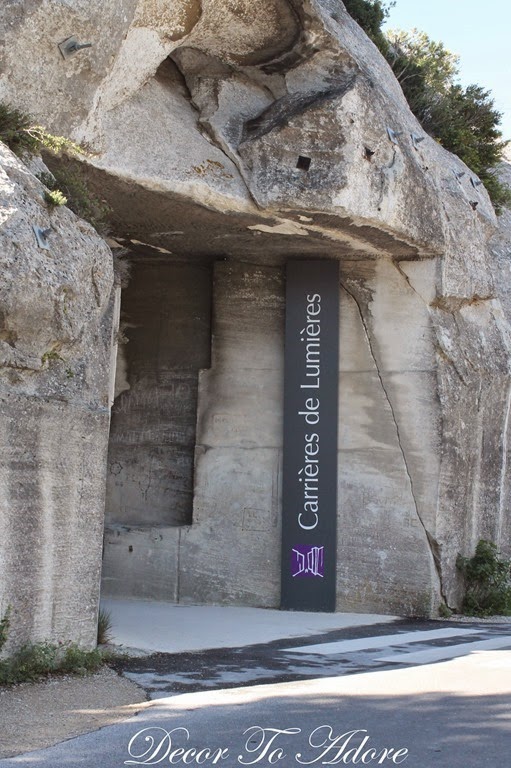 During the late 1950's and 60's the writer and filmmaker Jean Cocteau, a true visionary genius, was enchanted by the beauty of the quarry and its surroundings, and decided to film "The Testament of Orpheus" here in 1959. In 1977 scenographer Joseph Svoboda developed a light and sound show. Since 2011 Culturespaces, at the request of the town of Les Baux-de-Provence, has managed the famous Carrières.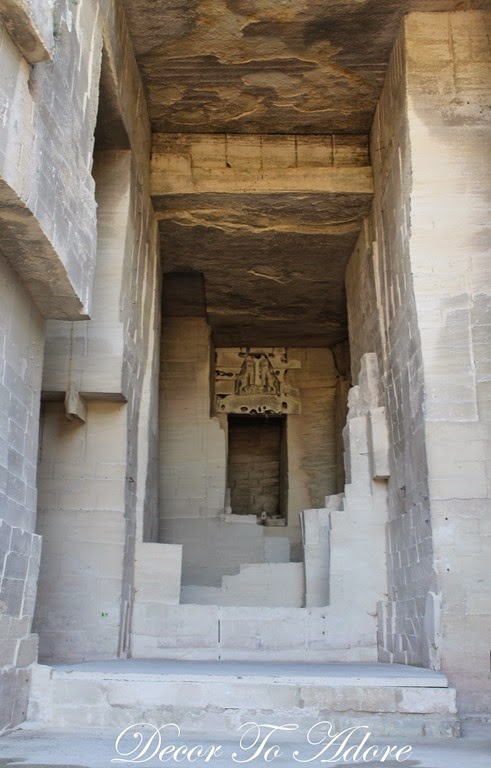 Let me just say that from the moment we entered the quarry theater we were entranced. Both my cousin and I have thanked Mr. Décor a 1000 times for insisting that we have this experience. The images are projected on every inch of the quarry and accompanied by music that pierces your soul.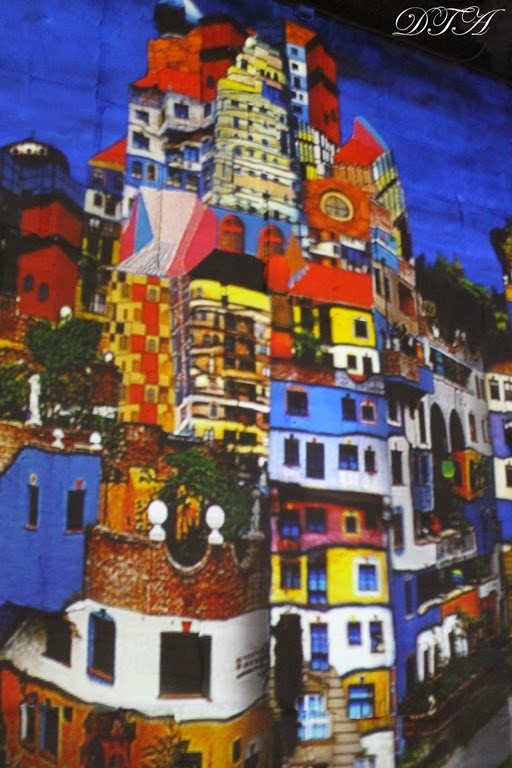 The theme of the show changes. While we were there we saw "Klimt and Vienna, a century of gold and colours". It will run through January 4, 2015.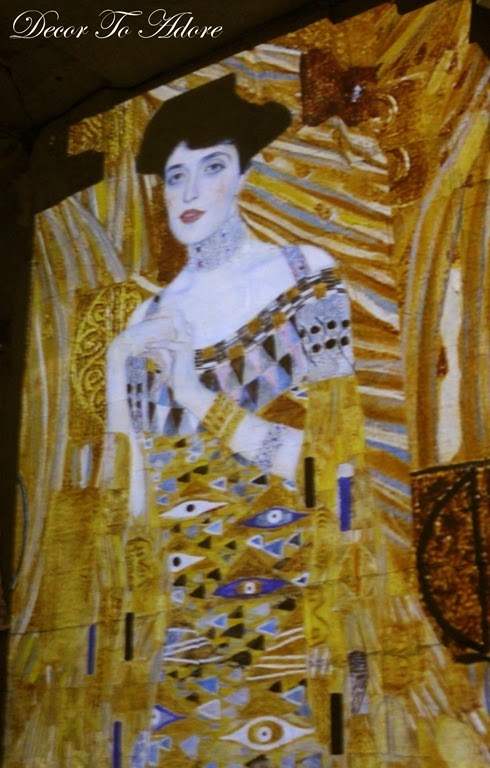 Each show is approximately 20 minutes in length. (Trust me, you won't be looking at your watch!) It begins with a few grand masters. 
[youtube https://www.youtube.com/watch?v=hIYhloYeus0?rel=0]
Even the change of art that appears on the walls is artistic. 
[youtube https://www.youtube.com/watch?v=lckpPgn1G9U?rel=0]
There is no flash photography allowed but alas, mistakes are made. 🙂
[youtube https://www.youtube.com/watch?v=_y5k89UHxb8?rel=0]
We stayed for two complete showings as we did not want to miss a moment. Once in you can stay as long as you would like. Some scenes were just truly surreal. In this video it really felt like it was raining.
[youtube https://www.youtube.com/watch?v=Dqh9cYwVJxg?rel=0]
It was truly an awe inspiring experience. I couldn't help but try to immerse myself into the art a little more.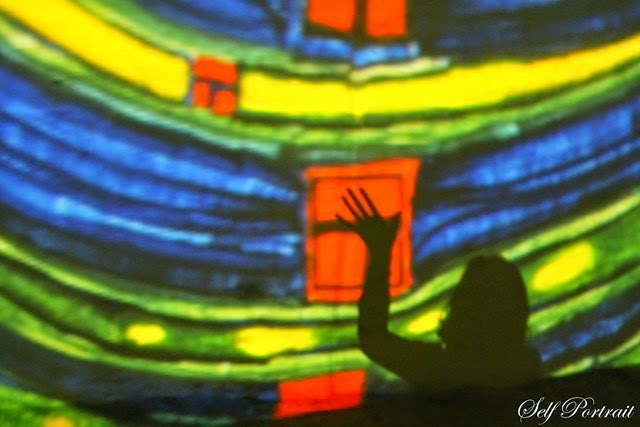 Carrières de Lumières
The Carrières are open every day.
They are located at the base of the mountain near Château des Baux-de-Provence
Route de Maillane  13520 Les Baux de Provence
Children under 7 are free, teachers and students are € 8 (approximately $10.70) and the full rate is € 10 (approximately $13.40). This was a complete bargain. I would have paid, much, much more.
So if you can see just one thing in Provence, this is it.
Laura
Linking to:
Between Naps On The Porch, Classy Clutter, A Stroll Thru Life, Not Just A Housewife,  A Bowl Full of Lemons, We Are That Family,Someday Crafts,The 36th Avenue, Ivy and Elephants, Savvy Southern Style, Katherine's Corner, Posed Perfection,Craftberry Bush, Stonegable, Jennifer Rizzo, French Country Cottage, The Shabby Nest, Imparting Grace,My Romantic Home,The Charm of Home,Tatertots and Jello, Funky Junk Interiors, My Uncommon Slice of Suburbia,The Dedicated House