As I mentioned on Friday Mr. Décor and I  spent all last week house hunting in the Fort Worth area. On average we saw between 10 and 15 houses a day. My mind was on house overload I tell you. (I guess I have a fear that I might miss something good. 🙂
Some houses were an immediate "NO" for me. Some houses were an immediate "NO" for the Mister. Thankfully, we have narrowed it down to three houses and I'll be sharing all three with you very soon.
Of course while looking for a new home we couldn't help but reminisce about our previous homes. Our first home was a foreclosure and was around 1,400 square feet. Our second home felt like a palace at over 2,000 square feet and was also a foreclosure in desperate need of love. Our current home is 1,900 square feet and is going on the market TODAY!
There is one thing that all three homes had in common~we think we left them all better off than when we found them.
In our current home we made mainly cosmetic changes. One of the first things we did was remove all the blinds. Many of the windows were covered with dusty fabric covered vertical blinds that were popular in the late 80's and early 90's.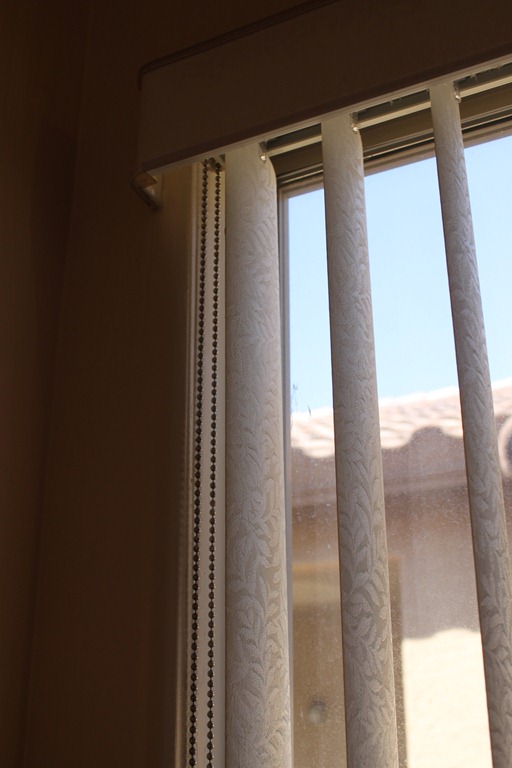 When doing this we discovered that the previous owners just painted around the blinds…head scratcher.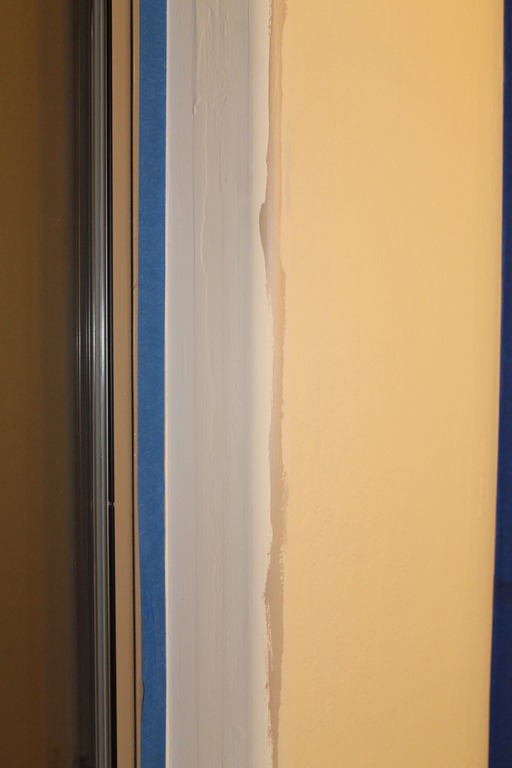 They also opted to have various window coverings in the same room.
We went with all white plantation blinds and simple linen drapery panels.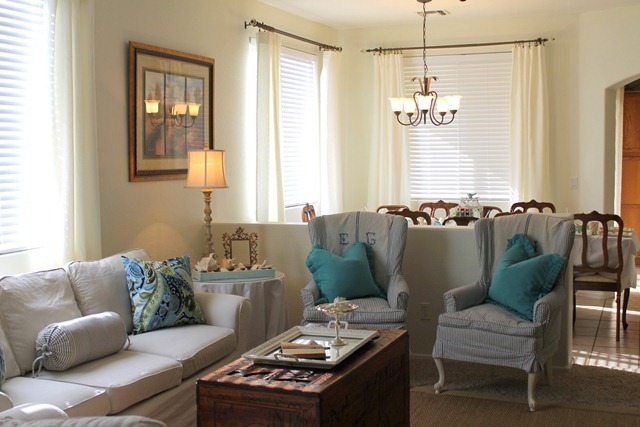 Most recently the room received decorating touches of touches of red, white and blue.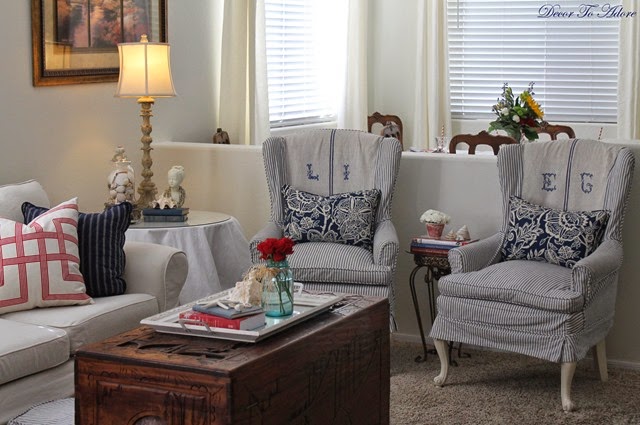 The space went from dark and heavy…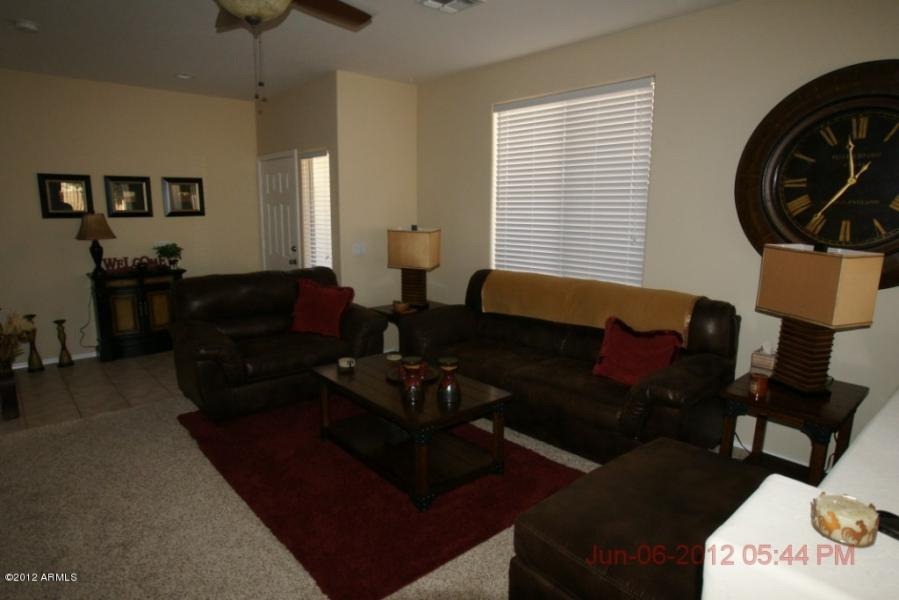 …to light and bright.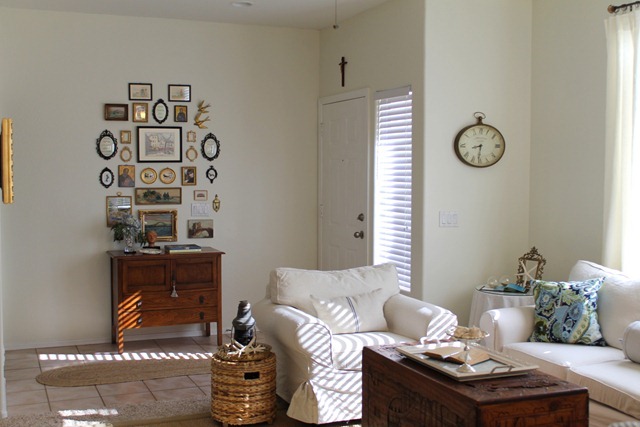 The house itself tended to be quite dark. The darker shades of paint the previous owners had selected only enhanced the feel.
This was the office "before" right at mid day.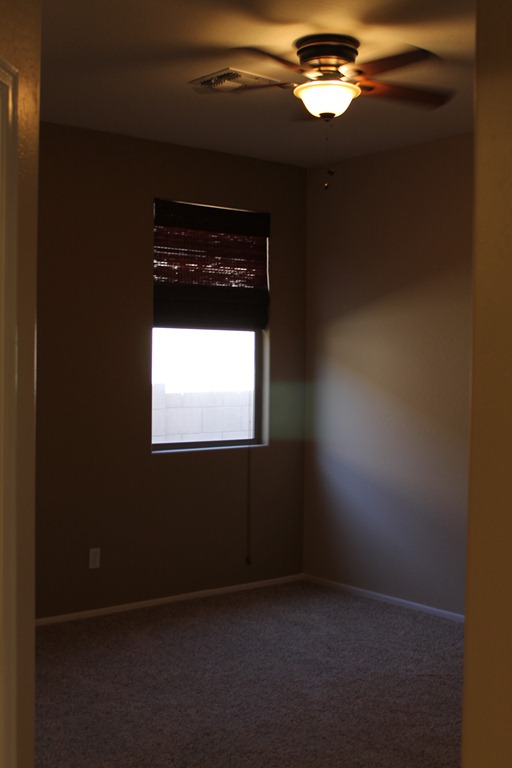 Taking down the dark blind and giving the walls three coats of Dover White Sherwin Williams 6385 to cover the brown walls really lightened things up.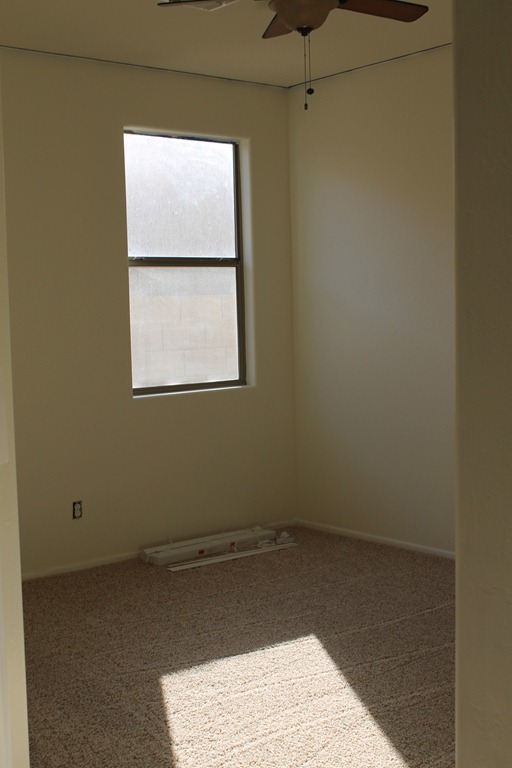 The dark blind was replaced with a  white plantation blind, I made some curtains and it became a happy space.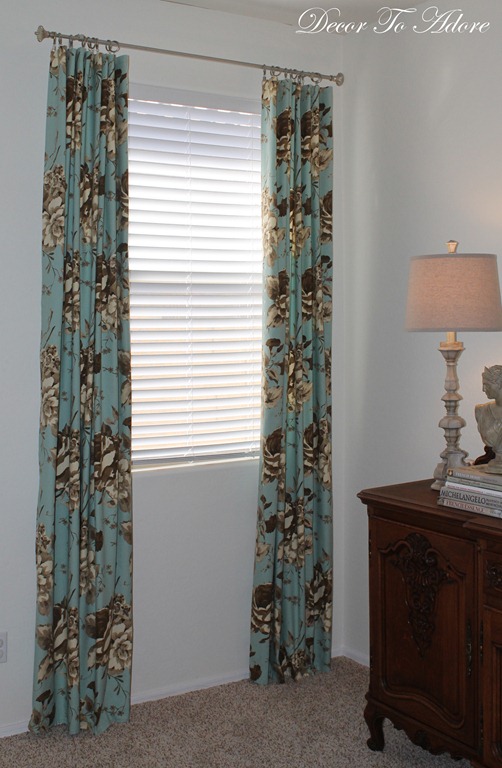 It was the same story in Sweet Guy's room.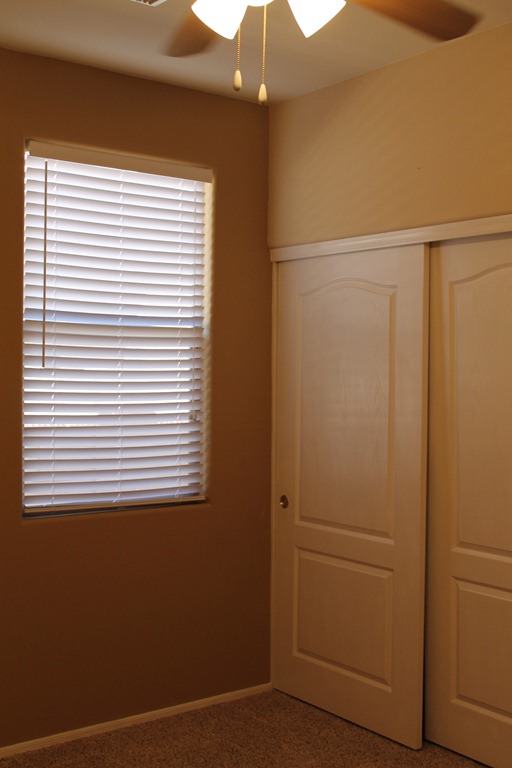 The dark walls received Sherwin Williams Retiring Blue 6763.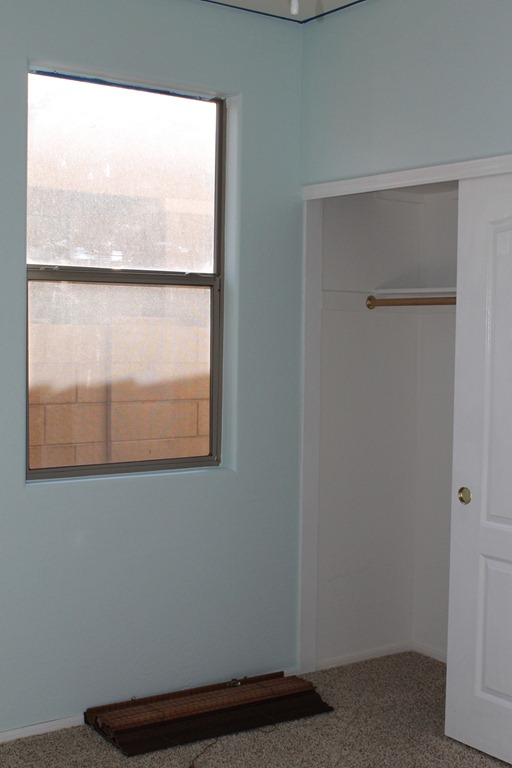 It became a travel themed room you guys really loved.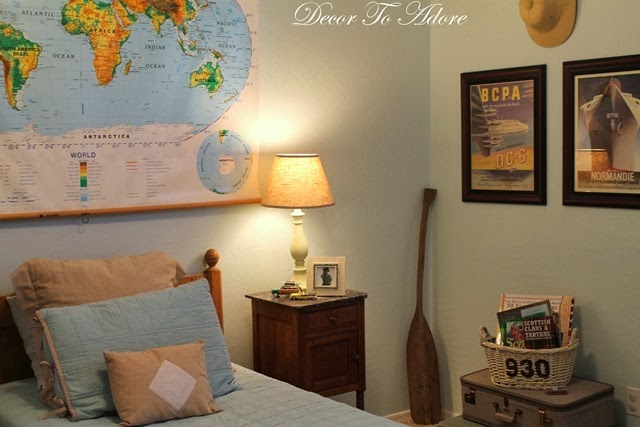 We also updated most of the lighting. You may remember the UFO lights present in all the hallways. They too all had the "Let's just go around it" paint job.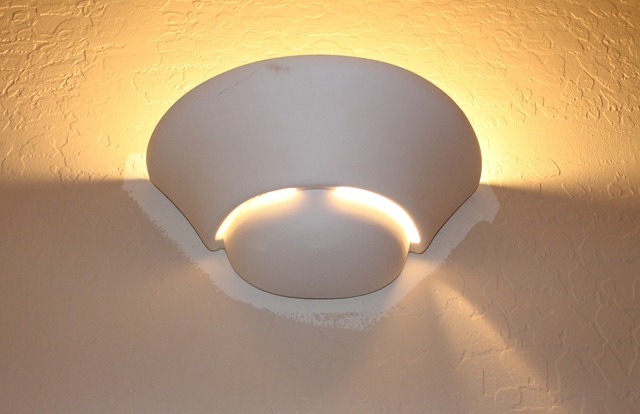 With Mr. Décor's help, Sweet Guy installed new oil rubbed bronze sconces.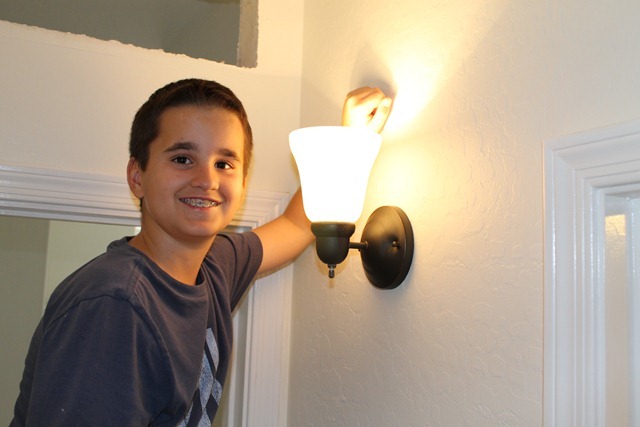 All of the bathrooms had this famous builders grade lighting option: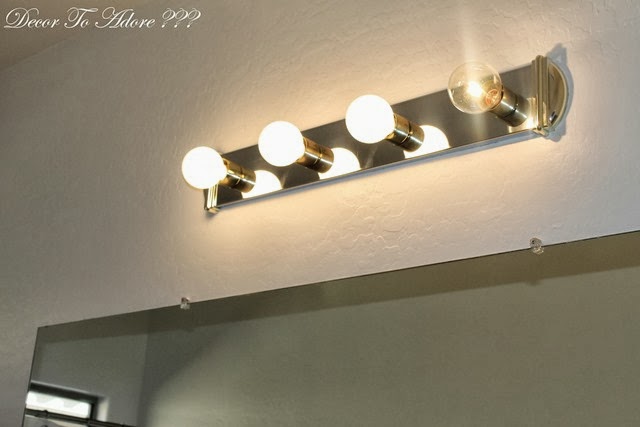 I think that the update is much more attractive and it cost under $40 and a bit of time.
Sometimes it was just merely decorating accents that took a well used space from drab….
…to fab. Like our laundry room and the few touches created for pennies.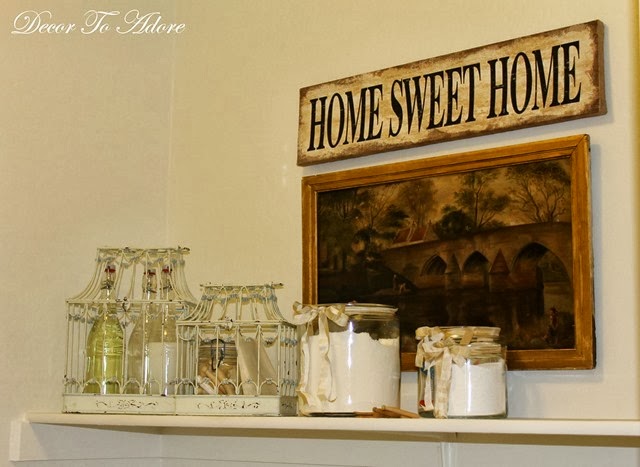 The master bathroom just needed a bit of paint and removal of vertical blinds. 
I made the simple neutral valances.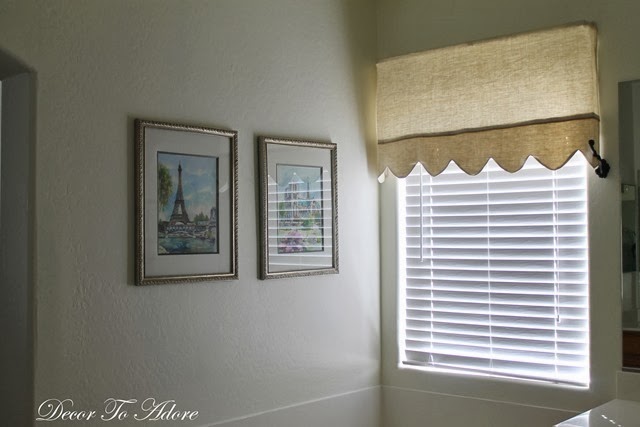 In the yard there was an unloved side yard.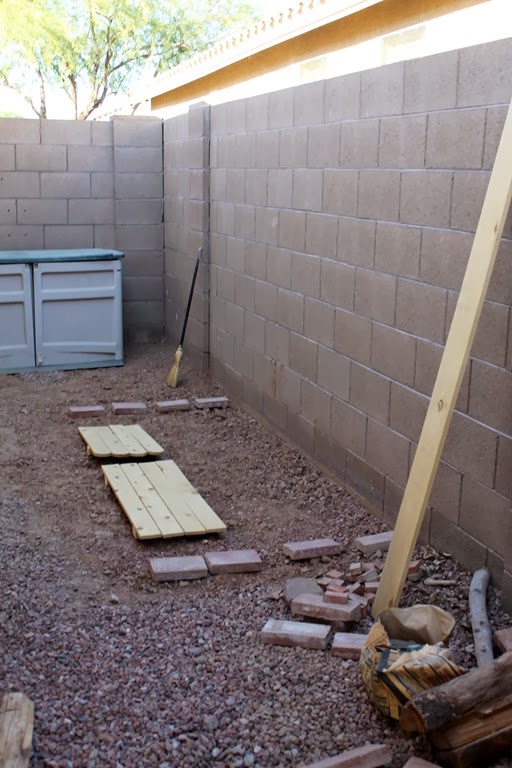 Mr. Décor customized a shed for some lovely storage space.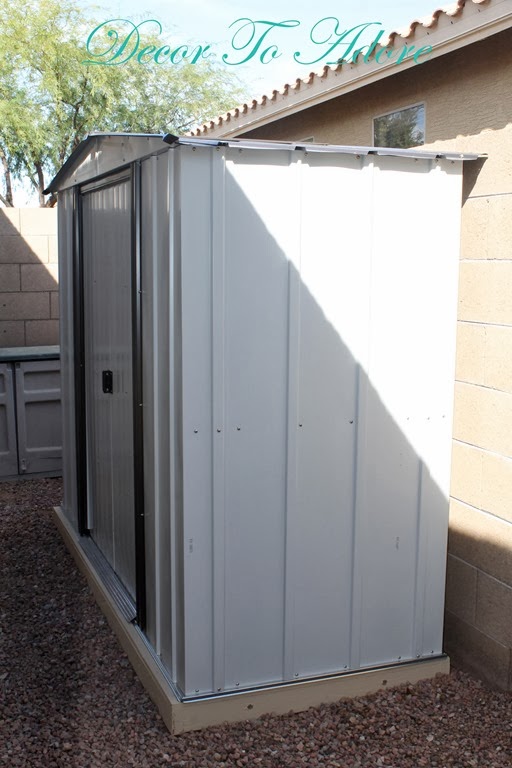 Yes, in researching this story I was sort of amazed at all we have accomplished in just two short years. Believe it or not I shared only about 1/2 of the projects we have done in the essence of time and the length of the post.
Of course there were projects that I never did get around too, like painting the kitchen cabinets. I have to leave something for the next owners to do right? 🙂
But I did create a darling island.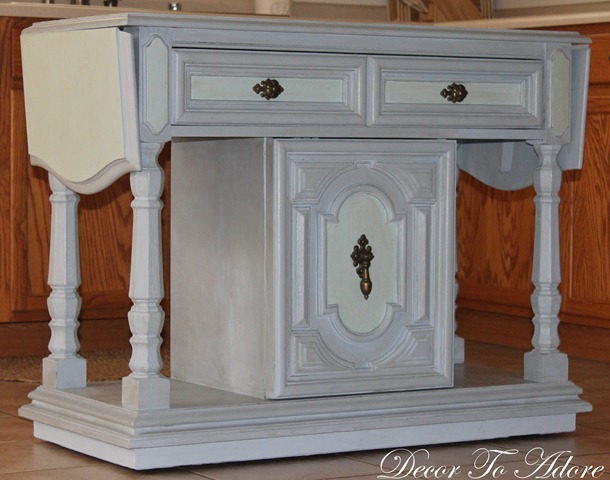 It did wonders to cozy up the space.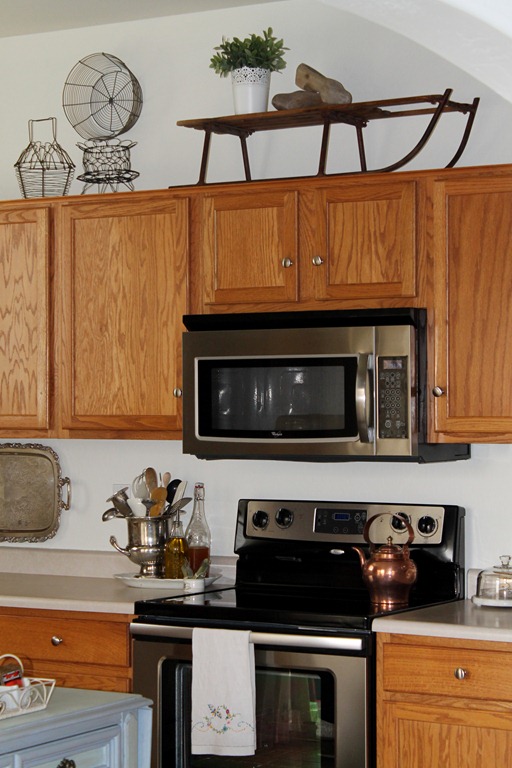 Although it was tiny and not exactly my dream kitchen, it hosted many a happy occasion and filled this home with joy.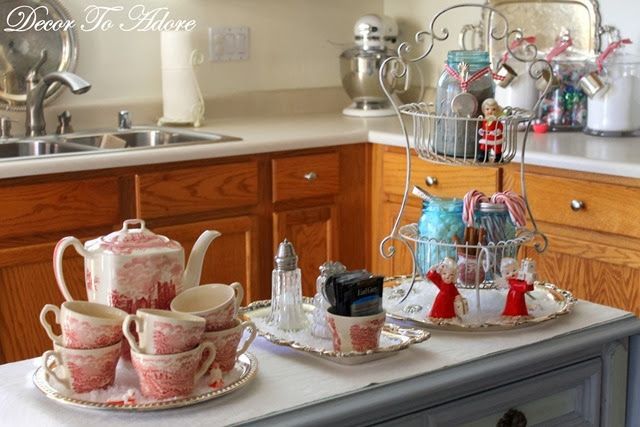 Truly, that is what is most important.
Laura