This Tudor styled brick beauty is a four bedroom three bath gem just waiting to happen.
It was built in 1976. The big windows are fantastic in this dining area. I spy a popcorn ceiling and see that the calico wallpaper is already removing itself in the lower right corner. A pretty chandelier and a bit of wainscoting would look lovely.
Here is where I send all the men into seizure. I would paint the brick and the built ins err brick ins???? It would be visually softer yet still remain a focal point of the room. Would you remove the faux beams on the ceiling?
A few images for Mr. Décor who just might fall into the "seizure" category. 🙂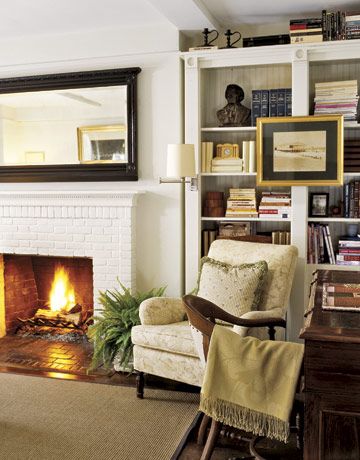 Do you prefer a solid white or perhaps just a whitewash?
In many ways this room just makes me Brady Bunch happy. I mean it has an intercom system!
Since the space doesn't appear to have any windows I would probably brighten up the walls like this:
Or a soft gray…
…or perhaps a bit of blue.
It has a good size kitchen. I believe the cabinets are original which would make them almost 40 years old. They could be repurposed as storage in the garage.
Here is a similar layout.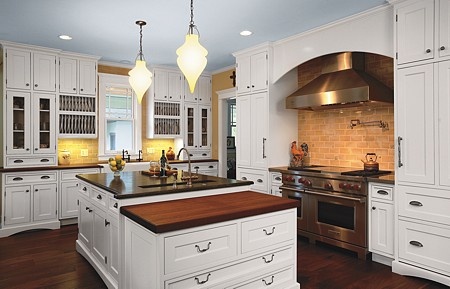 I would carry similar white cabinets into the bathroom areas as well. I am thinking that perhaps the mirror might look fabulous painted or gold leafed.
It is in a great school district and is priced well under our budget (so upgrades like the kitchen and baths could happen ASAP). Since it is currently selling for a lot less than what other houses are priced at in the area it is the perfect "worst house on the best block" scenario.
So would you run screaming or unpack your tools?
Laura