I tend to fall into the category of being a planner. I love the structure of filling in a calendar with appointments and creating daily "to do" lists. But in the area of travel, as much as I read travel guides and have long columns of items that are a "must see", I leave myself open to entering mysterious gates that beckon me.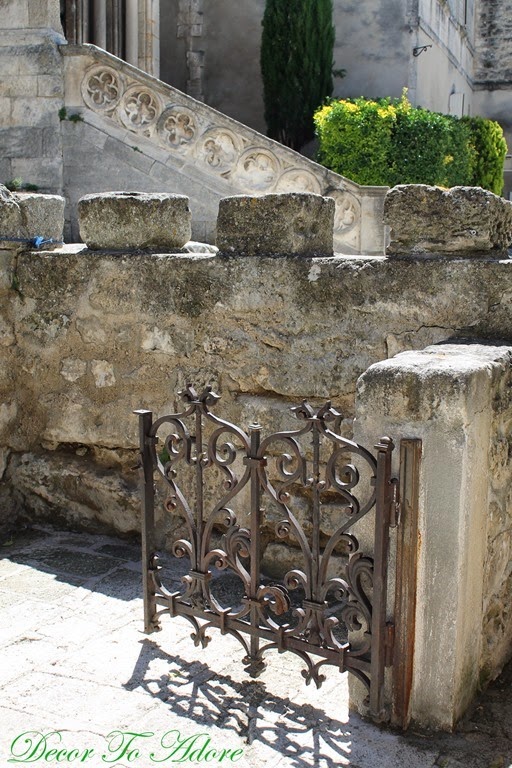 By now you may have surmised that I have a certain fondness for visiting churches. For me ancient churches provide a glimpse into what life may have been like for its long ago village inhabitants.
In the town of Baux, in the same church square as the Chapelle Des Penitents, sits another church: Eglise Saint-Vincent des Baux-de-Provence. The southern section of this 12th-century building is built right into the side of a rocky mountain.
Like many churches built during this era the interior is dark and mysterious. There are three naves, with a main focus on the Madonna and Child.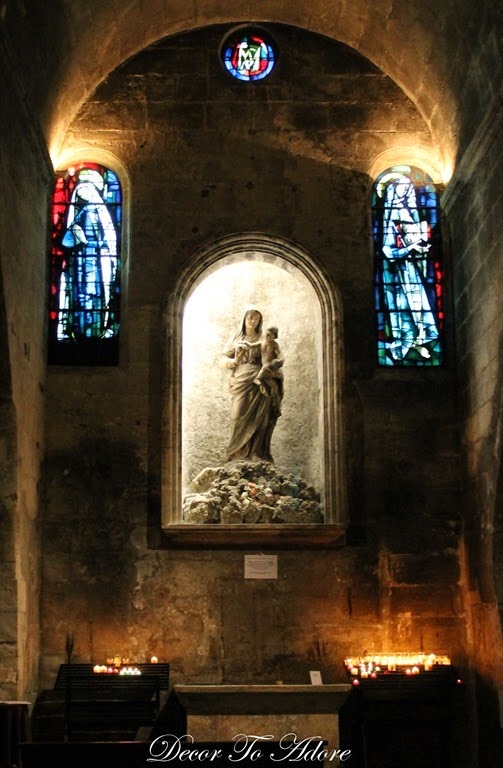 I stood in awe of the beauty that was created from a jagged terrain with simple tools.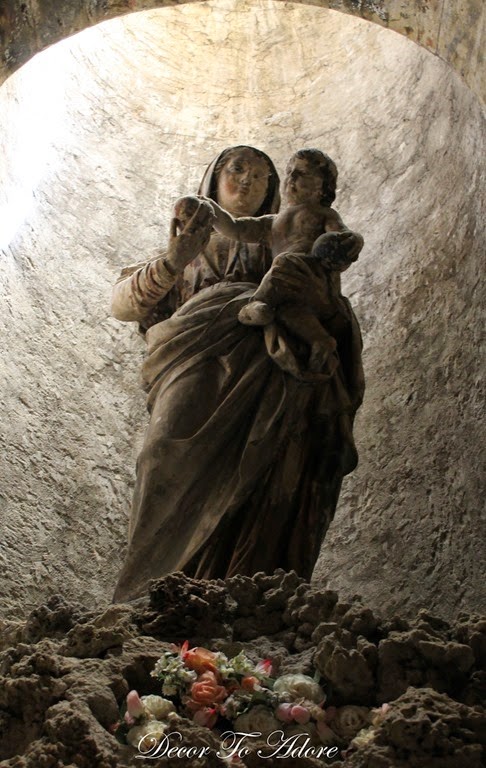 I never fail to be amazed at the ingenuity of the construction of ribbed barrel vaulted ceilings.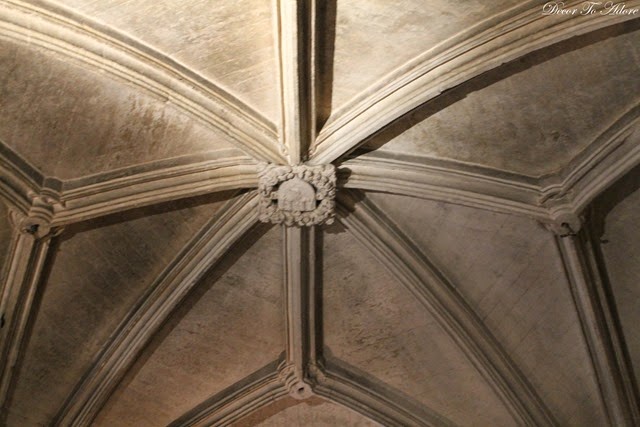 Although I understand the construction processes used during the dark ages it still remains somewhat of a mystery to me. Much like life.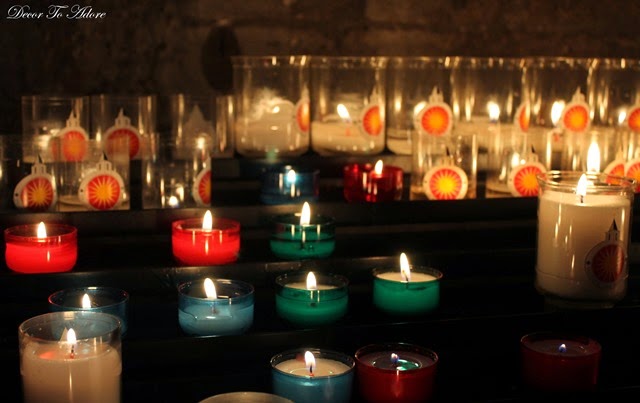 A long ago craftsman created beauty with simple tools and stone. Did he know at the time that his hands were creating such longstanding beauty? He may have hoped, as many of us  often do, that a small piece of him would become immortal.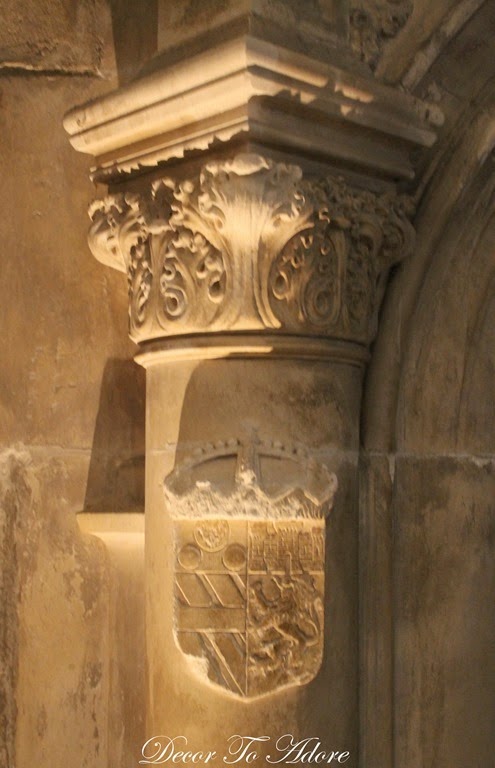 Even relatively modern stained-glass windows, created by master Max Ingrand in 1960, are now over 50 years old. They were given by Prince Rainier III of Monaco. Both men, now gone, have left beautiful reminders of their presence.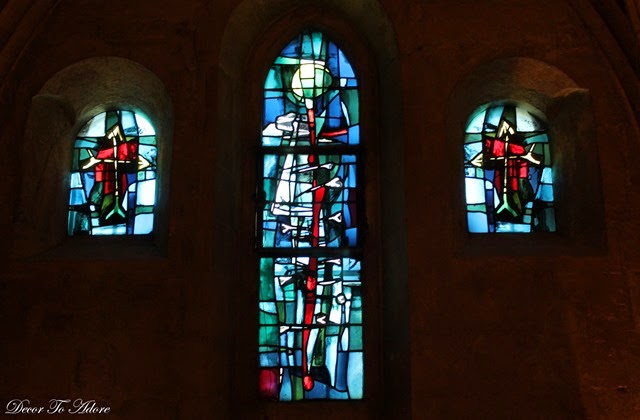 My own life is really mysterious right now. Every day Mr. Décor will tell me "Today I applied for a job in….. New York, Texas, Virginia, England, Finland…."
I know my life will soon be changing and I have no idea in what direction. The planner in me sometimes wants to get a bit panicked. But rather than allow myself to become crazy in an area of my life over which I have no control I simply try to focus on creating and finding beauty in the everyday.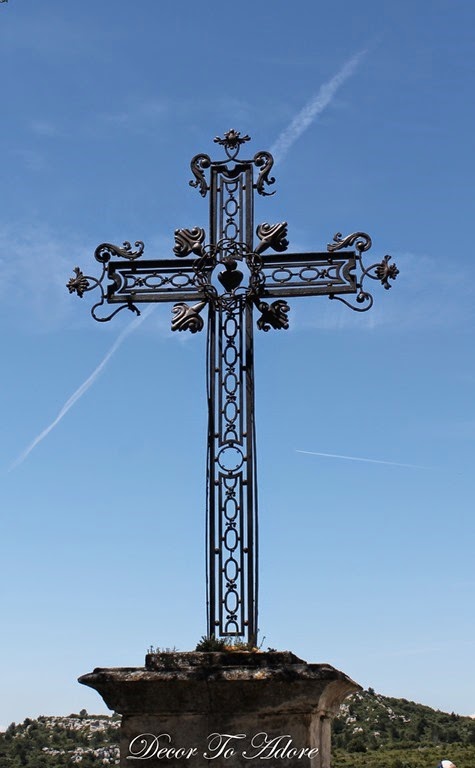 Are you creating beauty today?
Laura
Jesus answered them, "To you it has been granted to know the mysteries of the kingdom of heaven, but to them it has not been granted." ~ Matthew 13:11