After viewing Monet's maison (home) it was just a short walking distance to the bassin (pond) area.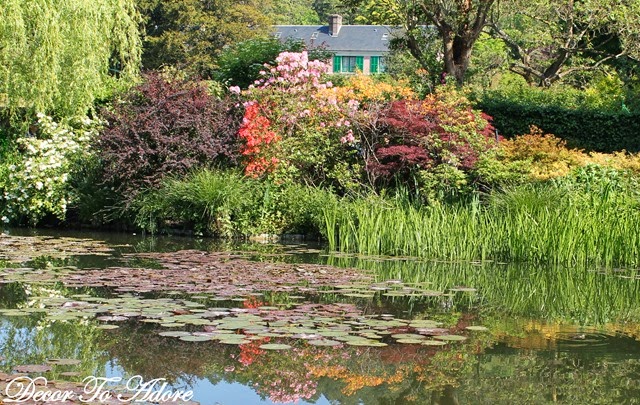 The water lily pond is perhaps most closely associated with Claude Monet and his home at Giverny.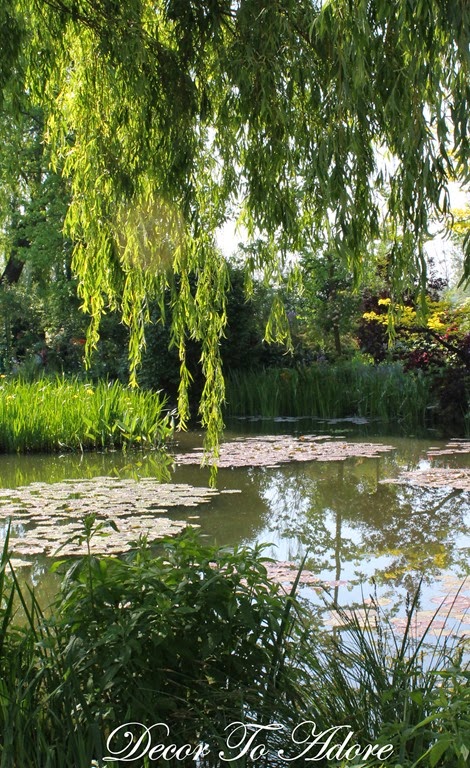 He began painting the water lilies in 1899 and did not stop. Always a master of perspective and light studies, Monet created over 250 paintings in the series.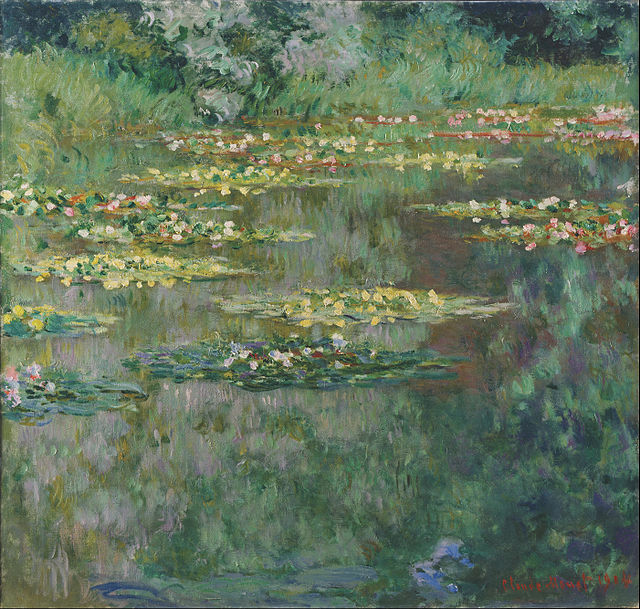 "Le Bassin des Nympheas" (The Basin of the Water Lilies) ~Claude Monet, 1904
There are subtle differences in each painting depending on the season in which they were captured.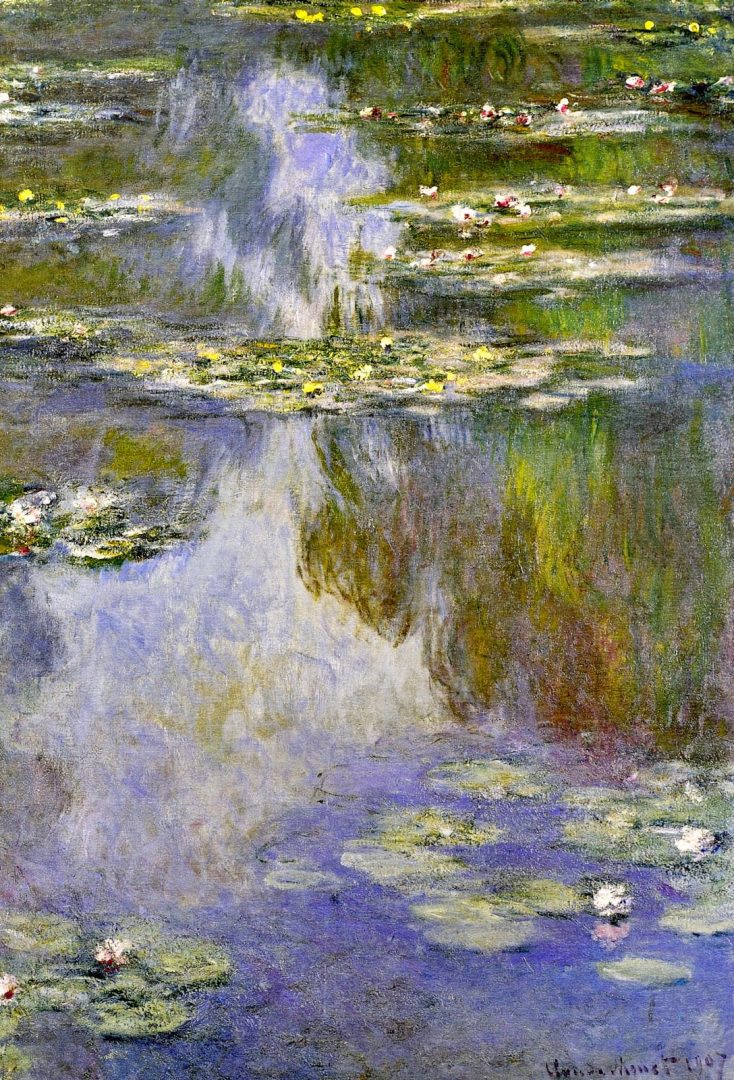 "Nymphéas" ~ Claude Monet, 1907
Some of the paintings were created after Monet had developed cataracts.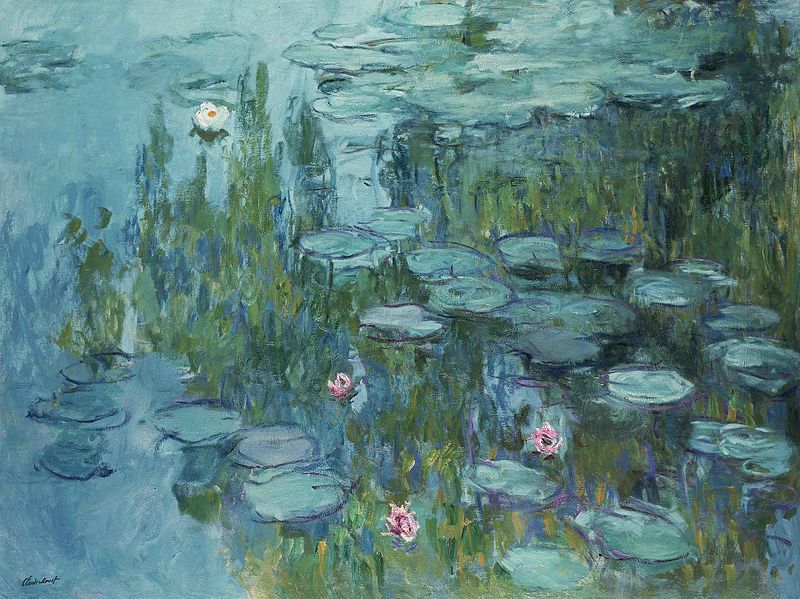 "Nymphéas" ~Claude Monet, 1915
While the lilies did not happen to be in bloom during my visit (they flower in the summer) there was still plenty of lovely and interesting things to behold.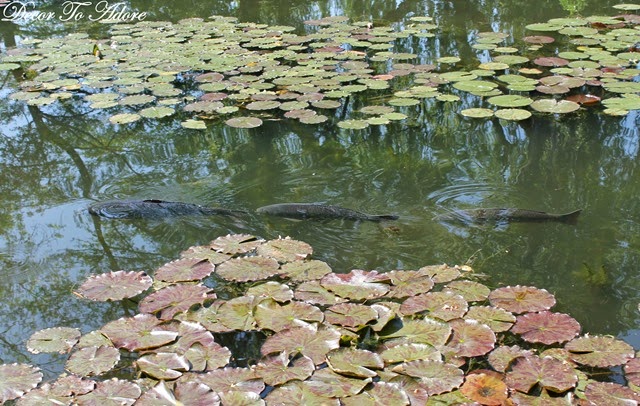 The lupines were magnificent.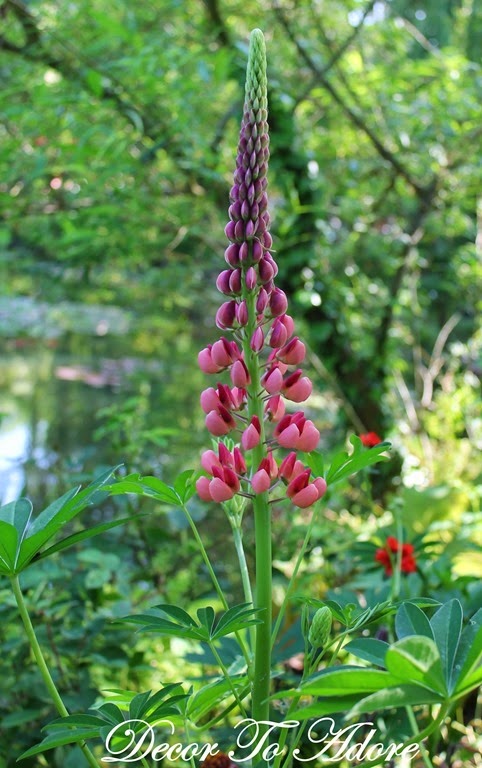 As were the glorious tulips. They could be found in all the shades of the rainbow and included fringed, parrot and single early specimens.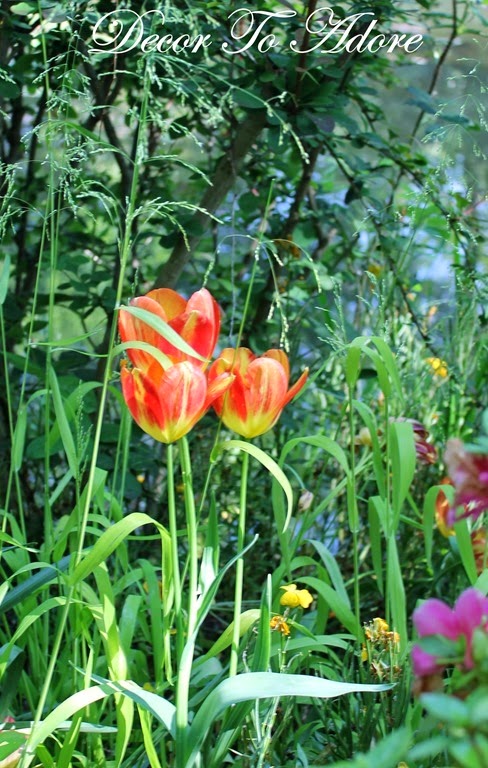 My mother, Nadine, grew fuchsias in her garden. I've also heard them referred to as "bleeding hearts".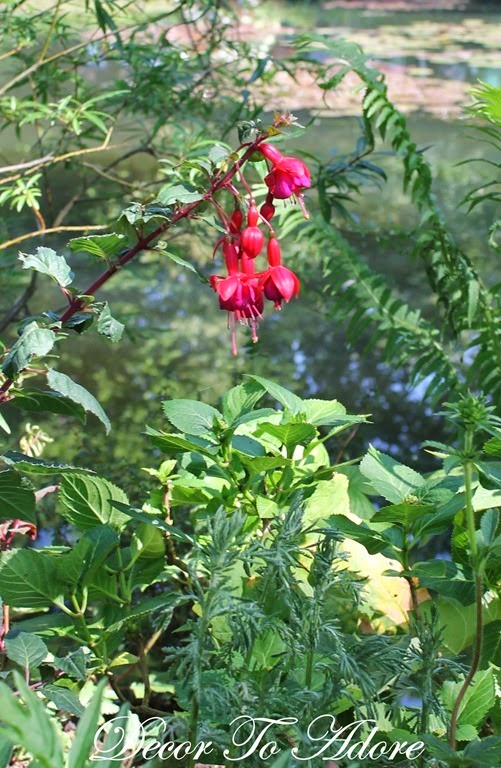 Numerous varieties of early spring roses grew wild and smelled heavenly.
There were several winding and watery paths surrounding the grand basin.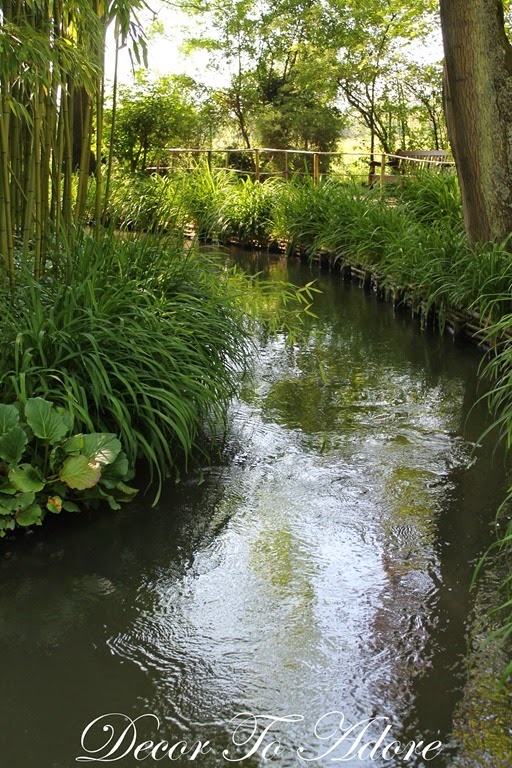 And of course the famous Japanese bridges. Monet painted the bridges a certain shade of green that was not found in any of the natural shades of the garden so that they would stand out a great distance.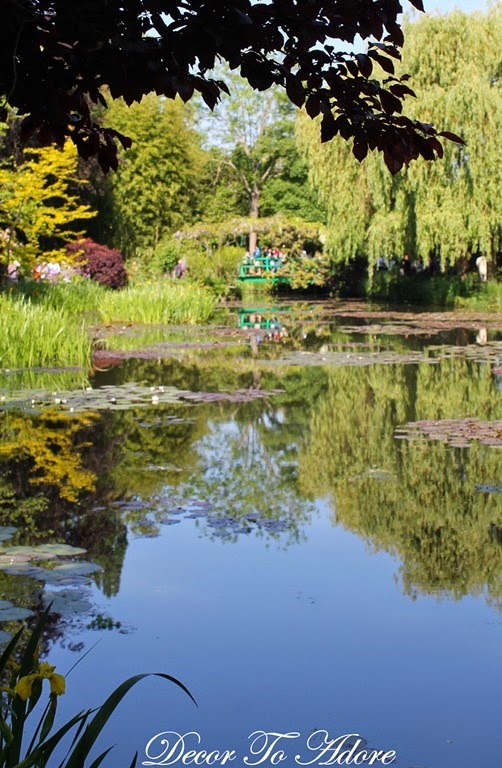 The Japanese bridge was a central focal point in many of his water lily paintings.
"Water Lilies and the Japanese Bridge" ~Claude Monet, 1897–99
I love this color enhanced image taken of Monet on his bridge in 1922.
Hanging over the Japanese bridge was the most luscious white wisteria I have ever seen.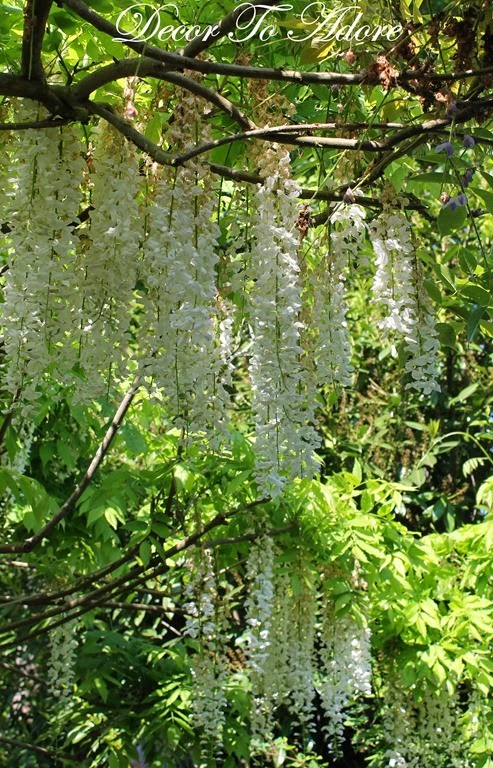 I had to wait very patiently for a photo op.
Although many of you commented on previous French themed posts that there seemed to be no other tourists, let me assure you, they were present in droves. I would just wait patiently (and sometimes not so patiently when others cut in front of me 🙂 to get the shot I wanted.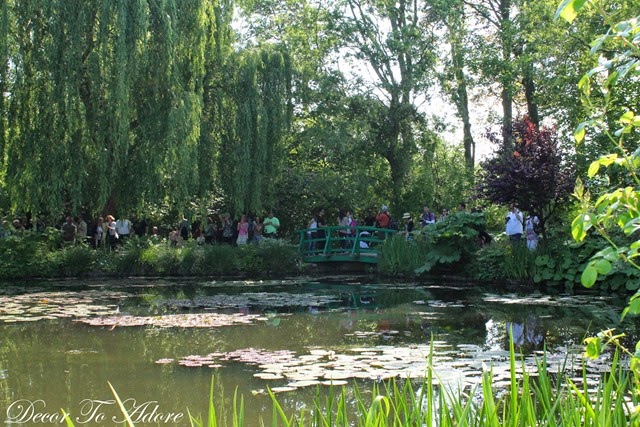 In doing so this meant my dear, darling cousin Linda (mon compagnon de voyage~ my traveling companion) also waited with me. The woman is a saint!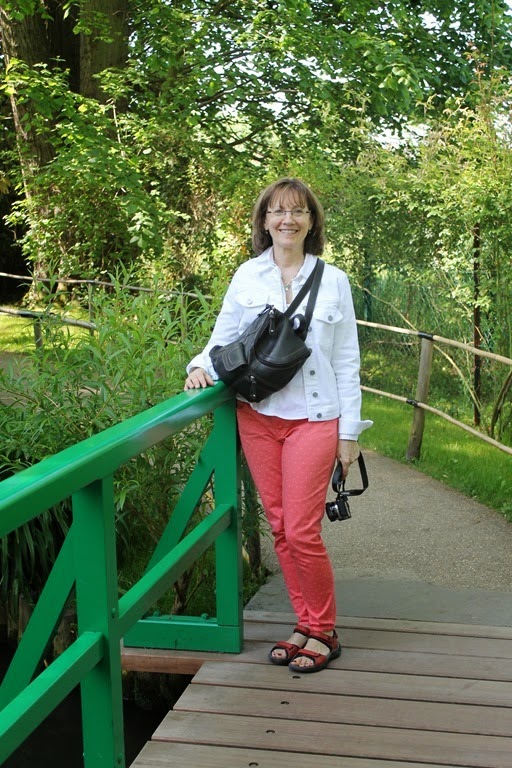 I would not hesitate to return to this delightful garden again and again to see it at different seasons.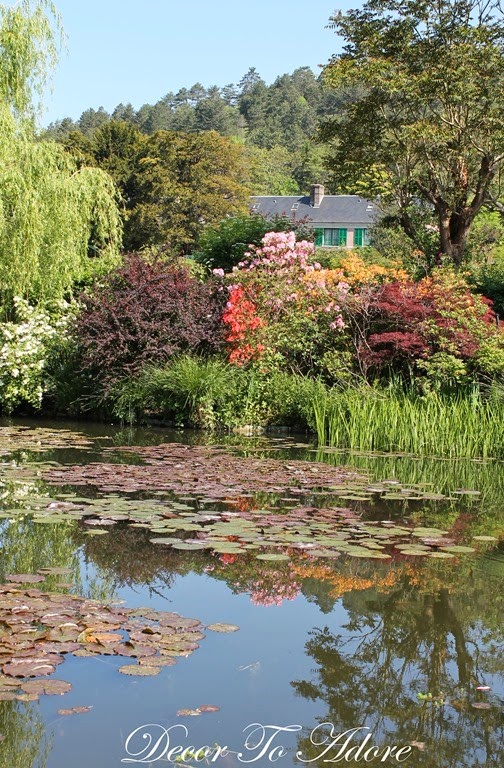 Tomorrow we'll visit Monet's Jardin Clos Normand.
Laura
Linking to:
Between Naps On The Porch, Classy Clutter, A Stroll Thru Life, Not Just A Housewife,  A Bowl Full of Lemons, We Are That Family,Someday Crafts,The 36th Avenue, Ivy and Elephants, Savvy Southern Style, Katherine's Corner, Posed Perfection,Craftberry Bush, Stonegable, Jennifer Rizzo, French Country Cottage, The Shabby Nest, Imparting Grace,My Romantic Home,The Charm of Home,Tatertots and Jello, Funky Junk Interiors, My Uncommon Slice of Suburbia,The Dedicated House