After you've ridden the early train from Paris to Vernon, taken the tour of Claude Monet's home and strolled his gardens you might then think "I've come all this way, now what?" Even in doing all that I just listed my cousin and I found ourselves finished by 11:30 am.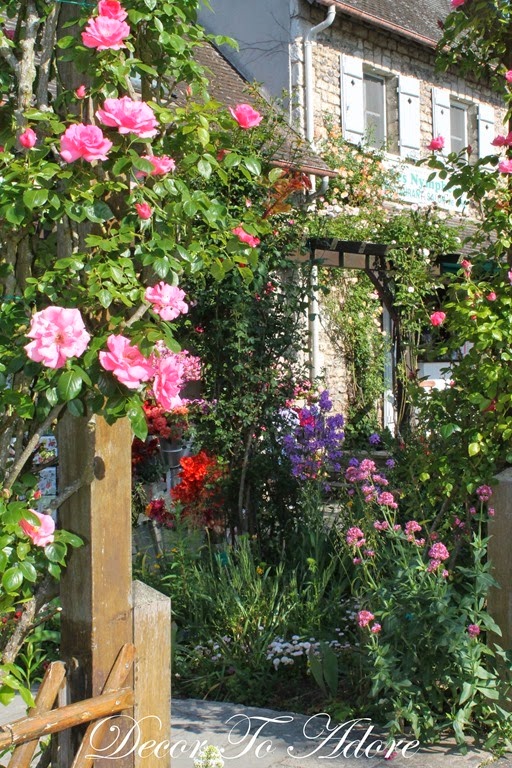 So we decided to find a café and have a leisurely French meal. A short walk down Rue Claude Monet found us at the Ancien Hotel Baudy. They had set up a few umbrella's for al fresco dining and it looked quite inviting.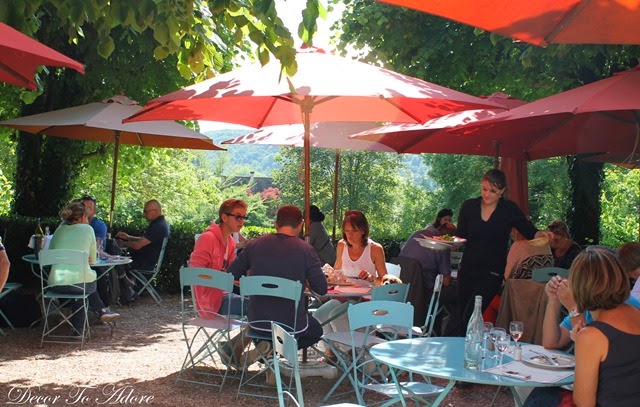 Not to mention the charming maître d'.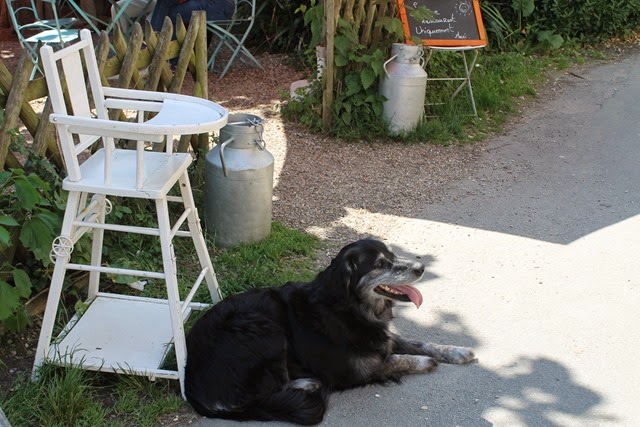 While you could order a la carte we were starved and opted for the prix fixe (fixed price) menu. As this was going to be our main meal of the day it was worth the splurge.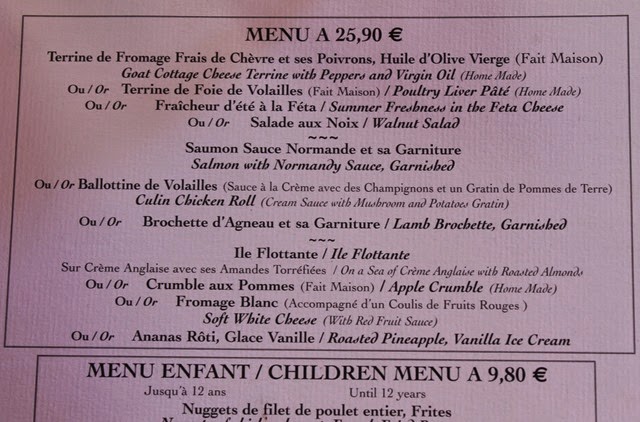 For my starter I opted for "Summer Freshness in the Feta Cheese" just because the translated description made me smile. It had a delicious almost salsa consistency of tomato, fresh parsley, cucumber and feta cheese with a light cream sauce. Heaven! (I apologize for the overly red tone of the image, it was unavoidable due to the umbrella overhead.) Some of you might look at the image and be afraid. Don't, just put it in your mouth! The French are famous for their over the top food presentation. Go with it.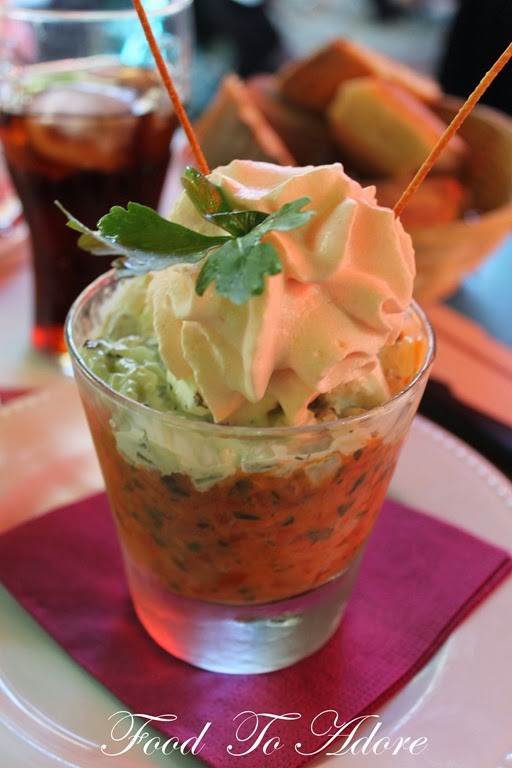 For the main meal I selected the chicken roll with mushroom sauce and potato au gratin. My mouth is watering once more just looking at this picture!
Then came dessert. Home made apple crumble. I am saddened to report that my delight with this delicious experience had me eating the evidence before remembering to photograph it. 🙂 After paying the bill we asked our waitress for directions to the ladies room and she directed us to go past the hotel bar and into the back garden. Upon entering the courtyard and its accompanying grounds I almost forgot the original reason I was in this enchanting place.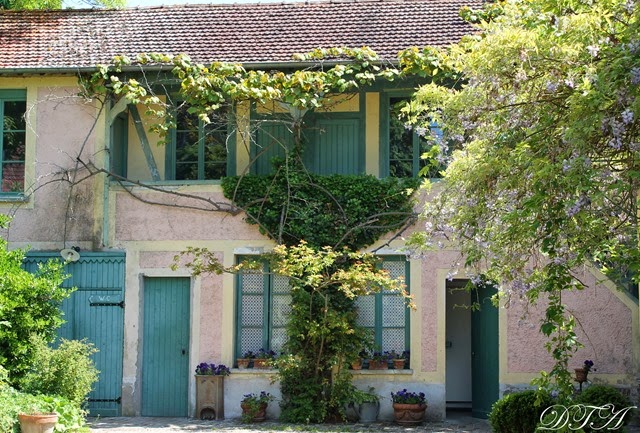 Charming vignettes abounded.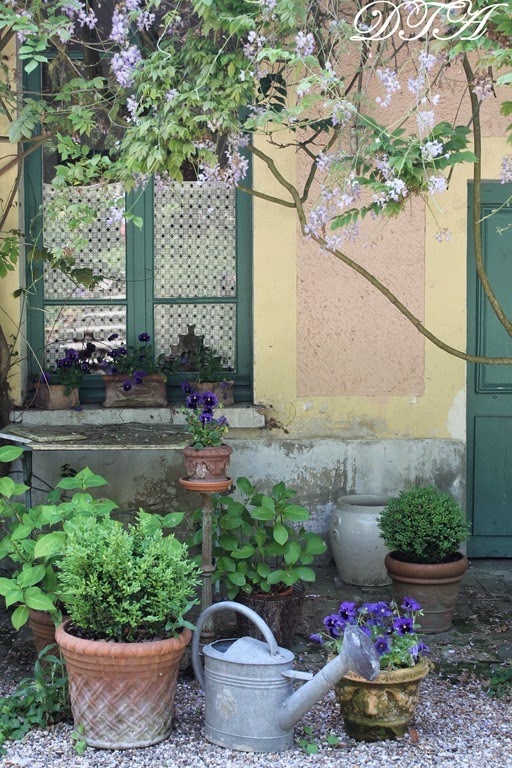 I loved the faux bois trunk planter.
Spying some charming steps and being naturally curious I made the climb that beckoned me. (The hand rail was also an amazing metal faux bois.)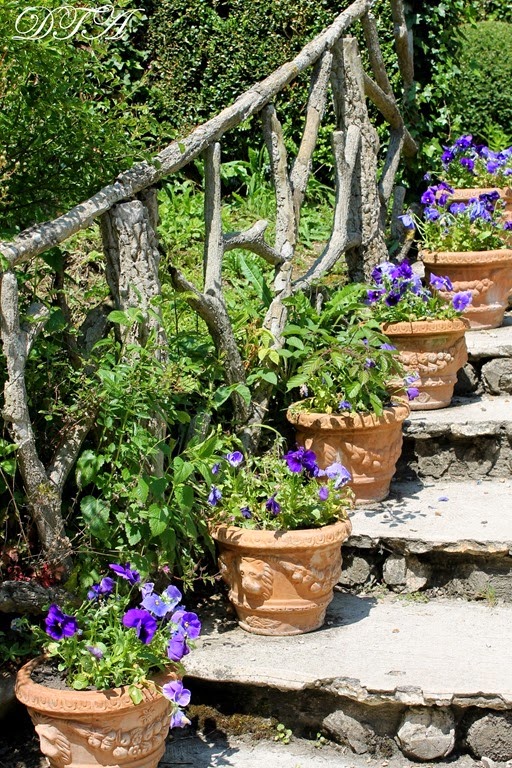 I found myself in a lovely artist studio.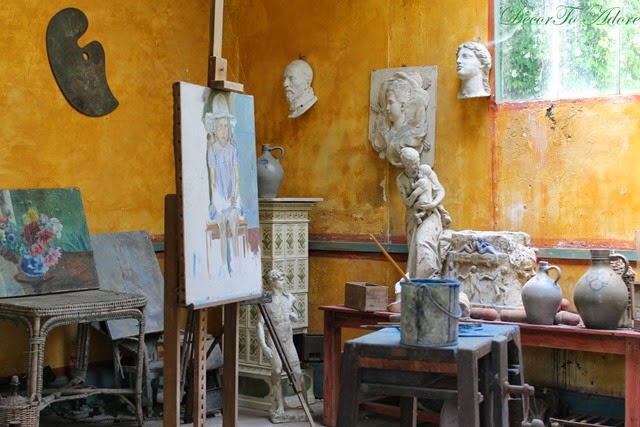 This made sense as the artistic community, to include Cézanne, Renoir, Sisley, Rodin, and Mary Cassatt among others, followed Claude Monet to the sleepy town of the Giverny and needed a place to stay. This historic property fit the bill.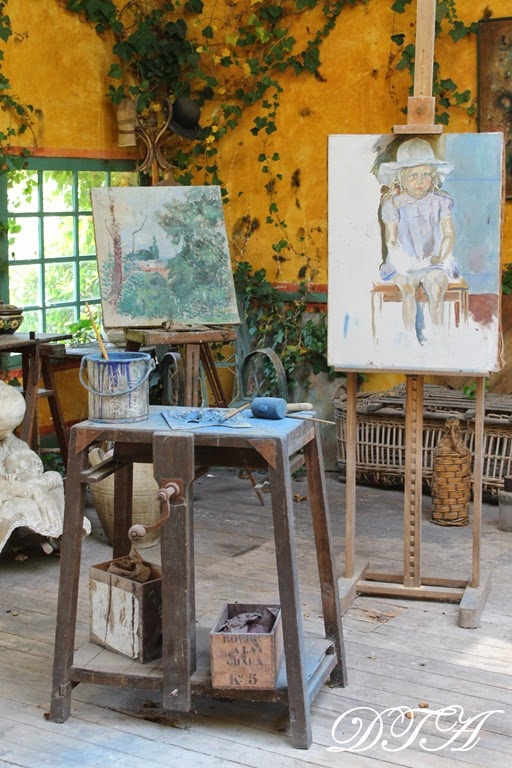 Climbing the additional stone steps up on the side of the hill I found numerous areas of beauty.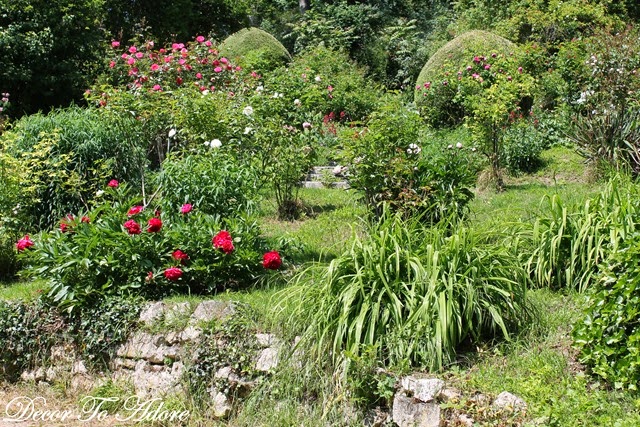 I might also have had a passing thought as to just how I could carry this table and chair off with me.
From there we visited a few artist studios and I now wish I would have purchased this charming rooster bell.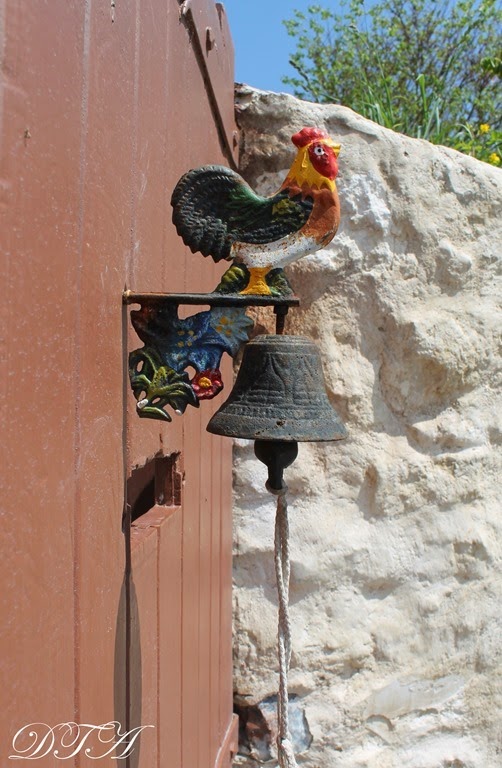 Continuing down Rue Claude Monet we stopped in at the village church which I had written about previously HERE.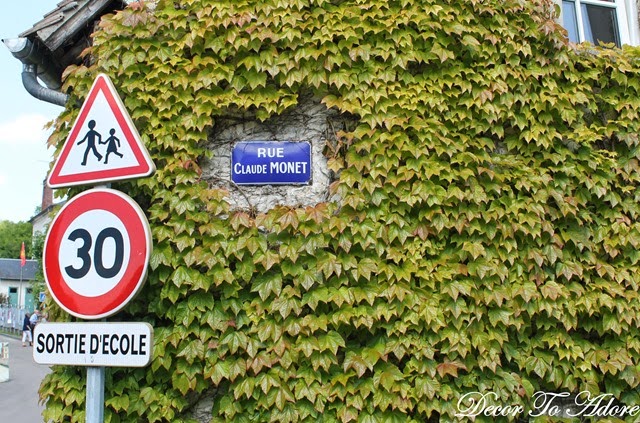 From there we went to the small, but wonderful, Giverny Museum of Impressionism. At the time we were there it was an exhibition aptly entitled "American Impressionism: A New Vision". I discovered many new to me artists that are now treasured favorites.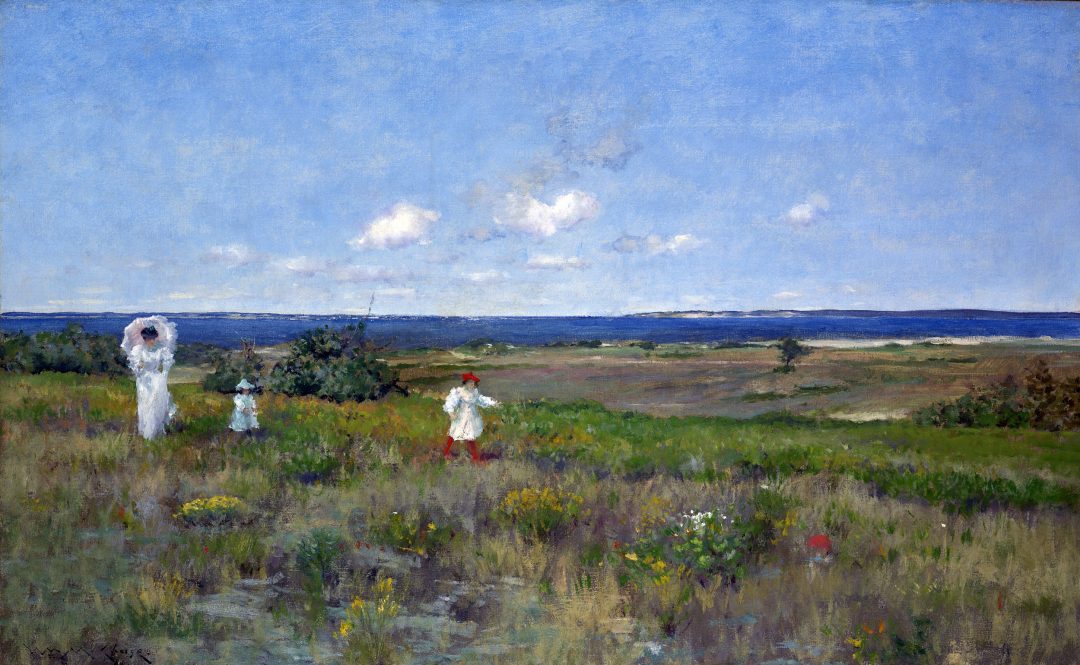 "Near the Beach" ~ William Merritt Chase, Shinnecock, 1895
After an enjoyable apéritif in the outdoor museum café it was time to catch our train home.

"Three Sisters~ Study of Light" ~ Edmund C. Tarbell, June 1890
I hope you have enjoyed the week in Giverny. Next week we will head to Provence.
Laura
Ancien Hotel Baudy 81 Rue Claude Monet, 27620 Giverny, France
Musee des impressionnismes Giverny 99, rue Claude Monet 27620 Giverny, France
Linking to:
Between Naps On The Porch, Classy Clutter, A Stroll Thru Life, Not Just A Housewife,  A Bowl Full of Lemons, We Are That Family,Someday Crafts,The 36th Avenue, Ivy and Elephants, Savvy Southern Style, Katherine's Corner, Posed Perfection,Craftberry Bush, Stonegable, Jennifer Rizzo, French Country Cottage, The Shabby Nest, Imparting Grace,My Romantic Home,The Charm of Home,Tatertots and Jello, Funky Junk Interiors, My Uncommon Slice of Suburbia,The Dedicated House