Several years ago my cousin and her family hosted a French foreign exchange student. Over the years they have continued to correspond and visit one another. Their French student, Thérése, grew up to be a beautiful dentist.  While in Provence we traveled to her home to visit with her so that she could show us Montpellier.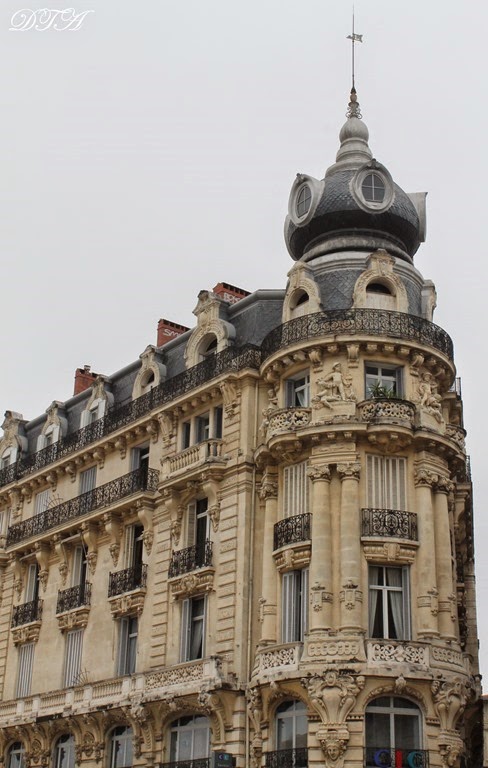 Montpellier is a large city located on the south coast of France on the Mediterranean Sea. It rose to prominence in the 12th century. It has all the conveniences of a modern city nestled within lovely 19th century architecture.
The city center has a lovely fountain. You can see the opera house in the background.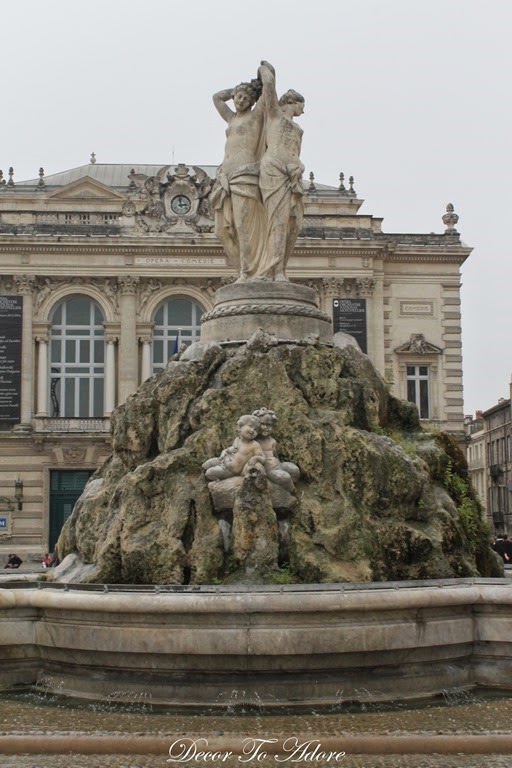 Here is a close up.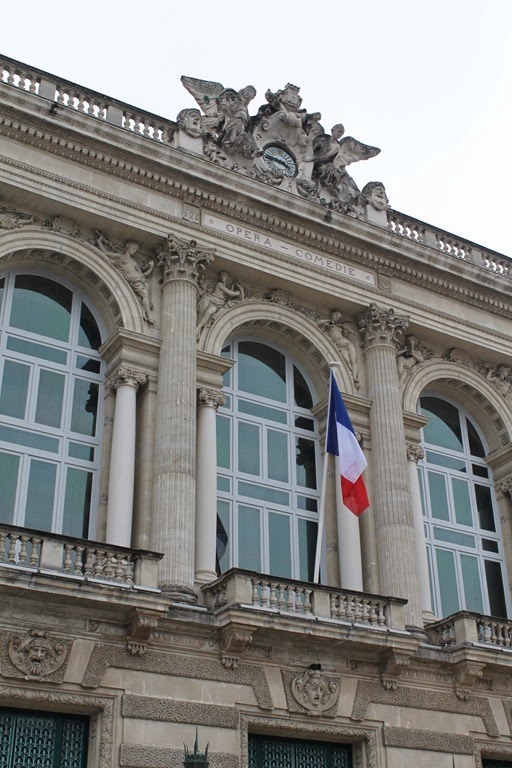 As with most French cities it pays to look up. The detailed architecture was stunning.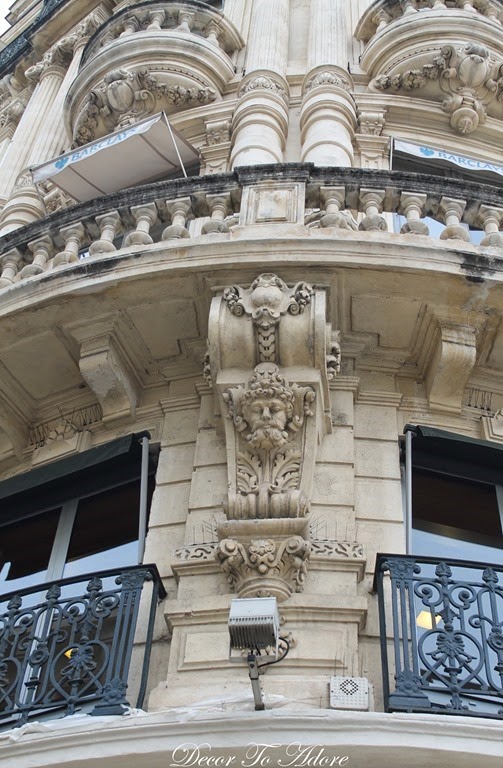 The lovely Thérése took us to lunch at a very nice seaside restaurant.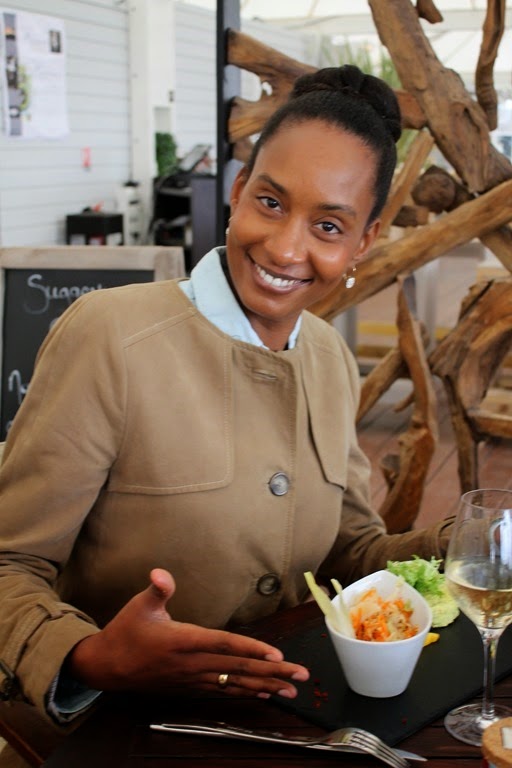 All three of us opted to order the special of the day which was a lovely salad accompanied by a seafood pâté. Oh my when I put it fresh French bread….it was delicious!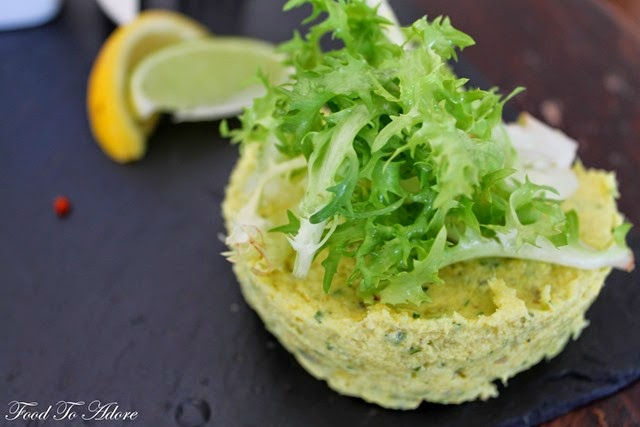 Dessert was equally spectacular. The moelleux au chocolat or chocolate lava cake was superb as was the French vanilla ice cream that accompanied it.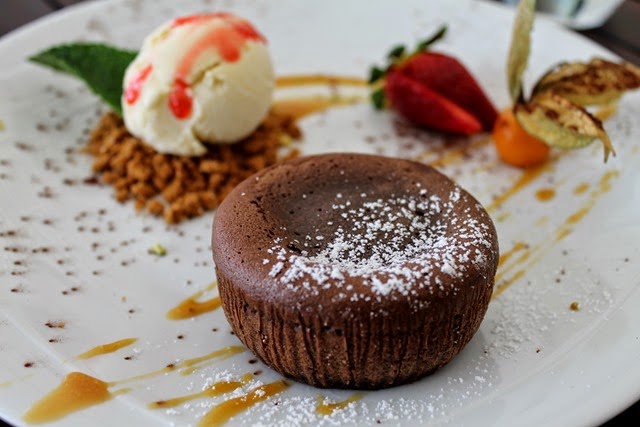 As you may of surmised it was a rainy, overcast day. It was the only time it rained while we were in France. I enjoyed it immensely as it hardly ever rains in Phoenix.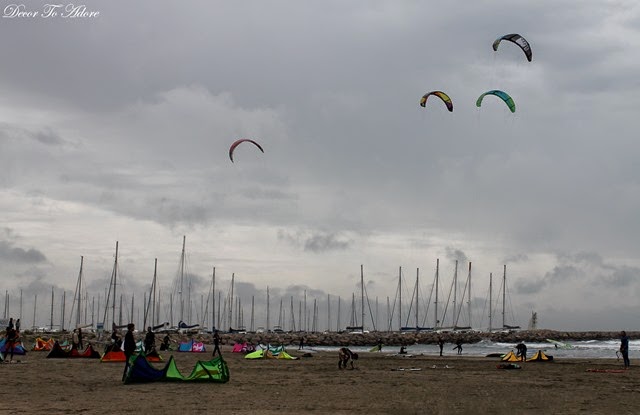 We spent the afternoon looking at real estate which I will expand upon in Friday's post. That evening Thérése took us to her parents countryside ranch. Our lovely hosts, Michéle and Bernard, raise Camargue horses.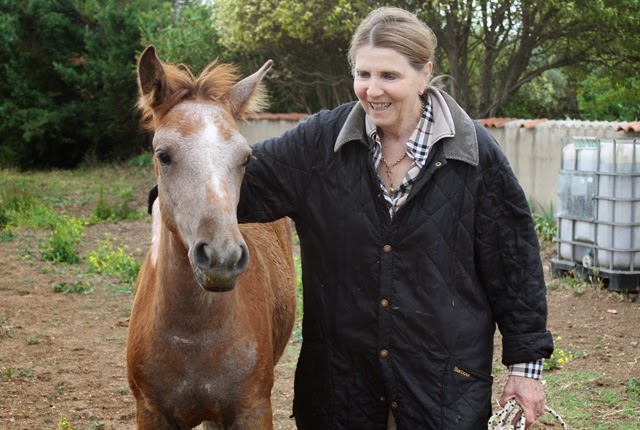 The Camargue is one of the oldest breeds of horses in the world. A smaller horse, they are known for their stamina, hardiness and agility. This is the foals mother.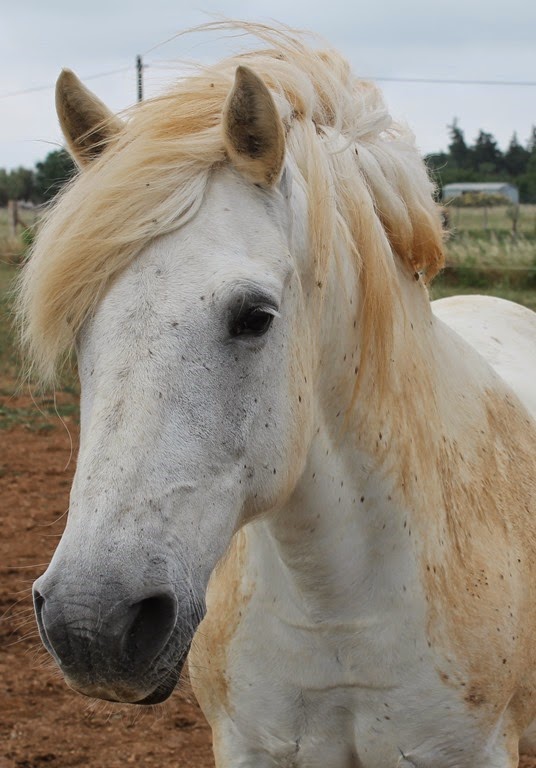 Camarague foals are born with a dark coat but it becomes white as they reach adulthood. Isn't this baby sweet? You can see that his coat is starting to transition to white.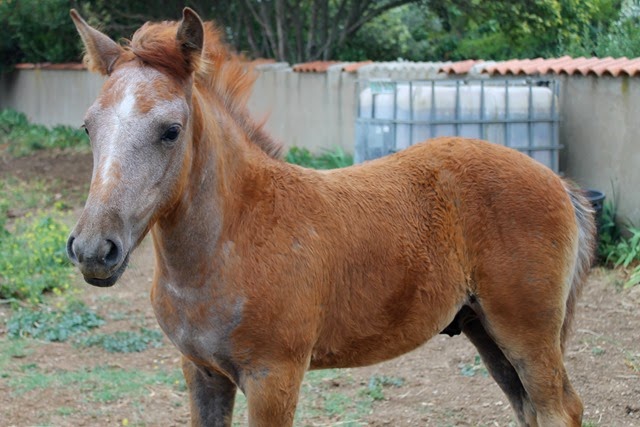 While Monsieur Bernard was busy in the kitchen Madame Michéle shared with us the French quilting art of boutis.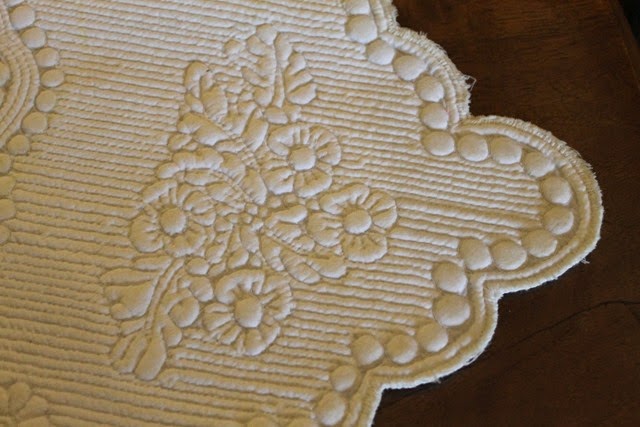 You begin with a detailed pattern that takes many days to transfer to white cotton fabric.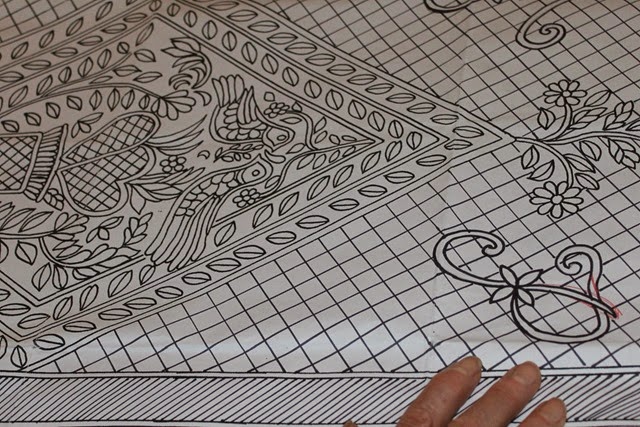 Once the pattern is in place you hand stitch the channels. Then the channels are gently stuffed with the finest of cotton. It takes years to complete just one piece.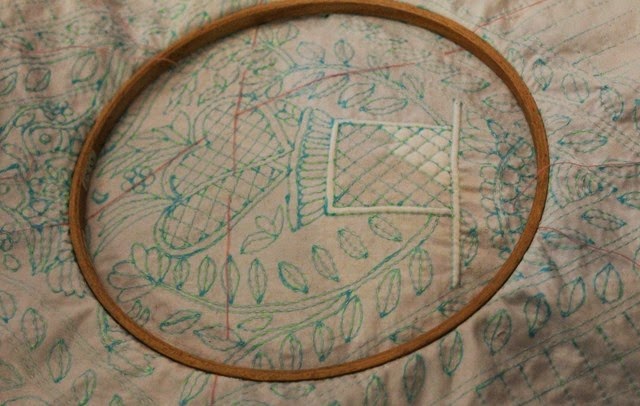 My apologies as I did not capture a photo of the charming Chef Bernard. But oh what a meal! We began with local raw oysters. It is a good time to mention that I had never eaten a raw oyster prior to this. I took the plunge as I wanted to experience what all the fuss was about. In addition I must stress what an absolute GIFT it was to be invited into Michéle and Bernard gorgeous home. They had never met me before and were truly gracious hosts and lovely people. It is just good manners and common courtesy to at least try what your hosts offer particularly when it is a specialty of the area.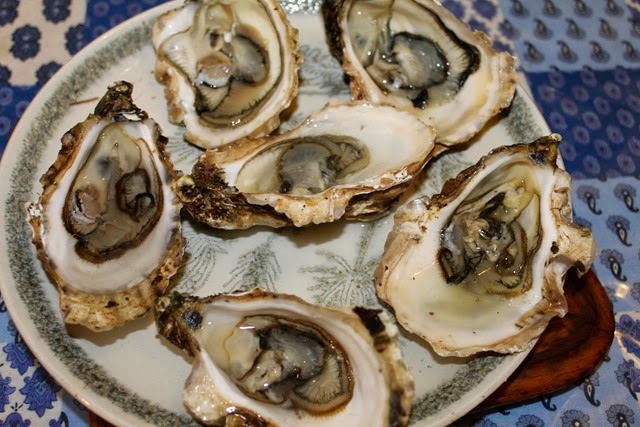 The entire meal was just full of lovely regional fare such as this lovely mushroom and potato gratin.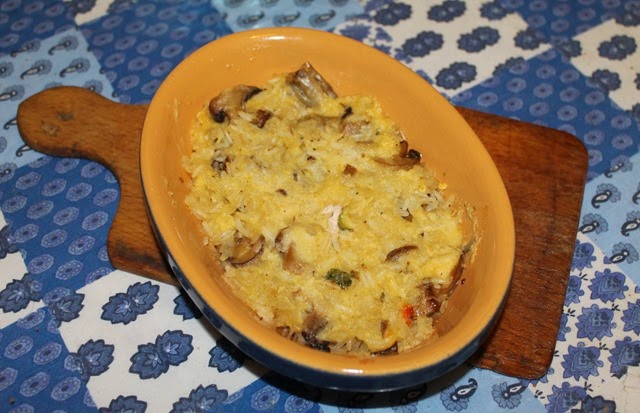 I had two helpings of ratatouille.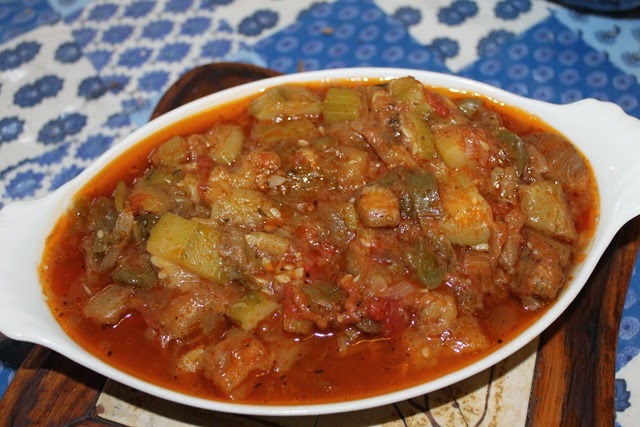 The Boudin sausage was superb and it made me wish Mr. Décor was by my side as he so loves a good sausage.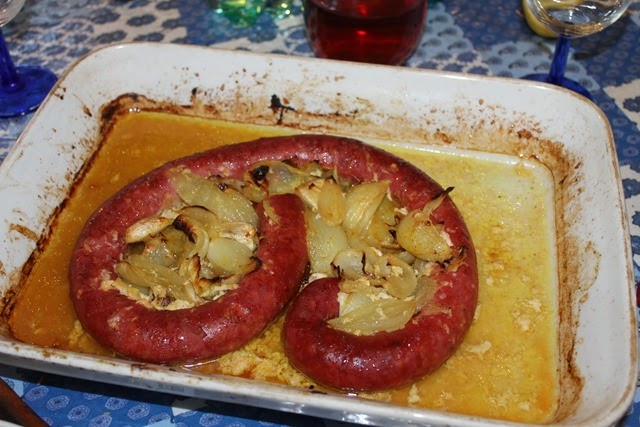 It was truly a wonderful evening that is now a treasured memory. While many prefer to dine in a 4 star restaurant I prefer a delicious meal cooked in someone's home. It is truly a priceless gift.
Laura