My first encounter with ancient sculpture came while I was living on Crete. I took a ship to Athens and went to the Parthenon. It was lovely and memorable and I feel so blessed to have had that experience. But it wasn't a magical experience. I know that may sound strange but I indeed had a magical experience when I found myself alone, on the ground floor of the Richelieu wing, looking at the Cour Marly sculptures. Somehow, as the late afternoon sun streamed through the glass ceiling, I could almost imagine Daphne running away from the smitten Apollo.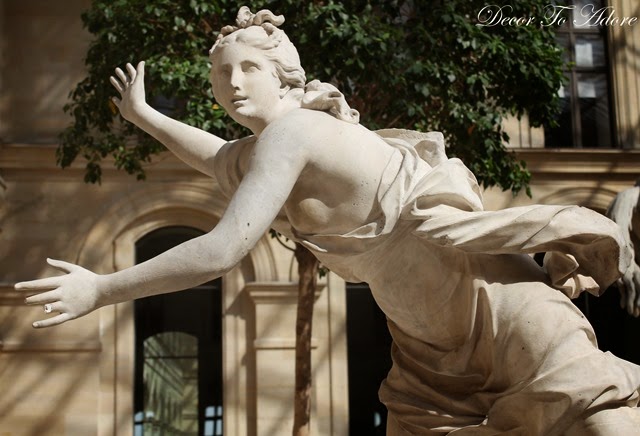 Keep reading for more magical beauty.
These two marble statues were originally created by Nicolas Coustou and placed in the center of one of the ornamental ponds in the park at the Château de Marly around 1713 ~ 1714. They were then moved and installed in a grove in the Tuileries Gardens from 1798 ~1940. They have been in the Louvre collection since 1940 and beautifully restored by Pari Mutuel Urbain between 2004 ~ 2006. I could easily picture them in their original environment and in the quiet and stillness almost believe I could hear the shrieks and laughter.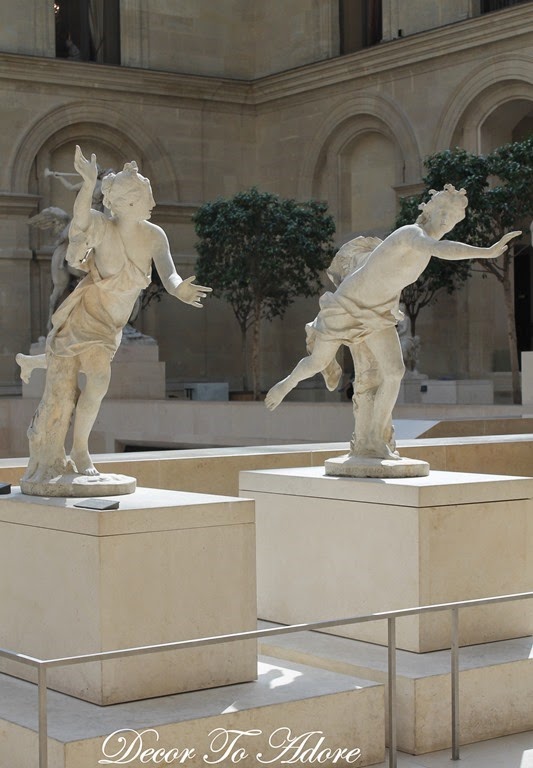 I actually entered the space accidentally. I had already been at the Louvre for over 5 hours. I was looking for the exit. I have found that often when you are looking for an end that is when the most beautiful detours immerge.
Most of the works here were commissioned by Louis XIV (the 14th) at the end of his reign. Some of the statues arrived at the Louvre in a damaged state but are nonetheless beautiful.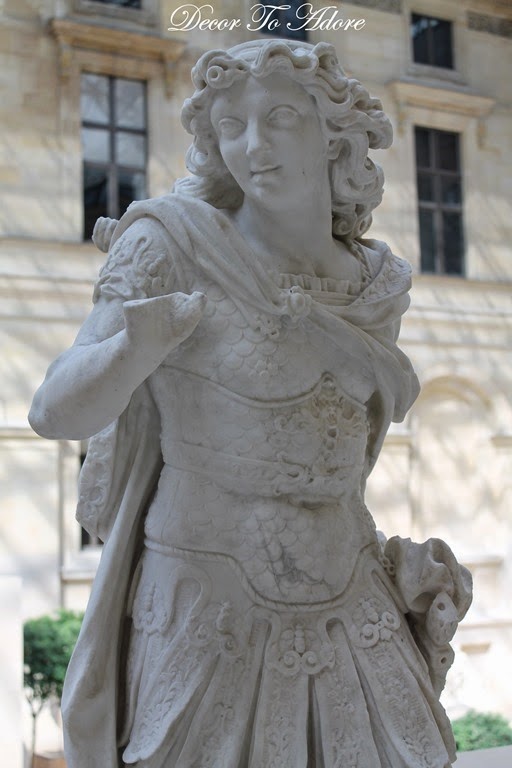 Graceful beauties such as Vénus Callipyge by François Barois still seem to enchant. It was originally sent to Versailles and next to Marly in 1695. Jean Thierry added additional marble draperies so it would not offend an increasingly prudish public. This bit of knowledge made me smile. It remained at Marly until the Revolution, when it found its way to the Jardin des Tuileries until 1940 and has been at the Louvre ever since.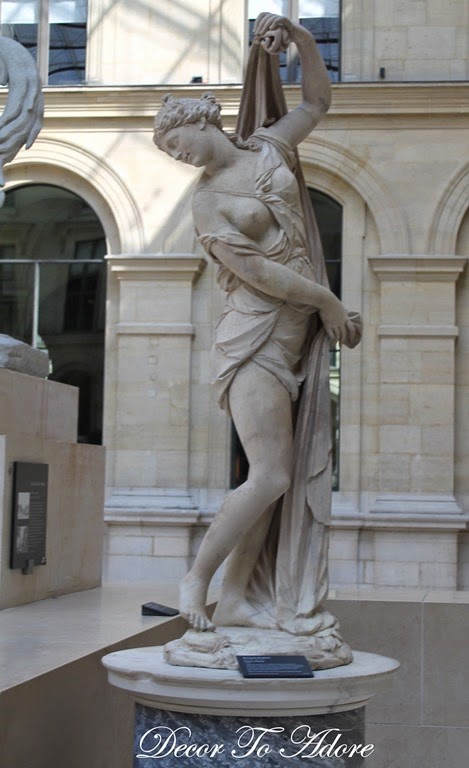 "L'Aurore" , a 1693 beautiful bronze sculpture by Philippe Magnier, made me wonder what the sculptor felt while creating this art. Was it a dance of work and admiration?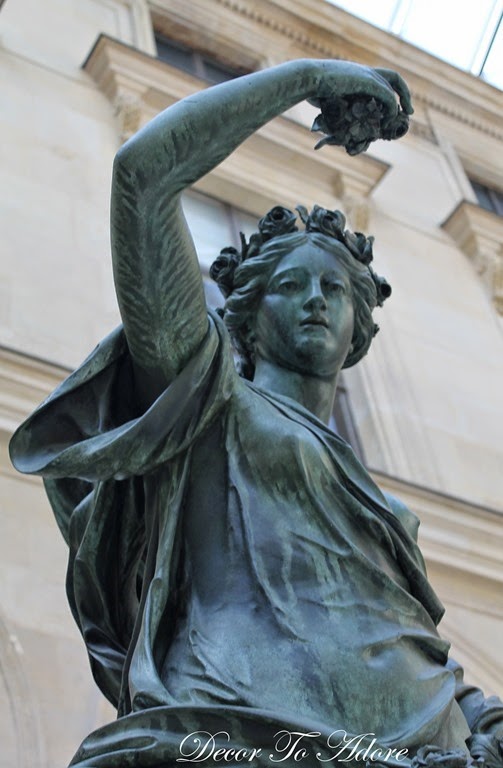 "Flore" is a lovely marble sculpture by Antoine Coysevox circa 1710. Her posture invites the viewer to come closer.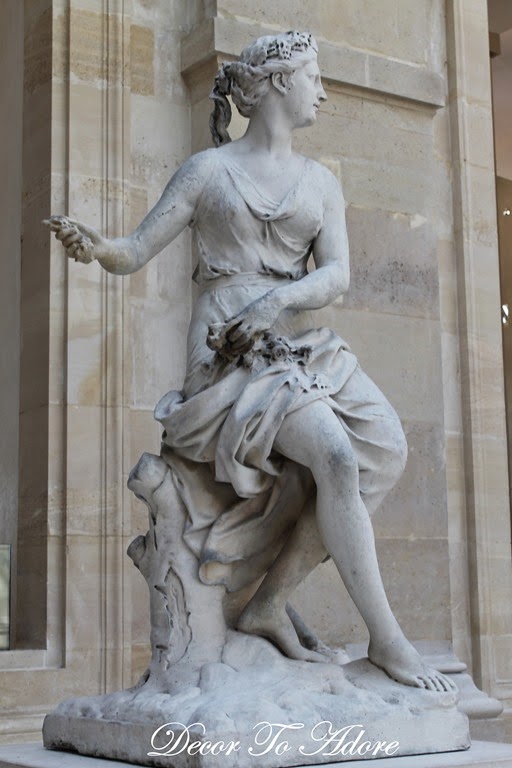 To revel in delicate features that are almost angelic.
A smile was brought to my face at the sight of two cherubs feeding a goat. Indeed the title of this Jacques Sarazin piece is "Les Enfants à la Chèvre". First owned by Jacques Bordier it was purchased by the king and placed at the Tuileries in 1668, then in Versailles, and then on to the gardens of Marly in 1693.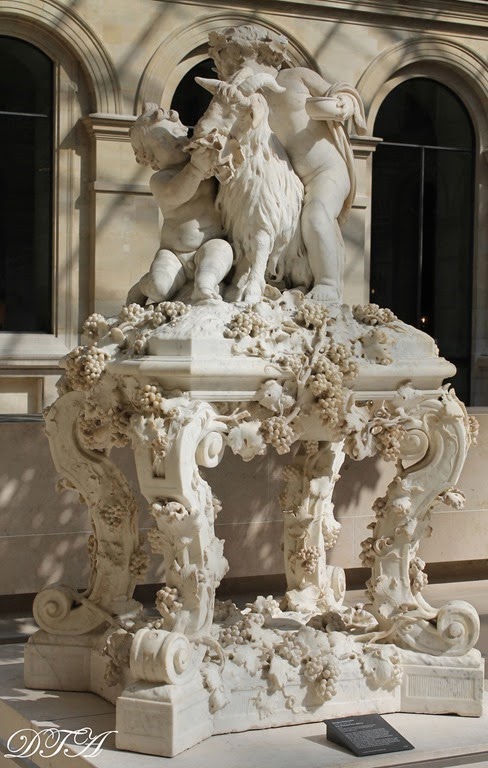 It was place atop a pedestal by Armand and Monteant in 1702 and has such amazing detail it is easy to forget that it is made of marble.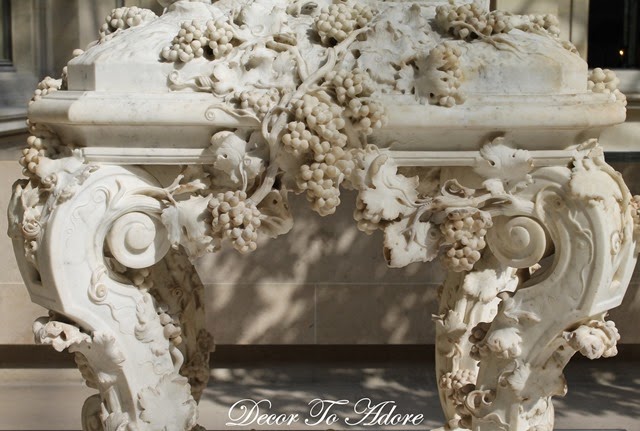 Each piece invites you in. To see beauty from all angles such as "La vierge et l'enfant" (the virgin and child).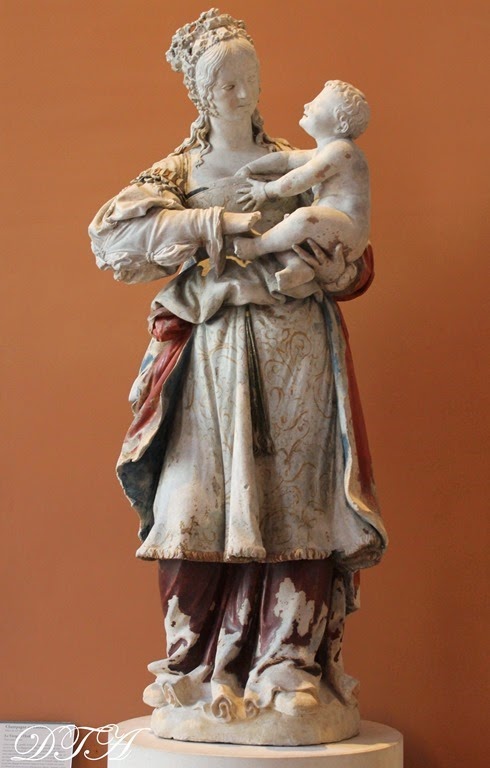 It is hard to believe that at one time many of the sculptures were brightly painted.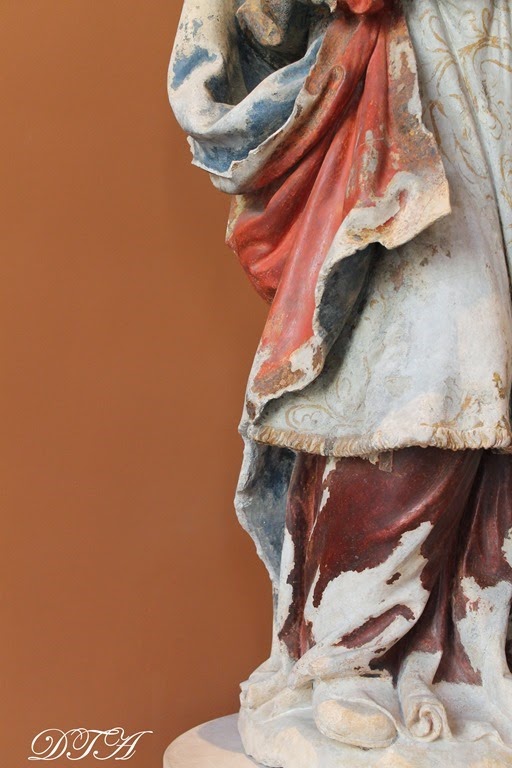 When coming upon "Compagne de Diane" by René Frémin I couldn't help but think of my sweet girl who also loves her four footed companion.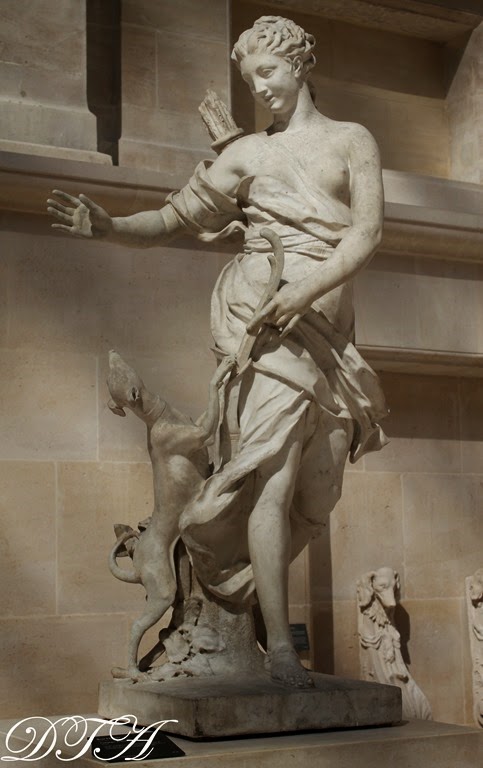 But it was this piece that truly captured my heart. Far from my family when I gazed at "Arria and Poetus" I could not only see, but feel Arria's anguish. This gem was begun by Jean-Baptiste Théodon and completed by Pierre Lepautre. It made me long to gather those I love most around me.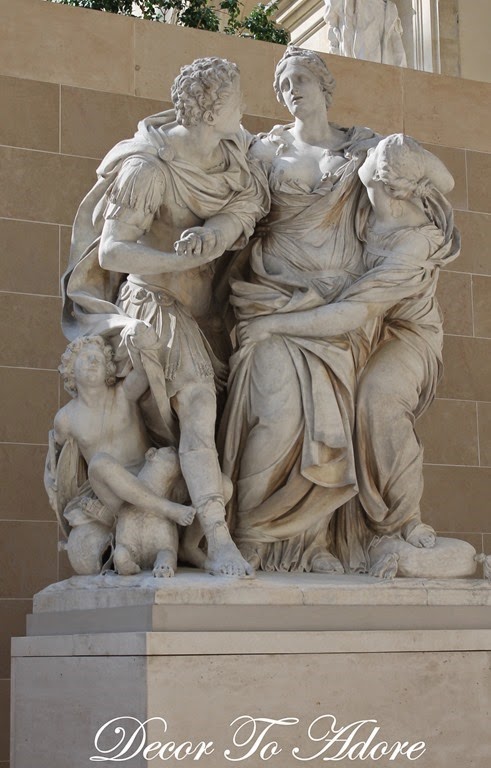 It made me miss my family deeply. But this is what good art does. It makes you feel.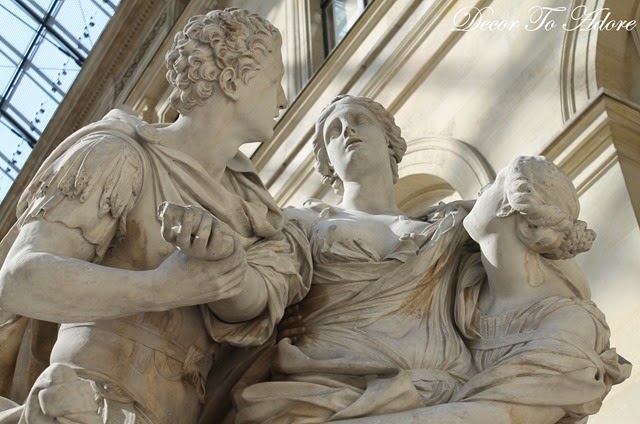 In the next post I will share beautiful furniture created for Kings.
Laura