After flying all night on Delta I arrived in Paris via the Charles de Gaulle airport on the morning of May 16th. I generally exchange a bit of money at one of the kiosks in the airport as they often have the best exchange rates. Due to my large bag I opted to take a taxi from the airport rather than ride the train or bus into Paris. Please know that this is the most expensive option but of course it is also the easiest. Taxis are available right outside of the baggage claim area. Signs are well marked for all travel options. Due to morning traffic the ride to Le Marais (The Marsh) district took almost an hour and cost 70.00 Euros~ yikes! (As of today, the exchange rate is $1.36 to € 1.)
Catching a glimpse of the Eiffel Tower always gives me a thrill.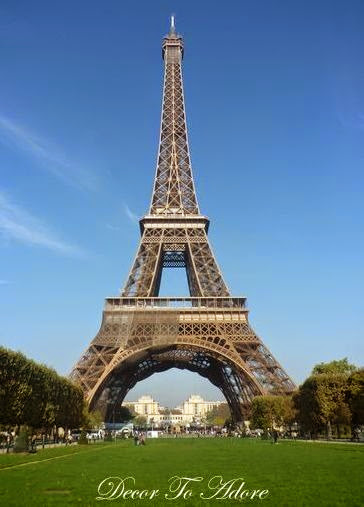 Le Marais is very close to the center of Paris. It is located in the 3rd and 4th arrondissements of Paris. For those who don't know, Paris has 20 arrondissments. In 1860 Napoleon III divided Paris into a series of districts.They are the equivalent to a municipal district. The first arrondissment is located in the center of Paris on the left bank of the Seine river. The other remaining districts spiral out in a clockwise fashion. This system makes it easier to map out your location.
Keep reading for many more travel tips and lovely images of Paris.
Parts of Le Marais contain the section of Paris that is still small and approachable. While once the area of Aristocrats it is now filled with family run shops, Jewish deli's, and Muslim eateries all contained within a maze of narrow cobblestone streets, some of which date back to the medieval and Renaissance eras. It was in this area that my cousin had selected a small apartment to rent. A truly perfect location!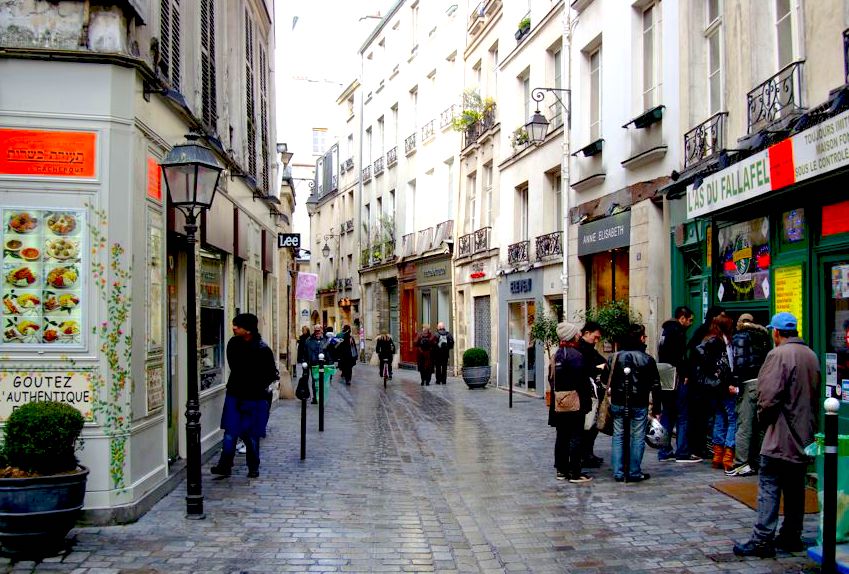 Most of the apartments and their accompanying courtyards are hidden behind tall wooden doors. Thankfully I had a knowledgeable taxi driver who drove me straight to our address on Rue Vieille du Temple (literal translation: Street Old Woman of Temple). If you are searching for accommodations for a larger group (which in the beginning we numbered a total of 6) renting an apartment, which has many amenities, might be the most cost effective solution. Try Trip Advisor for suggestions. 
A charming historical hotel I spied on the same street is Hôtel Caron de Beaumarchais.
It is listed as a 3 star Hotel and named for the 18th-century playwright, Beaumarchais, who lived close by. He wrote "The Marriage of Figaro" in 1784 which was adapted by Mozart in 1786 as the opera  "Le Nozze di Figaro". Monsieur Beaumarchais also supplied General George Washington with ships and gunpowder until 1782.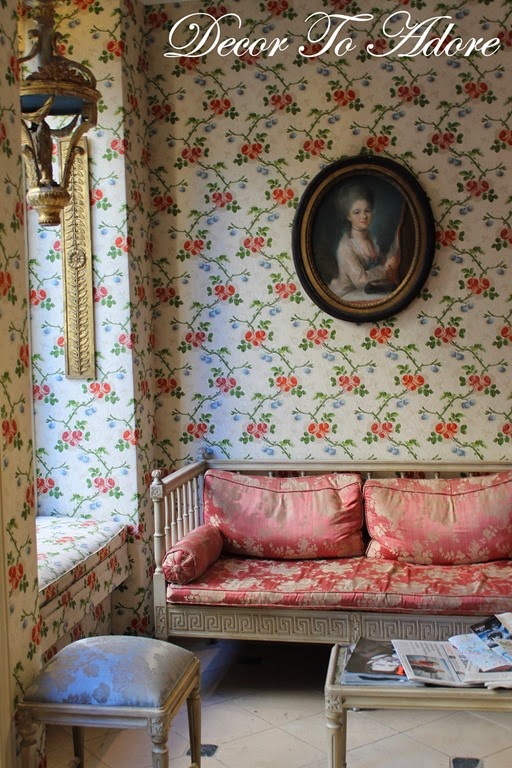 You can easily see the musical influence on the décor in the lobby as it has a harp and spinet piano. I have not seen the rooms themselves but the website shows charming accommodations.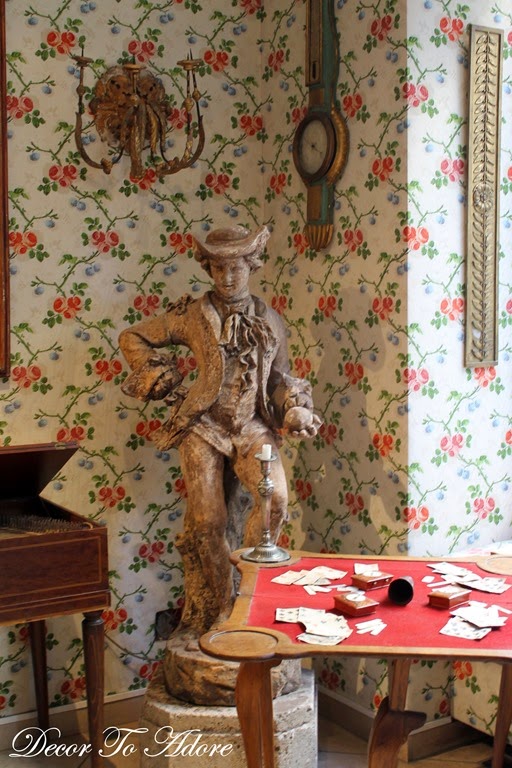 Traveling from Phoenix, AZ the time difference is a total of 9 hours. I find that the best way to combat jet lag is to arrive in the morning, get out into the sunshine and fight the urge to sleep by immersing myself into the daily hustle and bustle of Paris. Then falling into bed early (8 pm or so) the first few nights. So, with a quick shower to freshen up I put on my sneakers, grabbed my camera and hit the pavement. Because of the large number of landmarks in Paris, as well as numerous signs, it is easy to make your way around Paris on foot. Maps are sold all over the city.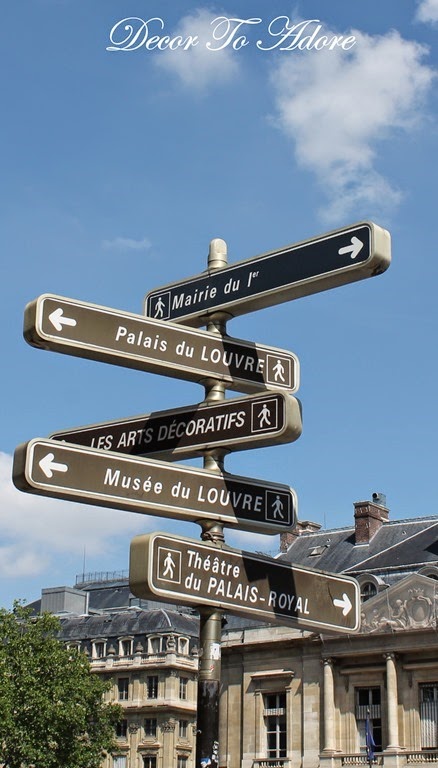 Another great method of transportation is seeing Paris on bicycle. There is a public bike rental system, known as the Velib, with stations found all over Paris. You can rent a bike by the day and leave it at any of the stations. You simply swipe your credit card at the kiosk which is shown below. More information can be found HERE.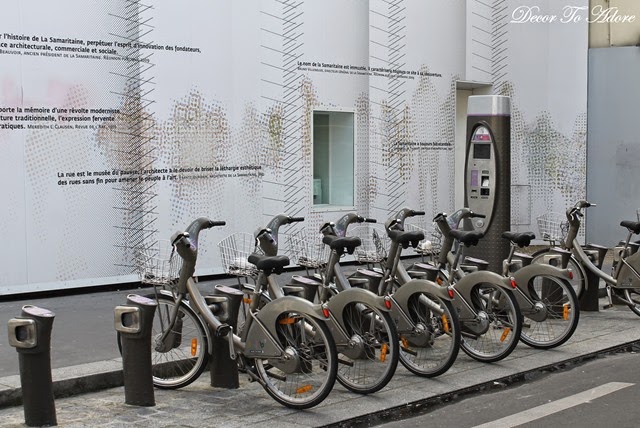 Getting around Paris by bus is possible and both public and private options are available. The system can seem a bit overwhelming at first but the maps and numbering system are well laid out and the benefit is that it is a fairly inexpensive mode of transportation. You can find the route maps, ticket options and prices HERE.
The two last options are my least preferred methods of transport. Driving in Paris can be a bit of a white knuckle experience. Roundabouts can be confusing to a first time visitor as well as the steel nerved maneuvers of French drivers long accustomed to heavy Parisian traffic. Getting behind a wheel is best left to those who have been to Paris on several occasions.
I have ridden the Metro system in Paris numerous times. Again it can be a bit overwhelming to a first time user but once you get a feel for the layout it is quite an easy and inexpensive mode of transport. You can find maps and ticket prices HERE.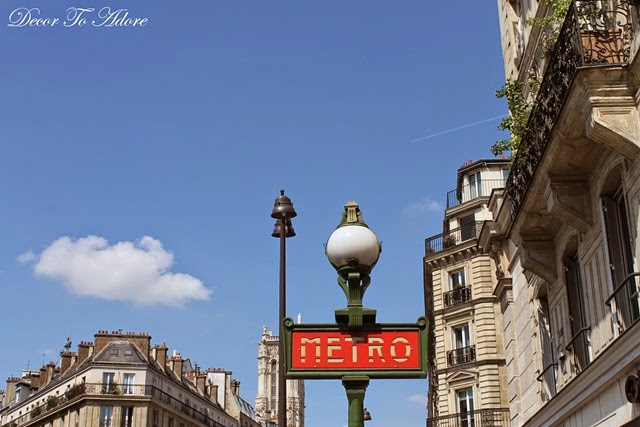 Be prepared for crowds during peak operating hours. As it is a underground rapid transit/subway system on occasion there may be some stations where there are odors present due to individuals who mistake it for a bathroom. Above ground it is easy to spy a station as they are well marked. The first line began on July 19th, 1900. The iconic Art Nouveau "Metro" signs were created by Hector Guimard, a renowned Parisian architect.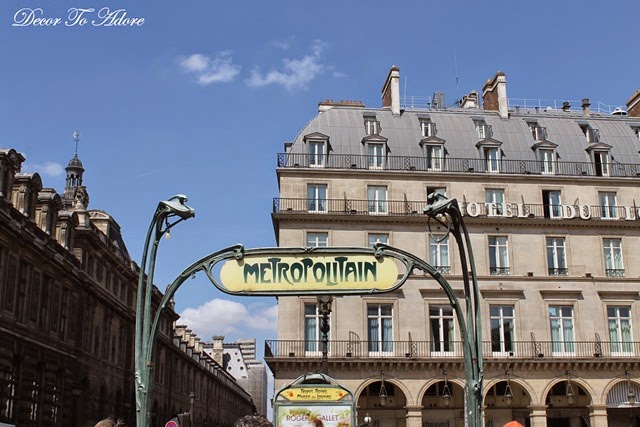 While the Metro is a quick mode of transport you do miss the above ground beauty of Paris which is why, if I have the time, I always choose to walk. It can be almost overwhelming to absorb the visual beauty that is Paris. It is as if each and every building is somehow a work of art. So look up and be delighted.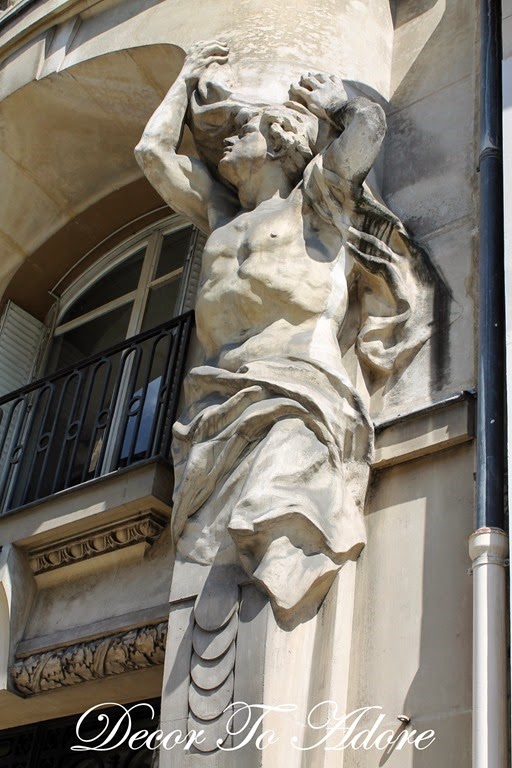 One thing I must mention about walking in Paris is that you must take care. Do not assume that a driver believes that pedestrians have the right of way. Even if the light is green. I always try to use a crosswalk and look both ways carefully before stepping out into the street.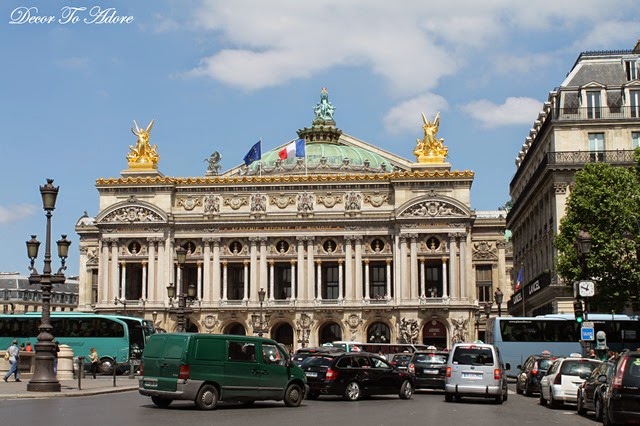 Keep in mind that even if there is a famous landmark or building across the street there might also be something beautiful right in front you.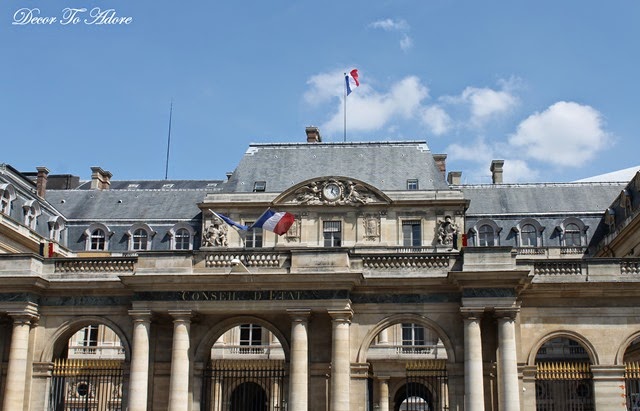 Case in point, across from the awe inspiring Louvre you will find a lovely building, the Conseil d'Etat (Council of State) which is often overlooked.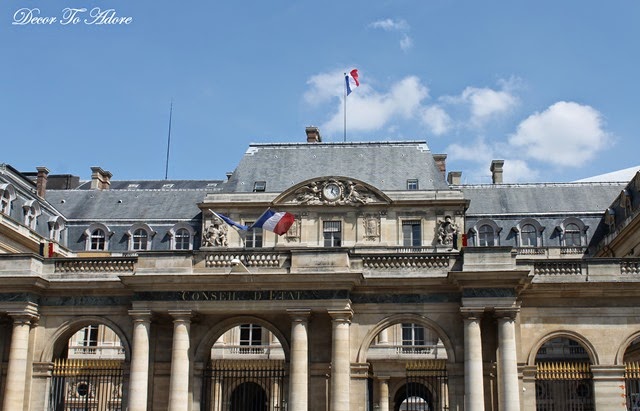 There are many famous churches such as the Neo Classical L'église de la Madeleine (Madeleine Church) which dates to the mid 1700's and is one of the best preserved Roman temples. I smiled at the dozens of Parisians who chose to spend their lunch hour on its iconic steps.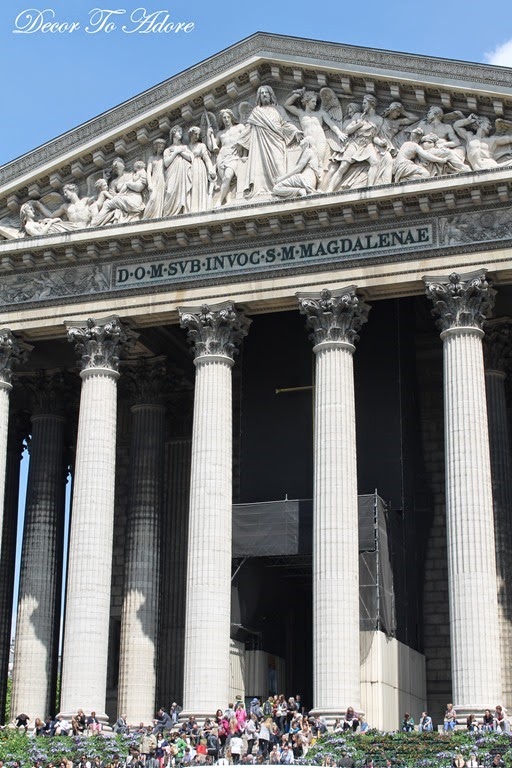 It will appear that there are amazing churches on nearly every street corner.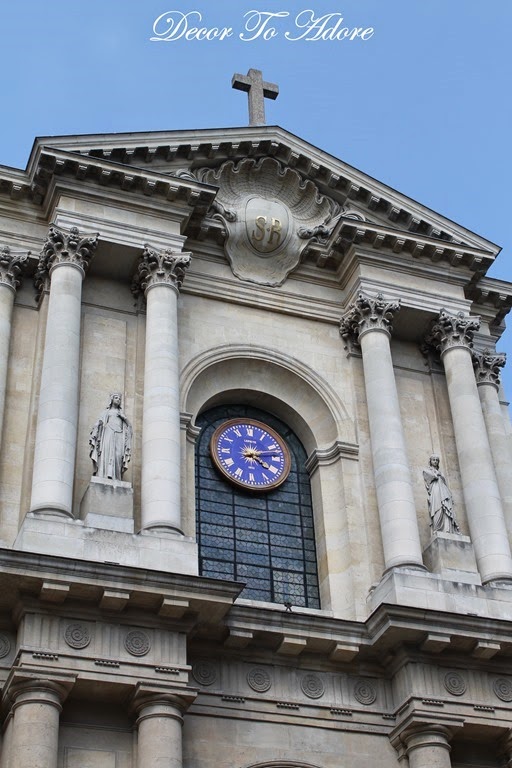 Try to see the interiors of as many as you can. Several are free to enter.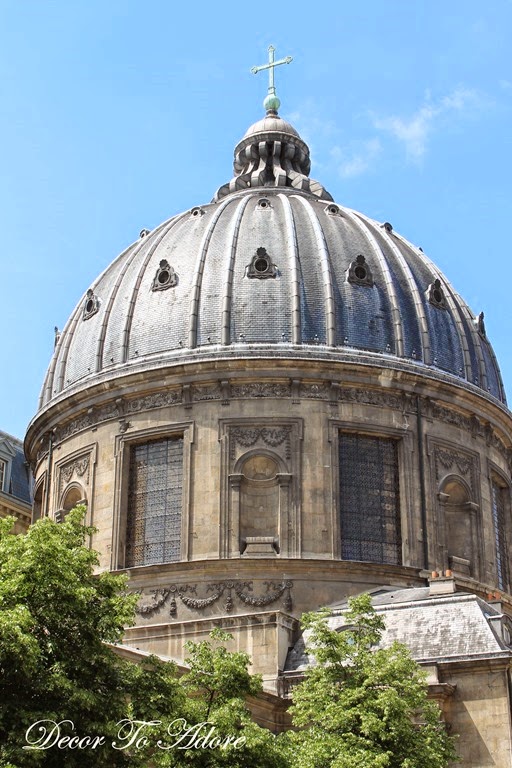 Peek into tiny alleyways and courtyards where you may find a man scrubbing a lovely statue who then insists you take a photo but does not remove his bottle of dish soap and sponge from the scene, only himself and his bucket. (smile)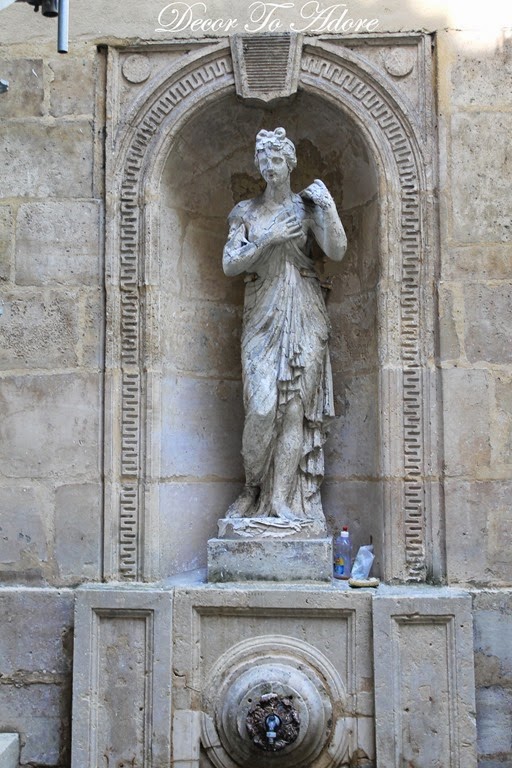 Monuments abound at every center.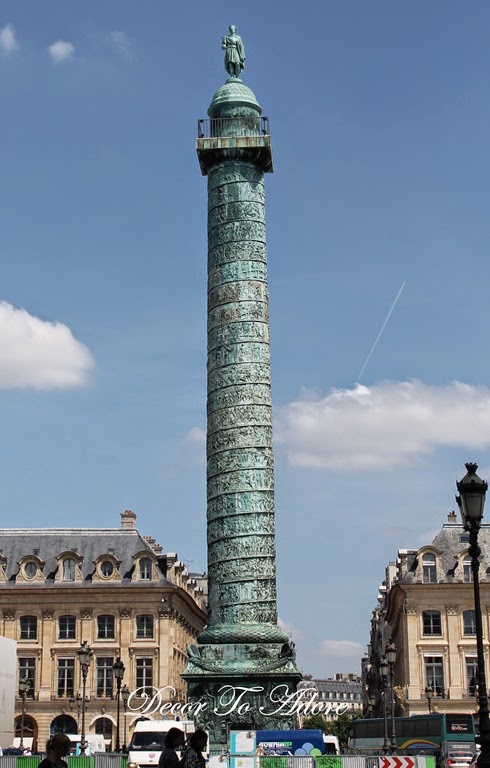 Perhaps Jeanne d'Arc (Joan of Arc) will lead your way back home.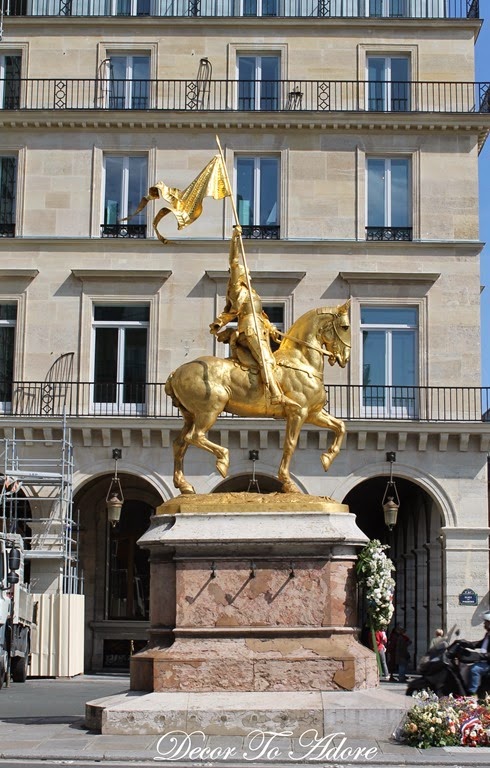 But by all means look up, down and all around! Spy open windows and daydream about who lives within.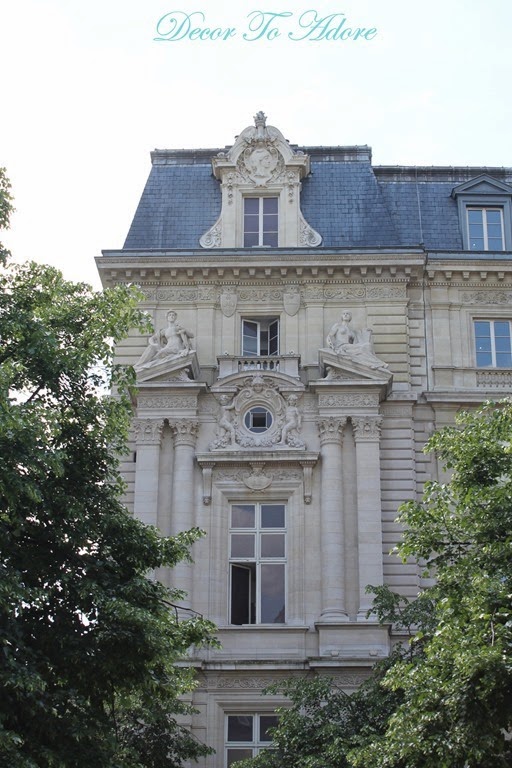 Une vraiment bonne journée!
Laura
Linking to:
Between Naps On The Porch, Classy Clutter, A Stroll Thru Life, Not Just A Housewife,  A Bowl Full of Lemons, We Are That Family,Someday Crafts,The 36th Avenue, Ivy and Elephants, Savvy Southern Style, Katherine's Corner, Posed Perfection,Craftberry Bush,Stonegable, Jennifer Rizzo, No Minimalist Here, Country Cottage, The Shabby Nest,Imparting Grace,My Romantic Home, Common Ground, The Charm of Home,Tatertots and Jello, Funky Junk Interiors, My Uncommon Slice of Suburbia,The Dedicated House