Do you have favorite characters from the bible? I do. One of them is Joseph. Mary's Joseph. Jesus' earthly father. Joseph's Lilies.
In a time when an unplanned pregnancy was enough to bring shame to an entire family, he stood by Mary's side. Even though he knew with certainty he had not fathered the child.
In the harrowing days after Mary had delivered her son he alone was responsible for carrying a postpartum mother and the Light of the World to safety.
Joseph, a Jewish carpenter, raised Jesus as his own and taught him the tools of his trade.
It is not easy to be a stepfather. Let alone a good stepfather.
But Joseph was just that.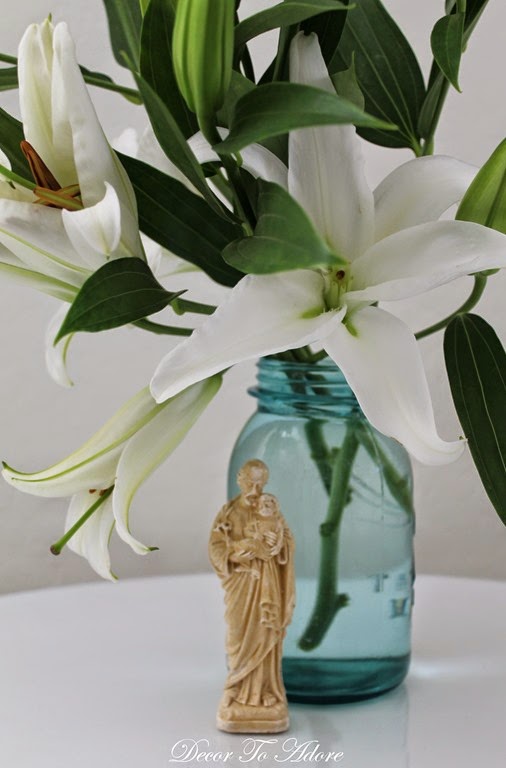 Joseph's Lilies
Recently a good friend sent me a beautiful French antique statue of Joseph holding Jesus. My lovely and thoughtful Catholic friend knew we had been trying to sell our condo without success. She informed me that there was a prayer to St. Joseph, the patron saint of homes, that had never been known to fail if it is said nine mornings in a row. It is advised that when praying the prayer you make sure you really want what you pray for. 
Now I am not a Catholic. I often pray just as if I am having a conversation with God. In trying to sell the condo my prayers have sounded like this:
"Dear Lord, please let someone, perhaps a family, find this home a lovely place that they want to make their own."
"Lord, if it is your will please help us to sell the condo."
To say a specific prayer nine mornings in a row was something new to me. But I thought that it couldn't hurt to try. My efforts went something like this: One day, Two days. Fail. Then one day, two days, three days, fail.
Until I decided I would no longer forget/fail. That day was on Monday, April 7th. I was consistent. The following week was Holy Week. On Monday, April 14th I was looking at the small sculpture of Joseph holding Jesus while I said the prayer. Although I had looked at the statue at least a dozen times before, at this moment I noticed for the first time that Joseph held something else in the crook of his arm: Easter lilies.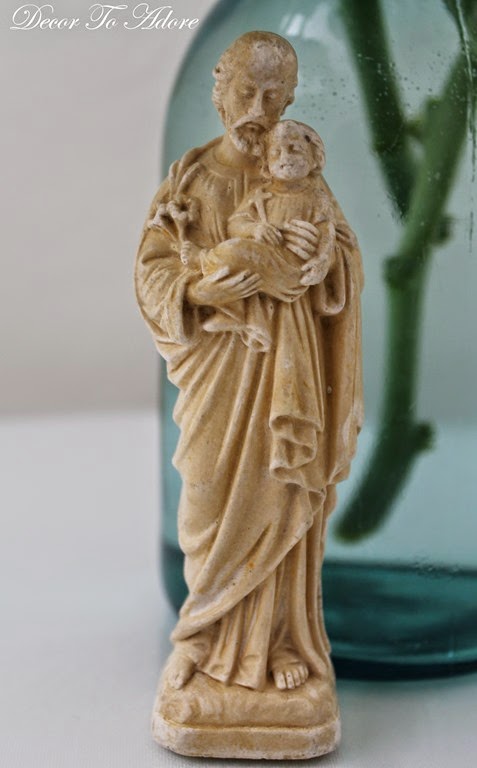 Filled With Peace
Right at that moment, I was filled with a tremendous amount of peace. I knew, without a doubt, our family would receive a buyer for our condo that week. I was so sure of this that if I were a gambling woman I would have bet on it.
On Tuesday, April 15th I said the prayer before heading off to school. I had already decided that even though it was the 9th day I would continue to say the prayer each morning.
I imagine you are already guessing at what happened.
My phone vibrated while I was in French class. Normally I ignore my phone during class but it was our realtor.  
I answered the phone: "We have a buyer."
"YES!" He said, slightly amazed.
The cash sale would go on to be the quickest closing in our agents selling history which resulted in another blessing I will share with you next Sunday. Indeed it was so fast that our family had to spend Easter Sunday packing up what little there was remaining in the condo to meet the deadlines.

My kids didn't get Easter baskets.

Since Mr. Décor was traveling out of state I had spent a tremendous amount of time faxing him the closing paperwork, etc.  I had not had the time. We didn't even color eggs.

But we did have Easter Lilies…

…and what I like to think was a bit of a miracle.

Laura
"Therefore I tell you, do not be anxious about your life, what you will eat or what you will drink, nor about your body, what you will put on. Is not life more than food, and the body more than clothing? Look at the birds of the air: they neither sow nor reap nor gather into barns, and yet your heavenly Father feeds them. Are you not of more value than they? And which of you by being anxious can add a single hour to his span of life? And why are you anxious about clothing? Consider the lilies of the field, how they grow: they neither toil nor spin, yet I tell you, even Solomon in all his glory was not arrayed like one of these." ~ Matthew 6:25-34