As you may know we are updating the condo our daughter lived in while attending ASU. She has graduated so we are now ready to sell it.
We did try to sell it for a great price without updates.  We received the nicest compliments about how clean it was, that it was in good shape, the bathroom was amazing… the only complaints and reasons for not purchasing the property were along the lines of "the kitchen appliances and flooring were dated".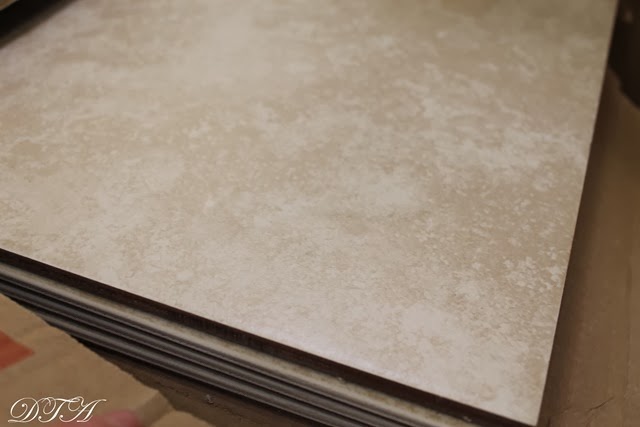 Our mistake was that we had assumed someone would want to purchase the condo for a lower price, appliances included and do the simple updates themselves. I personally would not want pay for someone else's design decisions.
See, blogland makes you THINK that the world is full of DIYers. But the reality is: It's not.
Keep reading to see our newly installed tile.
So we listed the dishwasher, stove, vent hood, refrigerator, washer and dryer on Craigslist. All items were gone within 3 days for a good price and we're still alive.
The appliances weren't that bad in my mind. At least not for a condo that will probably become a rental for college students attending ASU.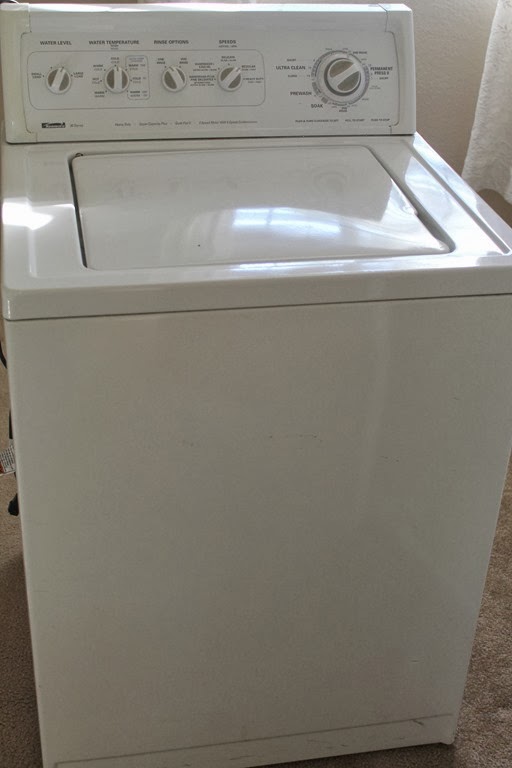 Then we looked around and found a smokin' good deal on tile at Lowe's.
It was priced at just 81 cents a tile. The tile was nice and neutral. Exactly what you would want for a place you are trying to sell.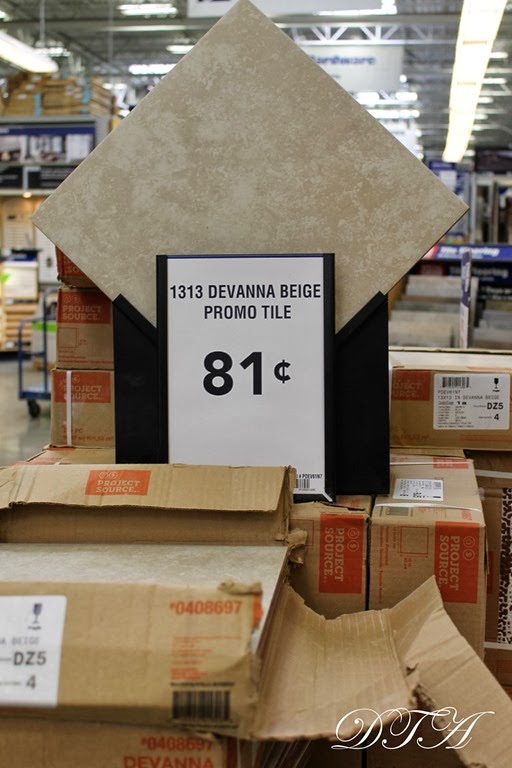 The reason the tile was so inexpensive was that here in Phoenix the most popular size for tile is 18" x 18". This tile was 12" x 12".
TIP! Please consider that no matter what is "in style" the design element of size also known as scale (proportion) should be applied for a CLASSIC or TIMELSS design.
The kitchen in the condo is tiny. Not only would  18" by 18" tile not look right in this space, but in terms of laying out such large tile, with its accompanying cuts, would have made the job much more difficult.
So we loaded up three boxes of tile (There were 14 tiles in each box.) and headed to the register. Lowe's also offers military members a 10% discount. This blessing basically covered the tax and brought the tile down to around 79 cents a tile. The grand total for all the tile was $33.18. Our friend, Mr. Bill, had leftover thinset and grout he graciously shared with us.
Here is the "before" with dated linoleum.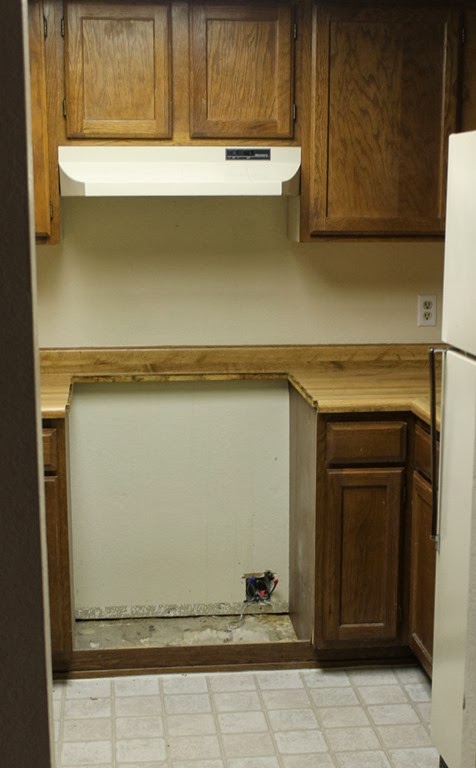 For the kitchen space two boxes of tile were used. Yes, Mr. Décor and his friend, the amazing Mr. Bill, did the install job themselves so this was a huge cost saving factor.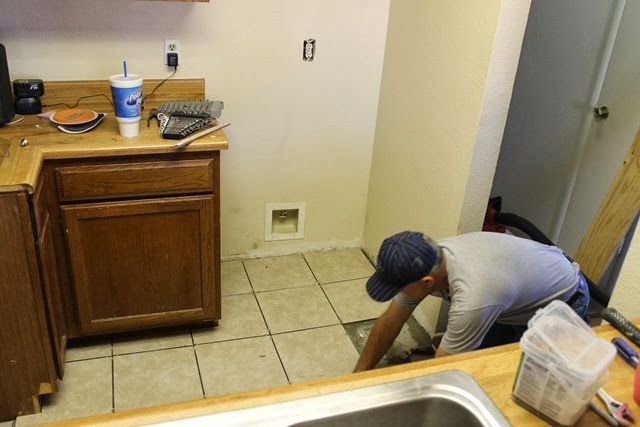 The kitchen and laundry area took them one day to install. Mr. Décor cut the tile and Mr. Bill applied the thinset and laid it down.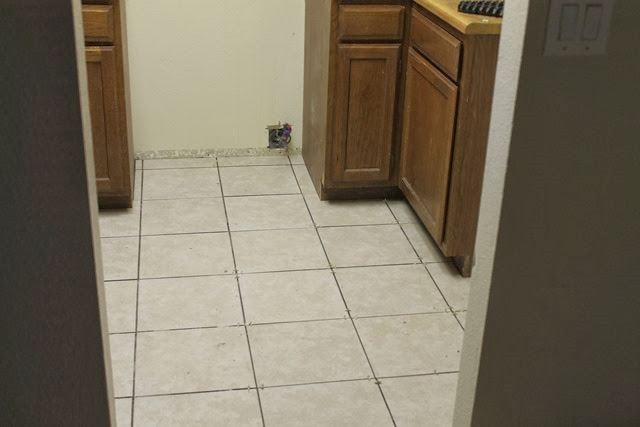 The next day Mr. Décor grouted the tile. Oh he is amazing! I am a blessed woman.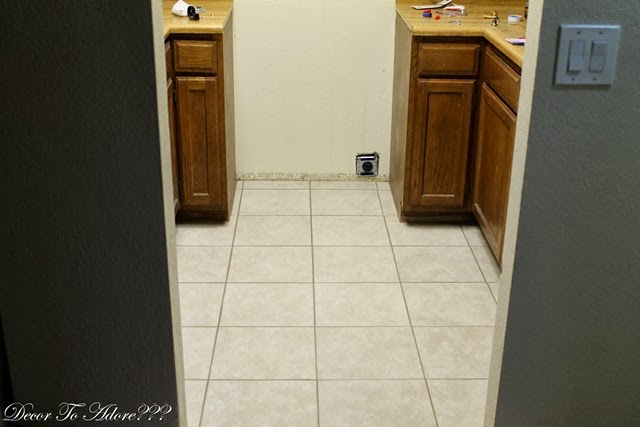 Since we sold the "dated" washer and dryer we opted to rip up the linoleum there as well and put tile down in this space to match the kitchen.
This was the tile before it was grouted. We used basically 10 pieces of tile.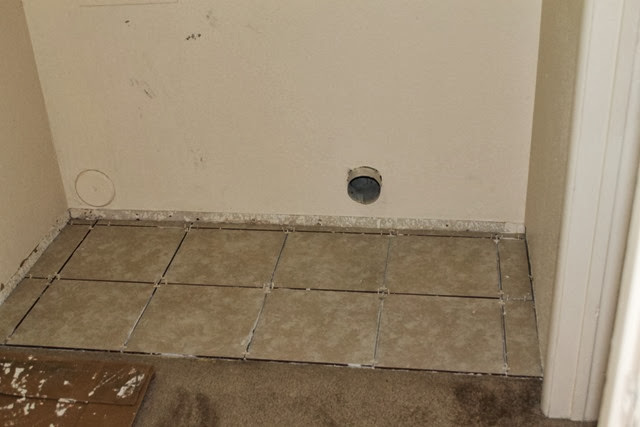 This job was done for less than $10.00 in materials.
If that doesn't give you the confidence to pull the project trigger I don't know what will.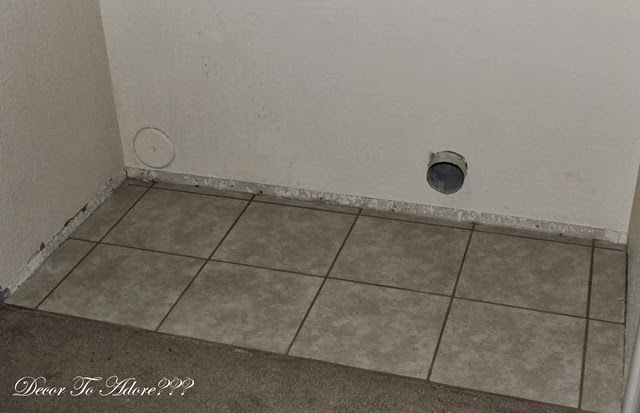 Next on our to do list is replacing the baseboards and steam cleaning the carpet.
Laura