Hi, I'm Bonnie from Living With Thanksgiving. I feel very blessed to be a guest blogger today for Laura at Decor To Adore. Laura's series called "Favorite Five" has been fun to follow. Here are my "favorite five " with spring as my theme.
1. Photography is a passion of mine, however, I am still a work in progress.  Since I began blogging I have made thousands of pictures. Making family pictures is a large part of my photo cache. I love to record family vacations and photograph nearly all the food we eat as well as what we do. People other than bloggers think I'm crazy.
Since, we are all yearning for spring I immediately thought of this photo. It evokes such happiness for me. The French faux bois bench and blooming cherry tree cast it's spell on me in St. Rèmy, Provence. Other favorite photography pics are posted here.
Keep reading for four more of Bonnie's lovely favorites!
2. Traveling: One of the thrills of my life has been the blessing to travel abroad the last few years. There were many "pinch me, is this really me" moments. I don't have words to tell you the thrill I felt traveling through France, England and Italy. The gondola ride in Venice ( pictured below) was exciting and beyond my expectations.  I think of the many beautiful and exciting sights and experiences we enjoyed on our wonderful trips all the time. Thank you dear husband for these beautiful memories. I could go on and on because traveling is quite addicting. You always want to see another place. I am hoping to organize my travel posts soon and do blog buttons to make viewing easier.
Here are links to a few travel posts:  Paris and  Rome.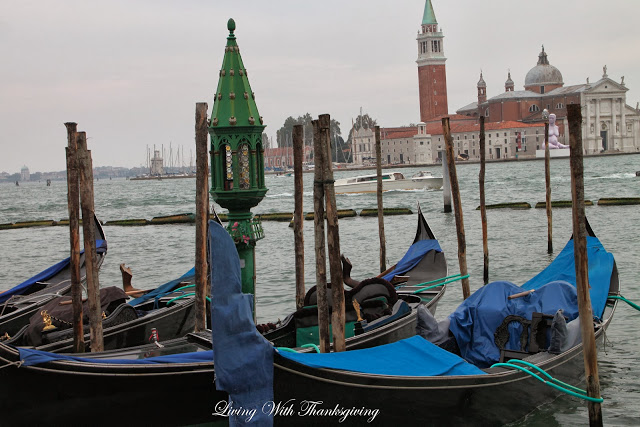 3. Tablescaping: My first blog post was a Thanksgiving tablescape which evoked the name of my blog~ Living With Thanksgiving. I love to "play in the dishes" as I've heard it called. Again, it is hard to pick a favorite. It would be fun to see which tablescape  you would pick. Thinking spring, I will share this one: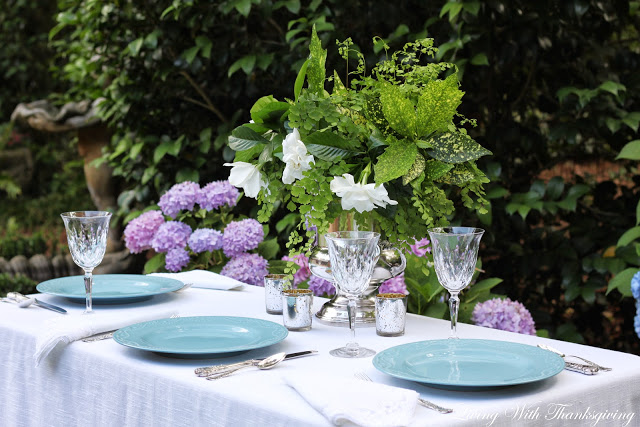 4. Gardening: I enjoy gardening and it has brought me great joy and satisfaction.  My garden is primarily a shade garden dictated by my location. I love all flowers but hydrangeas and camellias are high on my list. I enjoy being in a local garden club and was glad to have the opportunity to complete the master gardener course a few years back. This is my hydrangea garden below.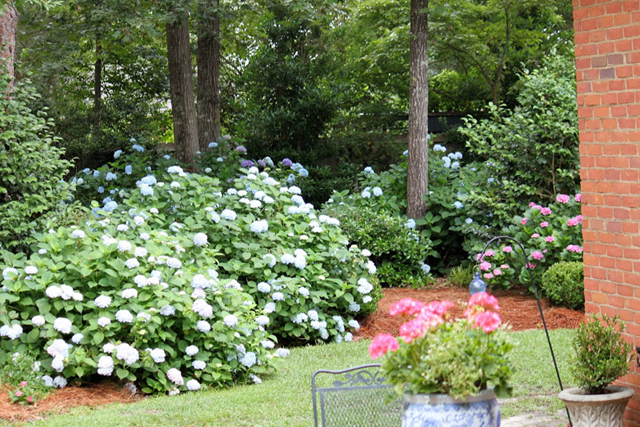 5. Flower Arranging: I have so many vases I am running out of room to store them all.  Selecting just the right vase and arranging flowers is therapy for me. It is a delight to cut flowers from your garden and fashion an arrangement to enjoy in your home. When you have a vision for something and it turns out well, it is very satisfying.  I get my love of flowers from my mother and remember fondly how every flower thrilled her. The image below is from this post.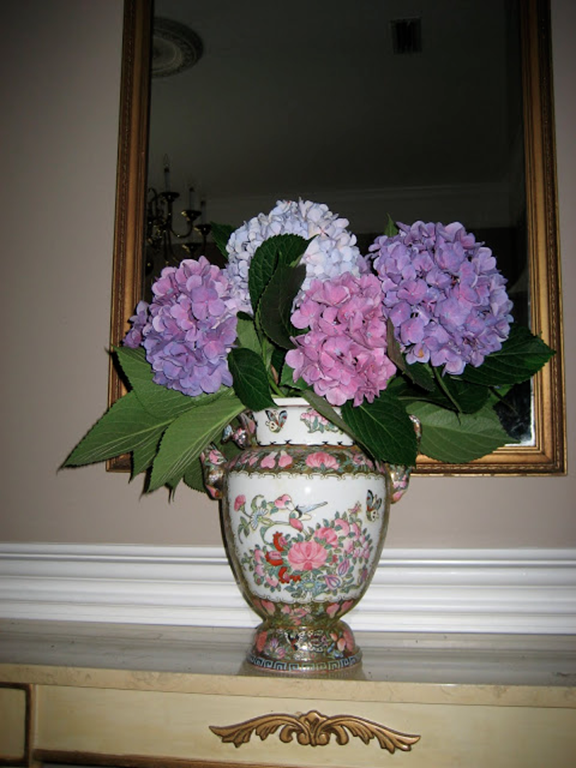 Do you see how each interest of mine plays on each other? I love to grow flowers, arrange them for centerpieces and preserve the memory with a photograph. I  enjoy traveling and never tire of making hundreds of pictures of each destination and every family outing. Therefore, blogging is a large part of my life sharing with those that share similar interests. Thank you Laura, for inviting me to be a part of Decor to Adore today. It was an honor.
Bonnie you are truly a lovely rose in my garden of friendship!
Laura