Today I would like to introduce to one of my dearest and longtime blogging friends, Lorrie. We share a love of France and its culture, lovely handcrafts, fantastic novels and beautiful gardens. Her primary blog is Fabric Paper Thread. She also has three other blogs. One of my favorites is her cooking blog, Pass To The Left.
Without further adieu, here is Lorrie. 
I fell in love in Grade 8. It was sudden and sweet and the love has grown over many years. It happened in French class. I loved learning the French language. I had wonderful teachers in high school (other than Grade 12) who inspired me to keep learning, not only French grammar and vocabulary, but French culture, too. There's much to take away from other cultures. Here are five ways to add a bit of French flair to your home and lifestyle.
1.  Lavender. Delicately scented lavender sachets and dryer bags can provide a whiff of southern France. Lavender grows well in my garden and I clip and dry it each summer. I like to mix it with dried rose petals and other herbs like mint and lemon balm to temper lavender, which can be a bit astringent at times. Stitch sachets from pretty scraps of fabrics and use them in your linen closet and dresser drawers. Add a ribbon loop and hang a sachet in your clothes closet.
2.  Set a pretty table. One hallmark of a French lifestyle is using things like table linens for a long time. Linen and cotton last a long time and don't stain as easily as polyester fibres. Stains are more easily removed. Linen can be expensive, but is hard-wearing. I have some linens given to me by my mother-in-law which ranges in age from 60 to 100 years old. I use them regularly. Linen needs to be ironed to look crisp, but if you don't have time, the rumpled look has its own charm. I look for damask linen (Irish or French) napkins and tablecloths at thrift stores. Use your crystal, china, stoneware, silver or stainless steel. Mix it up. Simple and elegant.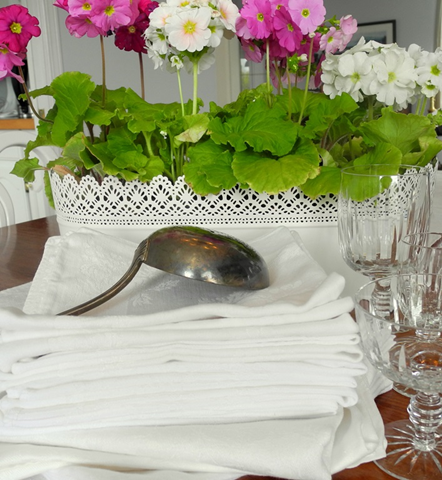 Keep reading for three more of Lorrie's gorgeous favorites.
3.  Fresh herbs. If you, like me, live where rosemary and thyme grow year round, consider yourself blessed. If not, some herbs will grow indoors in pots. Learn which herbs enhance a dish by long cooking (rosemary, thyme and sage) and those which add that certain "je ne sais quoi" when snipped on top just before serving. I also enjoy having cut herbs in water on my windowsill. Mint is beginning to make an appearance here. I cut some to put into my water and tea.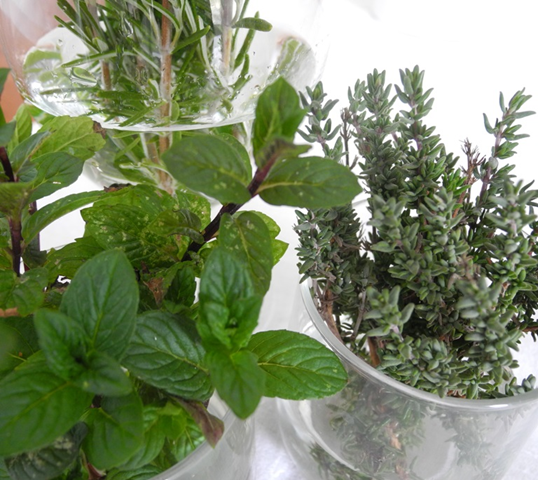 4.  Make the useful beautiful. If you keep kitchen utensils in a container handy to the stove, put them into a painted Provençal jug, an old silver pitcher, or an earthenware piece whose lines and color please your eye. The plate wall above displays plates I use from time to time. I just pull them off the wall, wash them and serve from them. Open shelving, a pot rack, baskets to hold linens or glassware – the utilitarian can be lovely.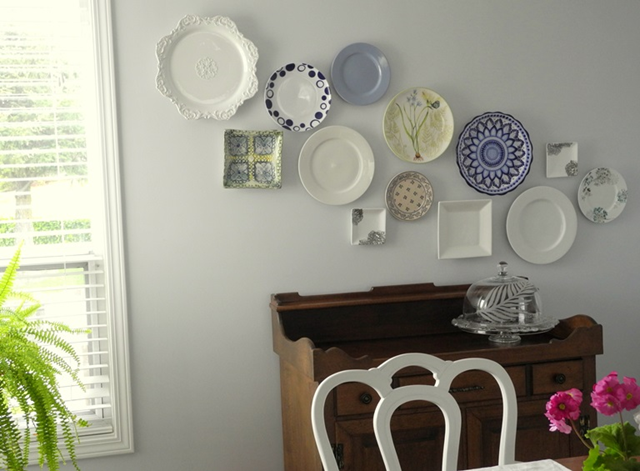 5.  Attend to the details. You might want to add some French words to your home. I'd advise finding out what they mean. I was in one home where someone had beautifully photographed a sign in Paris, then enlarged and framed it without knowing what it said. It said "Sewer Tours." Just saying. Iconic French symbols such as crowns, fleur-de-lis, sunflowers, bergère chairs, menu chalkboards and more can all contribute to the layered look in a home that welcomes people and reflects your style.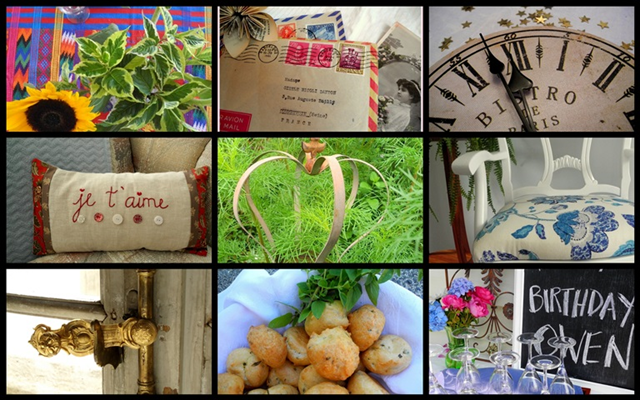 In the end, isn't that what home is all about? Making people feel at ease and loved. A place where you are comfortable, whether you love French, English, American, or Canadian decor. Let your home reflect you.
Thank you, Laura, for allowing me to be a guest contributor on your blog.
My hope is to someday meet Lorrie in person at her home on Vancouver Island, Canada and tour the famously lovely Butchart Gardens together. Lorrie shares images of this delightful place from time to time on Fabric Paper Thread.
Laura