I recently spent an afternoon pulling out my best china, crystal and, silverware. The tablecloth and napkins were freshly pressed. All of this was done with love in my heart and the desire to capture a bit of romance from days gone by. Here is the Victorian Valentine Tablescape.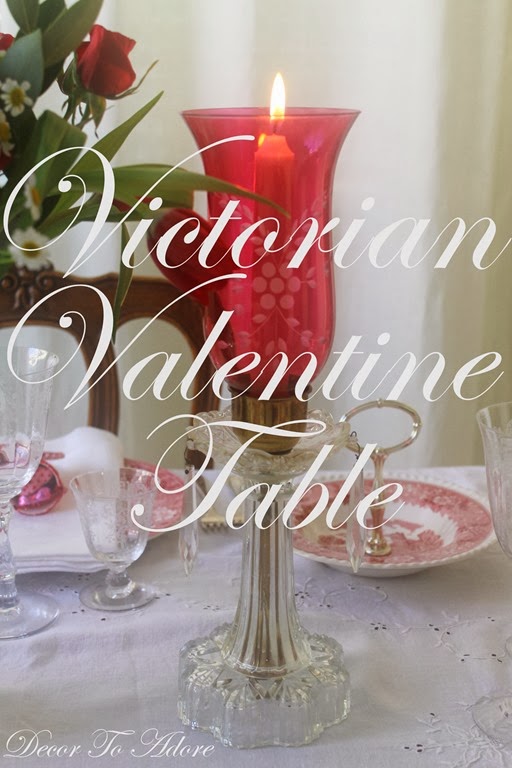 Victorian Valentine Tablescape
The Victorian Era was the height of decorum and etiquette. A well schooled hostess would know the proper placement of a vast array of serving utensils, dishes, cutlery, and glassware.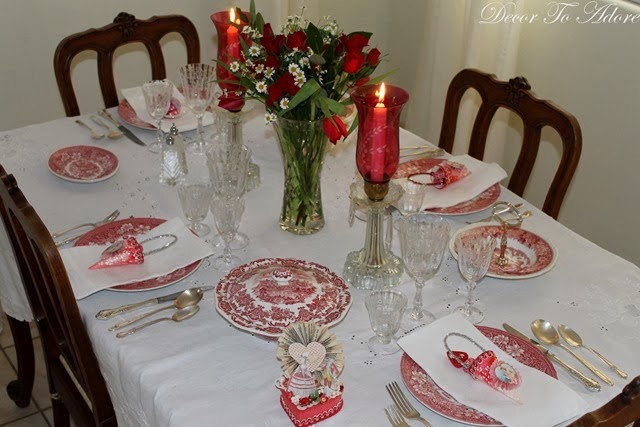 Electricity was not installed in the majority of American homes until around 1920. The abundant use of white linen, crystal, and silver was prized not only for its beauty but also for its reflective abilities of candlelight.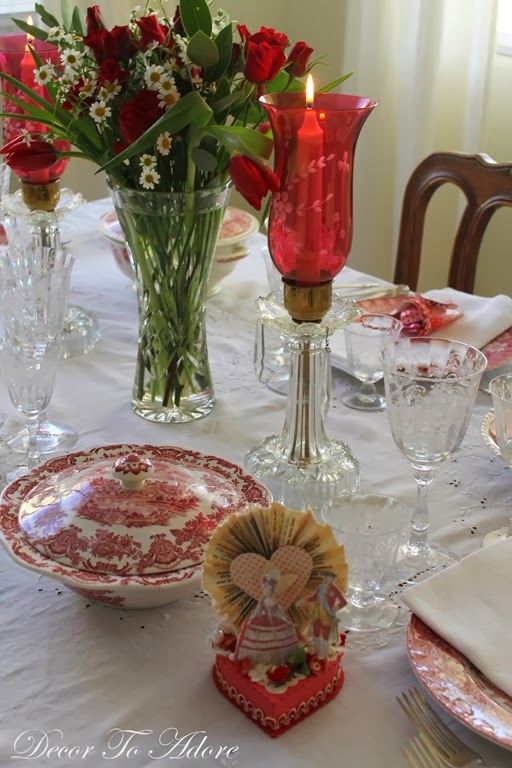 A lady often had a silver pattern that was easily distinguishable as "hers". Family silver was talked about in hushed tones and kept under lock and key in wool flannel drawers to prevent tarnishing.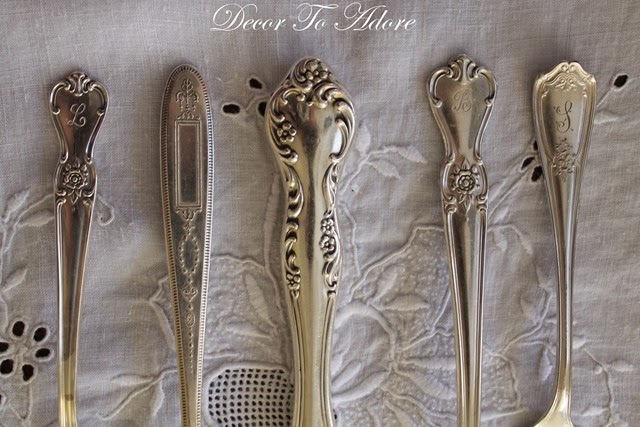 This layout would have been for a simple meal. A breakfast or lunch. Dinner might include additional plates, bowls, glassware, and silverware.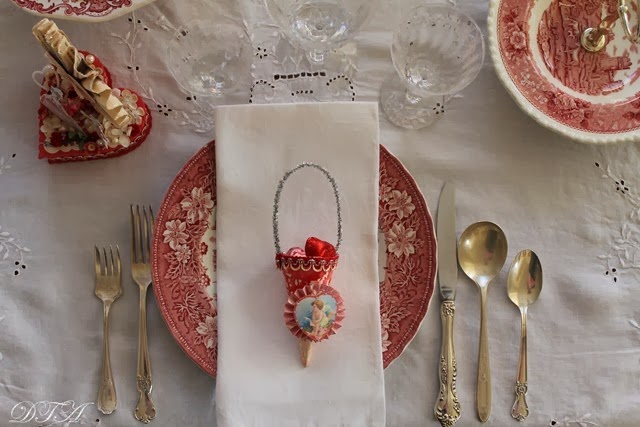 Also known as an era of romance it was not uncommon for small books of poetry, individual nosegays, and chocolate to grace each place setting. Each would have been selected based on the level of the relationship. Everything had a special meaning.
(You can find the Victorian Candy Cones HERE.)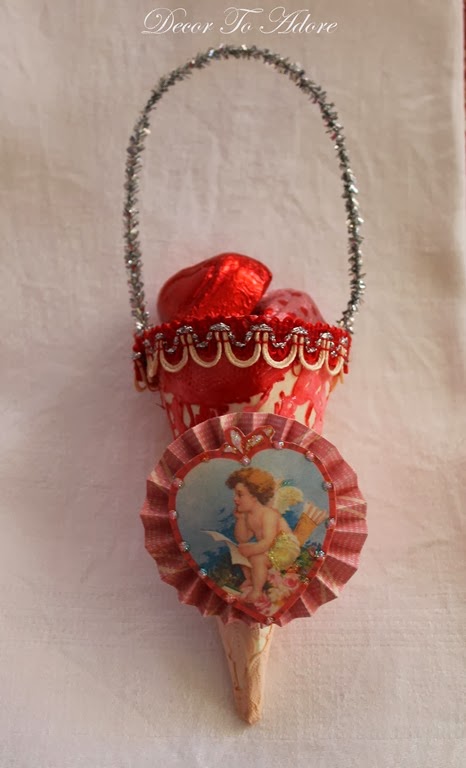 A proper Victorian housewife would grow a beautiful garden filled with the flowers of her choice. It was an elegant pastime to cut and arrange flowers. Many books were written during the Victorian era on the language of flowers.
Red rose = romantic true love (selected for Mr. Décor)
Daisy = innocence (selected for the Fashionista as it is also the flower of April, her birth month)
Tulip= believe me (for Sweet Guy who always asks, "Are you sure?")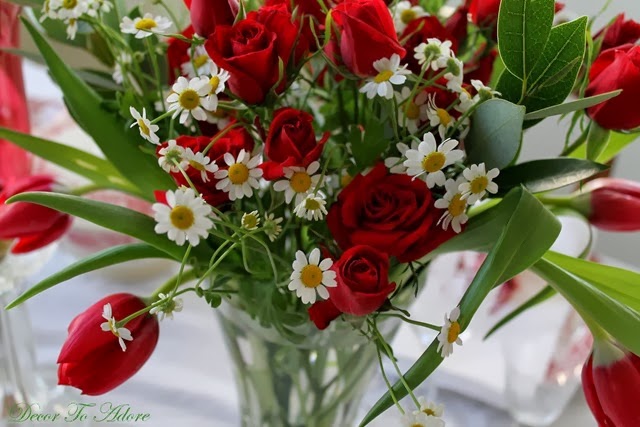 The stars of this table would have to be the pair of antique cranberry glass candlesticks. They belonged to Mr. Décor's great Aunt Mildred and were given to us by his mother. They are missing a few crystals but are still dazzling none the less.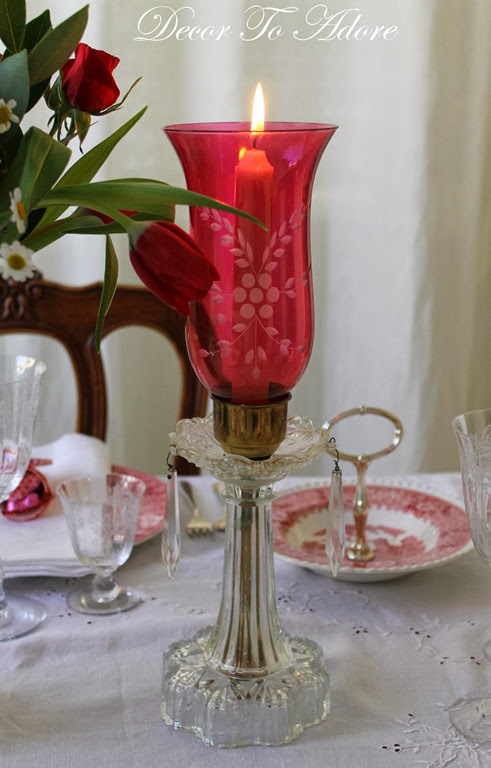 What would your flowers say?
Laura