Today I am super thrilled to be guest posting at my dearest friend Laura's blog~ Décor To Adore. She has a new series called "My Favorite 5". Wow, I have about a million favorite things, so trying to pick just 5 is really hard but here's what comes to mind really fast.
#1 I love creating different vignettes. You know that if you follow me on my blog A Stroll Thru Life. I am constantly changing things. Right now my current passion is gold and silver. Since I found some really terrific buys after Christmas, of course I had to play with them. You can see how I put this together here.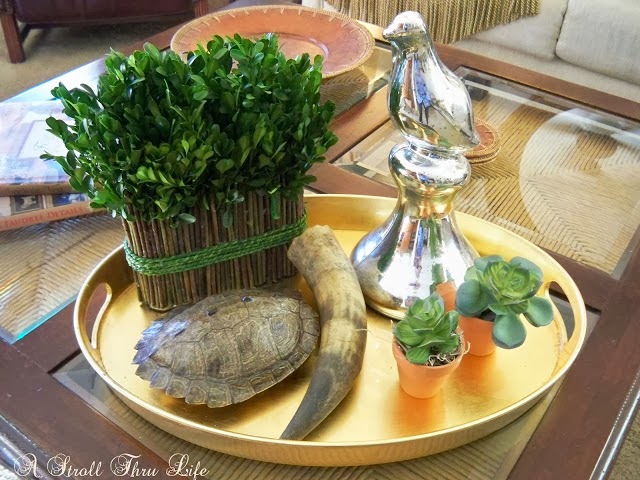 #2.  Bargain shopping at Thrift Stores and Goodwill.  I find some of the most amazing things at my goodwill and it has probably become my favorite store to shop.  This past year I found my favorite piece of all, a gorgeous French Chair.  Just a little TLC and it looks totally amazing and for $15, how could you possibly go wrong.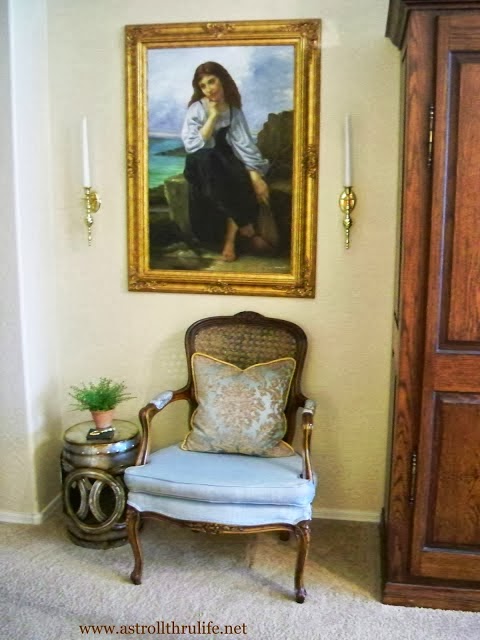 #3.  A total room makeover.  When you have a builder basic bland home, trying to add a little character on a very tight budget is just a little overwhelming, but if you pull it off, wow, that is amazing.  Our hall bathroom was due for some love and a facelift was all that I could afford, but I am so pleased with how it turned out.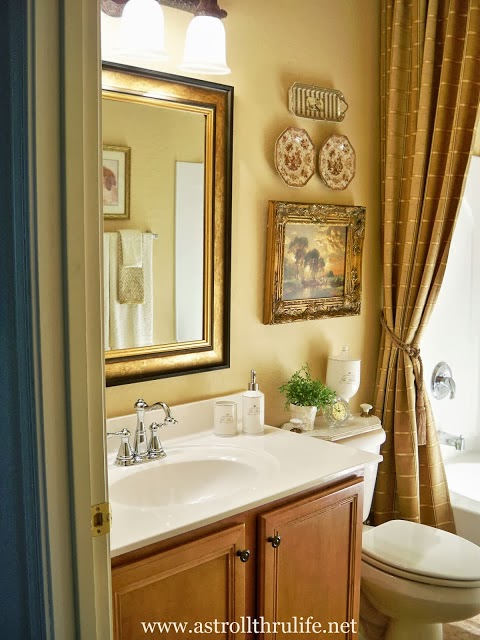 #4.  Finding just the right piece at a thrift store and totally remaking it.  Redoing our master bedroom with thrift store finds was a challenge, but turned out exactly like I wanted it.  The headboard was the piece that established the style and painting it made it the focal point that I needed.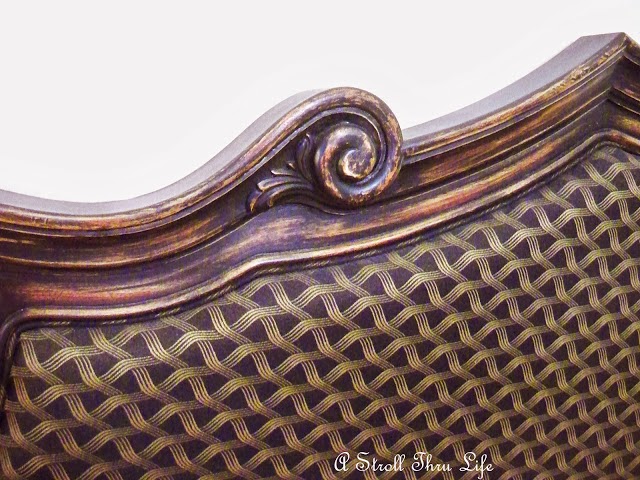 #5.  Getting together with Blogging Friends.  I am so fortunate that I have been able to make some really wonderful friendships with other local bloggers.  We get together often and have so much fun.  I truly cherish these times more than I could ever say.
I consider myself very blessed that I not only get to enjoy Marty's fabulous blog but that she is also a dear and true real life friend. Marty, thank you so much for sharing with us.
Next week we will have Cindy from Applestone Cottage.
Laura