This is my favorite time of year to shop for winter clothes. All of the shops are trying to clear out their excess merchandise before they begin the process of inventory. I received emails from most of my favorite stores announcing that their clothing and accessories were marked 40 to 70% off the sale prices.
I was very blessed to have received a few gift cards at Christmas. They totaled $100. I wondered just how much I could stretch them and patiently waited for early January before heading out to spend them.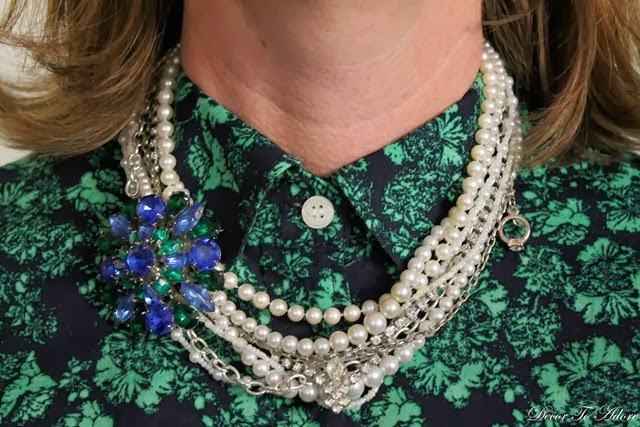 First things first: I went through my closet and made a list of what I was lacking or hoping to add to my wardrobe. I definitely have a shortage of casual clothes. This was quite evident last semester at college. It is hard enough to fit in at my age but even more so while wearing "slacks and a sweater set".
Experts say that if you have worn a trend decades before you then you should pass it by when it occurs again. I thought maybe, just maybe I could get away with a look I loved in the 80's~ skinny jeans. Who remembers Bongo brand with their ankle zippers? 🙂
I quickly realized that this time around my body, now post two babies, would require a "curvy" fit skinny jean. Now that is an oxy moron if I have ever heard one. I love a good dark wash and actually found these jeans at Target. They were on sale and I used my red card so they came in at $20.
The shirt style is "The Perfect Shirt" by J. Crew and boy is it ever. I think I have 3 or 4 of these shirts in various prints. They are truly terrific quality, made of 100% cotton and hold up wash after wash. It's not a wonder they start at $69.  This navy and green gem was marked down to $29.99 and was an additional 50% off. It also looks cute under a sweater. On this day I paired it with several vintage necklaces and my Grandma Jingles' broach. A pair of green Anthro flats from the 2012 sale season are still going strong. Quality does count.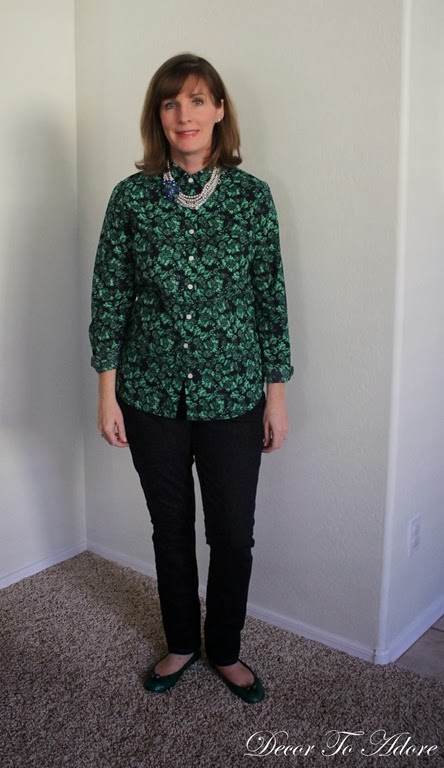 I also wanted colored skinny jeans. I found this gray pair at Ann Taylor Loft. They were marked down to $29.99 with an additional 50% off. The cozy sweater was from Anthro. I am blessed that my daughter works for the company and a few times a year they offer a friends and family special of 40% off everything including sale merchandise. So the sweater ended up costing around $29.99. It had been in the $100 range.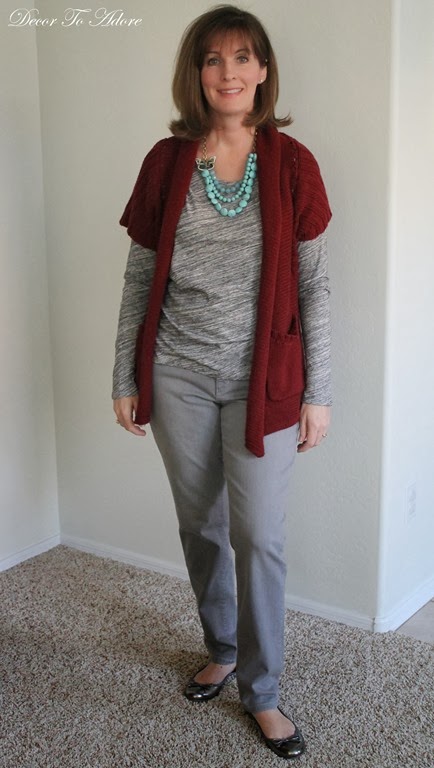 The 100% cotton t shirt was also a Loft find. I loved that it was cut on the bias. I think the diagonal lines give it a bit of fun interest. It was $10. The Fossil necklace was a previous steal. You can't see clearly in this photo but the turquoise has "veins" running through it that are the color of the sweater which ties it together while adding happy color to a very neutral base. As I have gained a bit of weight recently (stress eating) a neutral base helps to shift the focus from my mid section to my face.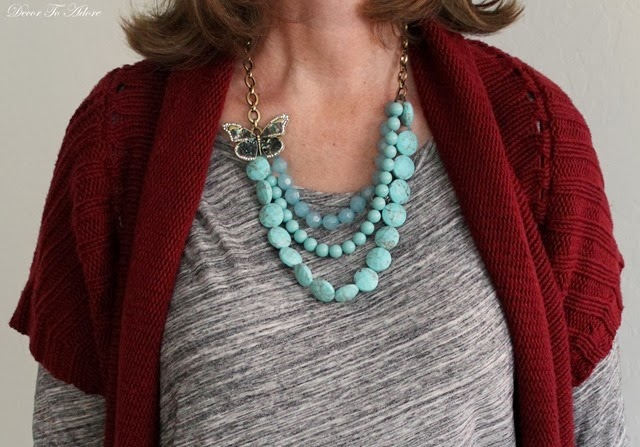 The ballet flats from Banana Republic are fantastic. I have been wearing my soft gold pair at least twice a week. They are made of soft, dreamy leather and hold up really well. Again, this is an item that starts at $98. I found these "gunmetal" flats marked down to $40 with an additional 50% off.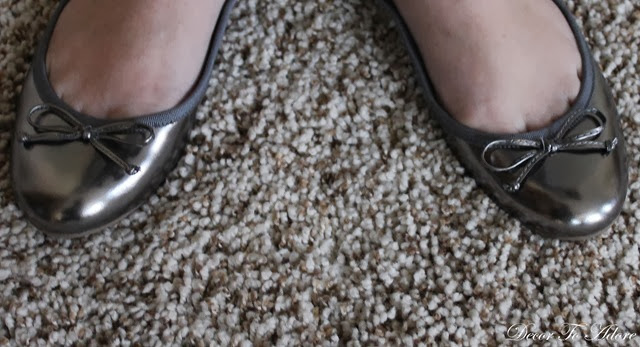 I guess you can tell I really love these jeans and flats!
With my gift cards running low I checked my shopping list and saw that I still needed a navy blouse. I ventured into Madewell. I love their clothing as it tends to be fairly classic and is indeed made well.  This 100% cotton blouse was originally $98. It was marked down to $29.99 with an additional 50% off. 
I wore it on this day with a navy sweater but wanted to show that is short sleeved. So, it will probably show up in the spring perhaps with a skirt. Wouldn't yellow or red be fun?
The best part is the embellished peter pan collar. It buttons up the back.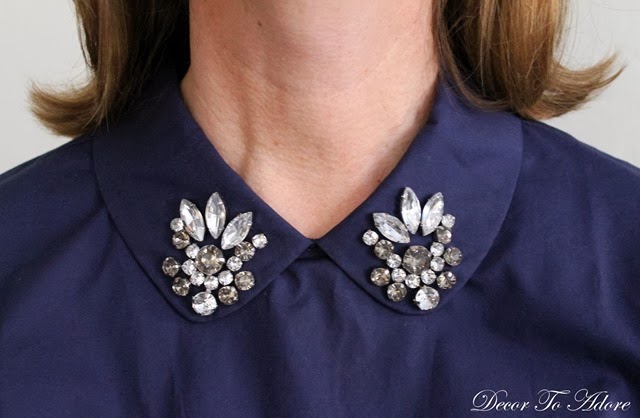 So after my $100 gift cards I ended up only spending $25 for two pairs of pants, three shirts, and a pair of shoes. Now that is day well spent!
What bargains have you found?
Laura
Linking to: