Happy Monday! How are your holiday preparations shaping up? Do you need to know How To Write A Happy Holiday Newsletter?
Early last week I posted the following message on Facebook and Twitter:
"So I have all of my Christmas cards addressed… but I fed my kids' ramen for dinner and the piles of dirty clothes blocking the laundry room might be a fire hazard."
That single sentence brought on a lot of laughs and inquires as to what type of card I was sending out this year.
I usually purchase approximately 100 Christmas cards the day after Christmas when they are deeply discounted. For some reason, I did not do this last year. As we are on a strict budget I put my thinking cap on and thought "I will do a year in review letter!"
How To Write A Happy Holiday Newsletter
There are numerous free holiday newsletter templates available online, and Pinterest.
I have to tell you, I am hooked on holiday newsletters! Several days used to be spent signing cards and drafting a letter. I created and printed out the 2013 Gunn family year in review in less than two hours.
You can import the template into word perfect and used various fonts and colors to create a festive and frolic greeting.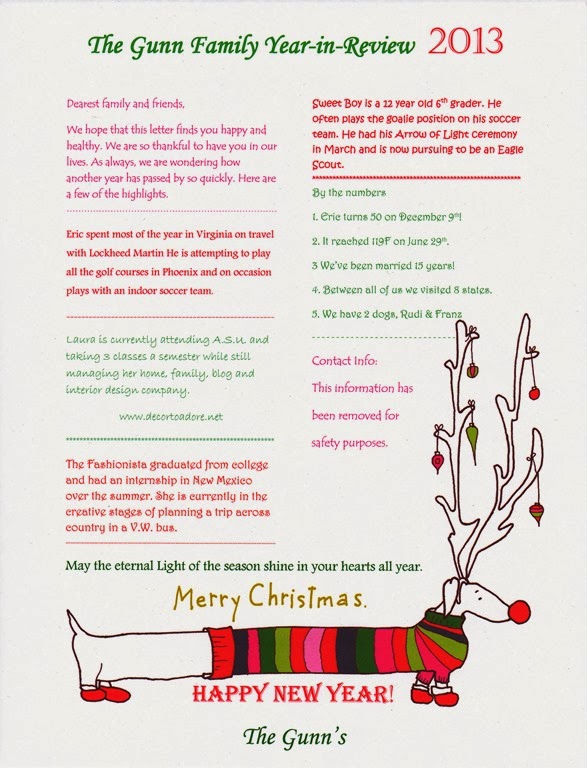 I mailed the newsletters off last week and the response from our friends and family has been fantastic!
Here are a few tips when writing your own newsletter.
1. Keep it merry and bright. Think "highlights" avoid "lowlights".
2. Involve your family. One night at dinner I asked each family member what they wanted their section to say.
3. Be humble. A few lines about each family member are all the average recipient wants to read. Any more and it may come off as boasting.
4. Try to keep it to one page. It makes for easier printing, folding and ultimately reading.
5. Send your newsletter to only those who know your family well. We're going to send a handmade card to teachers and neighbors.
6. If you opt to include photos remember that just a few are fine. Any more and it becomes an album.
Lastly and most importantly…
7. Make sure you proofread your letter. Spell check is a great tool to use as well.
Here are a few favorite newsletters that inspired me.
Clicking on the image will take you to the original site.
Our greetings were mailed out in red envelopes I found at the Dollar Store and sealed with a bit of green and white striped washi tape. I used these stamps. Is it just me or does The Blessed Mother Mary looks a bit weary this holiday season?
Are you sending out holiday greetings this year?
Laura