So once again here was the ugly builders grade lighting that I wanted gone since we moved in last year.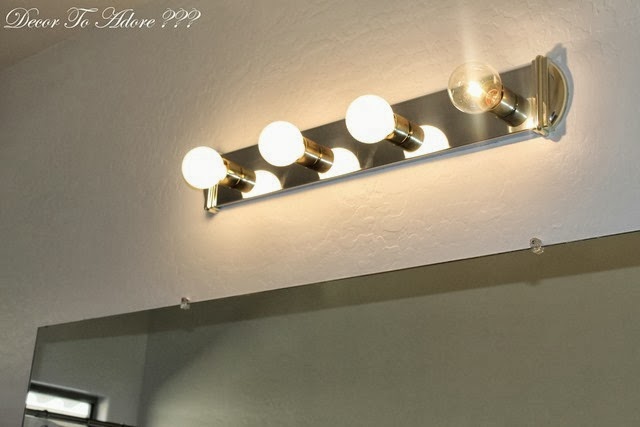 We used three simple tools in our removing process. A 6 in 1 painters tool, a Phillips screwdriver and a small flat head screwdriver.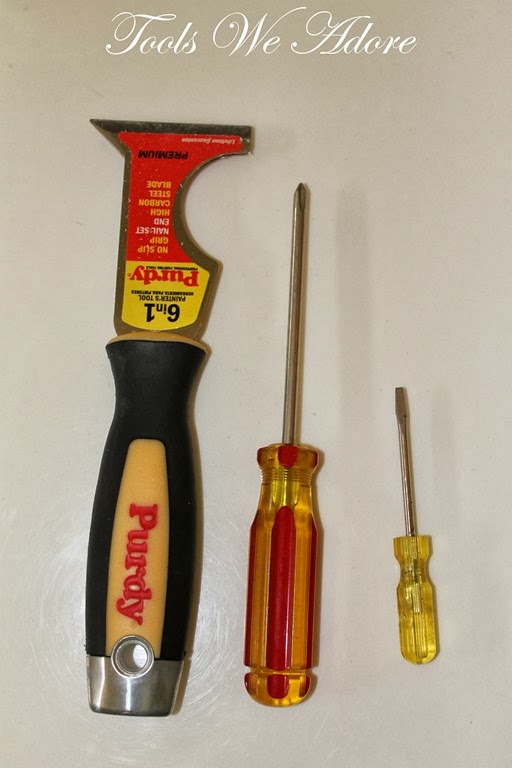 First and MOST importantly turn off the electrical power to your lighting source.
Then and only then, remove the light bulbs.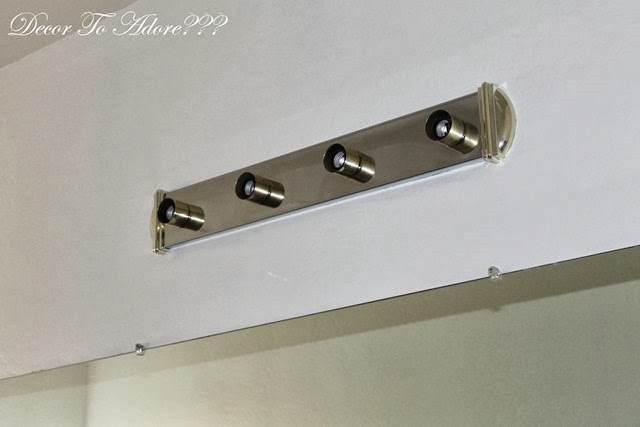 Twist off the ugly brass caps.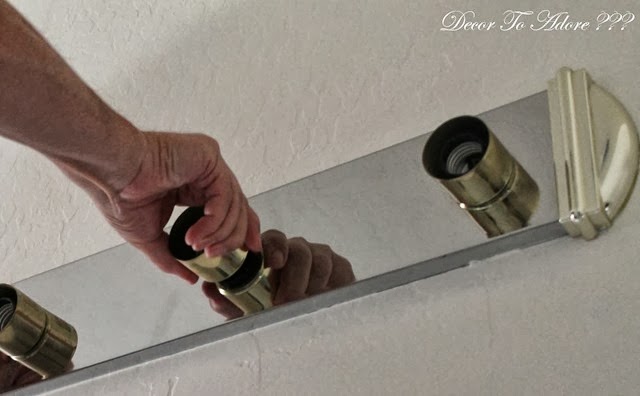 You might need to tug a bit as they do have "teeth".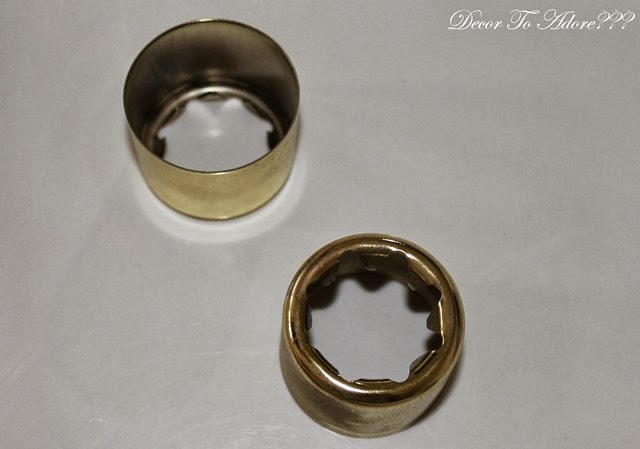 There is a good possibility the previous owners did not properly tape off the lighting fixture when painting so you may need to break the paint seal by running the flat head screwdriver along the edge of the lighting fixture.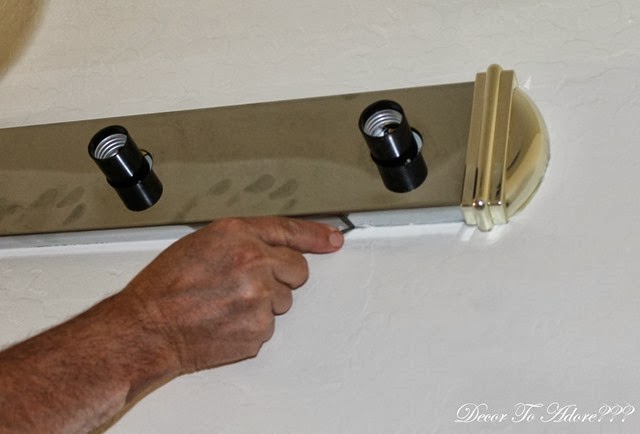 Then it should pop right off with a gentle yank reveling the electrical wiring underneath.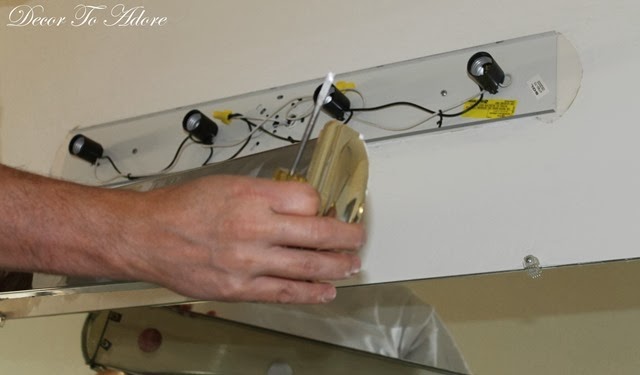 You can see the yellow cap that will twist off and reveal the wiring once the cap is off.
Also, make note of the two silver screws that hold the lighting bar in place.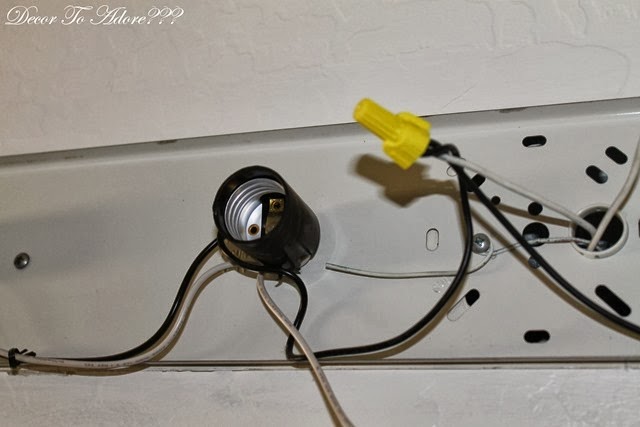 Separate the wires. Then remove the screws and take the bar down.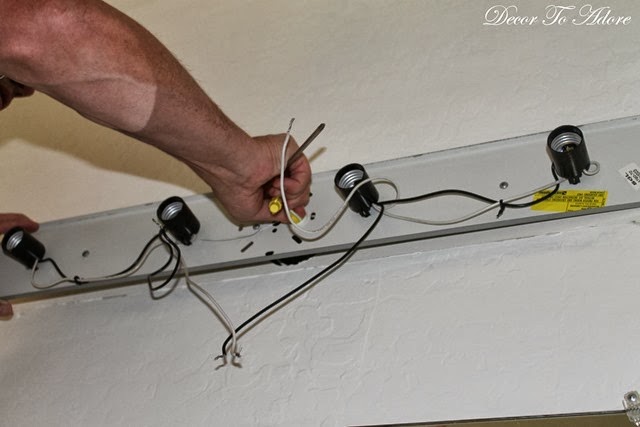 For safety purposes we put the yellow cap back on over the wires. You can see the two large holes left by the screws.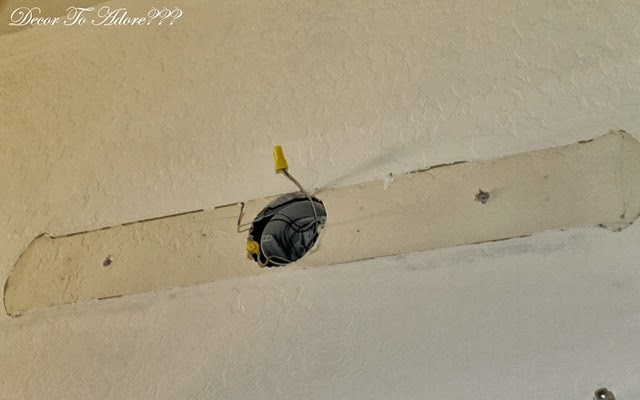 There was also a good build up of paint that needed to be scraped off. We filled the wall holes with putty and let them dry overnight.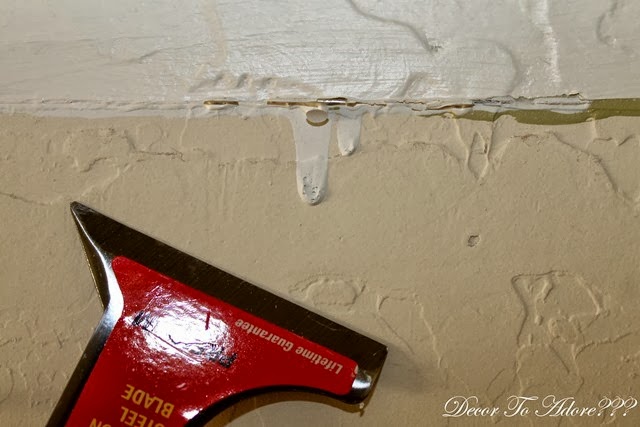 The next morning the entire surface was lightly sanded with a painters sanding block.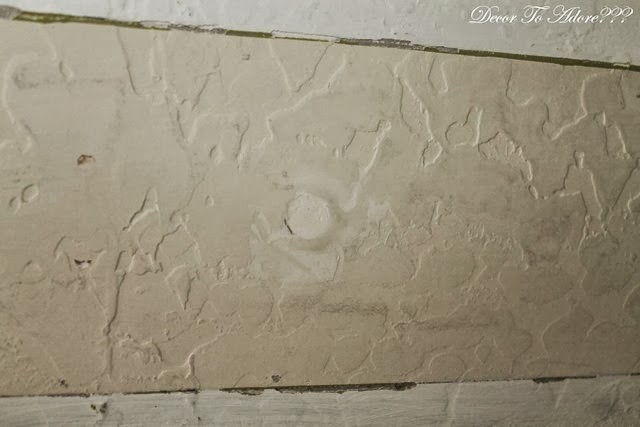 Creating a big mess below.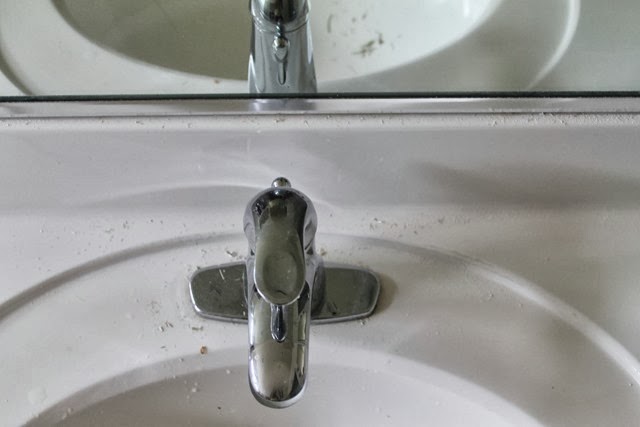 After painting the wall area and cleaning up the mess we opened the box that held the new lighting and took out the crossbar. It holds the new lighting in place.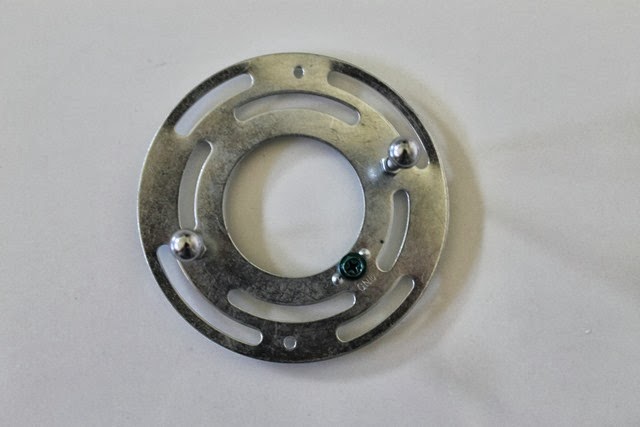 What a nice patch and paint job! Oh wait, there is a problem…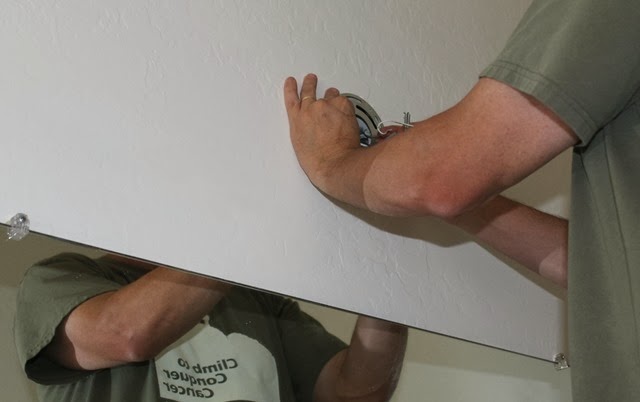 The particular cross bar that was included with the lighting is not working with the electrical set up in the wall. If we use it, the lighting will not be level.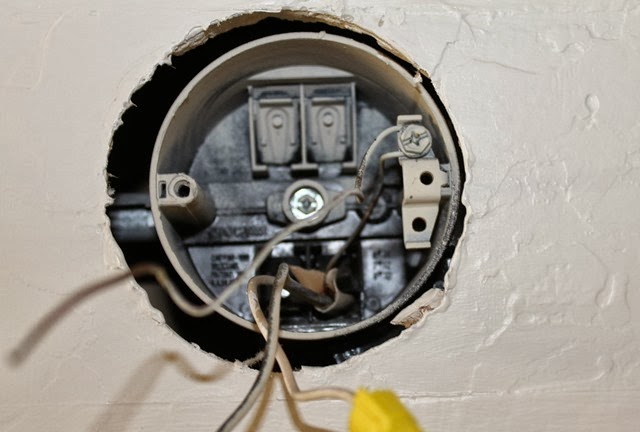 Luckily Mr. Décor has an offset swivel crossbar in his stash of extra parts. You can buy these at any hardware store for around $2.00. It screwed in easily.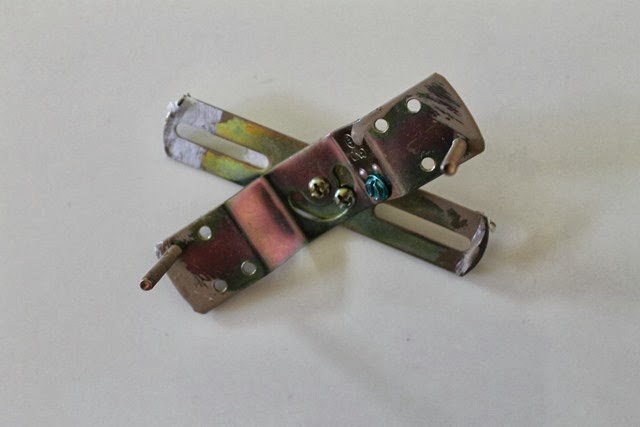 Then the wiring was connected in the reverse order of how it was disconnected. If you would like step by step photo's they can be found on the post "Installing New Lighting~ So Easy A 10 Year Old Can Do It".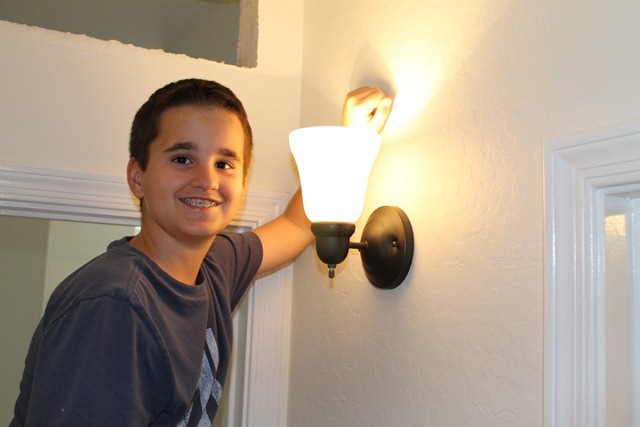 Once the crossbar was screwed in and the wiring connected it required just two exterior screws to hold the lighting base in place.
The frosted glass shades were twisted into place followed by the light bulbs.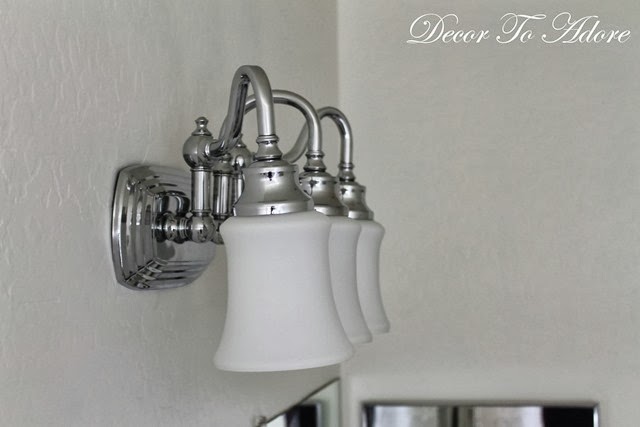 The moment of truth: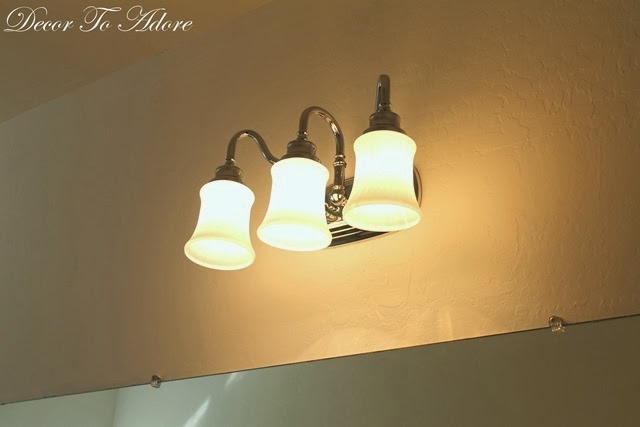 Success! Now, once Mr. Décor recovers I have to talk to him about framing out the big mirror.
Laura
Disclaimer: We are not professional electricians. If you have any questions regarding difficulties found in your own personal lighting please contact a licensed professional.