I still can remember the first time I ever had a similar bowl of Mediterranean Stew. It was at Christo's restaurant on the island of Crete near the cove where a scene from Zorba the Greek was filmed. 
It was a bit of warm healthy heaven in my mouth.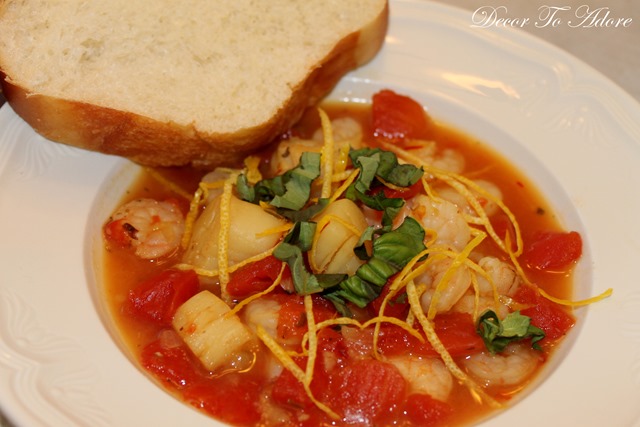 The soup base is fairly simple to make. You will need:
1 tablespoon of good olive oil
2 tablespoons of butter
2 cloves of garlic, minced
1 large shallot, finely chopped
1/4 teaspoon of red pepper flakes (you can add more or less to your taste)
1/4 cup of flour with a pinch of salt and pepper, placed in a bowl
1 cup of dry white wine
1 cup of water
1 cup of chicken broth
14 ounce can of diced tomatoes with the juice
1/4 teaspoon of saffron
A handful of fresh basil leaves torn or gently cut with kitchen shears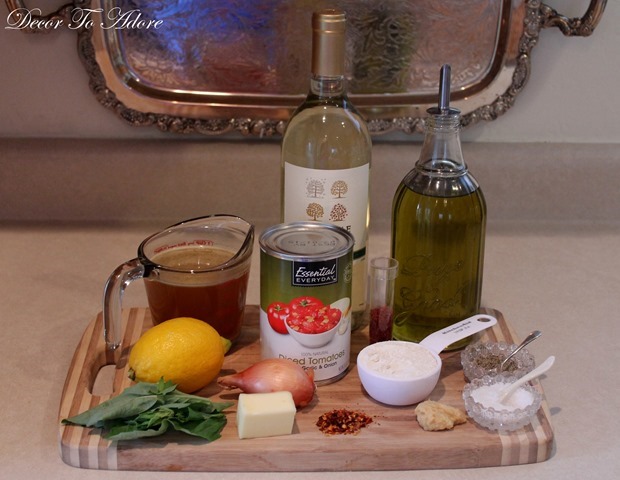 To the base you will add your favorite seafood or fish.
Mr. Décor loves scallops. Sweet Guy adores shrimp. I used one pound each.
Look at the size of these scallops! A silver dollar for sure.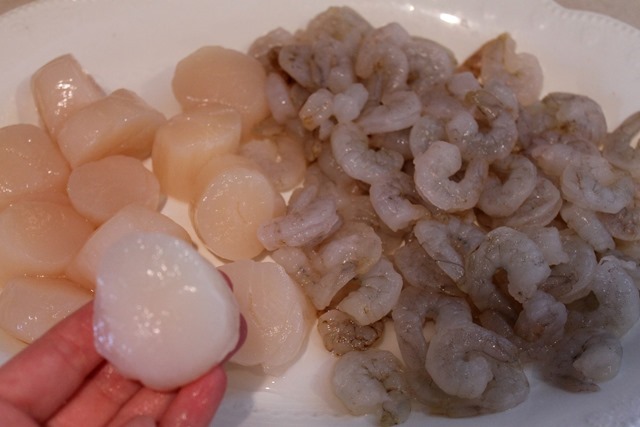 Wash and pat dry your scallops (or large pieces of fish).
Lightly coat the scallops in the flour seasoned with salt and pepper.
In a large skillet or pot, over medium high heat, add the olive oil and butter. Once it melts and melds together add in the scallops.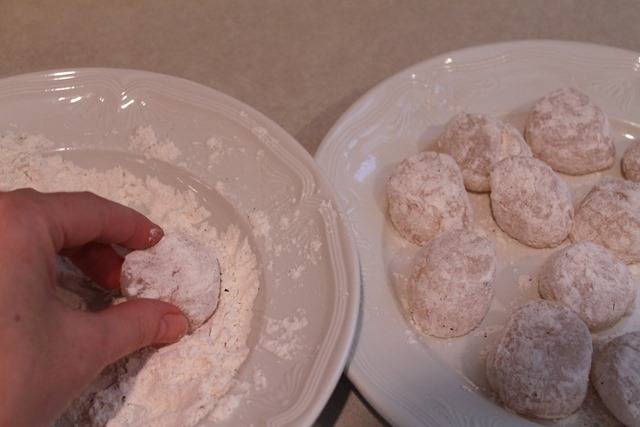 Brown the scallops on each side for two minutes. Add in a bit more olive oil, the garlic, shallots, and red pepper flakes. Sauté for two minutes, stirring constantly. Reduce the heat to medium low.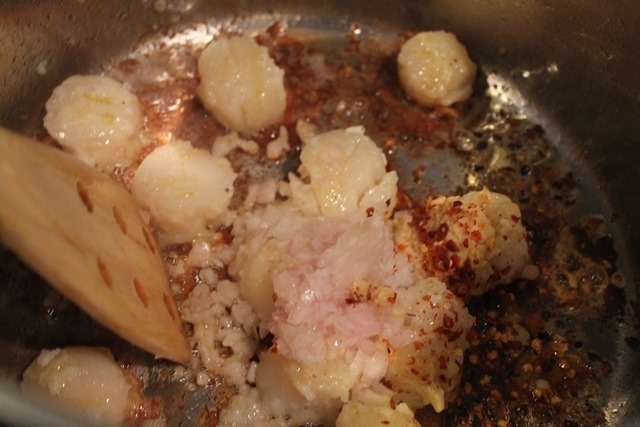 Add the wine to the pan/pot and free up any crunchy bits on the bottom of the pan. Reduce the wine for one minute. Then add the chicken stock, water, entire can of tomatoes and the saffron. When the liquid come to a bubble add in the shrimp and cook for 3 minutes.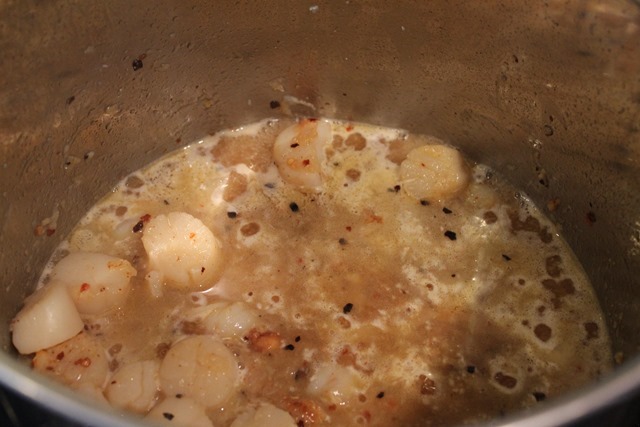 While the shrimp is cooking you can gently tear/shred your fresh basil and zest the lemon.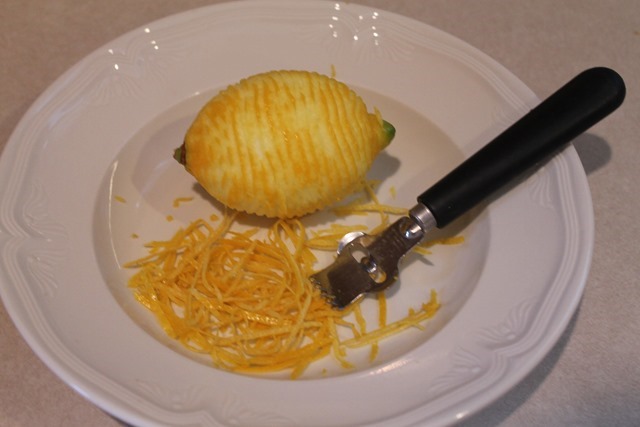 Voila! It's ready. Ladle the stew into bowl and top with a sprinkle of basil and lemon zest. Serve with fresh, warm bread.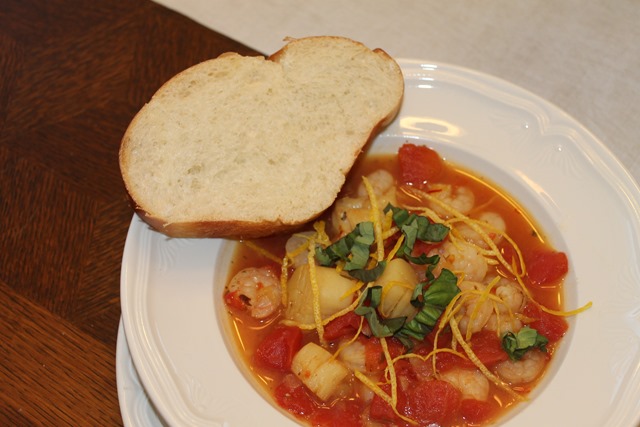 A simple, quick and yummy meal.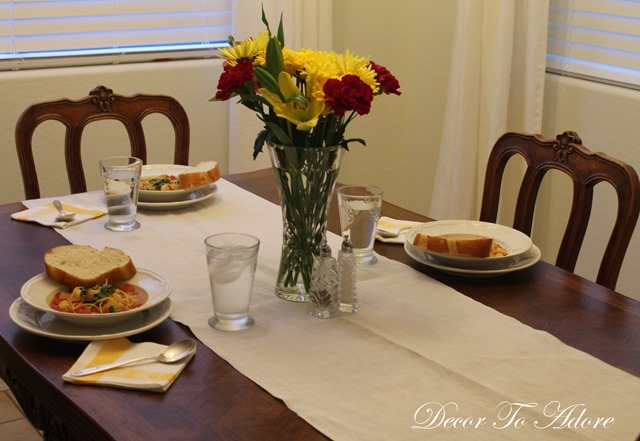 Bon appetite!
Laura
Linking to: Foodie Friday