When I began creating my 18th century gown I knew we would be attending a neighbors annual Halloween costume party. I will admit that Mr. Décor was not nearly as excited about our costumes as I was. 🙂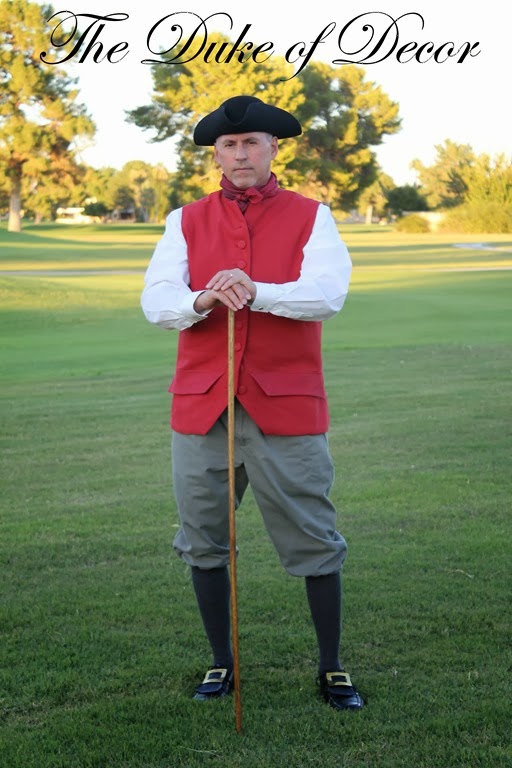 As a rule, there are a number of factors and fashion options to consider in becoming an 18th century gentleman.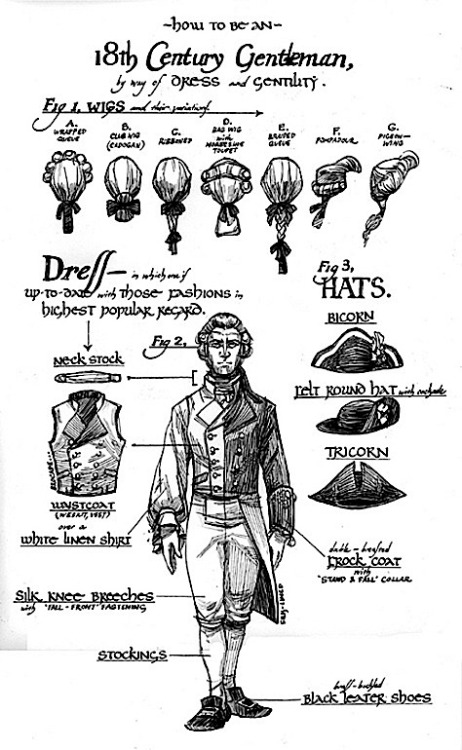 The Duke of Décor was not interested in embroidered waistcoats, silk breeches or various other frippery. In short, he did not want to look like this:
He wanted to be more of a rugged man's man. Wearing un-embellished cotton, linen or wool.
He wanted this specific red for his waistcoat.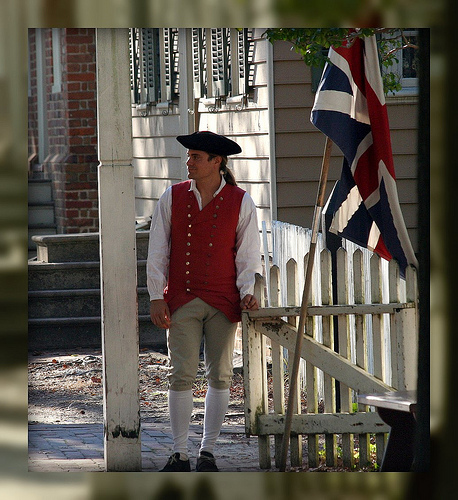 I took stock of the contents of our closets. Sweet Guy had purchased a wool tri cornered hat during our first trip to Colonial Williamsburg. Happily, it fit the Duke of Décor too.  I had a lovely plain vintage scarf that would work as an neck stock (also known as a cravat or ascot). The Duke had a linen banded collar shirt and a pair of pants that were heavily frayed at the cuffs.
*If you don't own any of the above mentioned items they are easily found at most thrift stores.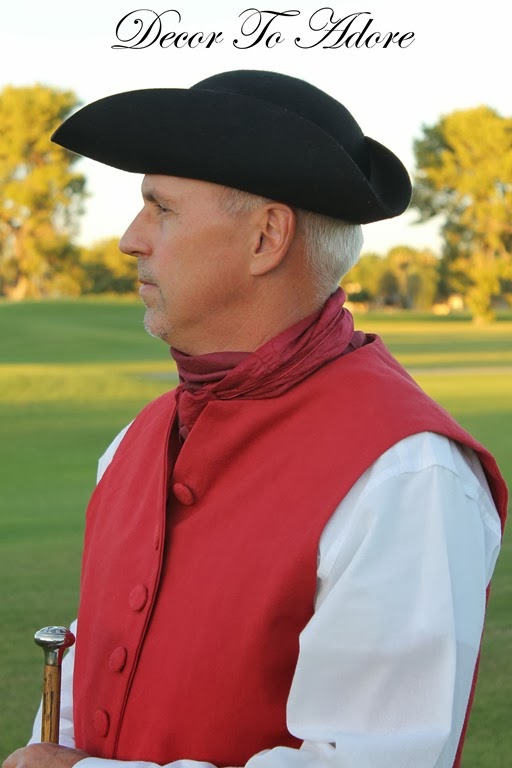 To sew the waistcoat I purchased pattern #B3072 by Butterick during a 99 cent sale. The directions were easy to follow and the pattern went together fairly quickly. The only difficulty I had was sewing closed the flared pointed corners of the hem. It was a tight squeeze.
Of course a nice linen fabric was needed for his waistcoat. I remembered a rather expensive tablecloth I had purchased from an online company that rhymes with Mallard. It was made of linen which is 100% washable. Unfortunately when I had washed the tablecloth it reveled that the fabric near the seams was not cut and sewn correctly. 🙁 Given that the tablecloth was pricey I could not bring myself to throw it away so it was stored in a closet. The time had finally come to pull it out of my "things to be transformed later" pile. Both the tablecloth and the silk scarf were given a dye bath in Scarlet.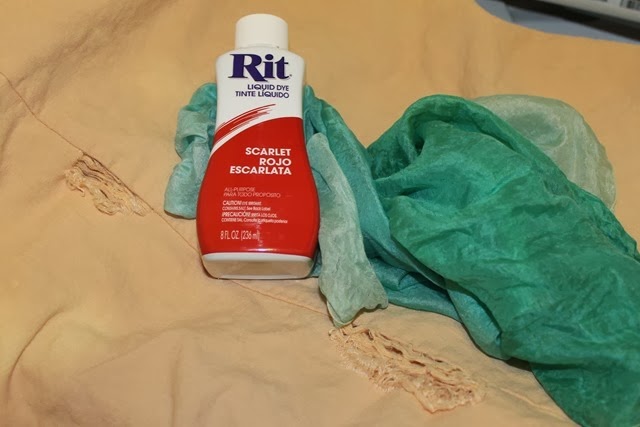 Once the pattern was cut and sewn I decided that it needed a wee bit of embellishment. I settled on tone on tone embroidered covered buttons. You can find covered button kits at most crafts and hobby stores that have a fabric section. I happened to have some vintage specimens in my button box that I transformed.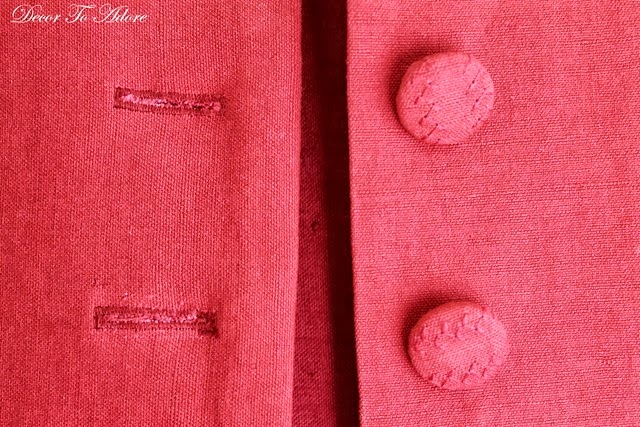 The top of the pocket flaps also received a bit of "birds feet" embroidery.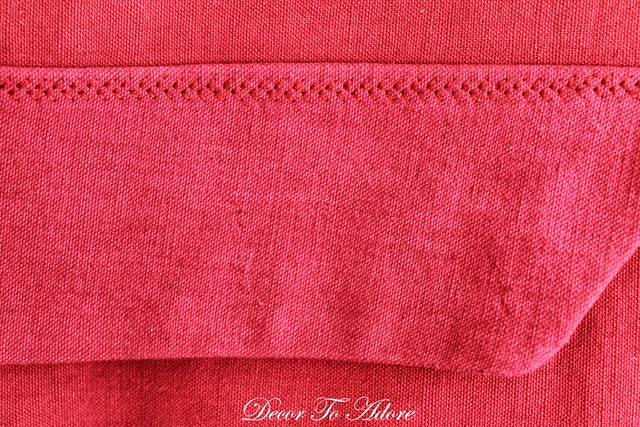 To make his breeches I measured and cut the frayed cuffs off of a pair of his pants and simply sewed a new hem 98% closed. Elastic was then threaded through and then the hem was sewn completely shut.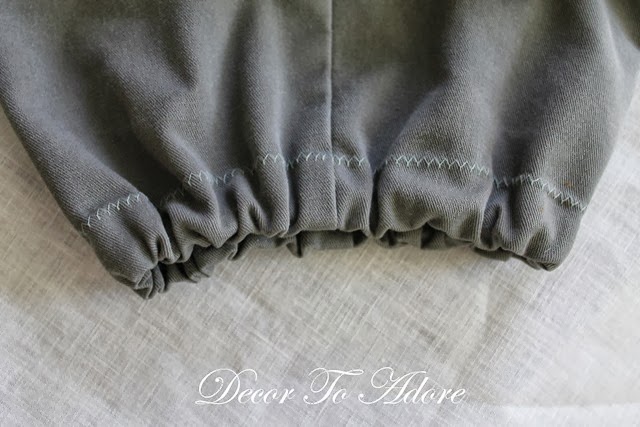 Several of you questioned just exactly HOW I got Mr. Décor to transform into the Duke of Décor. I can of course cheekily say "I promised that he could help lace and unlace my corset". (smile)
But the truth is he saw the hours that I spent working on his waistcoat to get it to fit him perfectly. The time I lovingly took to embroider the covered buttons and the pockets. Each stitch was filled with love.  He was…..impressed….touched even. So much so that he went out into his workshop and began creating an awesome walking stick. It was entirely his idea. All stately gentlemen carried them. They were an 18th century status symbol.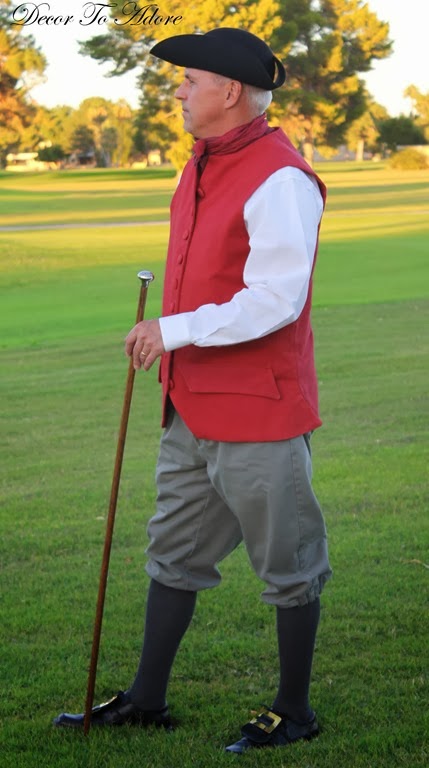 We looked at various 18th century sticks and settled upon this example admiring its simplicity and form.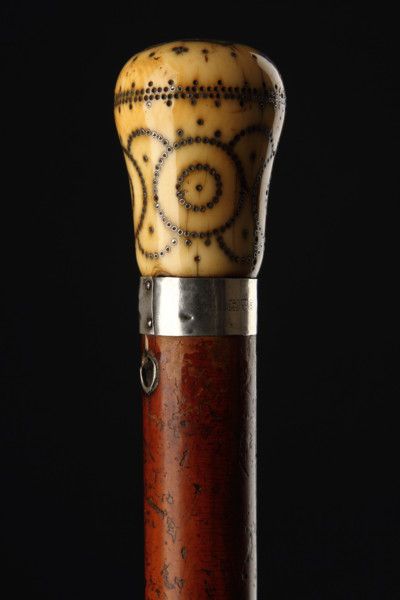 To make the walking stick he used a dowel found in the unfinished wood section of Home Depot. (They generally run between 40 cents and up depending on the size.) I found the silver cabinet knob at Hobby Lobby in the clearance section for $1.70.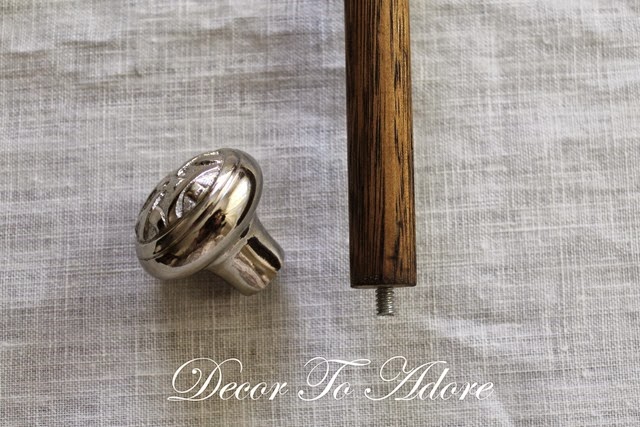 The Duke tapered the end of the dowel, sanded it and stained it with a bit of Minwax walnut stain we had on hand.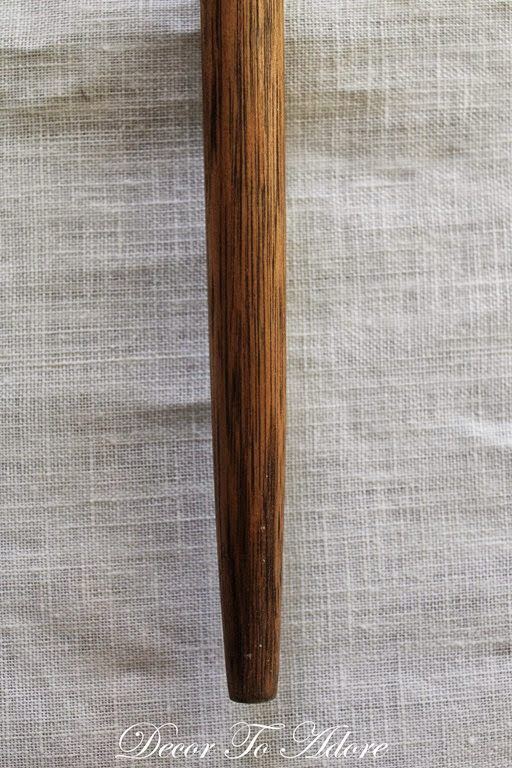 His ensemble turned out so well.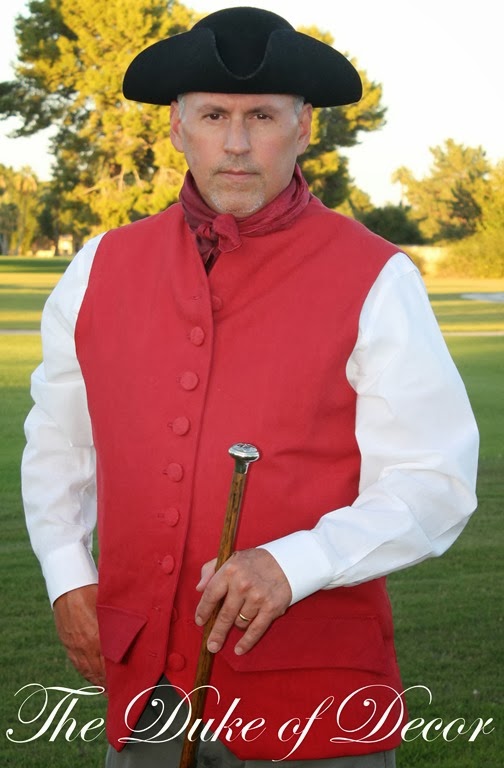 Fine and Dandy.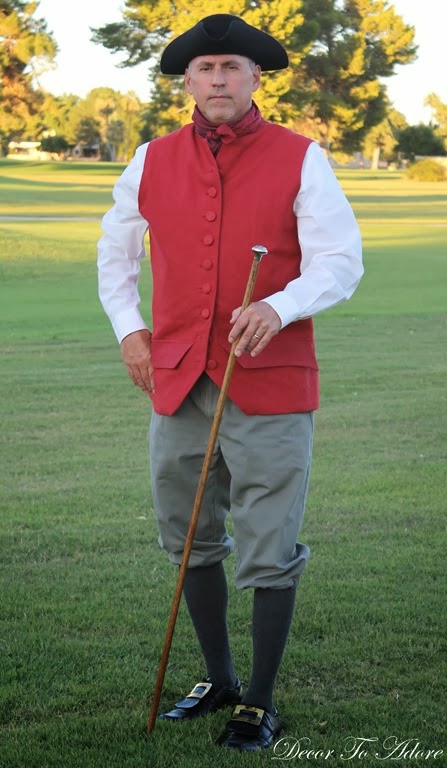 We only had to purchase the wooden dowel, cabinet knob, pattern, dye (used a coupon!) and his shoe buckles. It came in around $6.00.
Would your hubby wear this?
Laura
Linking to:
 Between Naps On The Porch , A Stroll Thru Life, Not Just A Housewife,  A Bowl Full of Lemons, We Are That Family, Someday Crafts,The 36th Avenue, Craftberry Bush, Stonegable The Shabby Creek Cottage, Jennifer Rizzo, No Minimalist Here, Country Cottage, The Shabby Nest, Imparting Grace, My Romantic Home, Common Ground , The Charm of Home, Tatertots and Jello, Funky Junk Interiors, Under The Table and Dreaming