It's 3 am. I kneel down by the soft temporary pallet next to my bed. A steady "thump, thump, thump" of a tail greets me despite the pain it's owner feels.  I lie down next to him, nose to muzzle. I run my hands over the long length of his small body. I whisper sweets nothings and then say "I am going to pick you up and take you outside." As gently as I can I lift him up but still there is a whimper. Cradling him in my arms we head down the small hall, past the kitchen and out the back door. It's warm outside. Eighty five degrees at least. There are only the crickets, I hope, to keep us company. Once back inside I sit him down next to the water dish offering a bit of cool refreshment. He takes a few reserved laps and then looks up at me with his warm brown eyes. I carry him back to his bed for a few more hours rest. Soon I hear the soft snoring that generally keeps me awake but now, I find it oddly comforting. It is something altogether more pressing that keeps sleep from me. A heaviness deep down inside. I find myself praying true, heartfelt prayers in which I plead for healing, for more time.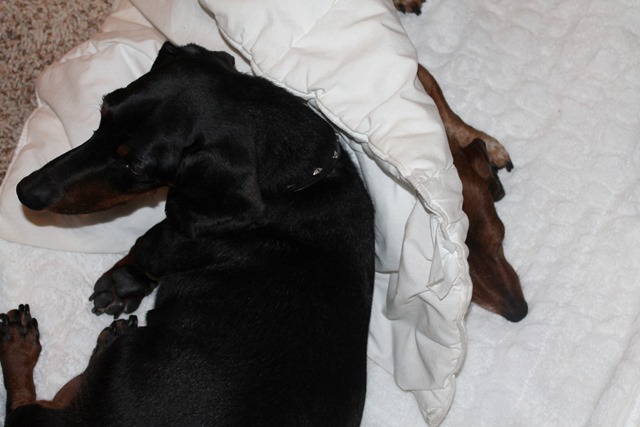 (Franzie will not leave his brother's side.)
It's early December, 2005. My teenage daughter sits next to me at the computer as we scroll through the pages of "Petfinder". We feel an odd mix of heartbreak and anticipation at the sheer volume of dachshunds offered. After awhile I leave her to start dinner. After a time I return to the office. She smiles and says, "Here's the one. Oh that face! And look, his name is Norman. So you know he's a good man." I snort. I am sure that the dear dad of my heart would be overjoyed at the prospect of having a dog named after him. "You know, we would HAVE to change the name." I reply. She sort of waves her hand in agreement. I can see in her mind it's settled. The choice has been made. It doesn't matter that the dog is located at a shelter over two hours away.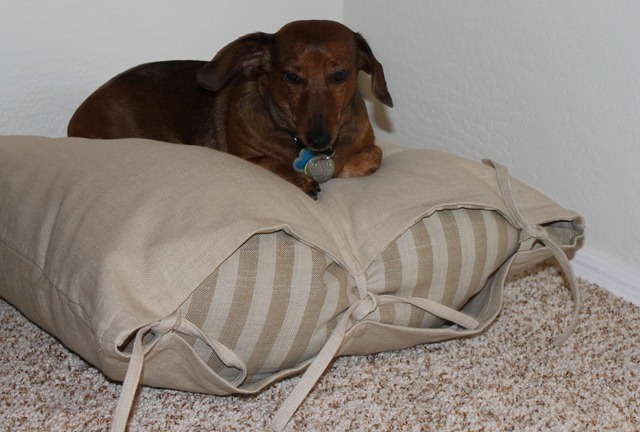 A few days later, on a Friday, I find myself buckling my three year old toddler into his car seat. It happens to be his dad's birthday. We are about to make a two hour drive to Tucson to see about a dog. Prior to the journey my husband and I had filled out several pages of pre adoption paperwork. I had been informed by the devoted dachshund couple who run the rescue shelter that there are several dogs available. This statement makes my heart hurt the entire way. How will I choose? After a long drive filled with cheerios, juice cups and sing along songs I finally turn down a dirt road and end up in front of a well worn modular home. I hesitate to even get out of my vehicle. But, I've come this far. I brush the crumbs off my sons overalls and head up the makeshift set of wooden stairs.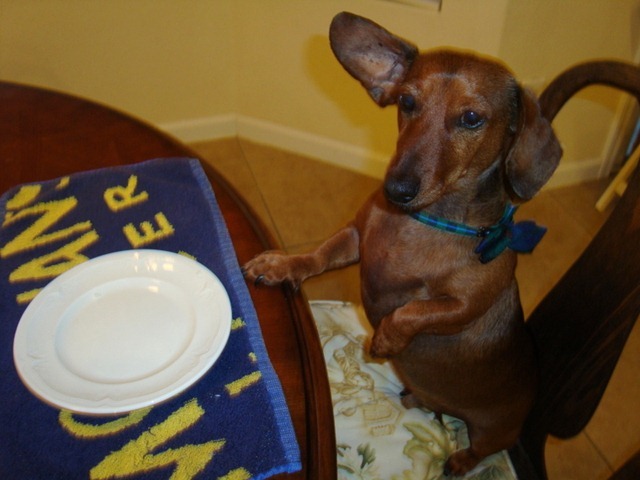 Inside I find a clean and tidy, albeit well loved space. After a few minutes the gentleman says "Why don't you sit down on the ground and I will open up a few cages." So I sit on the threadbare brown shag carpeting with my son right next to me. The cage doors are opened and a massive whirl of fur and excited yapping ensues. My son claps his hands in delight. Most of the dogs rush over to the gentleman or his wife. Save for one flea infested specimen. He slowly walks over to us and lays his head on my sons lap. "Oh, that's Norman." the wife informs me.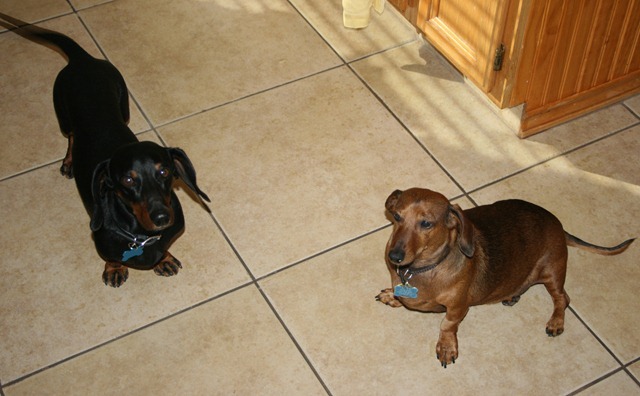 Norman had been found in the open dessert. They estimated he had been dumped out in the harsh climate at least two weeks prior given his appearance. He was near starvation and had a host of ailments to include worms. The admirable shelter workers said, "You may want to select a dog with fewer problems." I looked at the dog on my son's lap and kindly replied "I am not leaving without this dog". I then withdrew the new leash and collar I had purchased from my purse along with $300 dollars. As far as I was concerned this caring couple deserved it. It was quite evident they weren't rescuing dachshunds as a get rich quick scheme.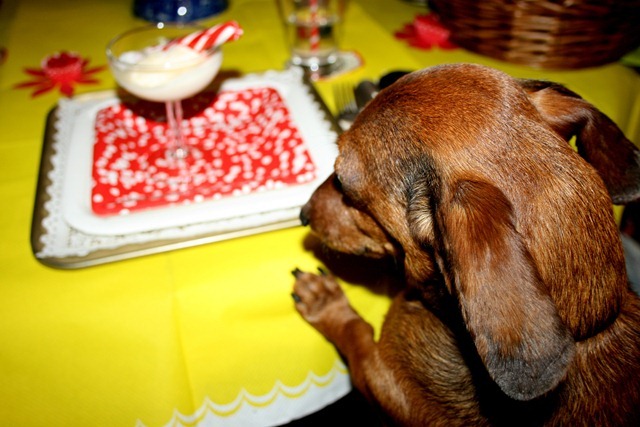 Later that afternoon my daughter returned home from school and saw the emaciated prize I had brought home. She was delighted. I told her how, in essence, the dog had picked us and that his name was Norman. She flashed me a "See, I told you" look and then quickly returned her attention to the dog. It was truly love at first sight. No online dating site had ever produced a better match.  I was happy for my kids and that evening saw joy in my husbands eyes.  He named our new dog "Rudi" after a favorite German soccer player.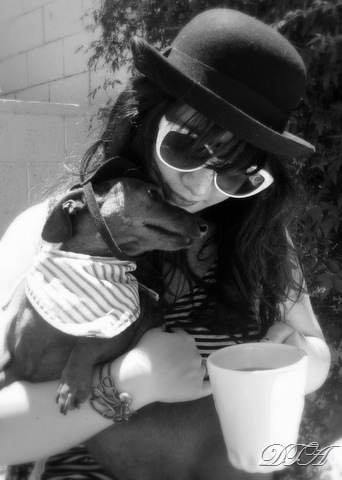 I myself remained a bit reserved in my affection for Rudi. Although, it was hard not to smile when I would make even the short journey to the mailbox only to return to happy fits of delight which included frantic dancing and tail wagging fit to greet the Queen of Sheba. Was it to be like this every time I wondered? I sort of began to understand the bumper sticker "Lord, let me be the person my dog thinks I am".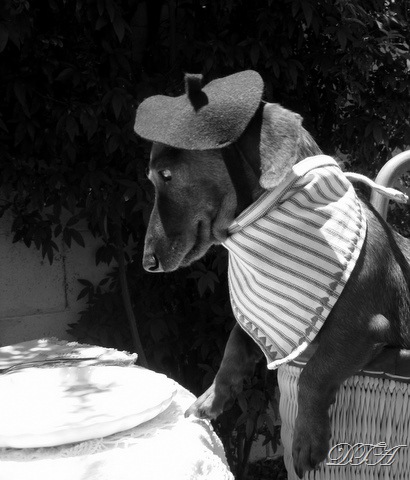 Shortly after Christmas I returned home from a morning of grocery shopping. I began the back and forth monotony of unloading the bags from the trunk of the car into the house. My movements were closely followed by a seven pound pup with a jaunty step. It was on the last trip to the car that I heard the snarling before I saw the dogs. As I turned I saw two pit bull, shepherd mixes, a good 60 to 80 pounds apiece, heading straight for me, out for blood. I literally only had time to scream. My sausage hero ran straight for the dogs barricading himself between them and me. Their attention was duly diverted. Again and again the larger male would pick up my pup, shake him and fling him aside like a toy. Yet my champion would pick himself up and go back for more. Finally the owner of the terror twins got ahold of the vicious dogs. I was left with a wounded warrior and a small crack created within the ice surrounding my heart.
Yes, it's an old story. I rescued him. He rescued me. Blah, blah, blah. But it was more than that. I had never experienced such unconditional love.  Some might say, "Oh that can't be true, what about…." No! Period. I had never before been the object of such affection, such devotion. It changed me. He changed me. For the better.
So as my Rudi battles another bout of disc degeneration, common in doxies due to their long backs, it is easy to carry him from room to room so he will not go searching for me. Eager to lay at my feet. It is easy to love him. No matter the hour. No matter the task.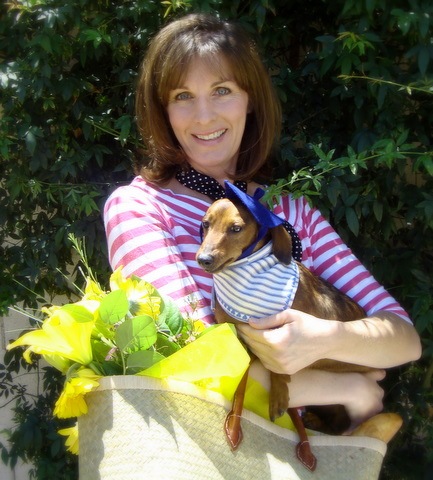 It doesn't escape me that I am getting just a tiny glimpse of just how much God loves us.
Laura
"But in all these troubles we have complete victory through God, who has shown His love for us. Yes, I am sure that nothing can separate us from God's love—not death, life, angels, or ruling spirits. I am sure that nothing now, nothing in the future, no powers, nothing above us or nothing below us—nothing in the whole created world—will ever be able to separate us from the love God has shown us in Christ Jesus our Lord." ~ Romans 8:37-39
In lieu of a comment, may I humbly ask that you offer a prayer of healing for my sweet Rudi? We are ever so thankful for your love and prayers.